Freelance writing, birthdays, a giant cinnamon roll and rhinos – Looking Back, Looking Ahead #10
Wow, I have not posted a Looking Back, Looking Ahead since August 25, 2014.
I know you probably don't find them too incredibly interesting, but they are some of my favorite posts to go back and read (all 9 of them, haha….). I think this is because my specialization for my history degree was cultural history, because I am fascinated by people's day to day lives and what they value (or don't value).
Andplusalso it makes me look through my photos, instead of them just stacking up in iPhoto and six months later I have hundreds of photos to sort and I don't know where to begin. Because that's what has happened… Anyway.
Looking Back
Mondays and Wednesdays are my work days, meaning my little guy spends time with his grandma – aka "gammy" – and I get some distraction-free writing time. Or knitting. Or whatever needs done.
Lately, my work has been all writing.
Meagan Francis of The Happiest Home recently did an e-course on freelance writing and getting published by magazines/blogs and I took that class so I have been finishing up the homework. I have a lot of ideas for queries to send and I'm getting pretty excited about this, to jump in with something I've been dreaming of doing for a long time.
I started 2014 with a lot of goals and I ended 2014 with not much progress on those goals, but a clear picture of what I did not want. I spent the better part of November and December working on a gigantic knitting order of wool soakers. I've done an order larger than that one before, but at that time I wasn't pregnant (and just coming out of the fog of the first trimester) and I didn't have a very active 2.5 year old (Ezra was only 1.5 at the time). It's funny how those two things drastically impacted my productivity, which was difficult for me to admit but it turned out to be a good thing because I learned something very important.
I don't want to knit for profit anymore.
I really only recently came to this conclusion, after I realized I was dragging my feet on any kind of goal setting for 2015 – and it's March now, people, so the newness of the year has pretty much worn away. Don't get me wrong, I truly enjoy knitting for others but what I don't enjoy is monotony. And, on a more practical note, I am only one person who is a mom to almost two littles and that means my time is precious and limited. When I have free time, I want to be able to choose knitting because I want to, not because I have to.
So, for now, I am shuttering the shop. But you know what? This is a great thing. I have so many ideas and projects I've wanted to work on, and I actually do think I will eventually sell one-off things I've made.
All of this to say that for the last three years, I've felt torn between pursuing professional knitting – as professional as I could be with limits on time, money and manpower – and professional writing. My goals always reflect this, with me trying to figure out how to divide my time between the two or somehow combine them. Well, after three years I see I can't make that work. It has to be one or the other, and right now, writing wins. And it's very exciting to me to have a clear focus, finally.
I want to go into more detail about this thought process when I share my 2015 goals so, for now, I'll leave it at that and get back to what I was originally talking about…what happened this past week. This happened –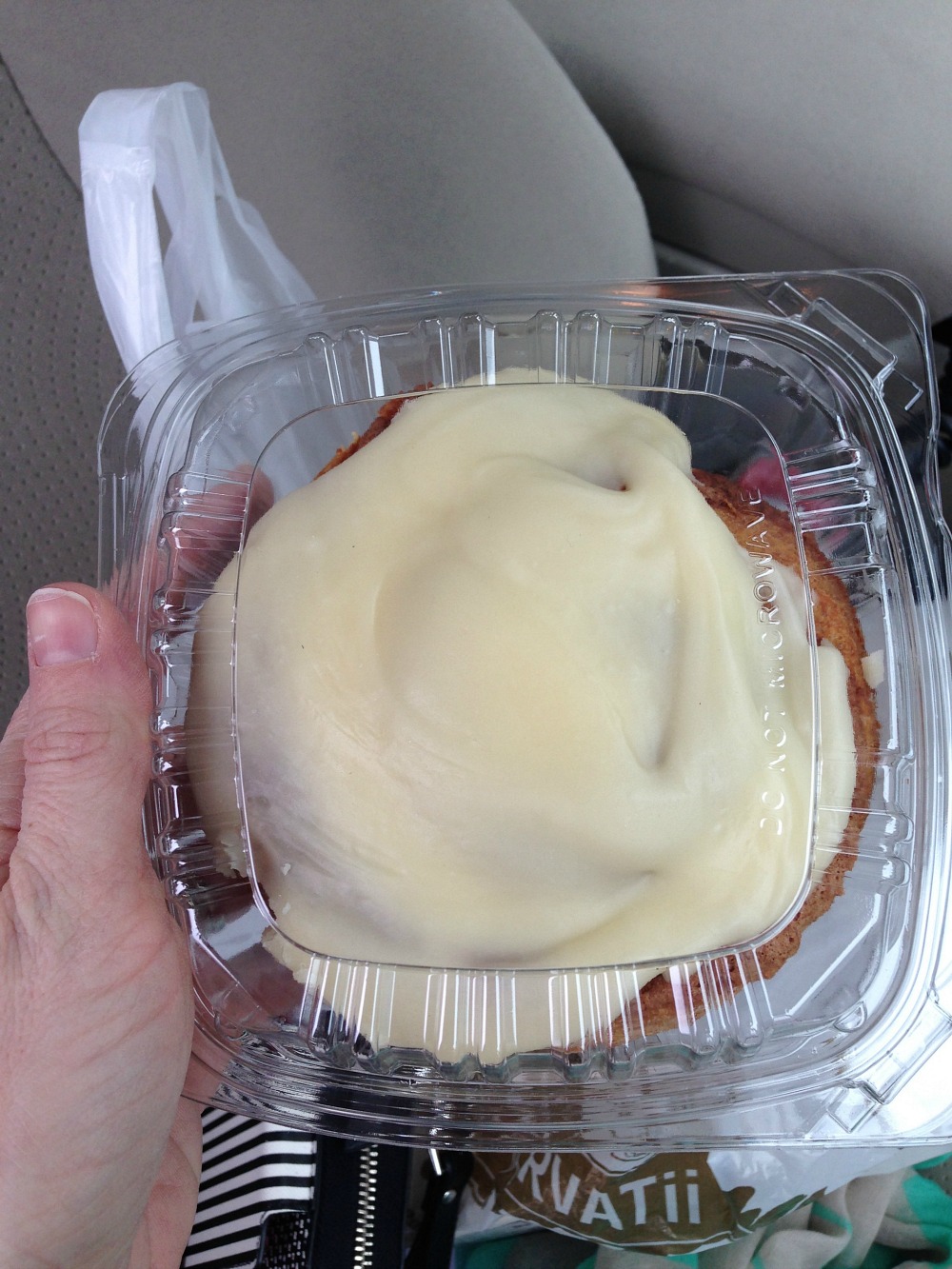 That is a gigantic cinnamon roll from Servatii. I actually don't like cinnamon rolls, at all, but Ezra insisted on grabbing this thing when we ran into the bakery to pick up some donuts for some special people.
Being the good mom that I am, I got him the cinnamon roll which he proceeded to not eat. This is a thing we are dealing with around here – asking to eat something, then suddenly no longer being interested once said something is purchased/made. But in the case of this cinnamon roll, Ezra's aunt saved the day and decided to eat it so it wouldn't go to waste. A big sacrifice for her, I'm sure.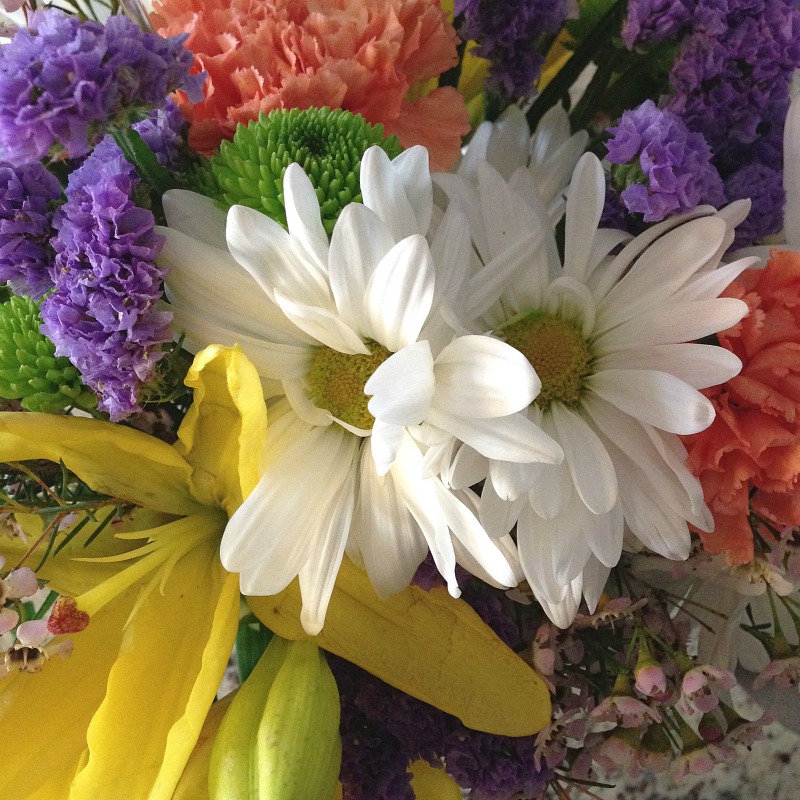 Tuesday was my birthday! I turned 31, and for some reason 31 seems way more serious than turning 30. I feel like 31 needs to be written out like thirty-one, as in woah I am thirty-one?? Maybe that's just me.
Those flowers are from my parents and sister (and the dogs, too!) and they are so beautiful.
The older I get, the more simplicity I crave in my life and I didn't want my birthday to be any different. Ezra and I hit up the grocery store and afterwards we grabbed a sweet treat at one of my favorite coffee places. I have been craving burgers lately, so I wanted to go to Smashburger for dinner and that is what we did. Don't tell Smashburger, but I kind of feel like Five Guys might have a better fast food burger. You can't beat the Smashburger fries, though. The best part of my birthday meal? My sister made her famous brownies. I cannot get enough of those things!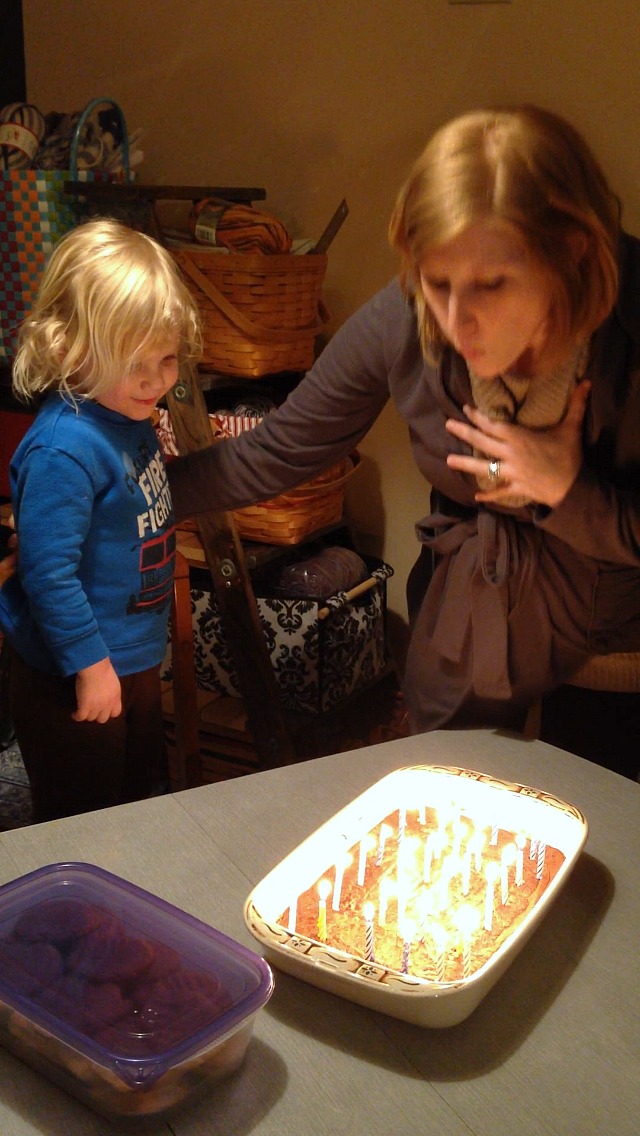 And there's an awkward photo of me blowing out my birthday candles, but looking like I'm blocking my child from getting any brownies. Because I was.
Anyway, later that week I tried my hand at some chalkboard art to put in the living room in this little area I've set up by the windows.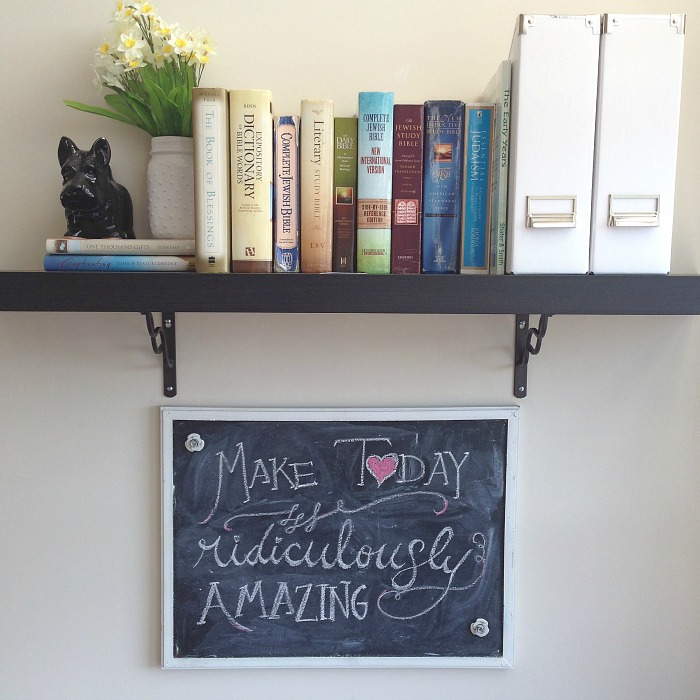 I will have to take some updated photos of the living room because I've changed things here and there. It's definitely feeling more like a home in our home and less like a beige box.
Thursday and Friday were pretty normal days for Ezra and I. We played a lot, and we headed over to the knit shop on Friday – which was a day full of rain, as in it literally rained all.day.long. – to drop off a sample I had made. Yesterday, Saturday, we ran up to the mall to make some returns and spent the rest of the day hanging out at home.
I have been breaking out my "big" camera – aka, not my iPhone – to take some photos and I grabbed these –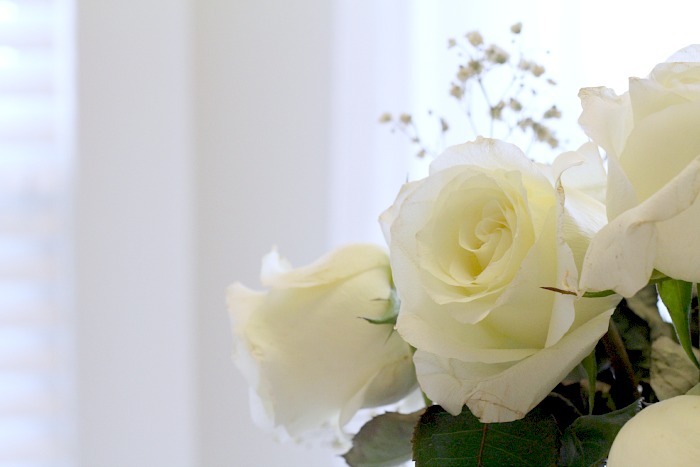 Some more birthday flowers (these were from Alex and Ezra)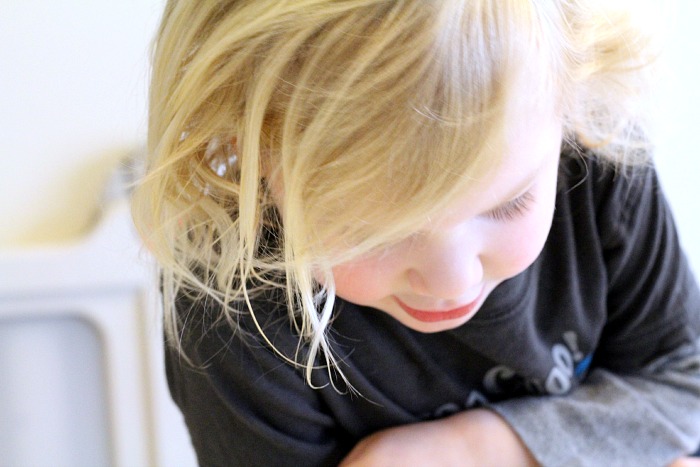 And a closeup of my little boy and his wild hair.
Ezra has been telling me that his hair is "so mean" and that he needs a haircut. I had these dreams of Ezra pulling off gorgeous, long locks until …well… forever? But, I can't abide mean hair so we've scheduled a haircut for this upcoming week.
That bring us to today. Spring is here in Cincinnati and the weather is so perfect. We went to the zoo this morning, and so many animals were out and about. My favorite was seeing the bearcat (but I didn't get a very good picture) because I have not once seen that guy move, and my second favorite was the snow leopards. One was literally against the barrier; I've never seen them so close up.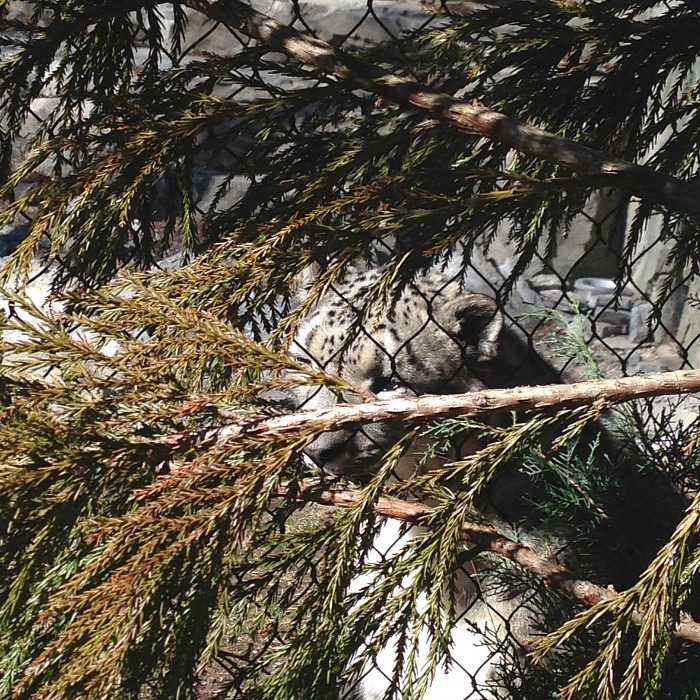 Pretty cool!
Ezra loves – and I cannot emphasize it enough – animals. Every time we visit the zoo, it seems like he has a different favorite. This time was the rhino. He picked out a rhino stuffed animal and had to hang out for a bit on the giant rhino statue in front of the main gate –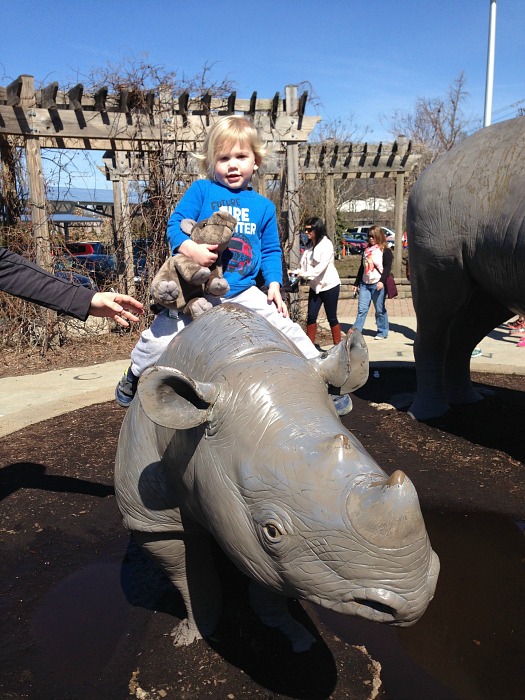 Looking Ahead
This upcoming week is going to be pretty busy, but I'm looking forward to it. I hope to finish up my queries and get them sent out, as well as take care of some last minute finishing touches on the playroom and Ezra's big boy room – both of which I cannot wait to share with you. I think the teepee is set to arrive Tuesday or Wednesday, yay!
When I was in the swing of Looking Back, Looking Ahead, I shared a roundup of links at the very end. I don't have any links for this week, so next week I'll get back to that so there's something interesting to check out. Until then, as always, thanks for reading

A simple nursery
Ezra has had five bedrooms in his short life.
His first two were both in the same house – our first house; he just moved from one bedroom to another (Ezra's Nursery and the second nursery setup is included in this home tour, Closing on our House).
His third was in the apartment we rented while we waited for our current home to be finished (Apartment Tour: Living with Less has those photos).
The fourth was his latest room, his nursery in this house. And the fifth is his "new" room, which will hopefully be his bedroom for a very long time.
Before I show you his new room, I wanted to photograph and write about his nursery, of which I can't believe there have been four iterations (!!), but this last one was probably the most simple and most loved of all.
The room we designated as "the nursery" is seemingly the smallest of the other bedrooms in the house, but all of them (except the master) are actually the same size in terms of square footage. The walls are laid out differently in each though, and none of the rooms are square. The nursery has walls taken up by doors and a window, so it has less "usable" wall space, which makes laying out furniture challenging. But, it also makes it perfect for a nursery because furniture for nurseries is on a smaller scale so it feels very proportional in this room.
Ezra's nursery was the first room I setup in this new house, because it needed to be used right away. His was the first room to get blinds and curtains, art on the wall and a ceiling fan. I never did end up painting the room for him, but the existing paint actually worked really well with his furniture (and we did paint his new room at least!). I tried to keep the room simple, light and airy.
There are a lot of memories over the last 11 months in that room. Ezra has changed and grown so much – he started out in his crib and ended it in his crib-turned-toddler-bed. He went from talking in phrases to full on sentences over the course of these last eleven months, and the stories we've imagined in that room are precious to me. We've read countless books, tucked in a myriad of animals beside him to sleep and conquered bad dreams. It's been a sweet nursery for my little boy, and it makes me happy to know it gets a second go for a little one when our girl arrives.
Until then, here's how Ezra's nursery looks –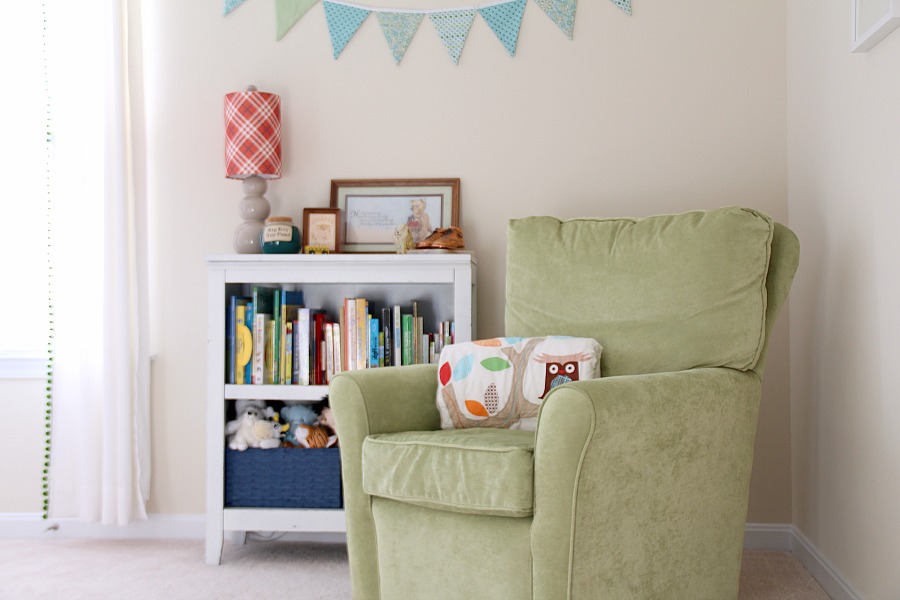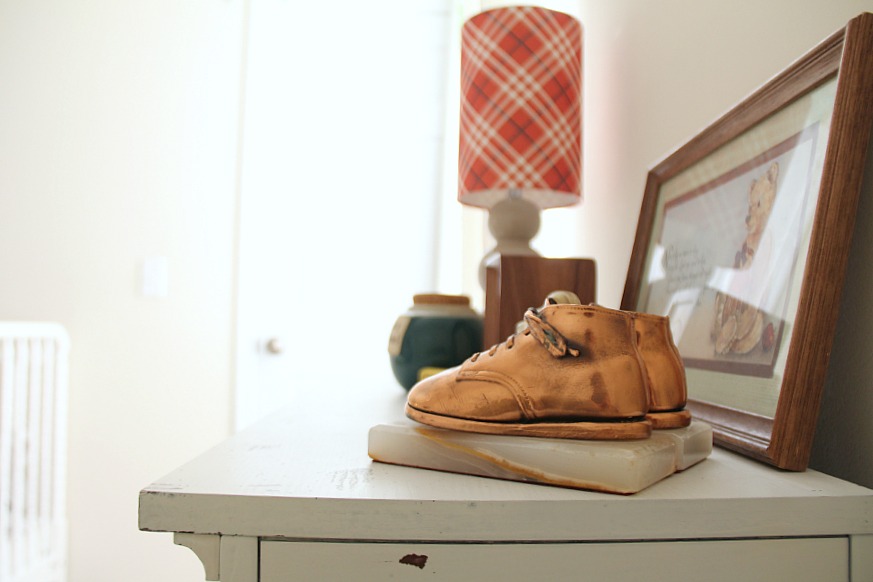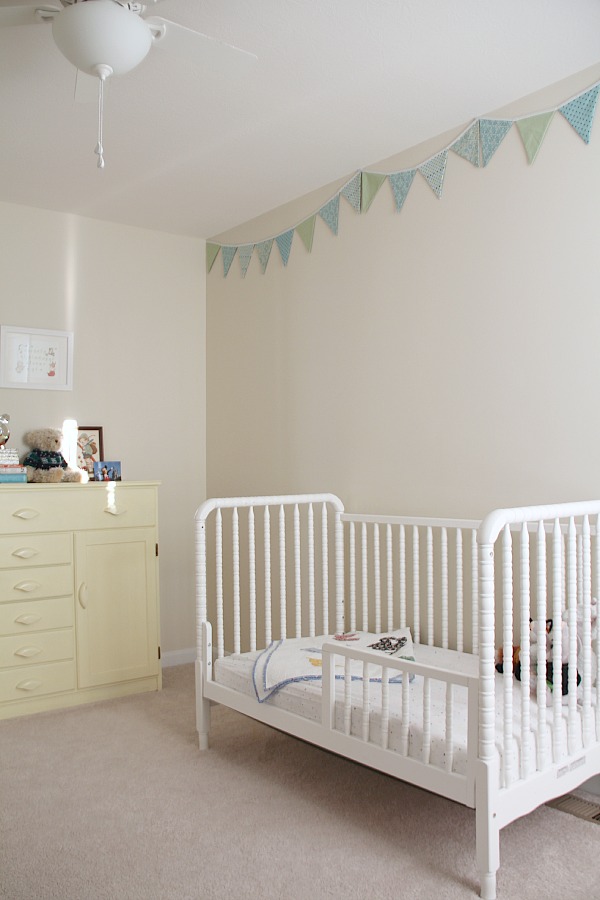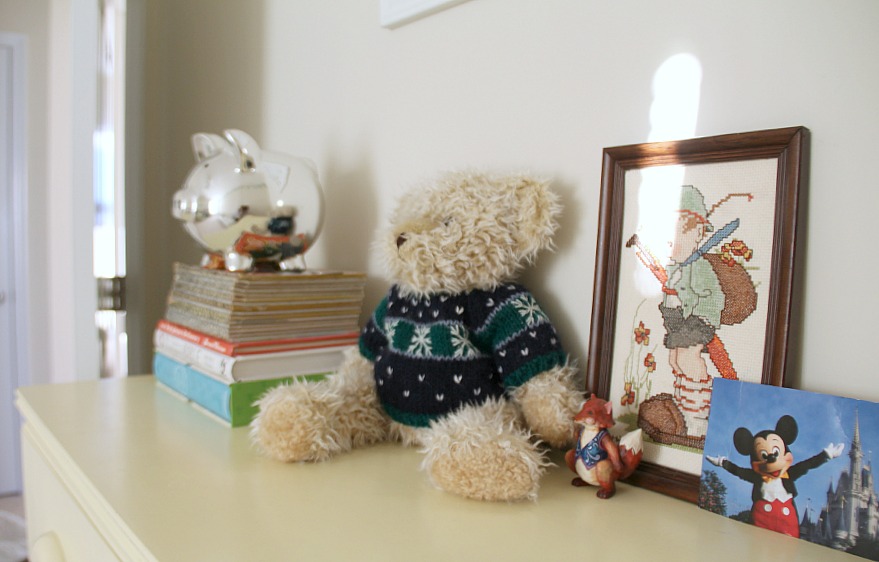 Two of those photos above are pretty much the same (the ones of the crib and wardrobe, and, speaking of the crib… normally it was not that empty looking. Ezra started using a standard size pillow a few months ago, and usually there were at least five additional animals in there with him. The boy loves stuffed animals.), but I wanted to make sure I included a photo showing the other pennants hanging and the ones above the crib are up pretty high. Mostly to keep curious fingers away from tugging them down. Those pennants are the ones I made for Ezra's first birthday party. I'm glad I got to use them again for something since they were time consuming to make!
The bronzed shoes, the cross stitched little boy and the teddy bear are all special gifts from family members – the shoes are actually my father-in-law's baby shoes; my mom made the cross stitch picture and it used to be in my grandpa's "subterranean penthouse" as he called it … aka his basement man cave; and the teddy bear was the first bear Ezra got as a newborn, and it came from my grandma.
I'm not going to put source information in here because nothing is new, so if you're curious where something came from, you can check this post – Ezra's Nursery – it has most of the information. The yellow wardrobe is a family piece that's now on its third generation so it has zero source info. I think the only other pieces of furniture not included in that post are the glider, which we purchased at Buy Buy Baby and the white bookshelf, which is from Target. We have two of those bookshelves, and they sure have made the rounds in the various places we have lived. Both were actually in the nursery. The second one was in the closet, holding extra books.
And that's my not-so-little-boy's baby room. I haven't really begun to think too much about how I'd like to set the room up for our girl; vintage rose was a theme I'd tossed around in my head, but I'm not stuck on anything…yet. I'm sure that will change soon enough though.
Thanks for reading

A Plan for the Playroom
Back in October, I wrote a post about our upstairs playroom and how it's pretty much a blank state (you can find the post here – A to do list for the playroom). Now that we are expecting baby #2, I've started to revisit the idea of the playroom, and I've also started to semi freak out about the idea of ALL THE TOYS that will be coming into this house, especially since now we will have both a boy and girl. Just to refresh your memory, here's one view of what the room looks like (prepare to be bored to tears) –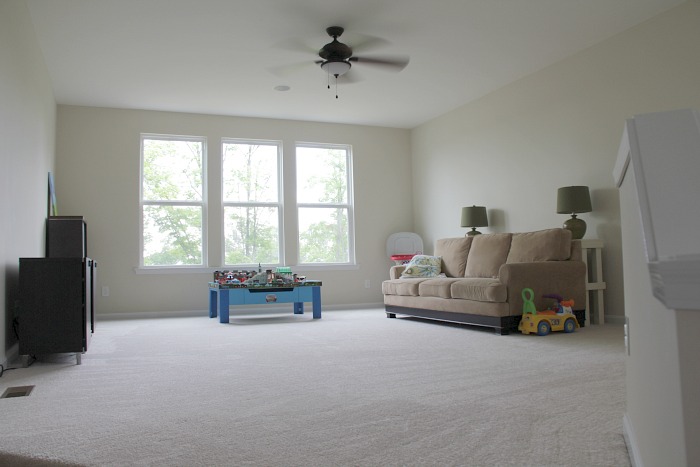 Since moving in, we've celebrated Ezra turning 2 and Christmas/Hanukkah, plus we've been living our lives which means things accumulate and seem to multiply. What does all this mean? More toys seem to be in the house than what we originally brought in. This past week I really went on a toy cleaning rampage. Maybe "rampage" is too strong a word, but I really did go through everything and I put a lot of stuff away in bins to go down to the basement. I'm sure the bins will make their way back up again at some point, but by then the toys will feel brand new again! It's a win for everyone!
So, now, all we really need to pull the playroom together is a bit of organization. My favorite thing!
I did make a To Do list for the playroom (as the title of that October entry suggested…), so let's take a look at that list and see if it's still applicable at all –
Paint the walls, upstairs hallway and stairwell some light shade of grey (with the eventual plan being to also paint the living room, kitchen, eat-in area the same shade of grey)
Add a board & batten treatment to the window wall
Add some simple white 2″ faux wood shades to the three windows
Paint the TV stand – not sure on the color yet
Paint the accent table – not sure on the color yet
Better lighting; relocate table lamps elsewhere
Toy storage solution
Better/more seating
From this list, the painting, board and batten and additional seating are all items that have to go on the back burner for now. I don't really feel like additional seating is a must-have for this room until the kids are older and it transitions to more of a media room for movie watching, video games, etc. The main purpose of this room is to play, so I don't want space eaten up by more large furniture.
The painting will be delayed probably until the summer, at which point we'll hire someone to paint both floors – only the walls that end up connecting. And I thought I wanted a grey, but the paint swatch I've been holding on to now for several weeks is more of a taupey grey (greige? I don't even know what greige is).
Lastly, the board and batten is such a fun idea, but it's on the way far back burner, along with a few other really cool ideas I have for other rooms throughout the house. I have a feeling those will all be things we hire out, unless we suddenly decide to become DIY pros (and, to be fair, I am related to a DIY pro – my dad – and he has offered to help with a few of the projects we want to tackle).
Now, let's take a look at the moodboard I put together for this room, after sitting in it for hours over the course of the last few days and really thinking how it could best work for our family –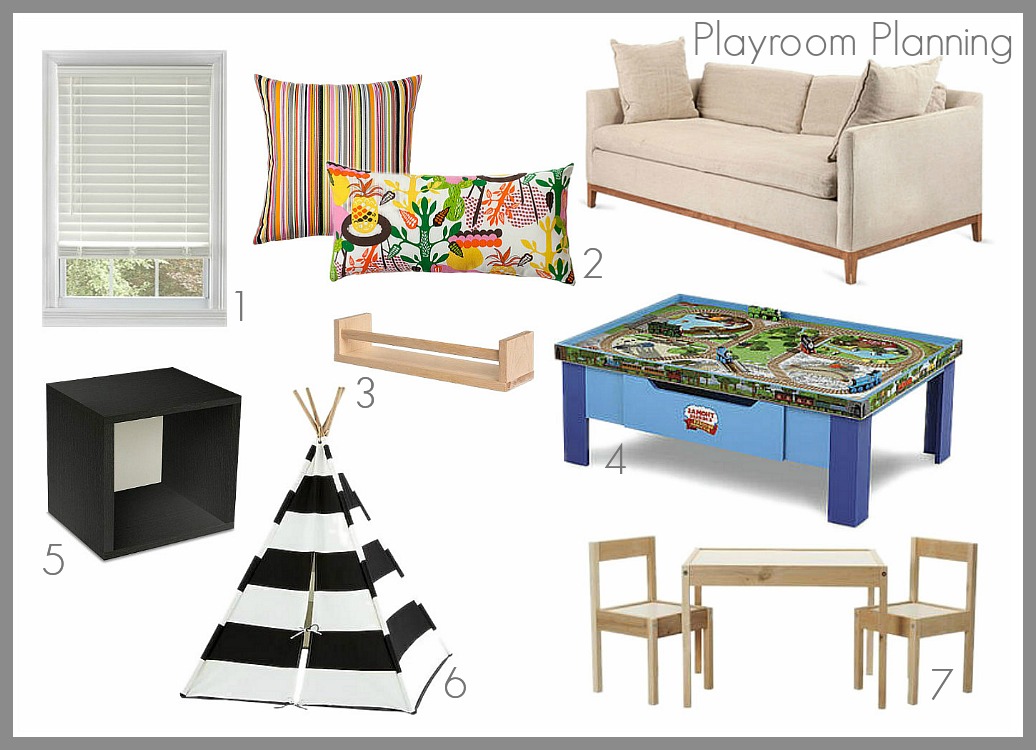 The couch on this board is the closest I could find to the couch we currently have. I am not getting rid of our couch; it isn't in the budget right now and, apart from not looking 100% great, it's functional and for a playroom it's just fine. Plus it's a neutral color so it has that going for it. Plus plus, I looked up slipcovers at Target, and if I decide I want to change the color of the couch, I can do so for about $80.
On to the numbered items –
1 – White 2.5″ Faux Wood Blinds, via Home Depot
I love these blinds. They are in almost every window of our house. They are extremely easy to install and they look great – it's shocking to me how just putting them up in the window transforms the room. Not to mention, they're also really efficient at blocking out light which is very important for the playroom since the windows face west, and that means as the sun sets, that room is flooded with very bright light that needs to be diffused.
2 – Pillow covers, via IKEA
These pillow covers are so fun! I really want this room to be bright and interesting for the kids, to help make it a place they want to spend time in. These covers are the inspiration behind the room and I'm going to use them to plan out other aspects like wall hangings and any potential accent wall. The oblong cover is the Knappsav and the square is the Akervallmo. Incidentally, both of those names are on our "maybe" list for girl names. Just kidding. Or am I…?
3 – Spice Rack, via IKEA
You may be wondering what a spice rack is doing in a playroom, so I will tell you. That little spice rack is only $3.99 and it has an endless wealth of possibility. It is 15″ long, which means it makes for a great little shelf. Since it has the bar in front of it, it's especially good as a shelf for toys or kid items (or you can hang it upside down and the bar becomes a hook to hang things!). In the picture above of the playroom, you'll notice the train table is in the front of the windows. I've actually moved the train table to the opposite side of the room, by the half wall (see pic below). I'm going to mount three of these spice racks, one on top of the other, for train storage because as Ezra collects more wooden railway trains, his table gets really overloaded and it's hard to see what's going on. This way, he can take out trains that aren't being really useful (haha) and just focus on the ones he wants. I'm going to paint these, just not sure what color(s?) yet.
4 – "Thomas the Train" Train Table, via Toys R Us
I don't know why I numbered this particular item, because we already own it. But, I included it in on the board because it's a large piece of furniture and is arguably the main attraction of the room. I don't have much to say about it, other than it's there. So that's that.
5 – Way Basics Design a Cube Bookcase, via Wayfair
I knew I needed some kind of cubby storage for the playroom, and I also knew I wanted it to go directly under the windows. However, I was limited by the available wall space under said windows – only 26″ approximately from the floor to the sill. I originally was going to go with the Kallax 4-shelf unit and get two of them so I would have 8 cubbies, but I would have to lay them end to end (I was going to attach legs to the bottoms, though, to elevate them slightly off the ground). That wasn't really the look I wanted; I wanted stacked cubes. And then in my internet wanderings, I found these cubes that you can group however you'd like – and they were 12.4″ tall! Perfect! I'm going to order 8 of them, so I will end up spending slightly more than the IKEA choice, but I will get stacked cubes instead one long line – and I will have a half inch to play around with if I choose to add legs. These cubes come in several fun colors, and I was debating going with the green, but ultimately I'm going with the black and I will paint a white outline around the edges of the cubes.
6 – Black Stripe Canvas Teepee, via Land of Nod
This is my major splurge for this room, but I am also so excited about it. Earlier this month, we moved Ezra out of his nursery and into his "big boy" room and throughout that process, I continually asked him how he would like his room setup. When we were talking about paint colors, at first he said he wanted a dark green wall and I was totally all over that, imagining this deep, jewel tone (like a mixture of deep green and black). Then I spied that teepee – what a contract against the green wall! It was meant to be! When it came to picking colors, though, Ezra switched gears and wanted blue so I filed the teepee away in my brain… apparently for the playroom, because it's perfect for this room and now both kids can enjoy it.
7 – Latt Children's Table and Chairs, via IKEA
The table and chairs we had in the playroom was a set that had been lent to us, and I thought now was a good time to return it since I'm working on revamping the room anyway. This little set from IKEA is very budget friendly and, I'm 99% sure I can paint it if I decide I want to add more color to the room. But I do like the natural color, as well (my only concern is that the couch is beige, the walls are beige/white and the carpet is beige).
And that about covers it! I have no idea what I will put on the walls; I think they will be blank for awhile because there is so much wall space to cover that I really need to think about what I wouldn't mind staring at every day for the next however many years. I haven't talked about the tv stand that's in the room. That will be staying there for now – it works really well for storage of toys that won't fit in the cubbies. I'm not sure how the color will look with everything, but it's a black-brown Besta unit from IKEA and I have a feeling it will be just fine since I've got some black things I'm bringing into the room. Anyway, I don't think it would take well to paint because it isn't actually wood, so if for some reason it looks horrendous I think I would eventually sell it and get another tv stand.
There's also the sofa table, behind the couch, that I had originally mentioned wanting to paint but I'm going to leave it alone. It will stay in the room because I don't want to bring in side tables for the couch, plus it pops the couch out from the wall a little and helps eat up some space between the couch and tv stand (we don't want a coffee table or ottoman in the room at this time).
I didn't touch on every item on the To Do list above, but now that I have a legitimate plan in mind, let's redo the to do's –
Order three 2.5″ faux wood blinds from Home Depot
Order 8 black cubes from Wayfair
Pickup 3 spice racks, pillow covers and children's table/chairs from IKEA
Order teepee from Land of Nod
Paint white trim on cubes
Paint spice racks (Bright green? Royal blue?)
Possibly paint table and chairs; decide once they're setup in the room
Find a floor lamp
Remove the brown cabinet (it's on the wall with the tv stand) – possibly sell?
Grab a few baskets for the cubes
Get rid of green table lamps
Keep an eye out for fun/vibrant décor items like throws, other pillows, etc.
Do you have any feedback on my plan? I would love to hear it! Thanks for reading

Our second baby is a…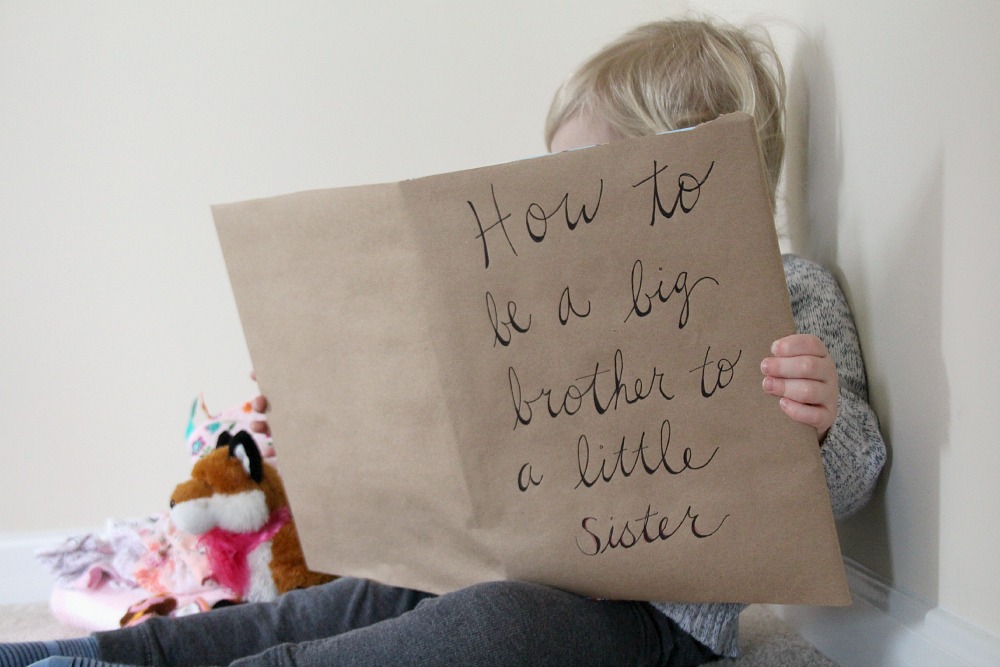 It's official – Ezra is going to be a big brother to a little sister!
We found out back in December (the 13th, to be exact) so it was very difficult to keep this news in for quite awhile (though we did tell family right away!). There are a few reasons it took so long to share this gender reveal, and I will talk about those at a later date, but for now what matters is we are now wrapped up in visions of flowers, sparkles and the color pink as we shift our thinking from boy-boy-boy to girl-girl-girl.
I had mentioned in a weekly update that I had a tiny sliver of a feeling that this baby was a girl, but I never really entertained it much because the legend in our family is that boys are all you get when you're pregnant. And, to be honest, I loved the idea of being a mama to all boys. But now I get the best of both worlds.
It was such a fun moment when we learned the sex of this baby. The ultrasound technician asked us what we thought we were having and we immediately said "boy!" Then he asked us what we hoped to have, and we said it didn't matter really but we were 99% expecting it to be a boy because it would take a miracle of God for a girl to make an appearance. The tech was silent for a few seconds, then he said in the most sweetest of voices, "well, you got your girl!" I completely surprised myself by actually crying, which made the tech say "I thought you said it didn't matter what you were having!"
And, really, it didn't but I guess I secretly was hoping for a girl more than I realized.
We have talked with Ezra so much about him having a baby sister in his life. He is so excited and can't wait to welcome her into our family. I know he will be such a wonderful big brother, because his heart is so tender and sweet. He's already informed me that baby sister is welcome to use his crib (which he is no longer sleeping in, by the way, as of this past Wednesday night), see his dinosaur collection and even play with his trains. If that isn't love and acceptance, I don't know what is.
I've got a bunch of posts in my draft folder for my weekly updates, which I hope to sort through over the next day or two and get up on the blog. As usual, thanks for reading

Baby 2 Bump Progress – 19 Weeks
I don't have a 19 week bump progress photo, so instead let's compare my 18 week bump with this little one (top) to my 19 week bump with Ezra (bottom) –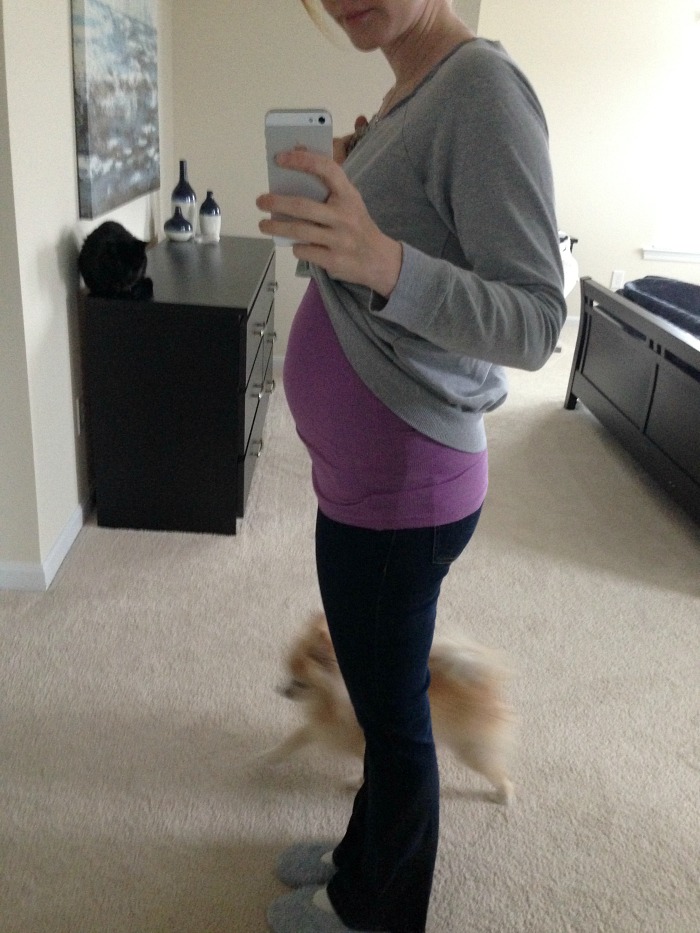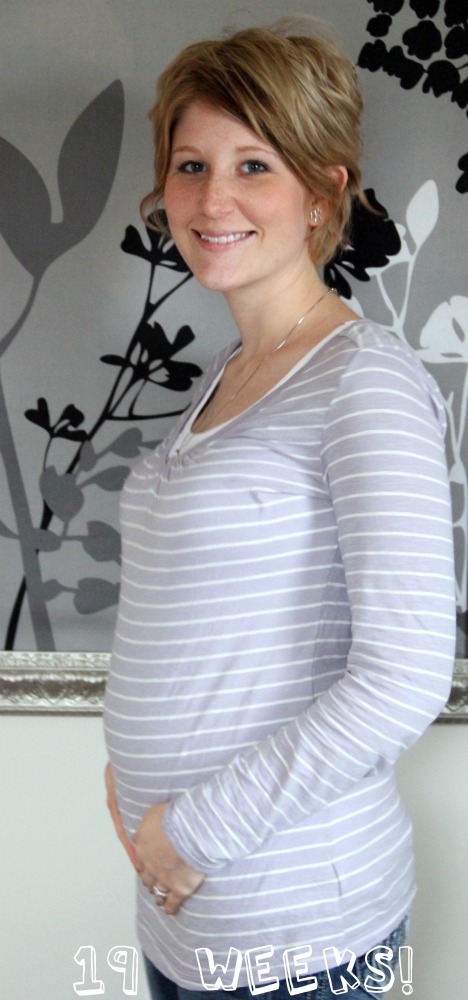 December 19th – December 25th
19 Weeks
Wow… definitely showing a lot more with baby 2!
How big is baby? Baby is the size of a mango! Baby is about 6″ long and 8.5 ounces – steadily growing!
How I'm feeling? I'm feeling pretty good. It's Christmas! I can't believe how quickly Christmas came. It seemed like I had plenty of time before the big day, and then all of the sudden it was here. I went shopping with my sister this week and got some last minute gifts. I'm writing this the day after Christmas, so I can say that things went well despite the day sneaking up on me. We hosted Christmas morning brunch and that was so fun (and so delicious). Christmas Eve was spent with in-laws, eating more delicious food. And today, the 26th, we hosted more family and ate more delicious food. I'm wiped out!
Any cravings or weird dreams? If I was having any cravings, they would be totally satisfied by the sheer amount of food we encountered the last few days. So, I don't have anything specific I want (though salads are still up there). I finally had a weird dream about the end of the world, with the laziest, most stupid zombies on the planet – they didn't attack anyone. Instead, they just made biting sounds at the air and passively walked around. Easiest survival ever.
Any other details? My December appointment went well. The baby's heartbeat is pretty consistent at every appointment – in the 140-150 range. Same as Ezra.
I want to write a separate post about Christmas, but before I get to that I did at least want to share this picture of Ezra. We tried out a real tree this year. We picked it up the weekend of Thanksgiving and decorated it then, too, so this picture is a few weeks old. We have absolutely loved having a real tree. I still put up the white one (and decorated it with all fox ornaments), because I will always love the cheese factor of white trees, but I think this real tree thing could be a new tradition for us.
Merry Christmas!