So, since beginning my challenge to read 52 Books in 2012, I have read 6 books toward that goal. I'm a little behind – about 3 books behind to be exact – if I want to finish this goal on time.
In January, I read:
Don't Get Caught With Your Skirt Down: A Practical Girl's Recession Guide by Jill Keto. I picked this up from the library when I was on this crazy personal finance kick. I get on that kick every January. I'm still on it to some extent.
This book was pretty good, but mostly it's full of common sense information that you'd find in any other personal finance book geared toward women. It did make me interested in economics, though. So that's fun.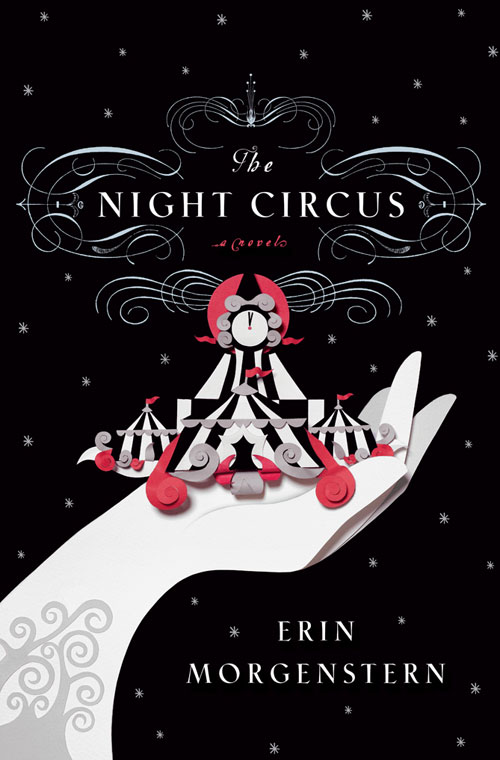 So, I had been avoiding reading The Night Circus by Erin Morgenstern because… I hate circuses. I really hate them. The circus is always in town around my birthday, too.
I ended up picking it up partly out of curiosity but also partly out of a challenge – it was on the Quick Picks shelf at our library, which means you have 7 days to finish the book OR ELSE! I ended up reading it in 2 days. It was so good!
This is arguably one of my most favorite books ever. I don't want to give anything away, but if you haven't read this book you definitely need to check it out. I also had awesome luck that Erin was in town one evening in January doing a book signing and reading. It was awesome to hear her read! We didn't stay for the signing because I was dying of hunger, but I wish I would have.
There's Erin! Check out her website, ErinMorgenstern.com
In February, I read:
This has been on my "to-read" list since 2006 when Alex and I were in Portland for a Sigma Tau Delta conference and this kid read a critical paper he'd written about it. I don't remember what his paper was about, but it was enough to intrigue me. My mother-in-law bought the book for me for Christmas last year and it only took me a year and a month to get around to reading it!!
The Poisonwood Bible is dense. It's long. It's not for people who want to read something mindless. The language was beautiful. No doubt, Barbara Kingsolver is a master of writing. But… I'll probably never read this book again. Haha, I know that sounds weird, but it's true.
I kind of hated all the characters by the end. The entire last section of the book seemed like a waste and was just Kingsolver on her pedestal lecturing us about Africa. But, apart from that it was an interesting, tragic story.
My book club read this in February. I had a terrible time just tracking down a copy of Miss Peregrine's Home for Peculiar Children from my library. I finally found one on the Quick Picks shelves and was super pumped to read the book.
Unfortunately, I ended up not liking it at all. I don't really know what went wrong with this book, but it just isn't setup very well and the entire story is kind of over before you're halfway through. Not to mention, an author should try to make his/her main character somewhat likeable and the protagonist in this book … well, I didn't care what happened to him. He was a jerk.
The images were interesting. But they didn't save the book. Sometimes they distracted and broke the book up.
In March, I've already read:
Jesus for President: Politics for Ordinary Radicals was interesting. It was a quick read.
I think the authors (or maybe it's the editor or publisher?) spent a little too much time on the layout/design of this book. It's really cool looking… but sometimes that's distracting from the actual text.
I took this book with a grain of salt. The authors would have you be a complete and total pacifist. I don't think that that is wrong or a bad way to be, but I do think it flattens out Jesus's personality – he is so complex.
The only other complaint about this book is sometimes the language is really condescending. This is completely on accident, I think. But it comes across sometimes as though the authors are imagining they're talking to a small child.
I've read other books by Regina Leeds so I already knew how One Year to an Organized Financial Life was going to be setup and what to expect. Since I got this from the library, I didn't have a year to read through it. I didn't read the entire thing from cover to cover – instead, I skipped around to what applied to me and what I wanted to focus on.
I appreciate that Regina considers herself a 'zen organizer' which means she not only focuses on the actual act of decluttering your physical surroundings, but also on decluttering your mind/psyche as well and exploring why you got cluttered up to begin with. So the exercises where you explore your personal relationship to money was pretty interesting and I did enjoy that.
Overall, this is a pretty good book to get yourself in a solid position for understanding your finances. It's probably worth purchasing, to use as a reference throughout the year.
And, in March, here is what I'm currently reading:
The 4 Hour Workweek by Tim Ferriss – I had started this book last year but abandoned it for whatever reason. So, I've picked it back up at the beginning. Tim is kind of annoying sometimes, but I appreciate his straight forward writing style. And, the guy lives what he preaches. You can't argue with that.
Beautiful Outlaw by John Eldredge – This is pretty interesting so far. It looks at Jesus from the perspective that not only is he God, but he is also a man…and what does that mean when God becomes man? I like how it makes him more dimensional. There have been complaints that this book is not theologically sound, but… I'm not reading it for the theology. I'm reading it just to get another perspective.
So, that's that! Check out my Goodreads profile if you want to stay more up-to-date with my progress.
Let me know in the comments if you've read any of these books and how you liked them, or tell me if you're embarking on your own reading challenge!