This week's A glimpse of… is about Ezra's birthday party last week. He turned one this past Saturday!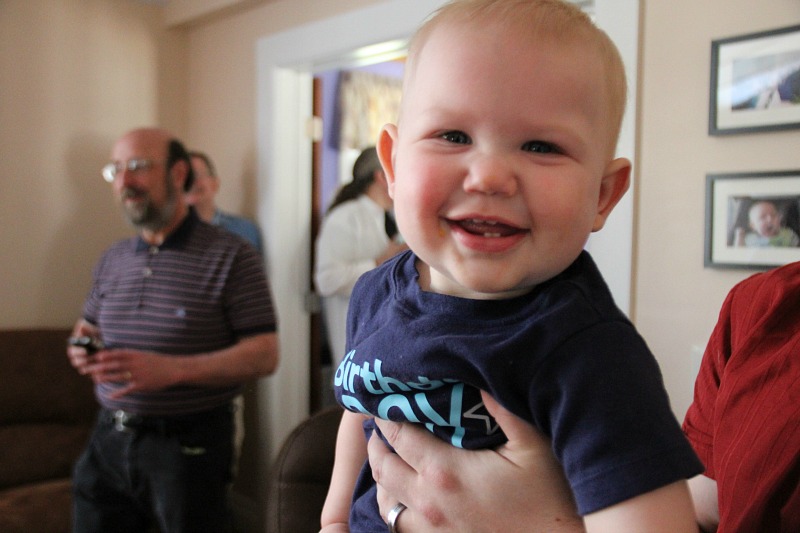 I think he had a really fun time at his party. His favorite thing? The cake. Hands down.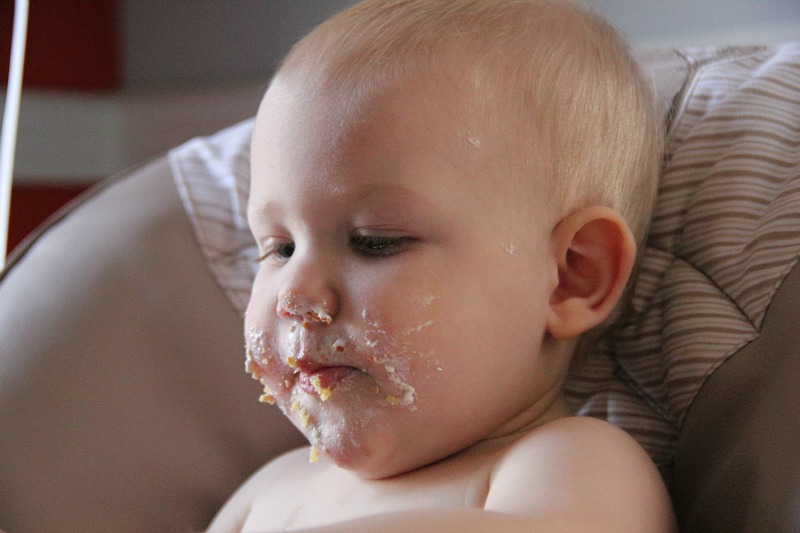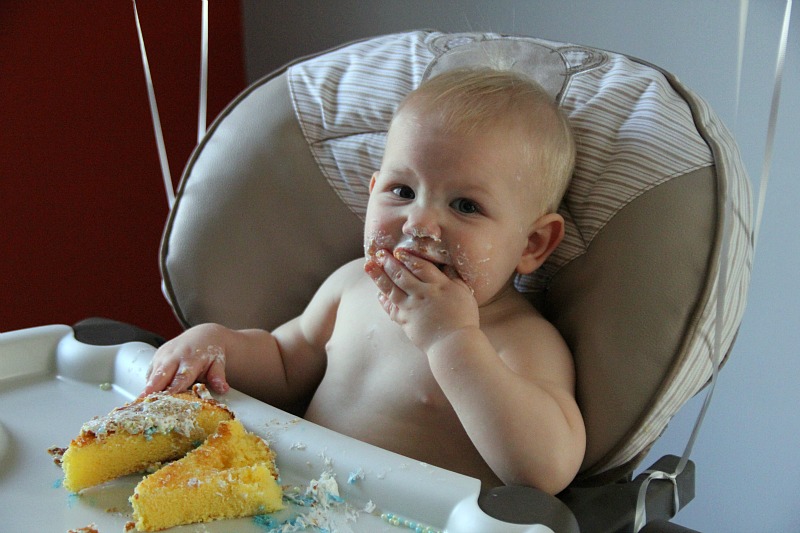 "Mom, you've been holdin' out on me for 12 months!!"
Ezra was on a sugar high for four hours after eating -almost- all of that cake on his tray. The funniest part of all was when we first put it on his tray, he didn't even use his hands. He dove straight in with his face a la Randy in The Christmas Story aka, "show us how the piggies eat!"
But that's getting a little ahead of ourselves. The morning of Ezra's party -which also fell on his actual birthday, April 6th- Alex and I gave him his present from us and, after he opened it and we played for a bit, I headed out to my parent's house to start making the food and decorate.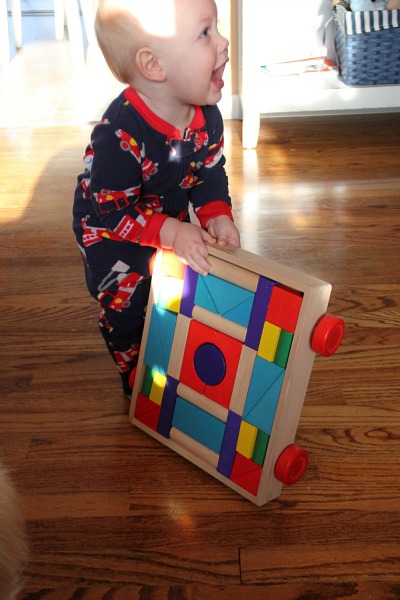 "Just what I always wanted! Blocks!"
I got to my parent's house about 3 hours before the party was set to start and I thought that would be enough time but we were scrambling at the last minute, setting up food still when the guests started arriving.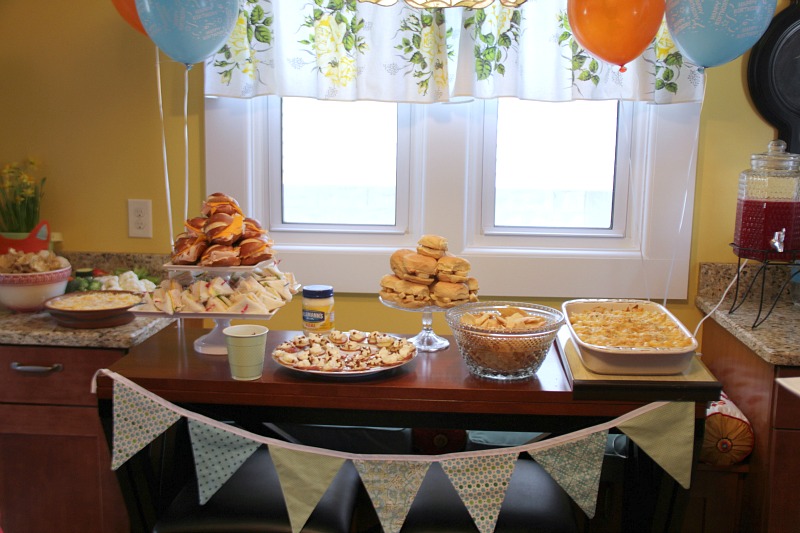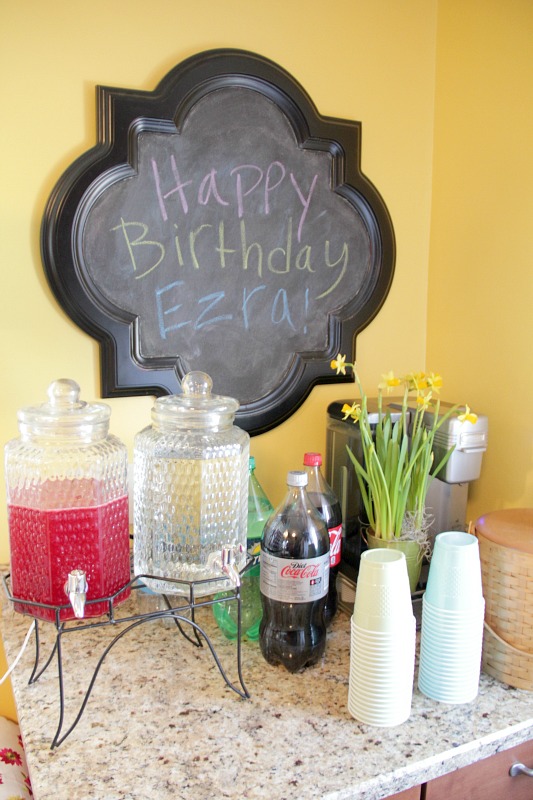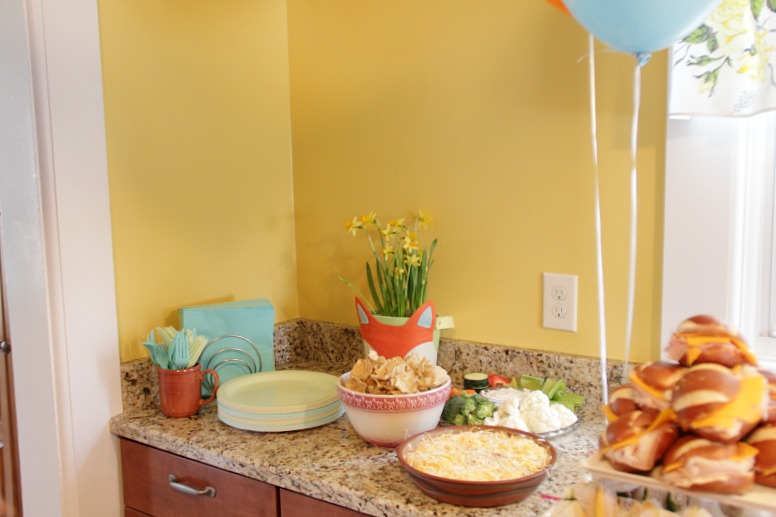 I was furiously snapping pics after guests arrived so I had to quickly get photos of the food before it was all gone. I planned the menu around a few of Ezra's favorite foods. We served:
Ham and cheddar sandwiches on pretzel buns (German roots, holla!)
Mini turkey sandwiches with lettuce and tomato on wheat
Mini peanut butter + banana sandwiches on rolls (for the kids… or the adults who have a special place in their heart for pb + bananas)
Baked potato bites (sliced, baked red potatoes topped with a sour cream and cream cheese combo, turkey bacon bits and chopped chives)
Baked macaroni and cheese with broccoli
Layered Mexican dip (one of the layers is avocado, which is one of Ezra's favorite foods)
Veggies with a creamy sage dip
For beverages, we kept it simple with water and pop, but I did have a berry lemonade spritzer that was a hit.
And, as for desserts, there was the cake -of course!- and some sugar cookies decorated like foxes that I made. We also had a fruit pizza which I never snapped a photo of, but it was delicious!
Ezra's cake was yellow white white icing. I topped it with blue and green sugar pearls. There's also a layer of gold sugar under that, that you can't see. I ordered the 'one' candles online, and the fox topper is something Alex and I had purchased when we first found out we were pregnant. It's not really a cake topper, obviously, but it looked cute and was a good size for the top of a cake.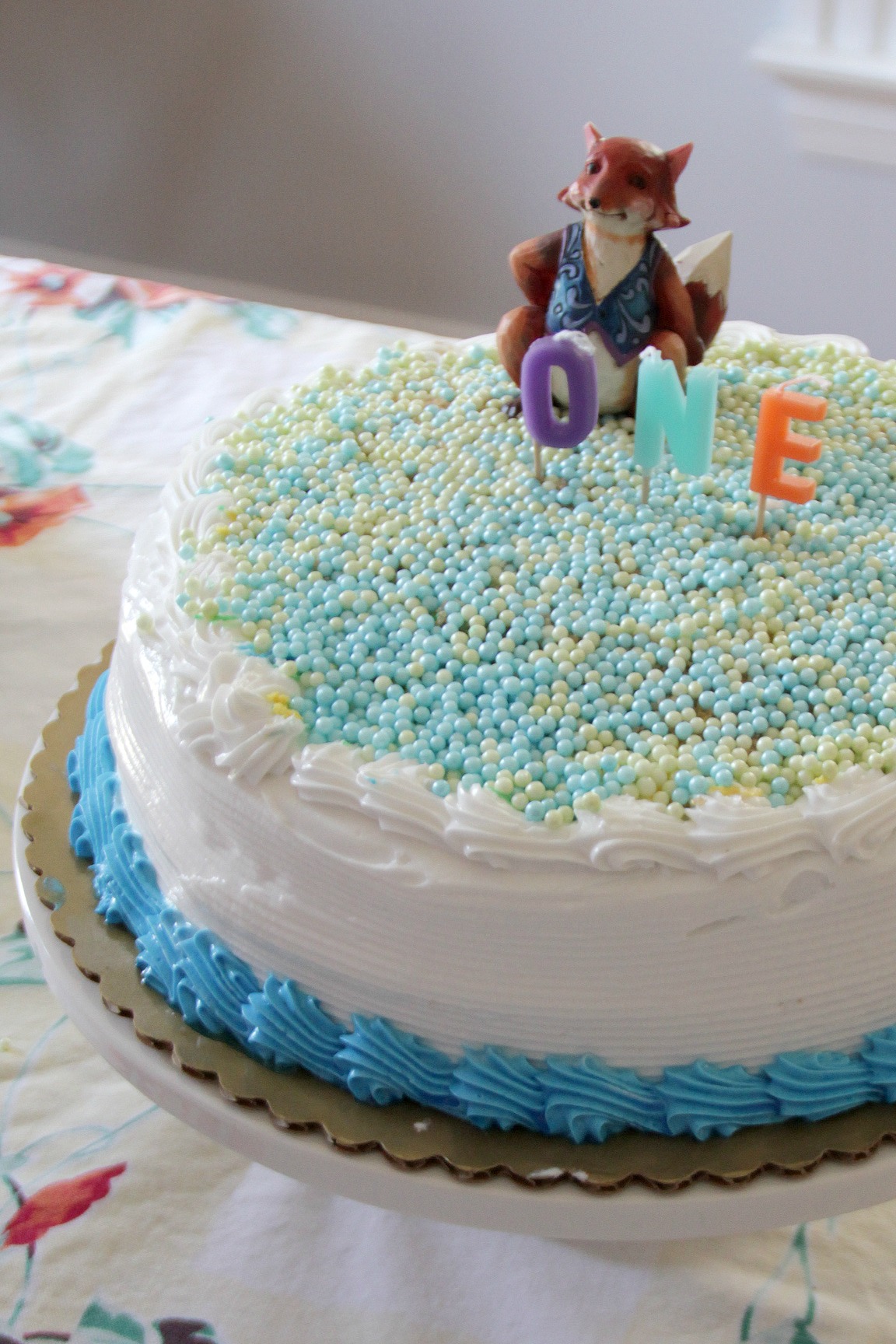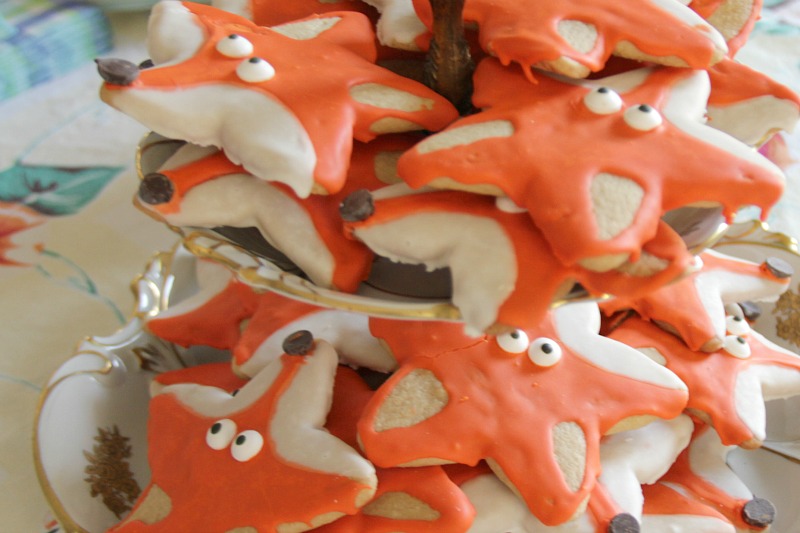 The cookies were a huge hit. I used the Old Fashioned Sugar Cookie recipe from The Cookiepedia, and this tutorial from The Bearfoot Baker to make the cookies look like foxes. And now I have a huge amount of respect for professional bakers and people who ice sugar cookies all day long. That is tiring work. And I only made 3 dozen.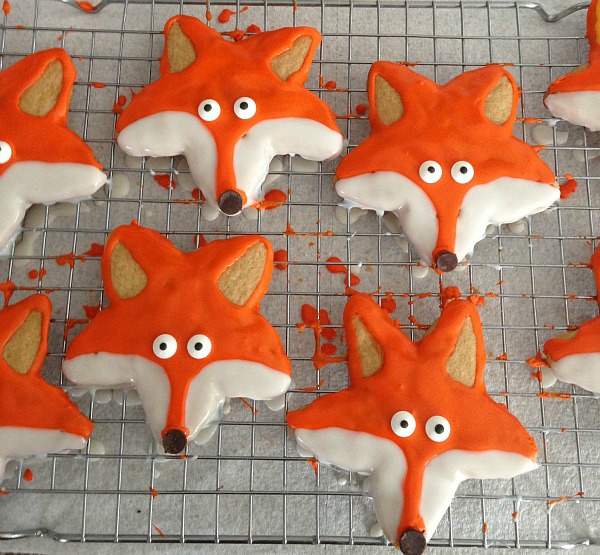 I tried to keep it relatively simple with the decorations. Our colors were lime green, baby blue and white with pops of orange and yellow. I made two fabric bunting banners – one you saw in the picture above, on the food table – and the other was around the table with the desserts. We also had a few tissue paper pom poms around, plus orange and blue balloons.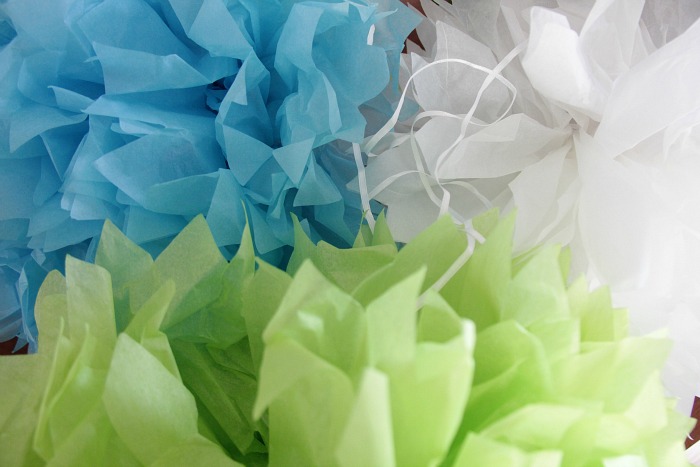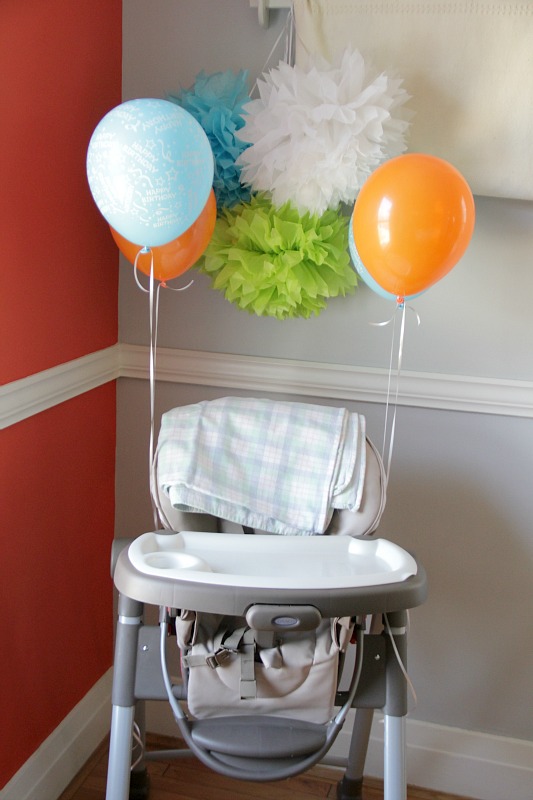 I made a photo banner for the living room, displaying one photo from each of the past 12 months and a few blurbs about milestones or notable things that happened in Ezra's life each month. It turned out really cute, but it was really hard to pick just one picture for each month.
I used green pom pom trim that I had previously used to trim out Ezra's curtains in his room. I didn't have enough for the banner, so I had to get a few more yards from Joann Fabrics. To attach the paper to the trim, I used mini clothespins. The paper was a slightly heavier weight than standard copy paper but the mini clothespins held each piece of just fine. I had the pages printed at Kinkos and they did a really great job.
The woodland animals on each paper were part of a printable package I'd ordered off Etsy.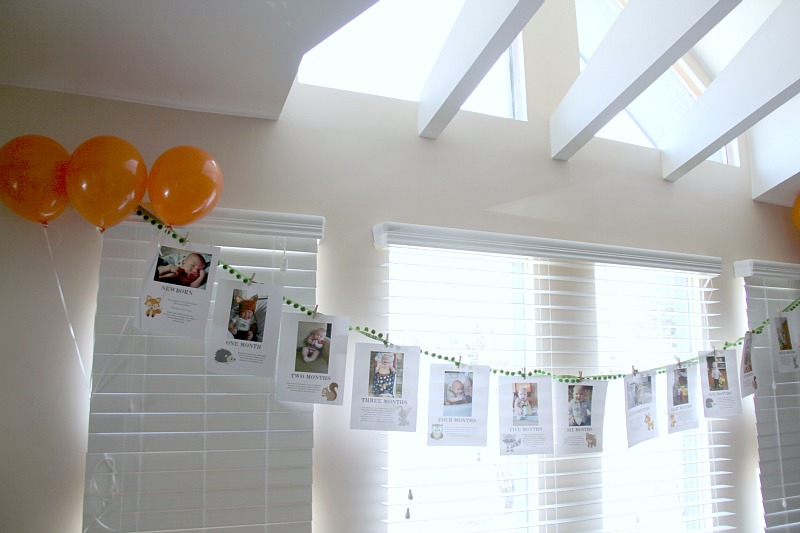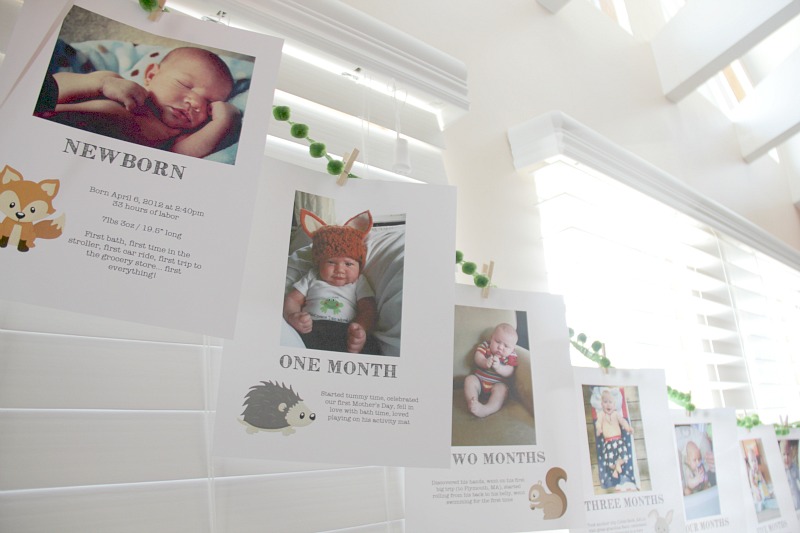 The one thing I forgot to get a picture of was the favor bags. We had four kids coming and I personalized their bags, but everyone got a book – fox themed! – a little toy or something special and a treat. The favors were in a white paper bag, sealed shut with a fox sticker (using the fox in the pic above, actually). The treats were in a little fox burlap sack, that I had gotten off of Etsy.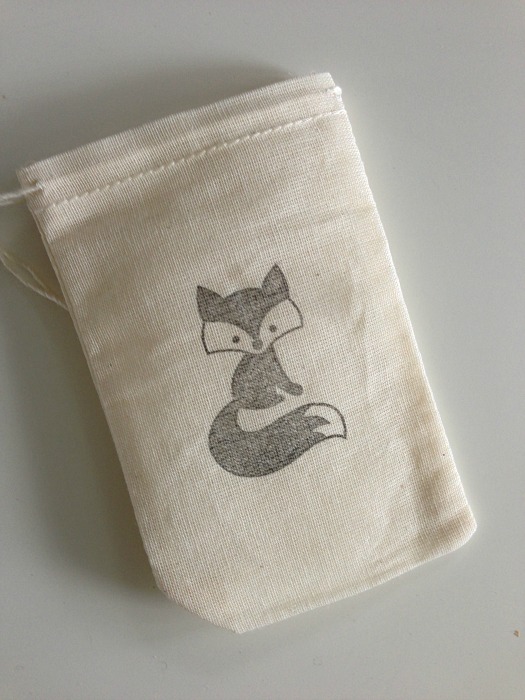 I had everyone put the presents for the birthday boy in the living room. Ezra didn't have too much interest in opening presents – he wanted to play with his baby buddies – so I tried to divide up the present opening into blocks so he didn't get too overwhelmed. It didn't really matter though… I ended up opening most of his presents myself. And that means I get to play with all of it myself, right?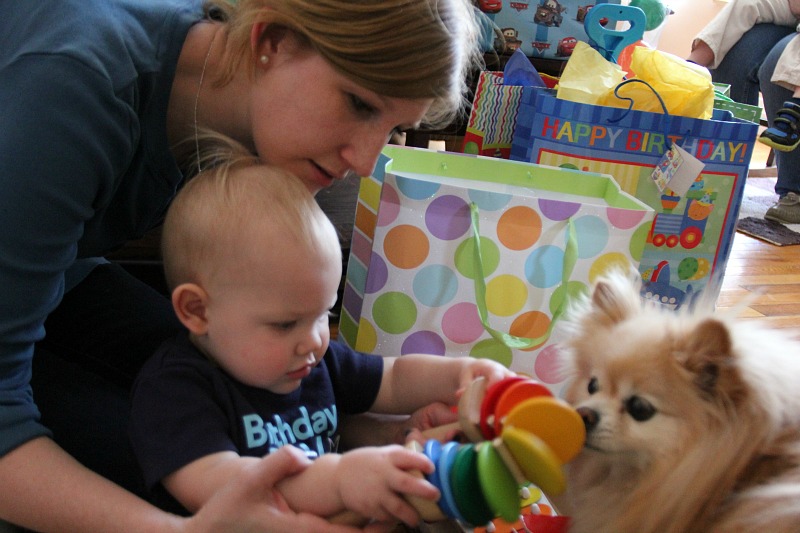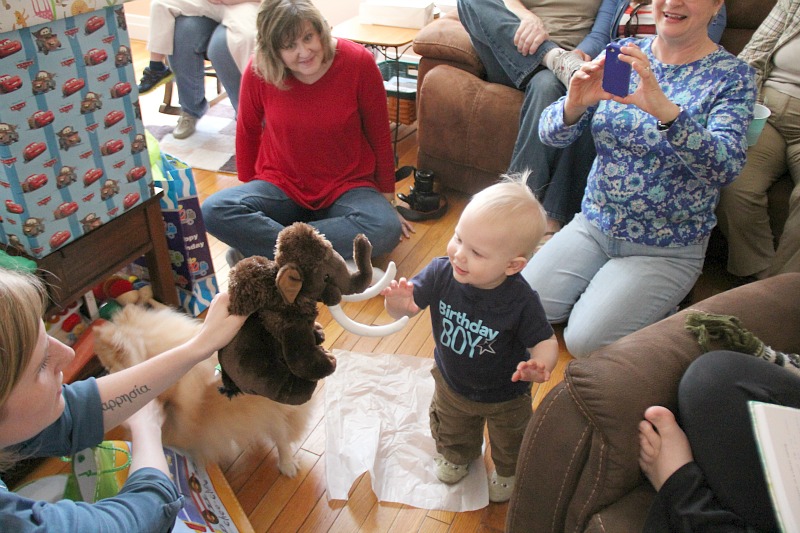 Ezra had a few special things he wore for his birthday. He wore the "birthday boy" shirt pictured above right when he arrived and before we had cake. For his cake smash, he wore Best Bottoms' new Fox Trot cloth diaper. It's hard to see the pattern in the picture below, but it's really cute.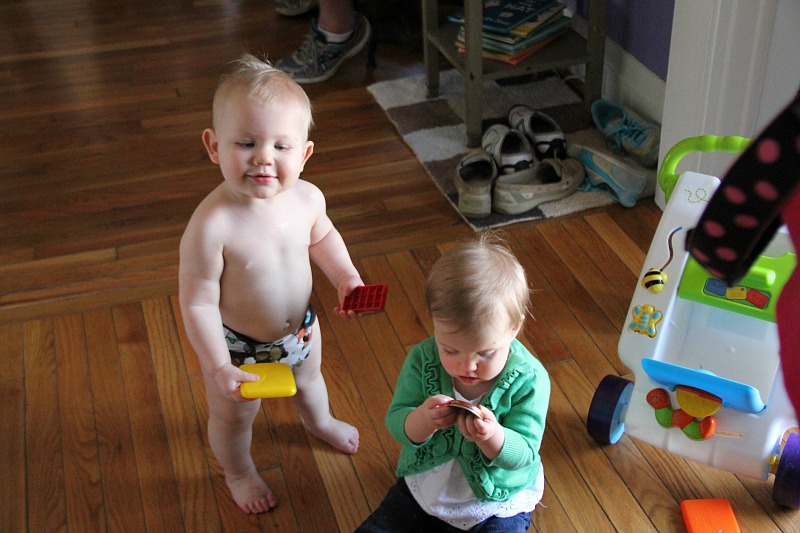 And, after his cake smash, he wore this cute little fox t-shirt I found on Etsy, by b. children's wear.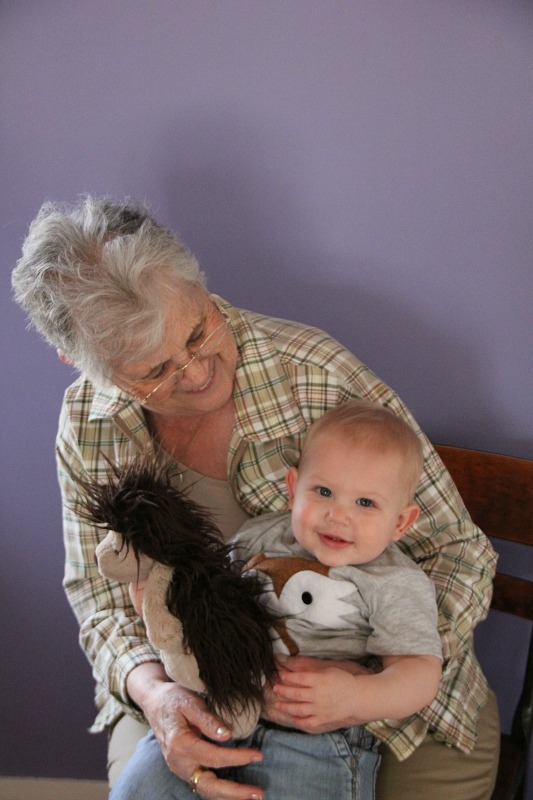 This is the best picture I could get of the shirt because, after cake, Ezra was a wild man!
All in all, it was a great day but it sure did blow by quickly. Before I knew it, all the guests had gone and it was just us and our little one year old. I guess I can't call him a baby anymore *sniff sniff*.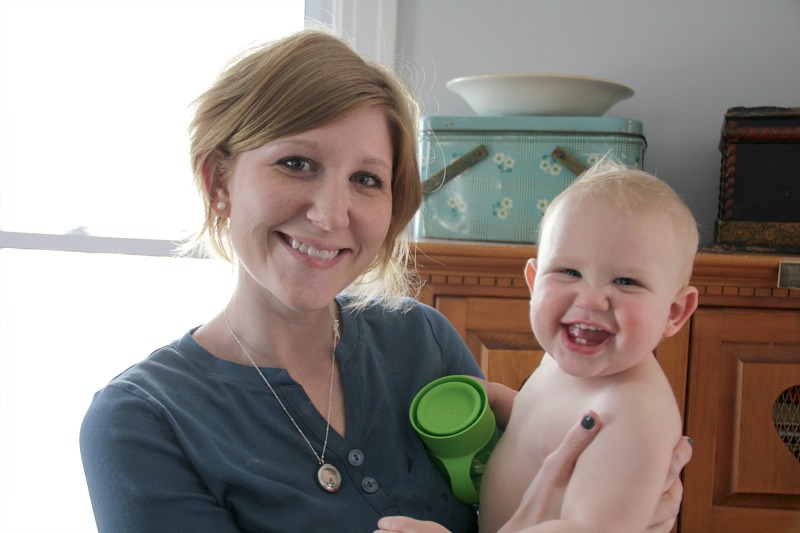 If anyone is interested, here are a few links to my sources for various things we used for the party:
Napkins, plates, cups and plasticware – Party City. The colors we used were Kiwi, Leaf Green and Robin's Egg
Solid orange balloons and 'Happy Birthday' blue balloons – Party City
Tissue paper poms poms, one package each of white, kiwi and Caribbean – Party City (it's cheaper to buy them here than from Joann Fabrics or Michael's, plus these come already folded accordion style and have a really nice, long nylon cord).
Cake topper – Dapper Fox figurine, by Jim Shore
'One' candles – Baker's Nook (I saw that you can get these candles at Party City, too. They're cheaper at Baker's Nook, but you can't choose your color. They randomly send you colors)
Blue and green sugar pearls – Joann Fabrics
Green pom pom trim – Joann Fabrics (this is the style trim I used, but not the color. I can't find the green online)
Birthday Boy t-shirt – Kohls
Flynn the Handsome Fox t-shirt – b. children's wear
Fox Trot Best Bottoms Cloth Diaper – Nicki's Diapers
Woodland Animals Clip Art Set – Pixel Paper Prints
Fox muslin party favor bags – Crimson Hollow
If you're wondering about anything else I haven't listed here, let me know!