This Friday's "A Glimpse Of…" is going to be all about the hobby I recently picked up: knitting.
The local yarn shop where I learned to knit gave me a basic pattern for an envelope pouch. It's pretty simple to do – you cast on 25 stitches, knit 4 rows and drop five stitches after you've stitched 10 (then knit the remaining 10), then pick those 5 back up on the following row (this makes the button hole). After that, you just knit until you've reached your desired length (roughly 10 inches), stitch up the sides and add a button. You can felt this pouch if you make it with wool, which is what I did for the first one I finished… which I don't have a picture of right now because I haven't added a button to it yet!
After I finished that first one, I decided to make another one for my sister-in-law in a UK blue wool yarn.
I made this one bigger – I casted on 35 stitches instead of 25. I don't know what length it ended up being. I just kept going until, when folded, it looked right.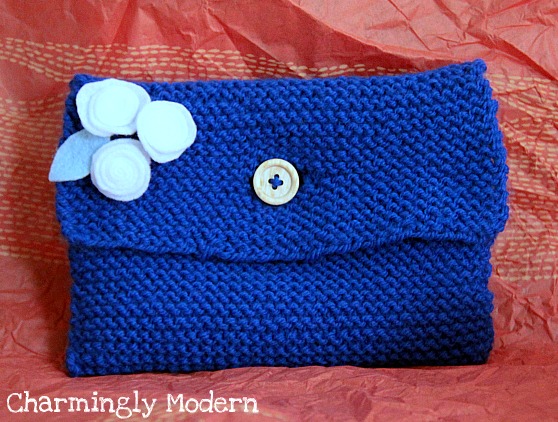 There's nothing inside it in this picture so it looks kind of floppy. I also did not felt this, though I could have…but I didn't want it to shrink.
I added on three little white felt rosettes, which are very easy to make. To make a felt rosette, cut out a square of felt and cut the square in a spiral pattern. Start at the end of the spiral and wrap the felt up in a circle until you reach the center. Glue the center down and, voila! You have a felt rosette. The smaller your square, the smaller the rosette. I used a square that was about 1.5″ to get rosettes this size.
I'm actually working on another knitting project right now – a baby cap! I popped into the yarn shop today and they let me know I used the wrong size circular needle to start it out, so the cap is not going to fit a baby. Well, it will fit a 6 month+ baby, but not a newborn. This was kind of annoying because when I bought the yarn and pattern book, they told me my needle would work just fine… but oh well. I'll probably give this cap away anyway, because the yarn I'm using has a little bit of pink in it and with the way the cap is shaping up, it's kind of girly looking. Luckily, when I bought the supplies I also bought a skein of mint green yarn. So the next cap will be made from that.
(This is an Instagram photo so that's why it's kind of grainy!
My username on Instagram is moxiemanda.
You can check out my stream here!)
Anyway, regardless of the snafu I'm very excited because this cap is my first time using double pointed needles! I began it on circulars (size 7, 24″ ones… should have been 16″) and just transfered it to the double pointed needles in order to shape the top. I can't wait to finish it and see how it turns out. This is also my first time reading an actual knitting pattern and it isn't as difficult as I thought it would be.
Do you knit or have some other craft/hobby? Let me know!