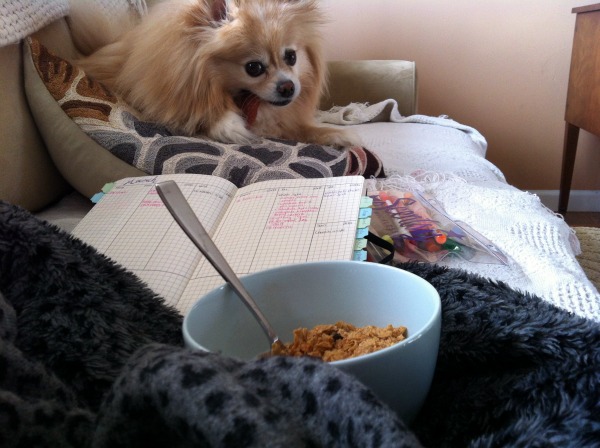 A glimpse of yesterday
I've been wanting to do a photo an hour post for awhile, so I decided to give it a shot on Wednesday. Well, the day got so out of hand that I completely didn't keep up with it at all. So, I gave it another shot yesterday and the results were much better! So this Friday's "A glimpse of…" is how I spent my Thursday. I realize you're probably exploding with anticipation, so let's just get to the pics, shall we?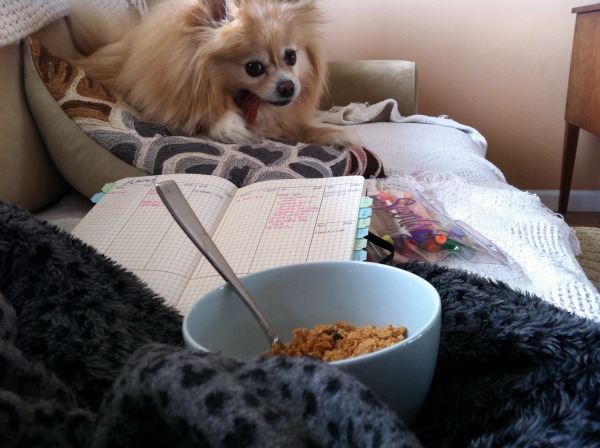 8:30am – Up and at 'em. I like quiet mornings. For the most part, every morning, I get my breakfast (Raisin Bran in this case!), give Aslan a duck jerky and Caspian a few treats, then settle on the couch to figure out how my day is going to look. After I've got a plan for the day, I do some bible study or reading. It's a really nice way to start the day…that, unfortunately, is probably on a countdown to end rather soon. But it won't be gone forever!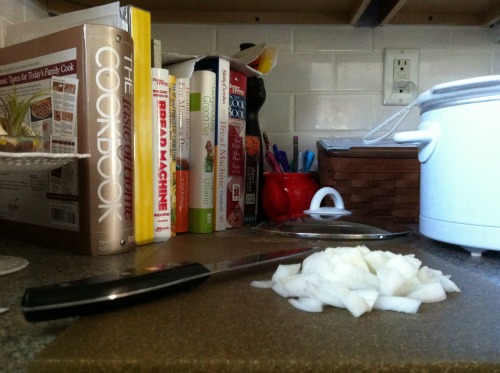 9:30 – Prepping dinner to go into the crock pot. Not pictured: ground turkey breast browning in the skillet. We don't just eat onions for dinner, haha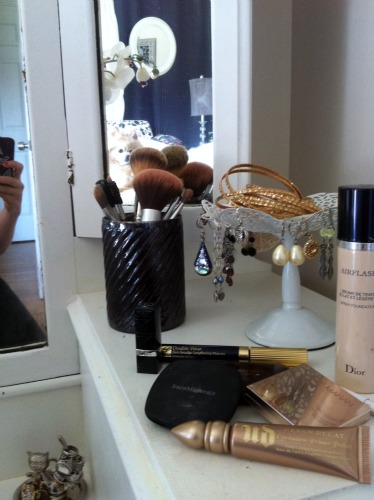 10:30 – Getting ready for the day. That's my makeup I wear pretty much everyday. Josie Maran concealer, Urban Decay eye primer, Bare Minerals pressed shadow duo in The Top Shelf, Korres eyeliner in Brown 2, Estee Lauder Double Wear mascara in brown, Dior AirFlash foundation and some kind of lip gloss/color. Can you spot my little supervisor in the mirror's reflection?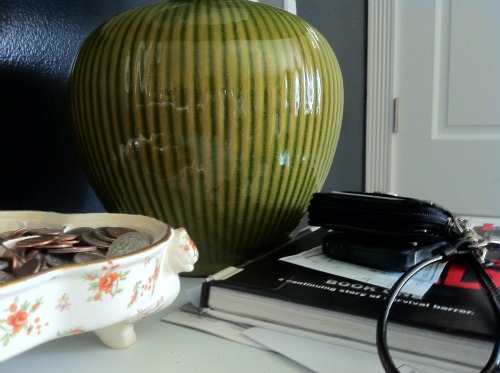 11:30 – Heading out the door to start my errands for the day. This time, it's the bank, library, then to my parent's house. Usually, Aslan comes with me but today I'm having lunch with my mom so Aslan gets to hang out at home.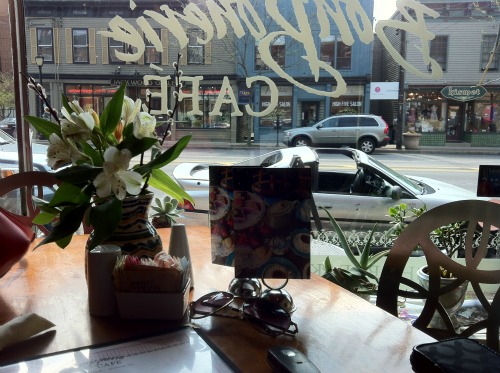 12:30pm – Lunch! Mom and I hit up a local cafe/tea room – one of my favorite places in Cincinnati.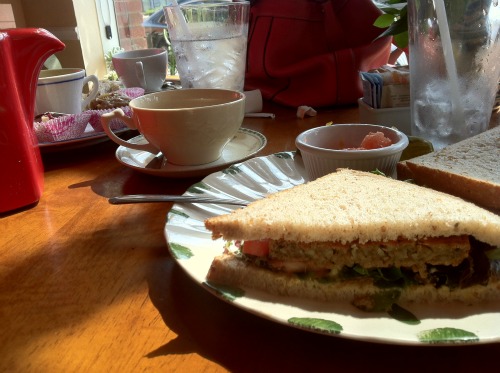 1:30 – It didn't quite take our food an hour to arrive, but the BonBonerie Cafe does have a more relaxed atmosphere. I ordered what I usually do – an artichoke burger with mustard and fruit. Mom got what she usually gets – the tea lunch, which comes with a few tea sandwiches and assorted mini desserts. She always gives me the fruit bread mini sandwich, with cream cheese in the center. Yum!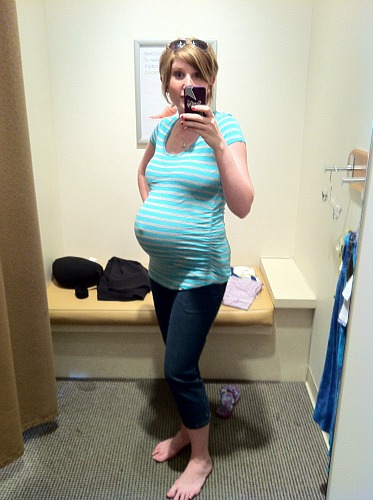 2:30 – After lunch, mom and I headed out to Motherhood so I could find some Spring/Summer tops, as well as capris or shorts. Luckily, I found both! And now I have clothes to wear. Woo hoo! PS – notice how the shadows highlight my belly button… looking forward to the day when I'm an innie again.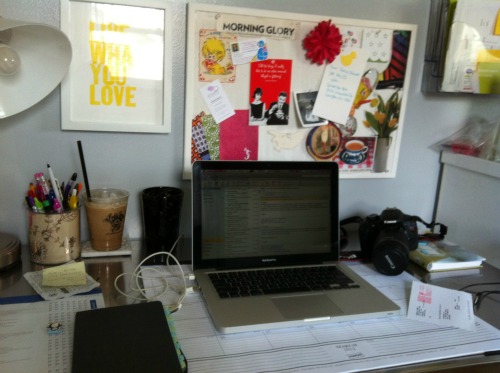 4:30– I had a picture for 3:30…but it turned out blurry and you couldn't even see what was going on. It was a picture, though, of my drink I picked up at Reality Tuesday after dropping my mom off (you can see the drink in this pic so that works!). It didn't take me an hour to get the drink, though… I actually had to run back to my parent's house after I got it to help my sister with something. So when I got home at 4:30, I was a little behind on my work considering I'd been gone pretty much all day. There were two hours still before dinner would be done – plenty of time!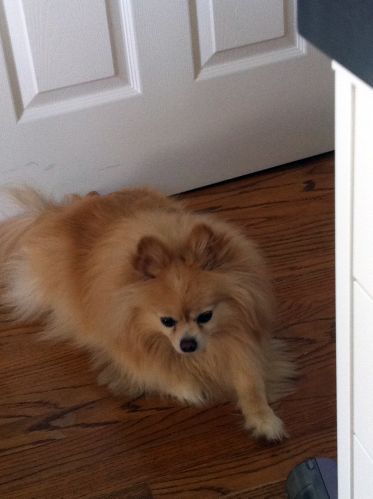 5:30 – Still working in my office. Aslan usually hangs out with me wherever I am. He napped off and on while I was working. Here's a brief moment where he's probably thinking "When will we be eating dinner? I am so bored!!"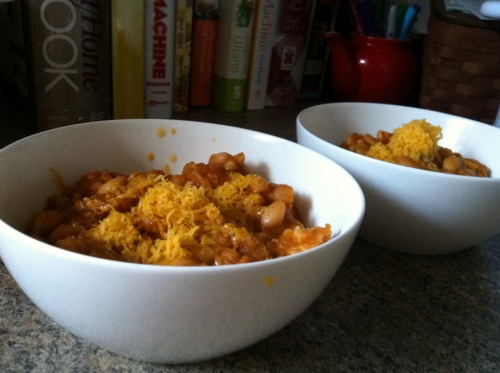 6:30 – Dinner's ready! We haven't had this recipe before so no telling how it will taste. But, it will probably be delicious – especially with some freshly shredded sharp cheddar added on top.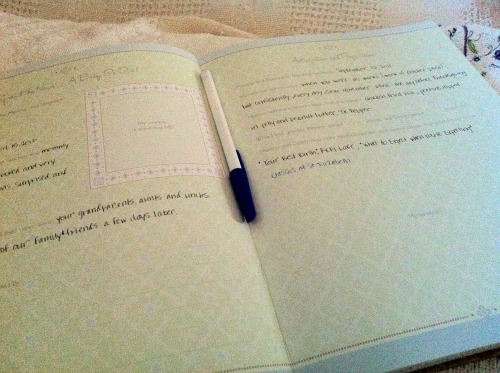 7:30 – After dinner (which was great, by the way!), I decided to work on Baby Boy's baby book for a few minutes. There's not too much I can fill out until he arrives, but it's still fun to flip through it and wonder what he'll be like.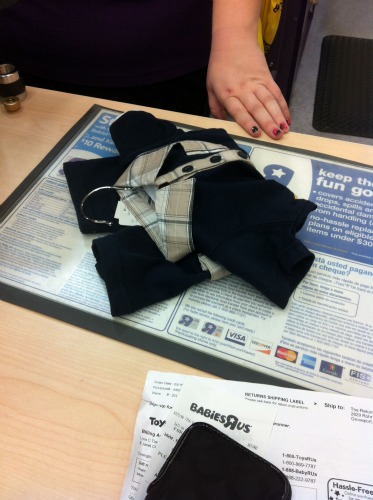 8:30 – Feeling kind of bored, Alex and I decided to go to Babies r Us and find an outfit for Baby Boy to get his hospital picture taken in after he's born. They had their Easter outfits on sale, which worked out perfectly. Now, he will be very dapper on his birthday.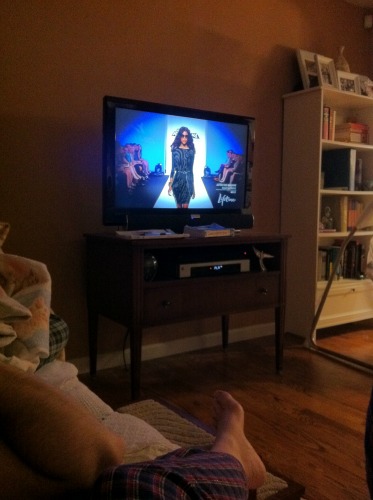 9:30 – Home and relaxing! We usually hang out in the living room and watch a movie or tv. I use this time to catch up on work I didn't get to during the day, too. Thursday nights means Project Runway: All Stars… well, it did. This episode wrapped up the season. Mondo won, big surprise.
So that was my Thursday! It was not a typical day in that I was gone from the house the majority of the afternoon and I didn't get as much work done as I usually do. But it was still a good day!
Happy Friday!