Back in October, I wrote a post about our upstairs playroom and how it's pretty much a blank state (you can find the post here – A to do list for the playroom). Now that we are expecting baby #2, I've started to revisit the idea of the playroom, and I've also started to semi freak out about the idea of ALL THE TOYS that will be coming into this house, especially since now we will have both a boy and girl. Just to refresh your memory, here's one view of what the room looks like (prepare to be bored to tears) –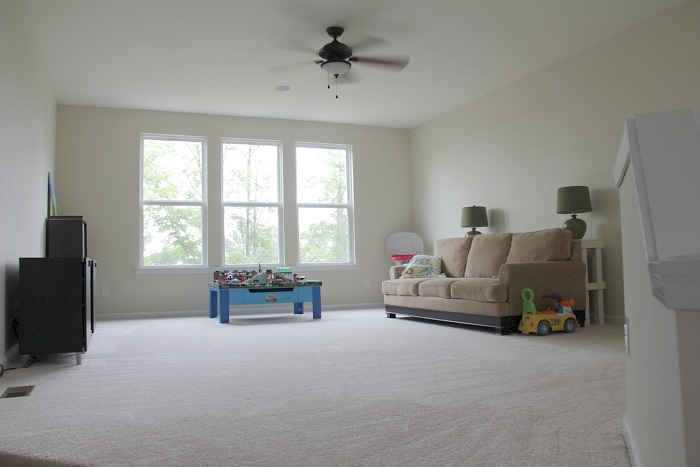 Since moving in, we've celebrated Ezra turning 2 and Christmas/Hanukkah, plus we've been living our lives which means things accumulate and seem to multiply. What does all this mean? More toys seem to be in the house than what we originally brought in. This past week I really went on a toy cleaning rampage. Maybe "rampage" is too strong a word, but I really did go through everything and I put a lot of stuff away in bins to go down to the basement. I'm sure the bins will make their way back up again at some point, but by then the toys will feel brand new again! It's a win for everyone!
So, now, all we really need to pull the playroom together is a bit of organization. My favorite thing!
I did make a To Do list for the playroom (as the title of that October entry suggested…), so let's take a look at that list and see if it's still applicable at all –
Paint the walls, upstairs hallway and stairwell some light shade of grey (with the eventual plan being to also paint the living room, kitchen, eat-in area the same shade of grey)
Add a board & batten treatment to the window wall
Add some simple white 2″ faux wood shades to the three windows
Paint the TV stand – not sure on the color yet
Paint the accent table – not sure on the color yet
Better lighting; relocate table lamps elsewhere
Toy storage solution
Better/more seating
From this list, the painting, board and batten and additional seating are all items that have to go on the back burner for now. I don't really feel like additional seating is a must-have for this room until the kids are older and it transitions to more of a media room for movie watching, video games, etc. The main purpose of this room is to play, so I don't want space eaten up by more large furniture.
The painting will be delayed probably until the summer, at which point we'll hire someone to paint both floors – only the walls that end up connecting. And I thought I wanted a grey, but the paint swatch I've been holding on to now for several weeks is more of a taupey grey (greige? I don't even know what greige is).
Lastly, the board and batten is such a fun idea, but it's on the way far back burner, along with a few other really cool ideas I have for other rooms throughout the house. I have a feeling those will all be things we hire out, unless we suddenly decide to become DIY pros (and, to be fair, I am related to a DIY pro – my dad – and he has offered to help with a few of the projects we want to tackle).
Now, let's take a look at the moodboard I put together for this room, after sitting in it for hours over the course of the last few days and really thinking how it could best work for our family –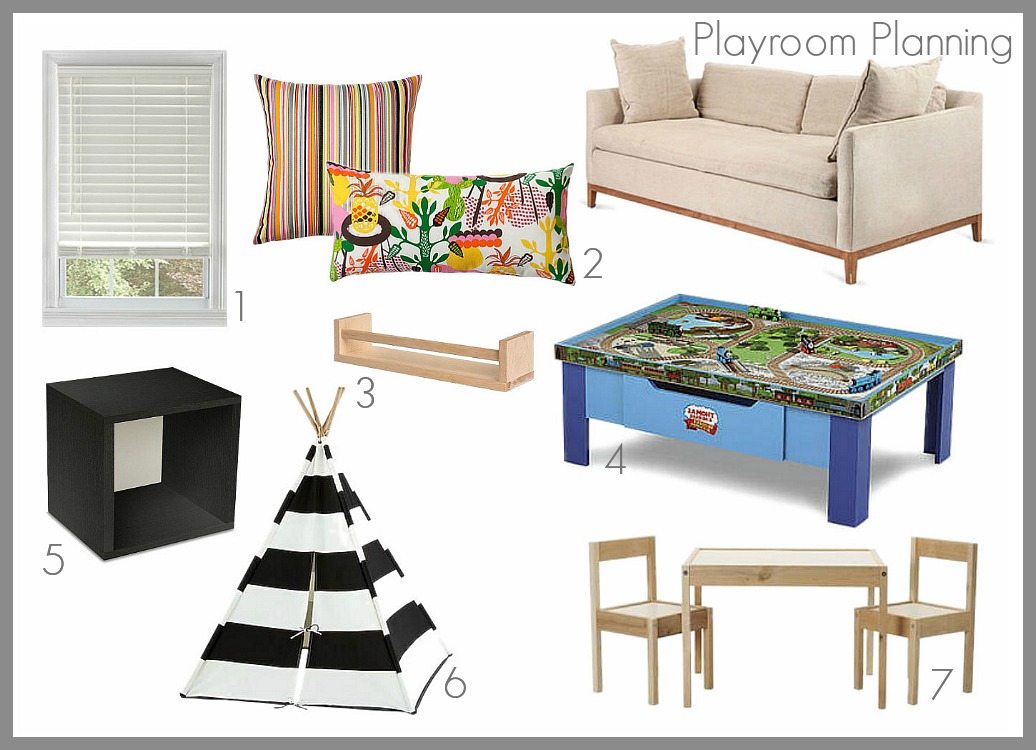 The couch on this board is the closest I could find to the couch we currently have. I am not getting rid of our couch; it isn't in the budget right now and, apart from not looking 100% great, it's functional and for a playroom it's just fine. Plus it's a neutral color so it has that going for it. Plus plus, I looked up slipcovers at Target, and if I decide I want to change the color of the couch, I can do so for about $80.
On to the numbered items –
1 – White 2.5″ Faux Wood Blinds, via Home Depot
I love these blinds. They are in almost every window of our house. They are extremely easy to install and they look great – it's shocking to me how just putting them up in the window transforms the room. Not to mention, they're also really efficient at blocking out light which is very important for the playroom since the windows face west, and that means as the sun sets, that room is flooded with very bright light that needs to be diffused.
2 – Pillow covers, via IKEA
These pillow covers are so fun! I really want this room to be bright and interesting for the kids, to help make it a place they want to spend time in. These covers are the inspiration behind the room and I'm going to use them to plan out other aspects like wall hangings and any potential accent wall. The oblong cover is the Knappsav and the square is the Akervallmo. Incidentally, both of those names are on our "maybe" list for girl names. Just kidding. Or am I…?
3 – Spice Rack, via IKEA
You may be wondering what a spice rack is doing in a playroom, so I will tell you. That little spice rack is only $3.99 and it has an endless wealth of possibility. It is 15″ long, which means it makes for a great little shelf. Since it has the bar in front of it, it's especially good as a shelf for toys or kid items (or you can hang it upside down and the bar becomes a hook to hang things!). In the picture above of the playroom, you'll notice the train table is in the front of the windows. I've actually moved the train table to the opposite side of the room, by the half wall (see pic below). I'm going to mount three of these spice racks, one on top of the other, for train storage because as Ezra collects more wooden railway trains, his table gets really overloaded and it's hard to see what's going on. This way, he can take out trains that aren't being really useful (haha) and just focus on the ones he wants. I'm going to paint these, just not sure what color(s?) yet.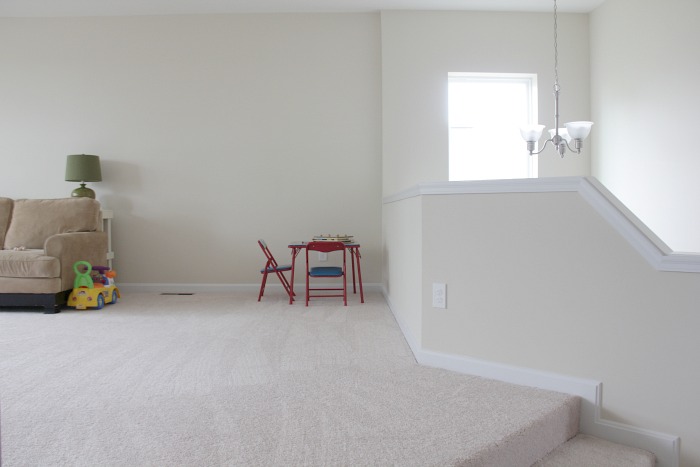 4 – "Thomas the Train" Train Table, via Toys R Us
I don't know why I numbered this particular item, because we already own it. But, I included it in on the board because it's a large piece of furniture and is arguably the main attraction of the room. I don't have much to say about it, other than it's there. So that's that.
5 – Way Basics Design a Cube Bookcase, via Wayfair
I knew I needed some kind of cubby storage for the playroom, and I also knew I wanted it to go directly under the windows. However, I was limited by the available wall space under said windows – only 26″ approximately from the floor to the sill. I originally was going to go with the Kallax 4-shelf unit and get two of them so I would have 8 cubbies, but I would have to lay them end to end (I was going to attach legs to the bottoms, though, to elevate them slightly off the ground). That wasn't really the look I wanted; I wanted stacked cubes. And then in my internet wanderings, I found these cubes that you can group however you'd like – and they were 12.4″ tall! Perfect! I'm going to order 8 of them, so I will end up spending slightly more than the IKEA choice, but I will get stacked cubes instead one long line – and I will have a half inch to play around with if I choose to add legs. These cubes come in several fun colors, and I was debating going with the green, but ultimately I'm going with the black and I will paint a white outline around the edges of the cubes.
6 – Black Stripe Canvas Teepee, via Land of Nod
This is my major splurge for this room, but I am also so excited about it. Earlier this month, we moved Ezra out of his nursery and into his "big boy" room and throughout that process, I continually asked him how he would like his room setup. When we were talking about paint colors, at first he said he wanted a dark green wall and I was totally all over that, imagining this deep, jewel tone (like a mixture of deep green and black). Then I spied that teepee – what a contract against the green wall! It was meant to be! When it came to picking colors, though, Ezra switched gears and wanted blue so I filed the teepee away in my brain… apparently for the playroom, because it's perfect for this room and now both kids can enjoy it.
7 – Latt Children's Table and Chairs, via IKEA
The table and chairs we had in the playroom was a set that had been lent to us, and I thought now was a good time to return it since I'm working on revamping the room anyway. This little set from IKEA is very budget friendly and, I'm 99% sure I can paint it if I decide I want to add more color to the room. But I do like the natural color, as well (my only concern is that the couch is beige, the walls are beige/white and the carpet is beige).
And that about covers it! I have no idea what I will put on the walls; I think they will be blank for awhile because there is so much wall space to cover that I really need to think about what I wouldn't mind staring at every day for the next however many years. I haven't talked about the tv stand that's in the room. That will be staying there for now – it works really well for storage of toys that won't fit in the cubbies. I'm not sure how the color will look with everything, but it's a black-brown Besta unit from IKEA and I have a feeling it will be just fine since I've got some black things I'm bringing into the room. Anyway, I don't think it would take well to paint because it isn't actually wood, so if for some reason it looks horrendous I think I would eventually sell it and get another tv stand.
There's also the sofa table, behind the couch, that I had originally mentioned wanting to paint but I'm going to leave it alone. It will stay in the room because I don't want to bring in side tables for the couch, plus it pops the couch out from the wall a little and helps eat up some space between the couch and tv stand (we don't want a coffee table or ottoman in the room at this time).
I didn't touch on every item on the To Do list above, but now that I have a legitimate plan in mind, let's redo the to do's –
Order three 2.5″ faux wood blinds from Home Depot
Order 8 black cubes from Wayfair
Pickup 3 spice racks, pillow covers and children's table/chairs from IKEA
Order teepee from Land of Nod
Paint white trim on cubes
Paint spice racks (Bright green? Royal blue?)
Possibly paint table and chairs; decide once they're setup in the room
Find a floor lamp
Remove the brown cabinet (it's on the wall with the tv stand) – possibly sell?
Grab a few baskets for the cubes
Get rid of green table lamps
Keep an eye out for fun/vibrant décor items like throws, other pillows, etc.
Do you have any feedback on my plan? I would love to hear it! Thanks for reading 🙂