It's been quiet around here!
If you're visiting my site from the Drees Homes blog – welcome! And thanks for clicking over 🙂  If you have no idea what I'm talking about, let me fill you in. Drees Homes contacted me a couple months ago about guest posting on their blog here and there. My first post went live just the other day. You can check it out here – Custom Home Building Myths, Busted!
I just thought I would do a quick catch up before I get back into the groove again.
So, what's new with me?
I've been working on knitting some diaper soakers to put up in shop next month. Here's a newborn one that's just about finished. I'm using duplicate stitch to put a bird on it.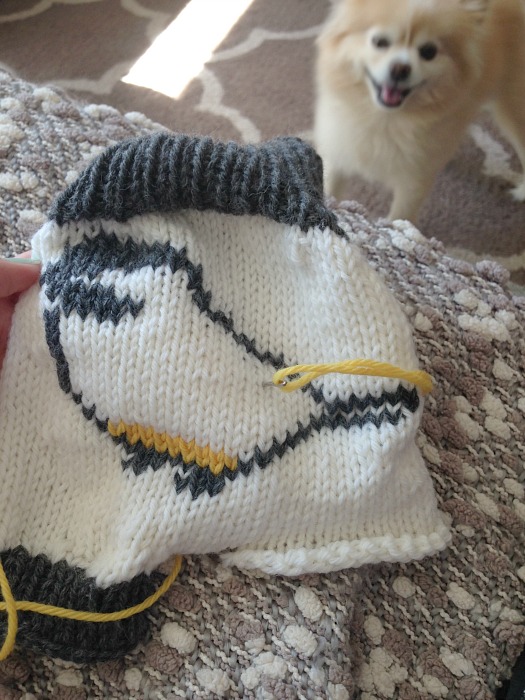 I've also been thinking a lot about my plan I put together for the shop. I still have some more thinking to do before I share my thoughts on it, but I don't think Charmingly Modern's store is quite where I want it just yet. I've been trying out so many different ways of doing things and with each on, I'm definitely getting closer but something is just not right yet. I picked back up the creative business plan I'd been working on (which I will share more about soon) and it helped me remember some of my original ideas and hopes.
Going along with this is I also recently took on a position at a local yarn shop as their social media manager. I designed their website, Yarn Stars, for them and now I am not only handling their social media accounts, but I will also start writing content for their blog. I'm really excited about this opportunity, but it also means less time to knit for my shop. Sometimes it's strange the way life takes you. Just when you think you have a solid plan and direction, an opportunity comes along and you just can't say no.
The position started July 1st so I'm just breaking into it and getting a routine going. In between that, I have been cracking down so hard on our eating out spending. I cannot wait to update about it and the plan I've got going. I also have a few thoughts on couponing and how I don't really think it's saving us as much money as I thought it could (couponers around the world are now collectively gasping at my blasphemy).
Anyway. I just wanted to say a quick hello and share this little update. Thanks for reading 🙂