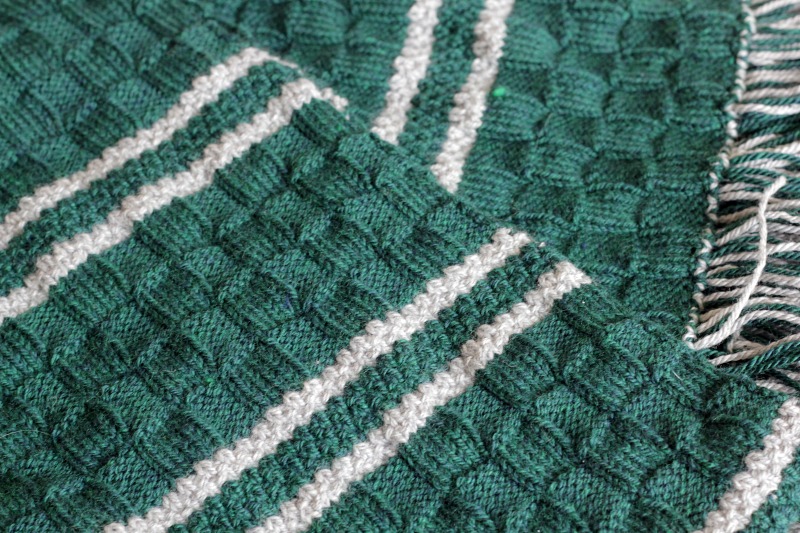 Last fall, I had this idea.
I was thinking up ideas for Christmas presents for my family and, since we were in the middle of figuring out getting our house sold and had recently come to the conclusion that we would likely owe – a lot – at closing, I was trying to think of gifts I could make.
Well, long story short… I was able to make about half of what I wanted to, but I didn't get to finish two very important projects. One of them is still top secret. But the other? A gorgeous slytherin scarf for my sister-in-law.
I don't know if you've seen this around, but there is a test you can take to see what house of Hogwarts you would belong to. My SIL was sorted into the Slytherin house – with Hufflepuff a close second! – and while some might be put off by these results, she was not. And I'll take a moment to brag on her, because I have a feeling the reason she was put in Slytherin is because she is smart, ambitious and clever. I'm not 100% sure if she can speak parseltongue.
Anyway, I thought it would be really cool to surprise her with a Slytherin-inspired scarf. There are a handful of patterns on Ravelry, but none of them really jumped out at me as being particularly amazing (with the exception of one that was a 1×1 rib pattern…but I knew that would take me 1,000 years to complete and by that time it wouldn't matter anymore). So, I made my own pattern.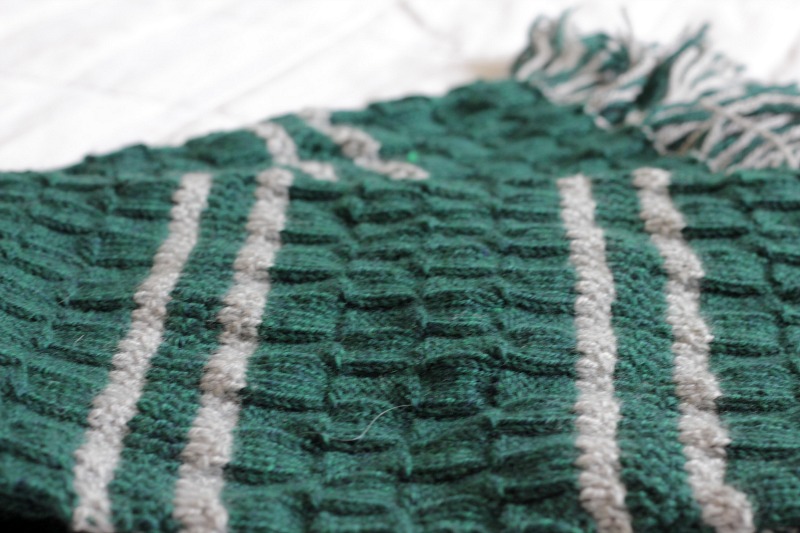 I tried a few different combinations of stitches before finally settling on a basketweave stitch, mostly because I knew the edges wouldn't curl.
House scarves are traditionally striped. I took inspiration from the scarves worn in later movies, that feature blockier segments of stripes. To achieve that, I broke up the sections of basketweave with thin grey stripes done in moss stitch. And those thin stripes are also broken up by one strip of dark green moss stitch.
Overall, I think it has a really nice effect.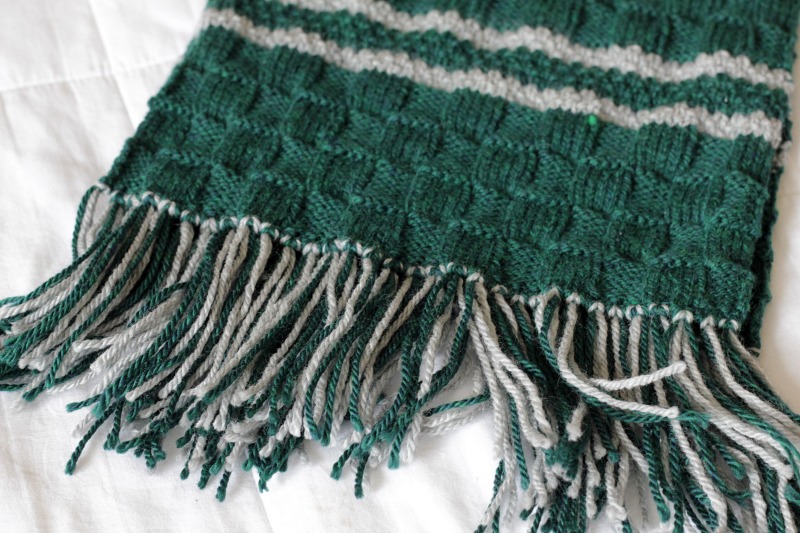 After I wove all ends in, I added fringe to both ends of the scarf. I used a crochet hook to knot a strand of each color through every other stitch (so two strands in every other stitch that, when knotted, look like four). One of Ezra's Elmo books was my official ruler for measuring out the fringe strands. Can't say I'm not resourceful.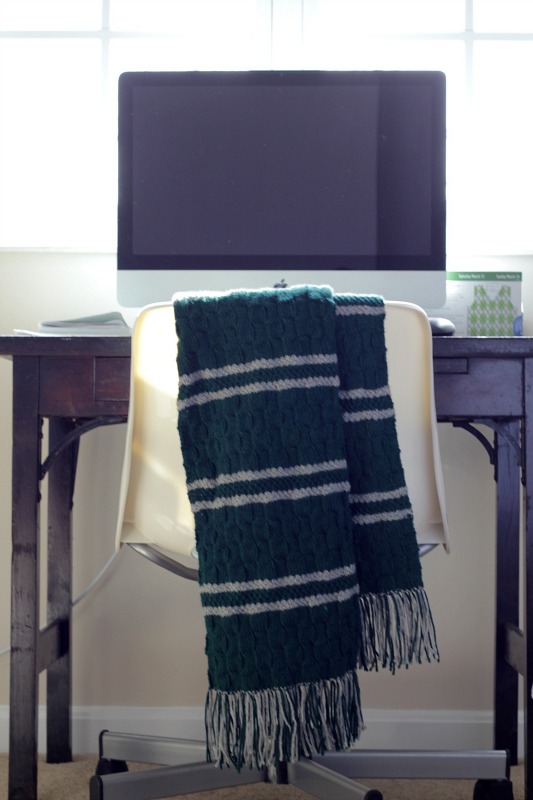 I think one of the best parts of knitting the scarf was working with the yarn I chose – Shepherds Wool by Stonehedge Fiber Mill. I've worked with a lot of wool and this wool is, hands down, the softest wool on the planet – even without lanolizing it. It's a little pricier than Cascade 220 or other similar wool yarn, but it's totally worth it. You can't beat the texture, the feel and the fact that it's sourced from the USA (Michigan, to be exact).
Plus, it comes in a beautiful array of colorways. Two of which were perfect for this Slytherin creation. I used Blue Spruce and Pewter (the grey trim) and they were spot on for Slytherin house colors.
If you're interested in the pattern, you can check it out on Ravelry or in my Etsy store. The finished scarf measures about 61″ long (without fringe) and approximately 13″ wide. It was knit on size 6 needles and used about 670 yards of yarn (2 full skeins of Blue Spruce, 1/2 skein of Pewter plus extra of both for fringe, if desired).