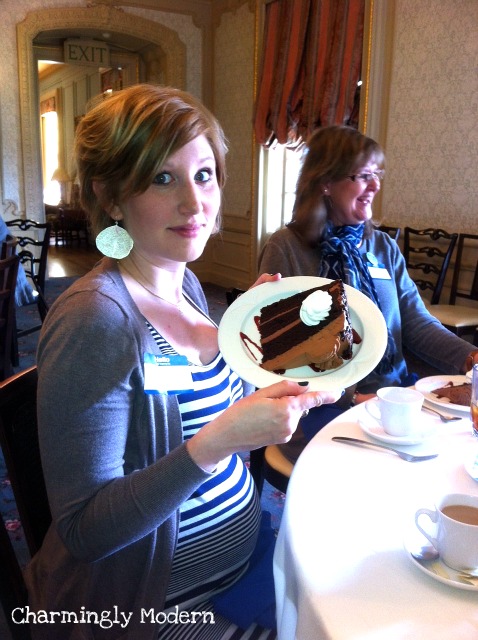 A Shower for Baby!
On Saturday, February 25th, our Baby Boy had his first shower! My sister- and mother-in-law hosted the event, with my SIL's mom and grandmother also pitching in with decorations. It was so much fun and turned out beautifully! The event took place at Spindletop Mansion, which is a beautiful venue in general. The house is gorgeous and is the perfect setting for a shower.
Shortly after we arrived, everyone was seated in the dining area for lunch.We had a delicious wedge salad, stuffed chicken breasts, green beans and mashed potatoes as the main course. But the real star was the dessert. It was a chocolate mousse cake and the mousse alone was completely amazing! I probably could have filled up on the mousse all by itself. I mean, just look at it.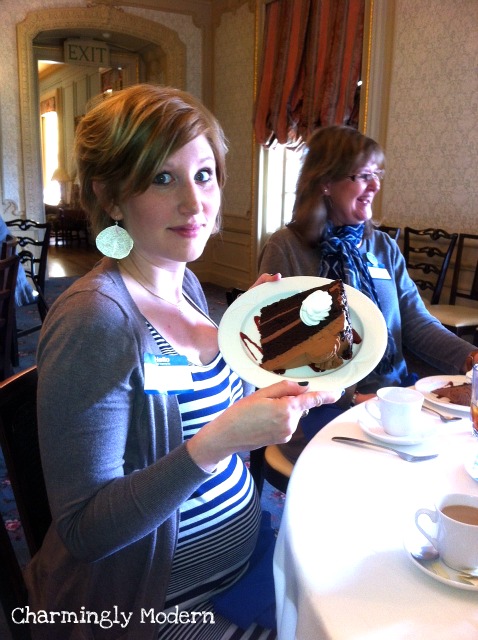 My SIL's mom put together the centerpieces for the tables – aren't they beautiful? They had baby daffodils nestled in little white wicker baby carriages. So sweet.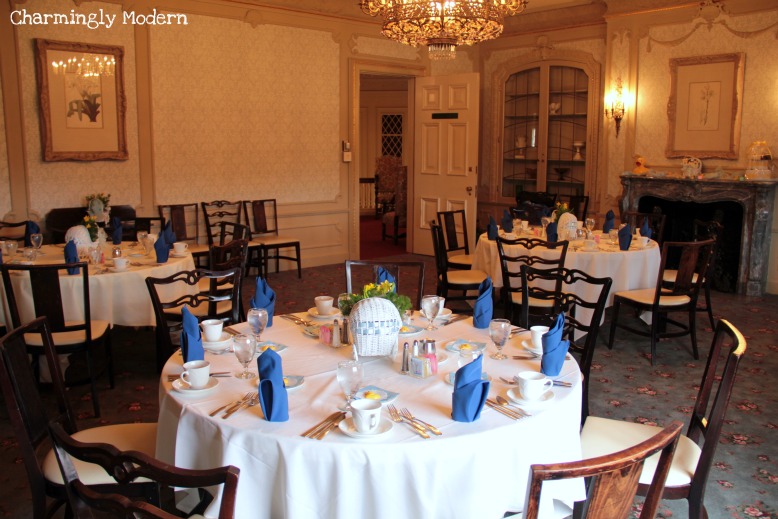 I wish I would have gotten a photo of the candy my MIL and SIL's mom made as the favor. They were ducks and not only did they taste great, but they were absolutely adorable.
After enjoying our food, it was time to open presents!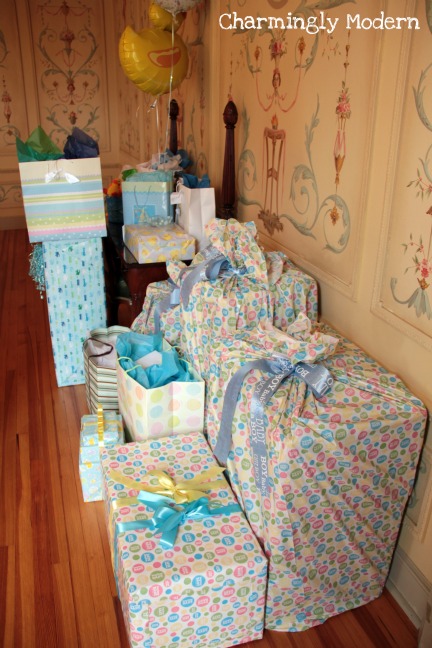 We moved to another room to open presents, which was nice as it let everyone spread out and relax. My SIL had the guests play bingo while I opened – I definitely recommend playing this game because it gives the guests something to do while the mom-to-be opens presents. Otherwise, that portion of the shower can be a little boring for a guest. The idea is that each guest fills in their bingo card with items they think the mom-to-be will receive. As she opens her gifts, if one of the items is on your Bingo card you mark it off. There can be as many winners as the hostess wants – my SIL had enough prizes for five winners. We will be playing this game at my next shower, too, because it's such a hit and keeps things fun.
My sister recorded the presents in the guestbook/gift log I made for the occasion. Looking at this picture makes me a little teary – it's super corny, but I can't believe my sister and I used to play Barbies together and do silly stuff, now here we are … with her recording the presents at my baby shower. It's kind of surreal to think about.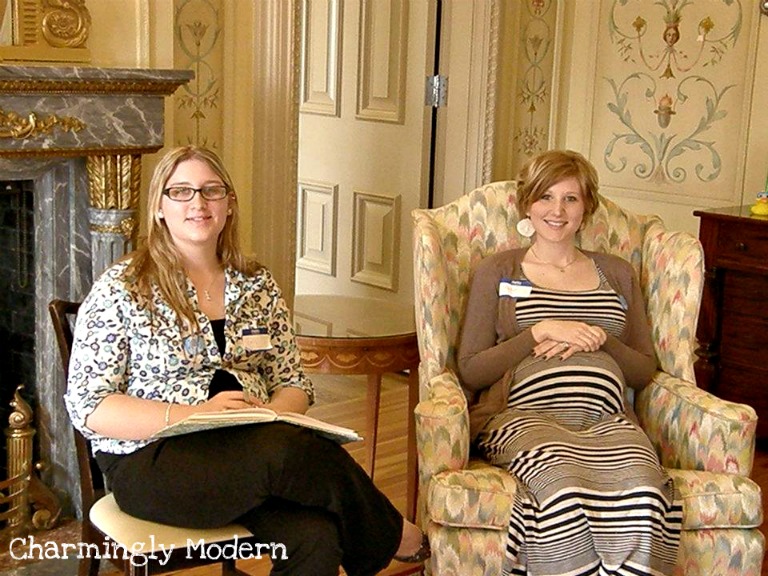 With all the presents opened, the last thing to do was thank everyone for coming and have them sign Baby Boy's guestbook. I taught myself bookbinding last Spring and have mostly put it to use making guestbooks for weddings. This was the first shower guestbook I made and I think it turned out pretty nicely! Normally, the guestbooks only include pages for guests to sign their name or write a little advice or something fun. I kept those pages in, but also added in gift log pages. I'm going to bring this guestbook to the next shower, as well, so we can have all of the guest's signatures and the gift logs in one place.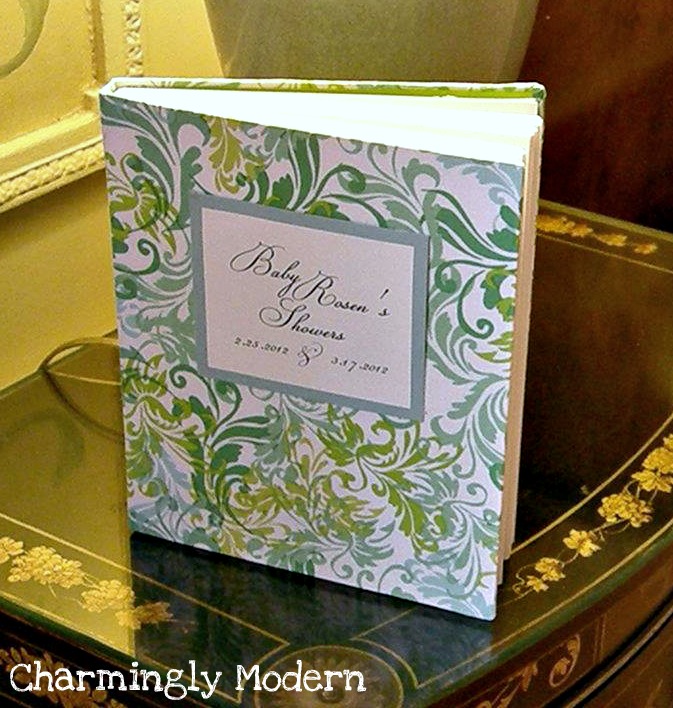 My father-in-law popped in to help load up our cars, then my mom, sister and I headed back home to my house to unload Baby Boy's gifts. He made out like a bandit!
As soon as we got home, Alex helped bring in everything and we piled it on our bed. I really wish I would have taken a photo of that pile. I am so humbled by the blessings our little family received – our friends and family are so giving!
The only thing I wish we would have done at this shower is get a picture of my family – my mom, sister, mother-in-law, sister-in-law, SIL's sister, SIL's mom and myself, all together. I don't have a picture of all those women together with me and I would love one! A project I've started working on in anticipation of wanting to hang up photos of Baby Boy is a family wall in our hallway. But, there's still time to get that photo. And there's still time to work on the wall.
Now, the next task is to start working on thank you cards. I need to order the cards I'm going to use from Etsy still – they are absolutely adorable and I'll show a picture when I've ordered them. They have a sweet little fox design on them. Foxes (and, to a certain extent, other woodland animals) have become our theme – they're just so cute!
Wish me luck on the thank you card writing. I am so bad at getting it done in a timely manner! But I think with the baby being the deadline, I will do much better than I usually do. Here's hoping!