My baby boy turned three weeks yesterday. Unbelievable!
Over the last few weeks, a definite routine has come out. I thought I would share it to help any other expectant moms out there, wondering what a typical day with a newborn looks like. Of course, it's impossible to predict how life will really be, but I think some things will be the same no matter who you are – babies gotta eat and sleep!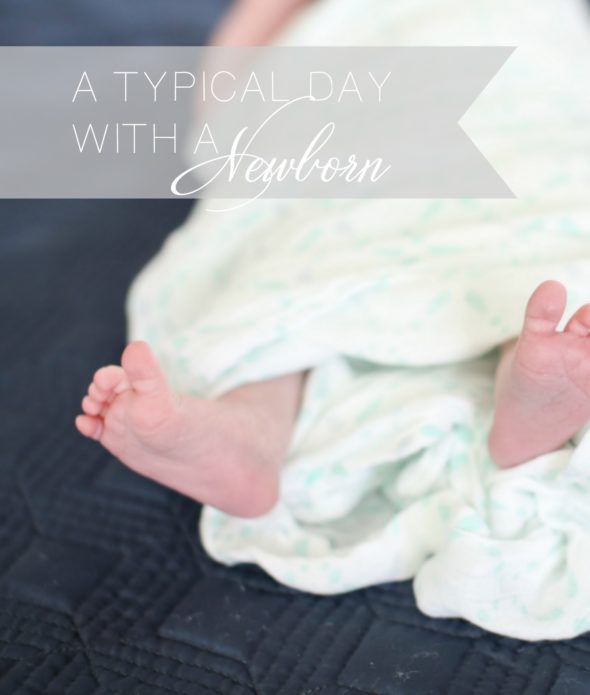 I try to do an interval routine, which means we do the same activities in intervals of 2 or 3 hours – I feed Ezra every 3 hours, and he naps every 2 hours. We fill in the time between naps with baby stuff (like tummy time) or mom stuff (like errands).
Here's how it breaks down (there's a recap at the end with a timeline for quick reference!) –
Morning – 2 naps & 2 feeding sessions
We start our days, every day, with an early morning nursing session – usually around 6:30 or 7:00am. I pick Ezra up from his Rock n Play, lay him beside me and let him nurse (the side lying nursing position is amazing when you're laying in bed!). He usually will nurse for about 25-30 minutes.
Newborn babies are pretty slow nursers!
When he's done, I pick him up, turn onto my back and lay him on my chest. We snooze like that until around 9:15, when Alex leaves for work, so that's about 2ish extra hours of sleep we squeeze in.
When Alex heads out the door, Ezra and I settle on the couch for his mid-morning nursing session – if you're keeping score, that's two times he's eaten since he "woke up" around 6:30ish.
He nurses in the cradle position (love my boppy for that!) for 25 minutes or so and I check my email on my phone. After he's finished, we go into the nursery for a diaper change and to get Ezra dressed for the day. Then I make myself oatmeal (I eat a lot of oatmeal to help keep my milk supply up.) while Ezra hangs out, looking handsome as usual.
He won't stay in that outfit, though. We usually go through about three outfits a day, thanks to either a spit up explosion, diaper leakage…or some mixture of the two.
Usually after eating, Ezra is awake for 30-45 minutes, just hanging out and looking around. We do different activities, like tummy time. He likes lifting his head up and looking around, then plopping back down. Although usually tummy time turns into fart time, since he's on his belly.
After those 30-45 minutes of activity, Ezra starts yawning which means it's time to put him down for a nap before he gets too tired and starts belting out what I fondly refer to as the pig cry. Have you ever heard a baby pig squealing? If not, you should hear my son cry when he's overly tired or overstimulated, haha!
He likes to spend his morning nap in his Little Lamb Swing. He'll hang out in there anywhere from one to two hours, depending on how much free time he feels like mommy should get. 😉
During that time, I try to get as many chores done as possible. But if I haven't gotten much sleep the night before, usually I just sit on the couch, take a shower or try to relax. It's also a time I've been trying to pump a little, since I want to build up a freezer stash of milk.
Afternoon – 2 more naps, 2 more feeding sessions
Before he eats again for lunch, it's time for a diaper change and, usually, an outfit change. Unless we got lucky and there were no major spit ups or other mishaps.
After his outfit change, Ezra eats for another 25-30 minutes. When he's done, I make myself lunch and try to eat it without getting crumbs all over him. Once, I was eating chips and salsa and dropped a giant blob of salsa on his head. It didn't phase him…and I didn't feel guilty because it's payback for the many instances of spit up down my shirt.
I try to get out of the house at least once a day. Lately that's meant taking a car ride. Ezra normally hates his car seat, so we've been working on trying to change that by having him spend time in it that's fun and enjoyable.
Sometimes Ezra will nap in the car, so I try to make sure my errands take enough time to let him get a good nap in – at least an hour. Since he nursed around 12pm, he won't nurse again until 3ish.
After his mid-afternoon feeding – which takes about the same amount of time as the others – Ezra is usually pretty conked out. He will nap for about two hours. Sometimes I nap with him, but usually I take that time to work or write. I let him rest with me for about 20 minutes to make sure he's good and asleep, then I carefully and slowly put him in his swing or Rock N Play. He does not sleep in his crib yet.
Evening & Late Night – 2-3 feeding sessions, & bedtime
That last nap, at about 3:30 or 3:45, marks the end of good naps for the day, usually. Sometimes we get lucky. He nurses again around 6:00pm or 6:30pm and after that transforms into Mr. Fussypants. I read babies usually are fussy around this time of day because they've been stimulated all day long and just reach a breaking point with it. Ezra is usually like that for an hour or two, then calms down. It's really not too bad … unless he decides to turn on the pig squealing cry.
Since I'm home with Ezra during the day, when Alex gets home around 6:30pm, it's daddy time. Alex eats his dinner then takes Ezra so I can eat my food. After that, Alex and Ezra either go on a walk or play or do some other activity so I can have some time to do whatever I need to do that didn't get done during the day. I treasure these couple hours to myself. A mom needs to take care of herself to be able to take care of her baby.
Around 8:00pm it's bath time for Ezra. Until recently, this meant a sponge bath. Well, more like a washcloth bath. We had to wait for his cord stump to fall off (which it did at 2 weeks), and then for his belly button area to heal (which it did yesterday!). He isn't a fan of bath time… yet. I really hope that he'll enjoy it more since we can now immerse him in warm water. Yesterday was his first time in his little bath tub and he enjoyed it, until he peed and spit up on himself. Then he was done, haha!
With the bath done, it's time for jammies and a story. Right now, Ezra has no idea what we're reading to him. He just likes to be rocked and hear our voices. He gets one nursing session before bedtime – around 9/9:30pm – then he gets put in the Rock n Play.
We keep him in the living room with us until Alex and I go to bed around 11:30pm – he's totally conked out, and sleeps through whatever we have on the television. I try to dream feed Ezra at that point, then it's back to the RNP with a prayer he'll give us more than a 3 hour stretch of sleep. I keep the RNP by my side of the bed, so I can quickly get him to nurse when he wakes up.
Usually, he will feed and get a diaper change again anywhere around 3am-5:30am. I don't know why it's sometimes shorter or longer other than the fact that he's a baby and babies are unpredictable!
And, before we know it, it's morning and we start again! With Ezra going into being 1 month this upcoming weekend, I'm sure our "routine" is in for some changes, especially in the napping versus awake time. I'm looking forward to him being more alert but I'm also a little nervous. But, one thing I do know already just from these three weeks is that it will be a fun adventure 🙂
Recap
So, just to recap, here's how a typical day with a newborn breaks down for us:
6:30-7:00am – wake up and nurse for 25 minutes, then we fall back asleep
9:15 or so – up for the day
9:30 – second morning nursing session, lasts about 25 minutes
10:00ish – 30-45 minutes of an activity/hanging out (tummy time, batting toys around…baby stuff)
10:45ish – morning nap, in the swing. It lasts about 1-2 hours, but we'll split it down the middle for the purpose of this post 😉
12:15pm – up and get his "lunch", which takes about 25-30 minutes.
12:45 or 1:00pm – we go out and run a couple errands; he usually gets a car nap in of about an hour or so
3:15pm – nursing, for about 25-30 minutes
3:45pm – nap in his rock n play or swing. This nap lasts about 2 hours.
6:00pm – nursing, for about 25-30 minutes
8:00pm – bath time (really just a sponge bath) & evening routine of pajamas and a book
9:00pm – nursing last time for the day, for about 25-30 minutes
9:30pm – back to the rock n play.
11:3opm or Midnight – we take the rock n play back to our bedroom. I try to dream feed Ezra, hoping to extend his sleeping for the night.
3:00am-5:30am – Wakes, gets a diaper change, and nurses, then back to sleep until 6:30 or 7:00am, and we begin again!
There you have it! You can see that I do an interval schedule of 2 hours of wake time between naps, and nursing every 3 hours. It seems to work for us, and I always recommend moms try that out just to give yourself some predictability and routine for your day.
Let me know if you have your own routine that differs from mine! Thanks for reading 🙂