I can't tell you how many business adventures I have been involved in. There are a lot.
I love to start businesses and I am really good at it… what I'm not so good at is sticking with the businesses and making them successful.
Most recently (well, more than a year ago actually), I went into business with my mom and sister as Seasons Change Boutique. We tried out several different things before settling on customized wedding guest books as our primary thing we sold. We made these books by hand, from start to finish, and were really good at it. We sold quite a few, too.
One of our custom orders!
But then I got pregnant… and started grad school… and my sister started her sophomore year of college… and life happened and the business fell to the way side. It's still around, but it's waiting for when the time is right again.
In the meantime, until the time is right for SCB to come back, I've felt that itch again. The itch to start a business. Rather than jump in (again), though, I sat down and thought about why I was feeling this way.
Here is what I've concluded: I'm looking for something uniquely mine. Something that I work on, from start to finish.
In the past, I've always been happy to include other people in my ventures for various reasons. Usually because I love the idea of sharing time, energy, excitement and ideas with people I love. But there is always a part of me that desires to do something on my own.
I think it's in my blood. My dad is an entrepreneur and my mom is a creative person. Between their two influences, I have this drive in me to combine those two worlds and just do something.
Which is why I've decided to move forward with an idea I've secretly been hiding in my heart for months. I hid it because I was afraid – afraid to start, afraid to fail, afraid to commit.
I'm notorious for making decisions like this at the worst possible time in life, too. So having just become a mom and learning how to navigate the newborn waters seems the right exact time to throw something else into the mix. I actually wanted to do this before Ezra was born, but instead I just procrastinated and fretted and stressed.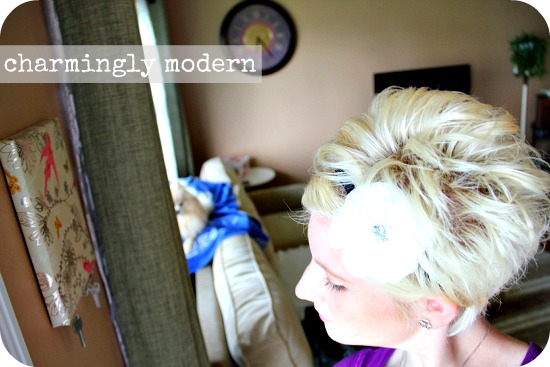 Taken last Summer. I miss my blonde hair.
This has been very long winded, but it's all to say that what I want to do is… start another business. Haha! It's true! But I want to keep it small and simple. I don't want to get carried away. I want it to be an outlet for me and a way to maybe bless others by what I can do and make.
And what will I make? Two things: camera lens covers and knitted pouches. Maybe a few other knitted things, but not too much. Again, small and simple.
I'm sharing this with you because I want you to keep me accountable. Would you be willing to do that? If you are, feel free to comment or email me and let me know. My goal is to have a small inventory built up by Saturday, May 12th, because I want to apply to be a vendor at The City Flea, a local indie craft show that occurs periodically throughout the summer. The deadline to apply is May 15th. It's completely plausible my goal is unrealistic… but hey, sometimes you've just got to dream big.
I don't have a name yet, but I'm thinking of folding it in with the name of the blog just to keep it easy on myself. I can see myself wasting valuable time by stressing over what to call this. And I don't want to waste anymore time. It's time to start making. 🙂