Hey there! Did you notice the Newsletter Sign-Up on my sidebar yet? That's right, Charmingly Modern will be launching its first newsletter in February and you definitely don't want to miss out. Check out the sidebar blurb to find out why and to, well, sign up! 🙂

While our house is being built, we are back to being renters. We're only here for a few months so that means we are living with less. A lot less. We were lucky that the apartment complex we are staying at has garages for rent, so the majority of our possessions are being stored there. And, in the meantime, we've adopted a minimalist way of life.
(And it kind of makes me wonder – if we haven't needed what's in the garage after a few months… do we truly need all of that stuff anyway? I mean, there are certain things like a lawnmower, summer/spring clothes, etc.. that we do need but the other stuff? I just don't know.)
This apartment isn't exactly high design, but I thought I would still do a photo tour because one day I'll like looking back at this. And the last time we rented it was in a Civil War era building with a lot of quirks so it's a little different to be renting a relatively new place (built in 2009) that's in an actual complex with things like a gym, daycare, readily available parking, etc. Not to mention, the builders of this complex are the same ones who are building our house and this complex is located inside a Drees neighborhood community.
The Drees connection worked in our favor (even though the apartment is managed by an outside company) so we could reserve an apartment when we went under contract on the sale of our house and so that we could get a partial lease – only 6 months. Unfortunately, we'll probably still be looking at one or two months of paying the mortgage and rent at the same time, but who cares? We'll be in our cool new house by then and having the apartment available well past our closing date just means we can take our time moving in and save money by doing the move ourselves (again… we also moved ourselves from our old house to this apartment). Fun times!
Anyway, let's get to to the tour!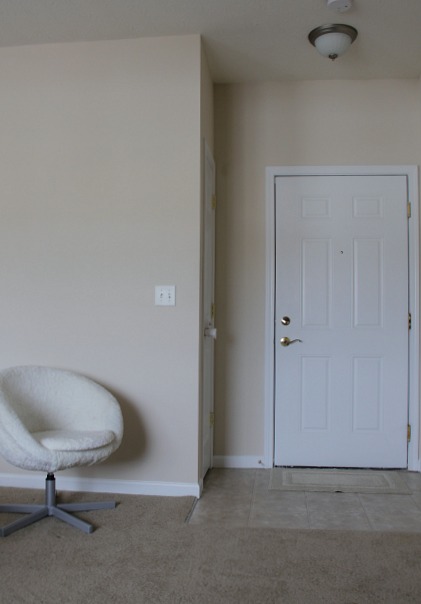 I call this – A Study in Beige. But seriously, you can see the colors are just your standard neutrals.
I appreciate that there is vinyl flooring right in the entryway because carpet grosses me out in general – no offense to all you people out there with carpets in your house (and hey, we'll have carpet in the upper level of our house too so….) – but what grosses me out even more is walking on carpet with shoes on. I just imagine all the dirt and grime and grossness sticking to the carpet fibers.
That other door there in the picture is a coat closet. Can I just take a moment and write about how fun it is to have a coat closet?? We've never had one before. Ever. A closet dedicated to coats and other outwear paraphernalia! Oh the novelty!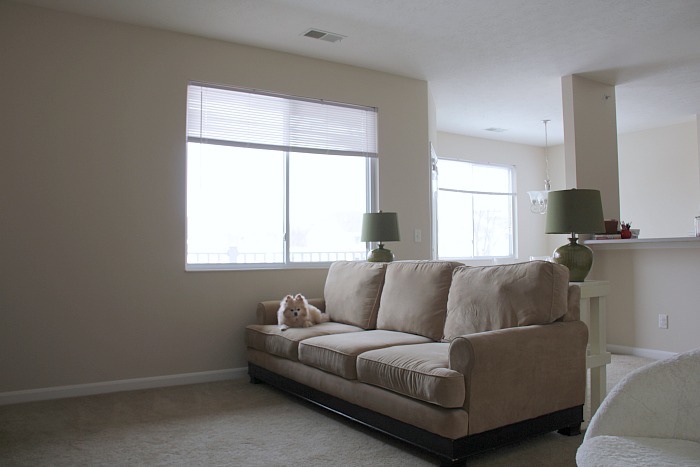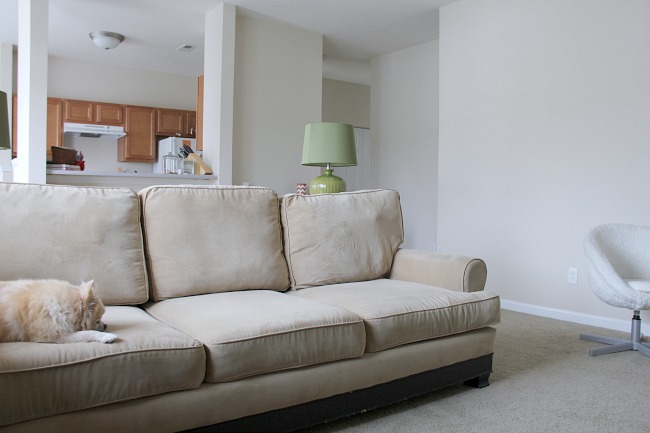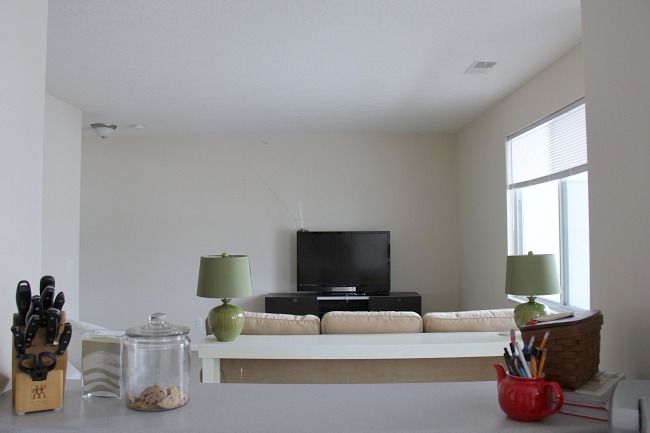 The furniture setup is simple. But I must point out the crumpled couch cushion, the one that's closest to the entry. Quick lesson – DO NOT toss cushion inserts in the dryer. They will explode from the heat and you'll have a really terrible mess of fluff to try to clean up and it will not be fun. Plus you'll struggle to re-stuff the cushion cover with a random blob of fluff that no longer resembles a cushiony-like shape. And then you'll curse the cushion forever because it's now permanently disfigured. Don't say I didn't warn you.
Anyway.
You might remember, when I did the house tour, we had a green chair in our living room. That chair is now in Ezra's room and the white chair you see above (a now discontinued chair from IKEA whose wacky name I no longer remember) had been hanging out in the basement for awhile and is now getting some good use. I was always kind of afraid to sit in it because it's so white. And it's a furry kind of fabric, too, so not easily washable. But hey, chairs are for sitting, amiright??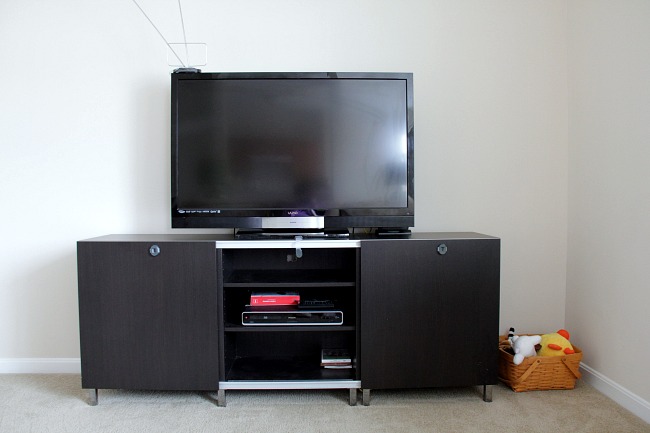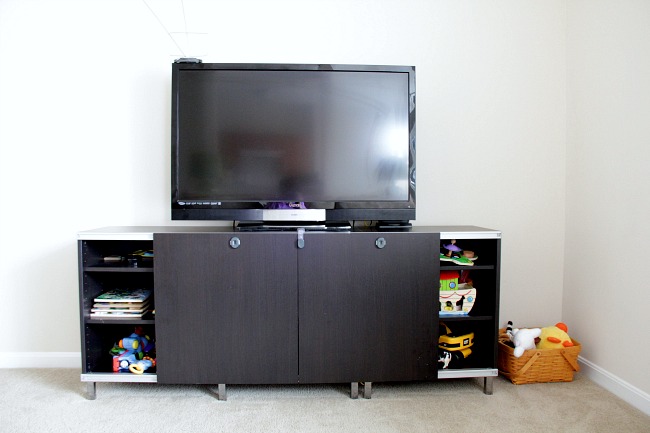 We also no longer have the television that you saw in the house tour; we brought it to my parent's house for storage (something about storing an expensive flat screen television in a non-insulated concrete garage in the dead of winter just didn't seem right…) and are using the television we had in the basement. It's a Vizio and don't ask me the inches because I can never remember those things. But it's a smart TV (as opposed to a dumb one???) and since we don't have cable or satellite anymore – no "line of sight" for our dish so DirecTV canceled our contract! – it's nice to have apps on the television for Ezra to watch his shows. Because my toddler has "his shows," which he asks for by name using words like "choo choo" (Thomas the Train), "Melmo" (Sesame Street), "Tigey" (Daniel Tiger's Neighborhood)," "Mick" (Mickey Mouse Clubhouse), and "Soosoo" (Super Why). Always makes me laugh!
You might have noticed the antenna that we have taped to the top of the television. Yes, folks, I went out to Best Buy and bought an antenna for about $10 because I needed to watch my shows, all of which I call by names like Snoozefest (The Bachelor – it's really boring this time around!!), Good Lord Make it Stop (Scandal – what is with Huck????), Alright Alright We Get it Already (Revenge – this whole take down the Graysons thing is getting a little old) and Best Show on TV (Downtown Abbey).
The entertainment stand is another piece of furniture that had been in the basement (noticing a theme here???) and since it's the only flat surface long enough to accommodate the TV it obviously had to go into the apartment. It has the bonus of toy storage options since what we normally would put in those cubbies (DVDs, Blurays and gaming stuff) is all in the garage. By the way, it's from IKEA and I don't remember its name either. But rest assured it was something along the lines of Blorkenderp.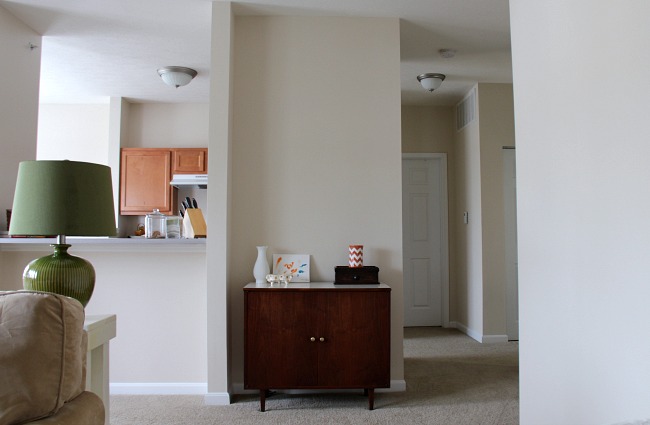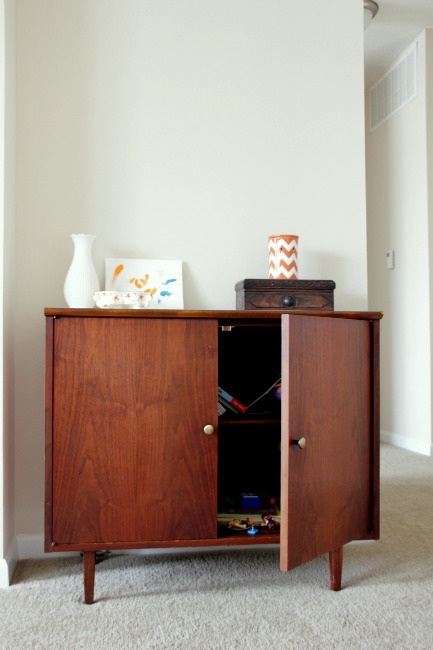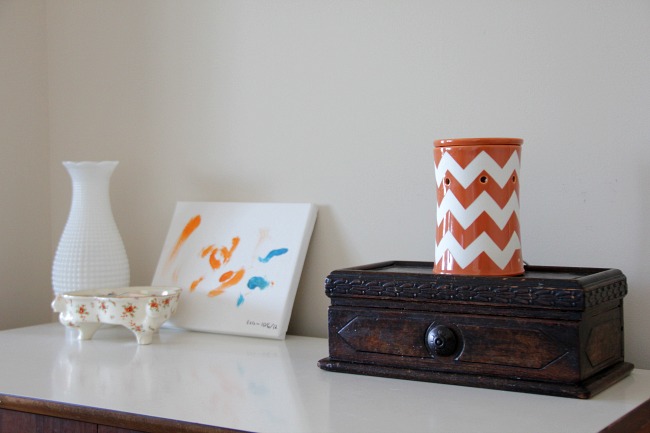 Some more toys are stored in the cabinet above, which is behind the couch and sort of serves as a drop off for keys, loose change, etc. even though it isn't exactly right by the door. It's also the place where I have pretty much the only decorative items I kept out – because they all have special significance.
The white vase is actually a lamp shade that's part of a set of two (the other of which is at my parent's house); it belonged to my great-grandma who passed away in 2006. I broke the lamp part shortly after Alex and I got married, but the top was still in tact so I kept that. The painting propped up against the wall is Ezra's first artwork that he did at a friend's birthday party. He was only 6 months old and already showed such mastery of color 😉
The floral container in front of the "vase" and painting is for loose change. It actually has no sentimental value (lol), but I couldn't pack it up because it's full of pennies. The chevron Scentsy warmer was a Christmas gift from my mom this year; I love Scentsy scents (I used to even sell it!) – they just put me in a good mood. And the box the warmer is sitting on is my great-great grandma's sewing box, which we use for sunglasses, work IDs, extra car keys and so on.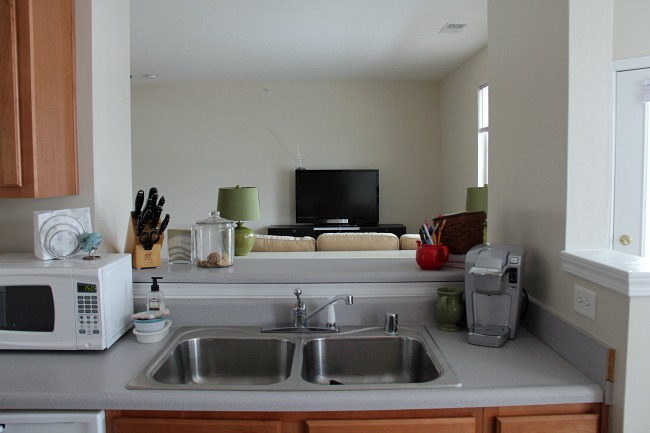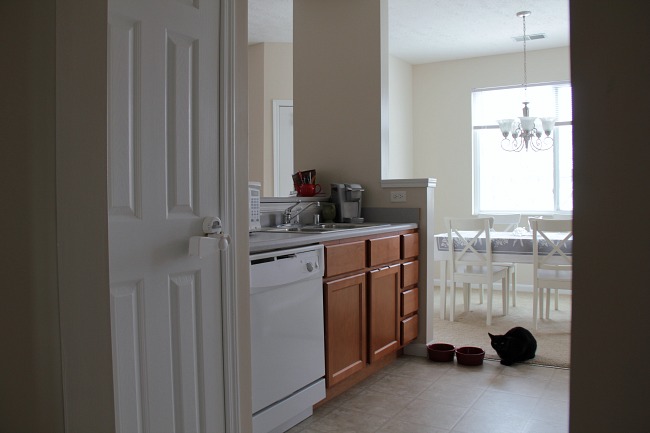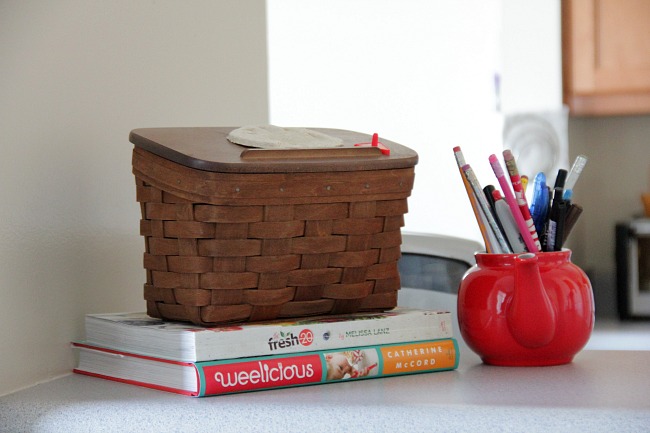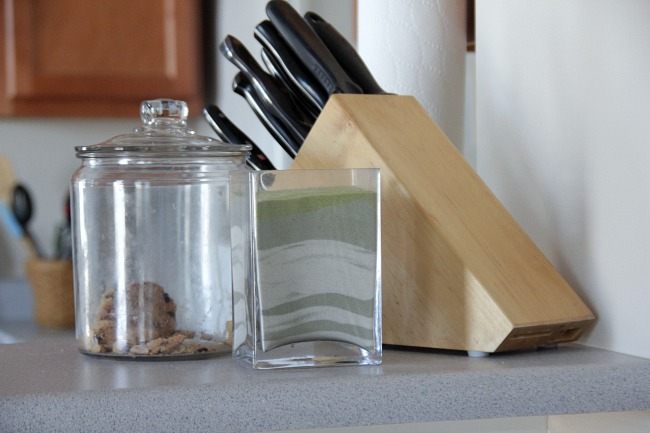 Like most apartments, the kitchen is galley style and fairly small. I'm not using all of the cabinet space, mostly because I only kept out a handful of plates, mugs, baking and cooking supplies and I'm really glad because there are no knobs or handles on anything so keeping a curious toddler out is basically impossible.
There's a nice little bar area you can see in the first picture but we have no bar stools so we use the countertop for display. I have the two cookbooks I kept out (The Fresh 20 and Weelicious), my recipe card box and a little teapot with an assortment of pens there on the right. And on the left I have my knife block, cookie jar, and the unity sand from our wedding (which partially poured out during the move so we shared our unity with the parking lot of the apartment).
We had to buy a microwave, so we snagged that one from Walmart for about $30. It's compact and works well; I figure we can sell it on Craigslist when we move (especially since the microwave selection on our local Craigslist was seriously lacking!).
And then there's the decorative cat who sticks around only because we feed him.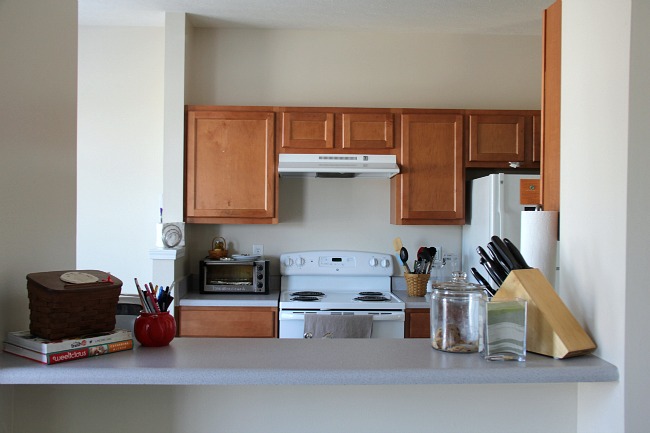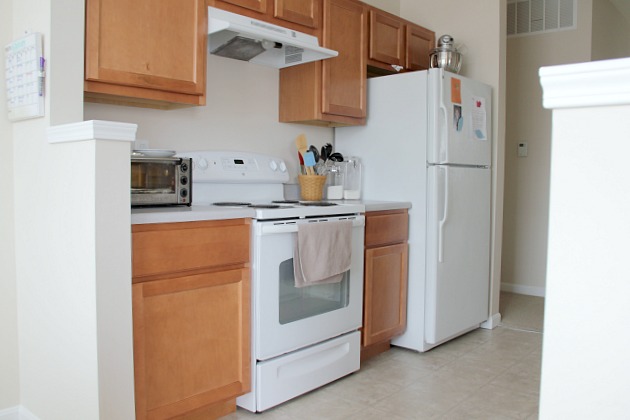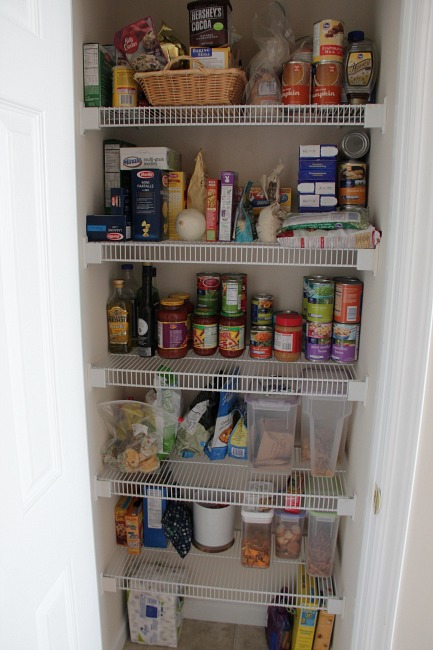 From the kitchen at our house, the only small appliances I kept out were my mixer and the toaster oven. So far, I haven't needed anything else really but I have missed the food processor. I've also missed having a glass cooktop. The pantry is a nice new thing, though! We went from having a small closet with just three shelves to this full-on pantry where I can fit pretty much everything food and cooking related.
You might have noticed the little perpetual wall calendar hanging up. Since we didn't want to put any holes in the walls – we want as much of the security deposit back as possible – we got creative with hanging it up. It's propped on a telephone jack, which works perfectly.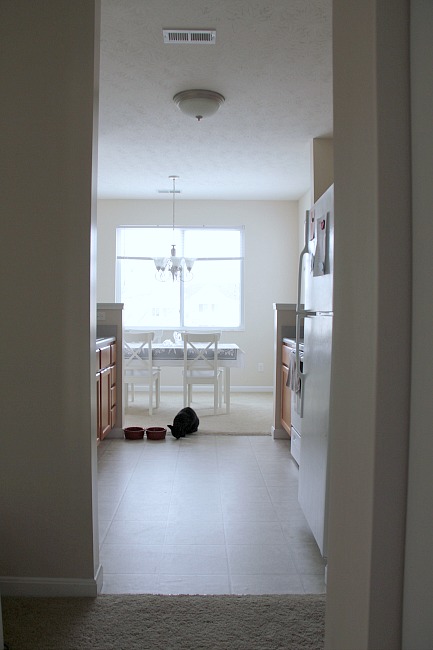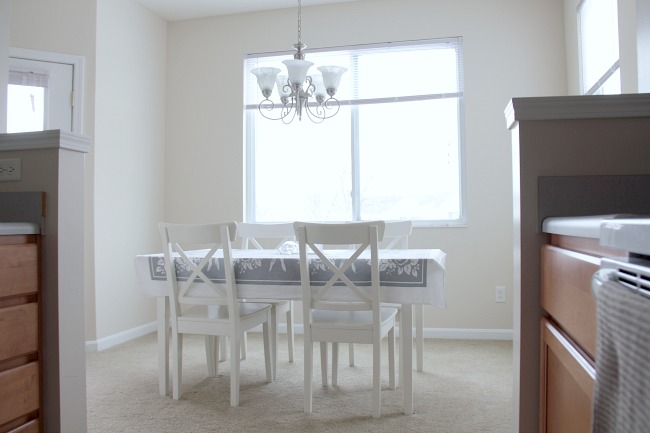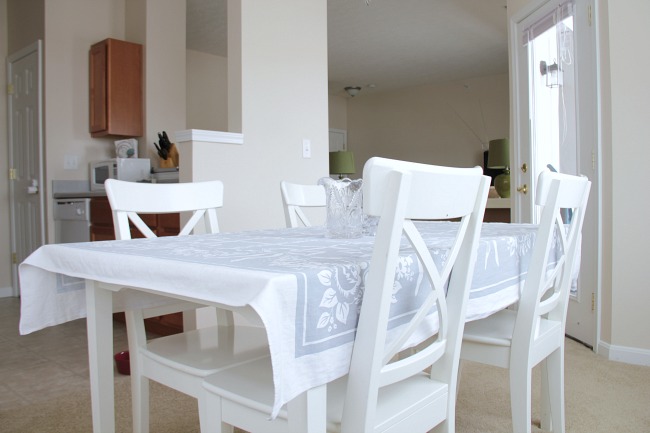 Another thing you see in most apartments (and a lot of houses, too) is a carpeted dining area and we also have that. I don't know who the genius was that first carpeted a dining area. Probably the same person who also carpeted bathrooms.
That little door to the right in the picture above leads out to a balcony. There's a storage closet outside, off the balcony, and in that we store tools, the vacuum cleaner, some miscellaneous cleaning supplies and probably some other things I'm forgetting about. We also have Aslan's potty area out there. When we previously rented, Aslan was a puppy and it was the first place he called home with us; he was potty trained on puppy pads and did really well with them until we moved into the house at which point he started going outside. Well, now we're back to renting and if it weren't for the Polar Vortex, I would be inclined to take Aslan outside. But as it is, it's better on all of us to have him go on his own personal rectangle of grass, on the safety of the balcony.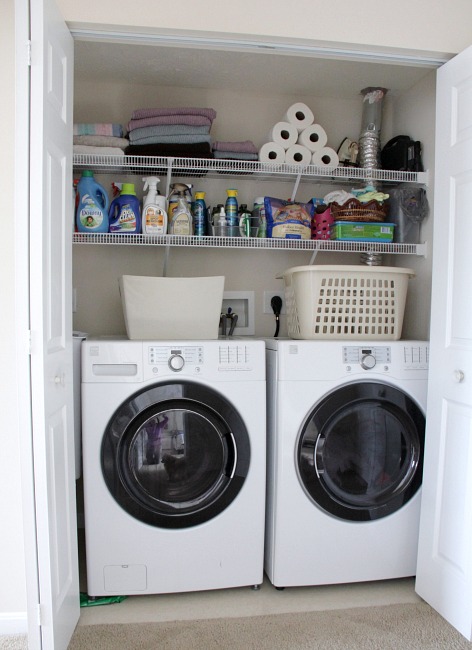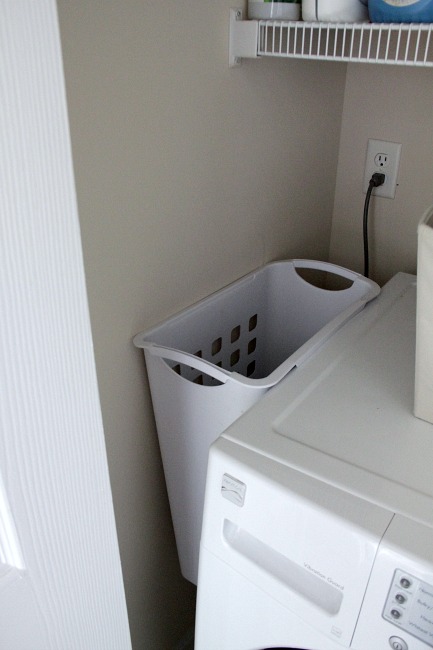 We have a laundry "closet." It's not that bad except there is really no place to sort laundry. I miss my sorting baskets that I used to use. I'm the person who sorts out darks from multi-colored (and then even separates the colors in rainbow order), solid whites from light colors. And then there's the diaper laundry. You'll notice I had to get creative and wedge a hamper in between the wall and the washer. That's where all the dark and multi-colored items go. And then the container on top of the washer is for everything light colored. When it's time to wash, I further separate the loads as I do them.
There is one major up side to having "first floor laundry" – I'm always caught up. I can't get away from it or hide it away because there's just no room so my only option is to simply get it done. We haven't had this many clean items of clothing all at once in years!
The laundry closet is also where I store the bulk of our cleaning supplies, towels, pet food, etc. Speaking of cleaning supplies, do you see the green thing wedged under the washer? That is a pack of cleaning wipes. The floor in our old laundry room was so uneven that the feet of the washer were set to different heights. I totally forgot about that…until I did my first load of laundry and the washer was trying to dance out of its closet. Not to mention it couldn't complete the cycle because it thought it had an uneven load (how I hate the UE error symbol!). So rather than try to fix the foot on it, I channeled Macguyver and Tim Gunn at the same time and made it work with some wipes.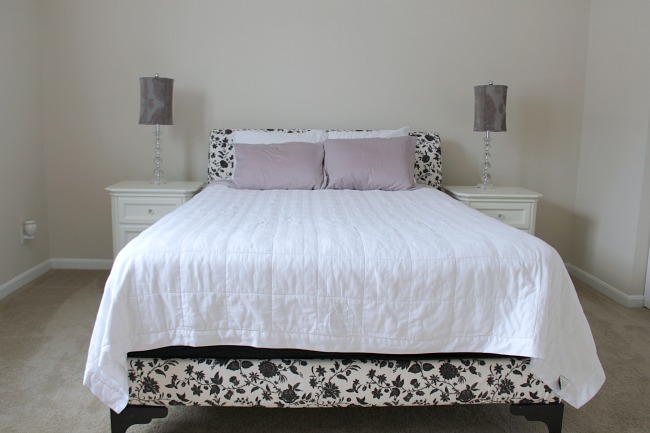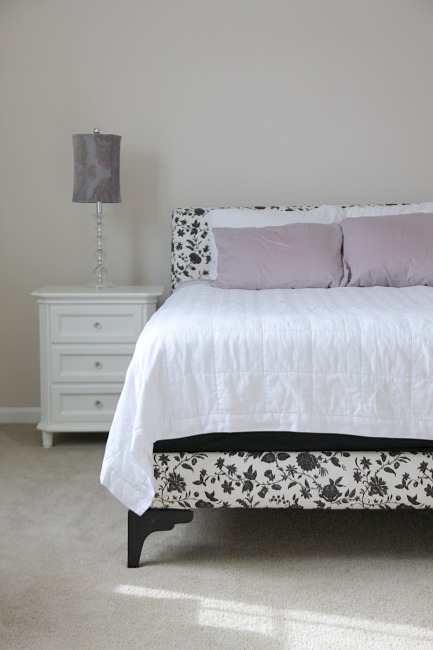 There are two bedrooms in the apartment. This bedroom that we are using as the master is actually the "second" bedroom, but we took it as our room because it's at the front of the apartment so it gets a lot of light from cars coming and going as well as the streetlights that are CONSTANTLY ON!!! The apartment came outfitted with blinds in every window, but in both bedrooms we took the blinds down (ah ha! Now I remember that that's the other stuff in the balcony storage closet!) and wedged tension rods in the blind brackets for some blackout curtains.
I wish I would have straightened out the bottom of the comforter on our bed before snapping a photo – haha! – but you get the idea. Again, we're keeping it pretty simple with just the two nightstands and lamps. Not pictured on said nightstands? A video monitor, sound machine and various water cups. Anyone else have a problem collecting glasses of water on their nightstands? No, just me? I'm cool with that.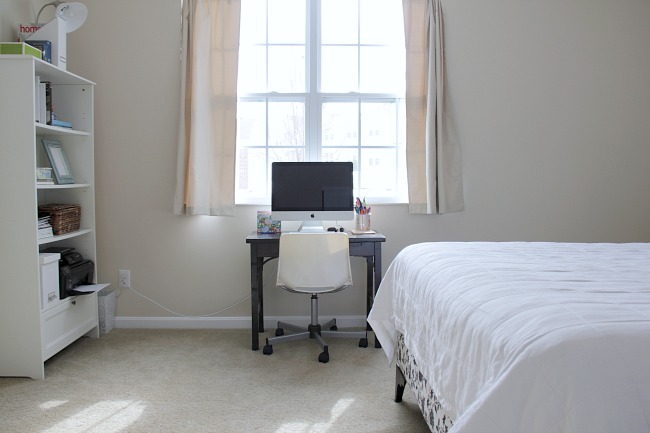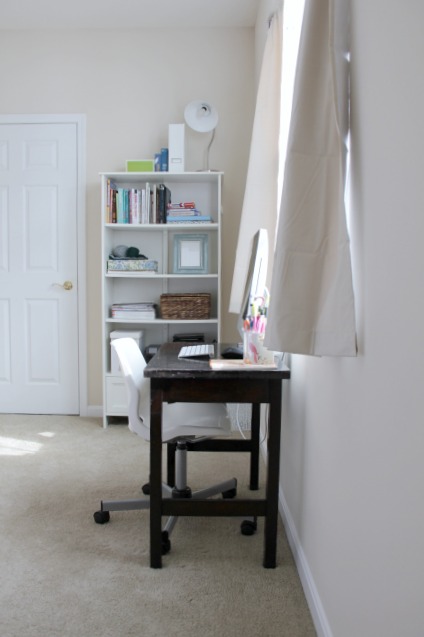 Taking the second bedroom and giving the master to Ezra worked in our favor because the second bedroom is actually larger. We needed the extra space for a desk and bookshelf, so this little section of the room is our home office.
I'm so glad I have a chance to use this desk. It's one of my most favorite pieces of furniture we own; I picked it up at a local antique mall the year we were first married. What's so cool about it is it has a little hidden writing area that slides out and makes the desk L-shaped. Side note – I realize the curtains are too small for the window, and that they are also the exact color of the walls but this is me not caring since we're only here for a few months!
The bookshelf has the only books I kept out, supplies to keep my magazine clipping/collaging hobby alive, a box of knitting needles, an empty picture frame (I'm going to get one of our "new" wedding photos printed for the frame), a printer and a filebox. The drawer at the base of the bookshelf has office supplies and other miscellaneous things. My nightstand houses everything else I would normally keep in my office – couponing supplies, Charmingly Modern stuff and other personal items.
The iMac is Alex's for his recording equipment but since he isn't setting up a music studio in the apartment I've commandeered it for the time being.  We didn't think it would be good for it to sit unused for months on end. And I have to be honest – I'm contemplating permanently stealing it. It's really nice to have such a large screen for working.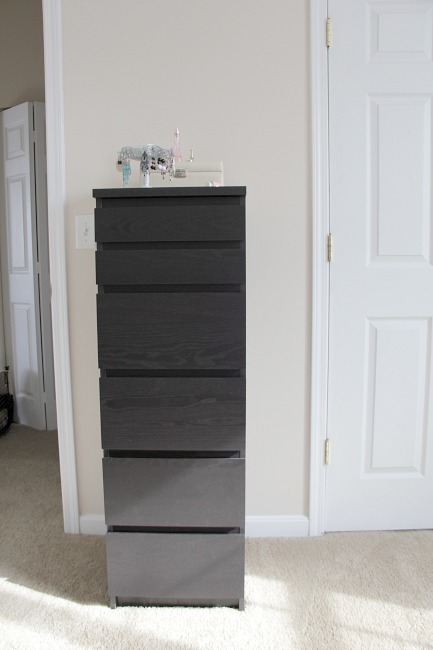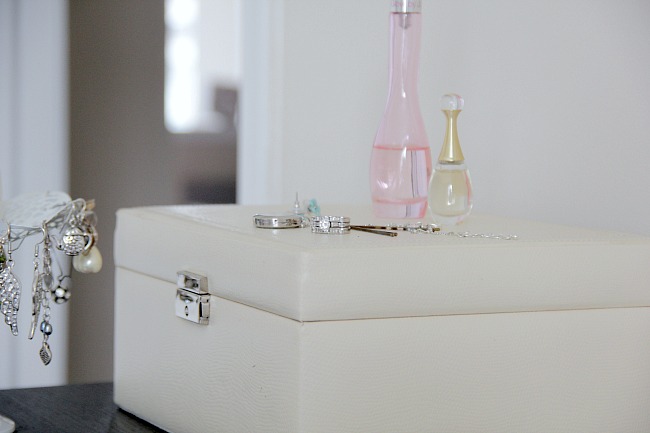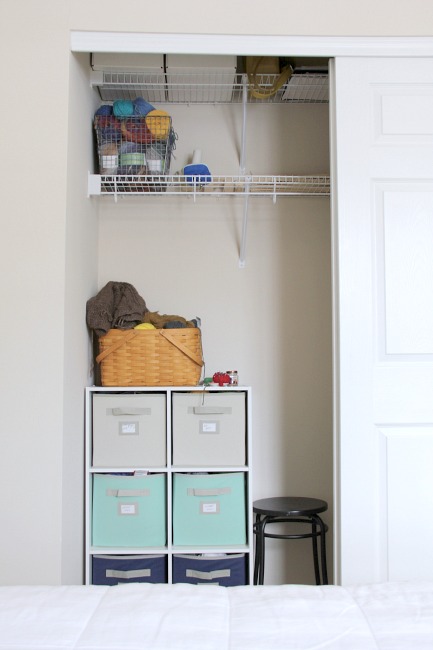 Another piece of furniture that used to be in our basement and we are now using is the tall dresser pictured above (also from IKEA – it's a Malm). It used to house recording equipment and other musical-related things but now it has everything I would have normally kept in my nightstand – pajamas, tank tops, t-shirts and so on. The vanity that I used to have in our room is now in storage.
I mentioned that Ezra is in the master, which means he also has the master closet in his room. We decided to put all of our clothes in that closet since by the time we would need to get dressed for the day, Ezra would already be awake (or we could just pull the clothes out that we need for the next day prior to laying him down for the night). It's worked out really well so far. And that means the closet in our room is used for extra storage… mostly yarn storage. And I'm cool with that 🙂
Last thing to note about this area – the door that's between the bookshelf and Malm dresser leads to a bathroom. That's the "main" bathroom since there is a master bath in the master bedroom. I'm not going to snap a picture of it because, well, it's just a bathroom.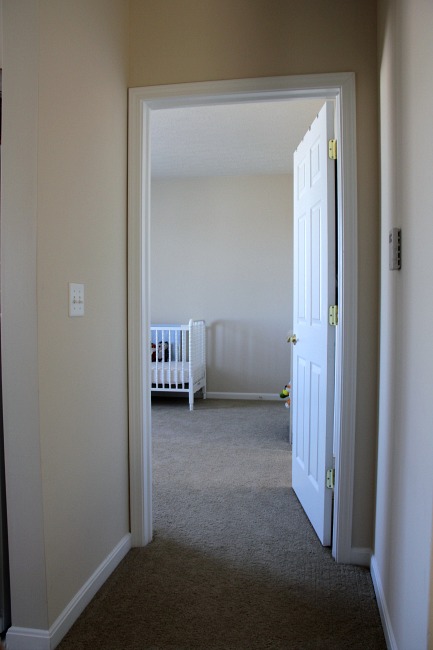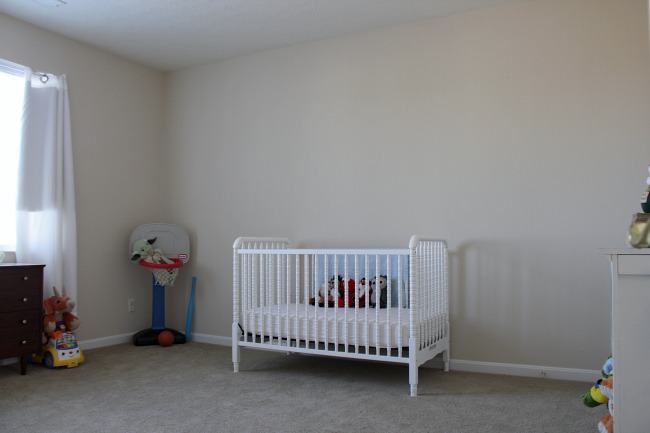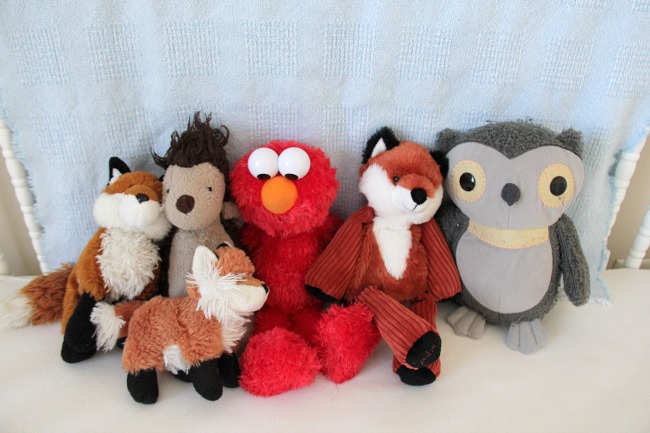 And here we are, at the end of our tour, in Ezra's room!
It's been so weird to go from fairly small bedrooms to rooms that have so much space. It's especially obvious in Ezra's room because his furniture is proportionate to his old room; it's all on the small side. I tried to keep the layout really similar so he wouldn't be too confused but we were pretty lucky that he transitioned to this new living situation fairly seamlessly.
I have to say I miss seeing his fox prints and cheerful banner on the walls. But they'll be back soon enough! And even though we don't have anything on the walls, we do have more toys in his room. One of his favorite Christmas presents this year is that basketball hoop he got from his Aunt and Uncle; we keep it in his room because he has the most space to run around in there.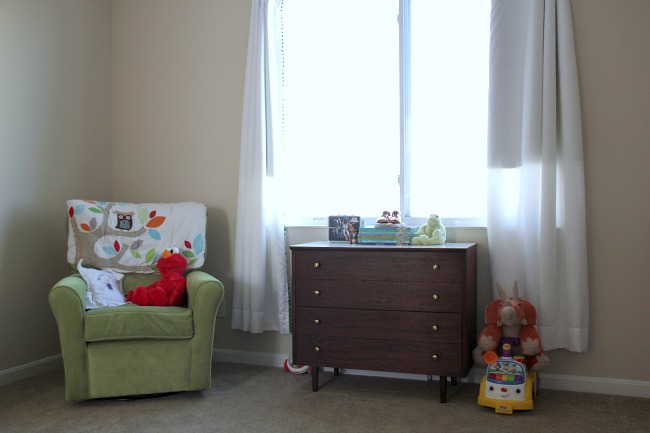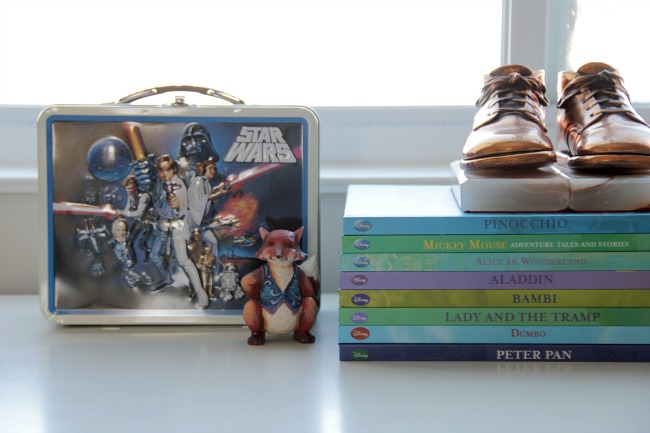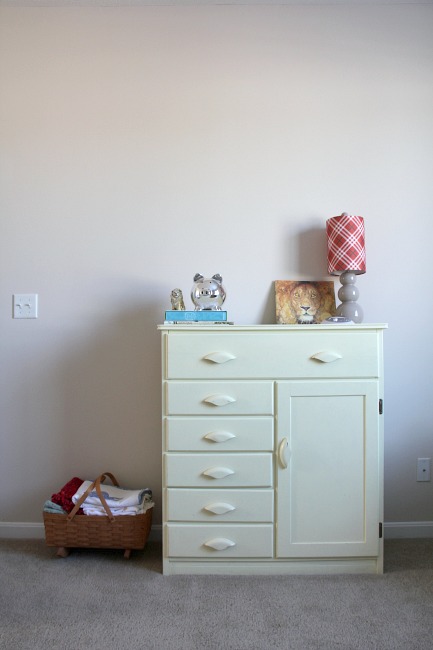 We no longer have the changing area on this dresser that we used to have, in Ezra's old room. Not only did he grow out of it, it's impossible to get him to lay still during diaper changes or when getting dressed so it was also becoming a safety hazard. I just stuck some books up there and other non-breakable items because tiny arms have a reach longer than I thought possible (Stretch Ezra?).
Ezra has no clothes in the master closet because (A) he just doesn't have many things to hang up and (B) his clothes are so tiny that they would look hysterical hanging up in the huge closet. So his clothes all go in the wardrobe and the dresser.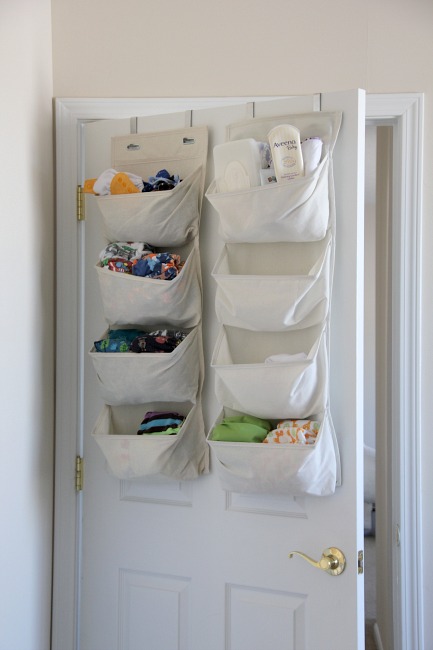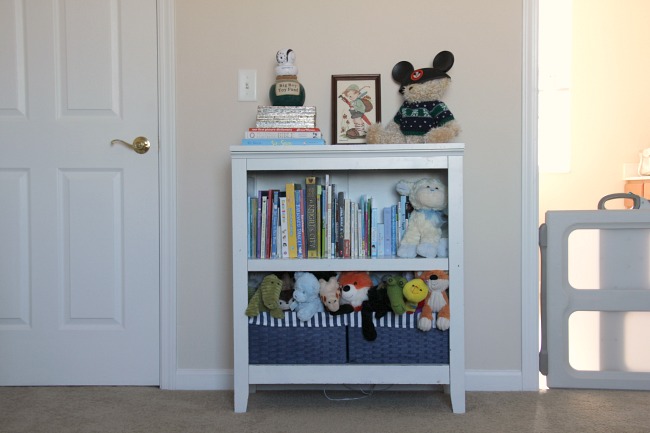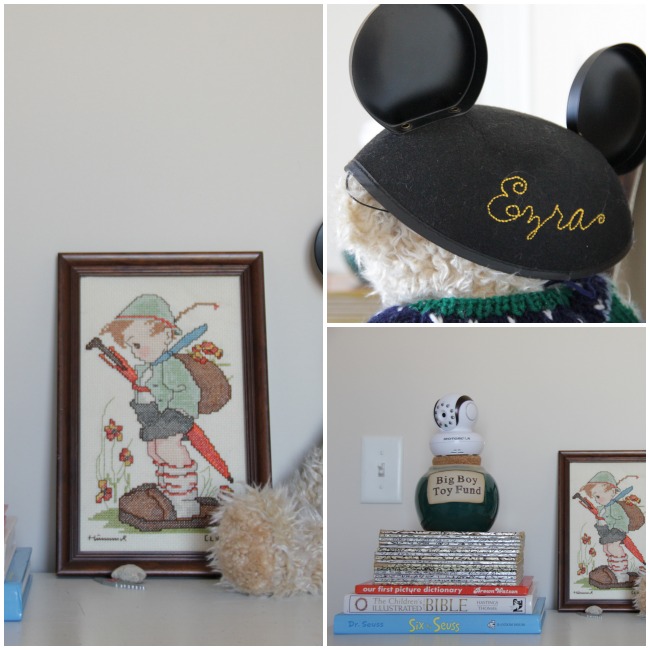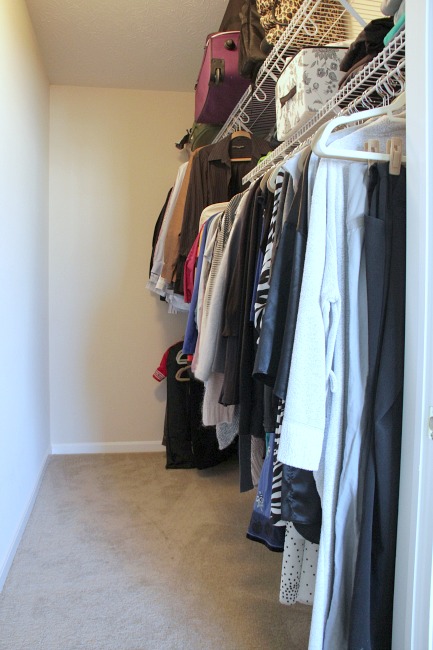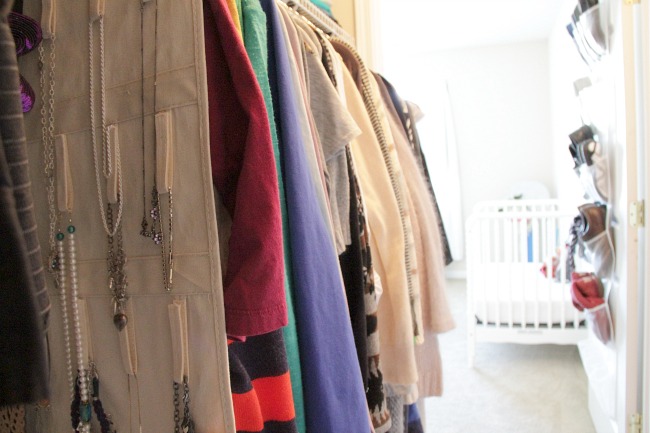 We hang all the cloth diapers on the back of the door, along with diaper changing supplies since we no longer have a "changing station." And you can see most of our everyday diapers are missing right now. Time to get on that laundry, huh?
Ezra's room is the only room in the house where I mostly kept everything unpacked, so he has his entire menagerie of stuffed animals and all of his books readily available.  He loves that little bear wearing the personalized Mickey Mouse ears (which were a very sweet gift from a very sweet friend). We also put a gate up in front of the door to the master bath to keep Ezra out of trouble.
And then there's the master closet. Ah, yes. This is just a tease at the amount of space Alex and I will have in the master closet in the new house – which is about the size of the third bedroom of our old house. No, I am not exaggerating! Ezra loves playing in the master closet, and so does the cat. Both play hide and seek – not together, but that would be amazing and adorable.
And that's the end of our tour! If you stuck around for the whole thing, you deserve a cookie. Or as Ezra would call it, a "teek-teek." So help yourself to a teek-teek from the cookie jar and thanks for reading 🙂