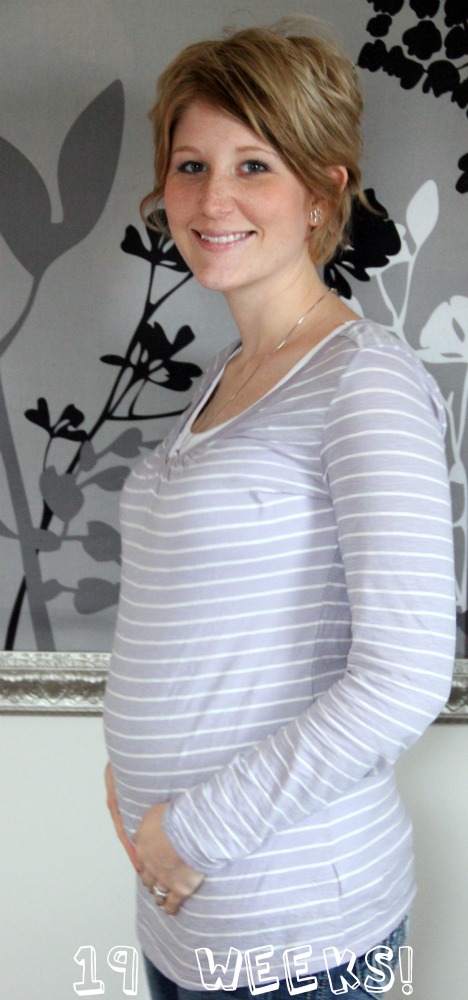 Bump Progress – Week 19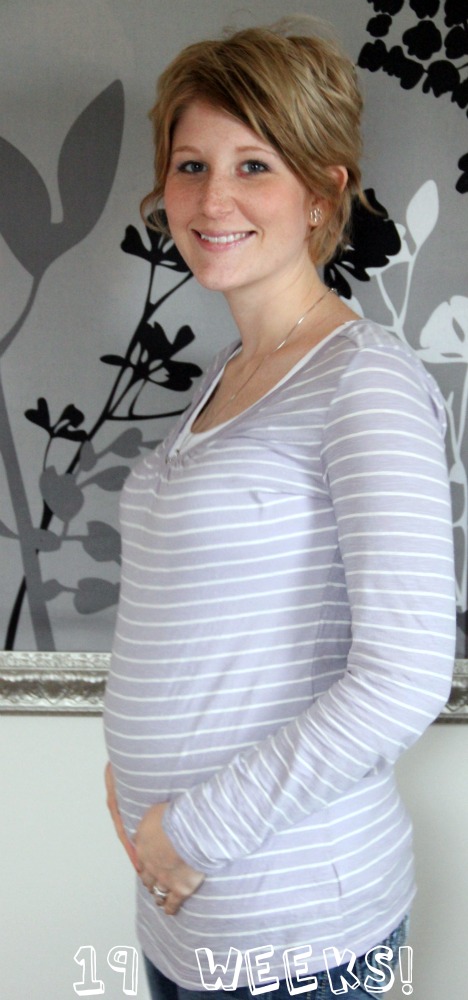 November 20th, 2011-November 26th, 2011
How big is baby? He is the size of a mango! Seems like a decrease over last week's sweet potato, but they must be going by ounces this time instead of inches but who knows. He is about 6″ and 8.5oz. Wow!
How I'm feeling? So happy! This past week was Thanksgiving and I felt the baby kick for the first time. Actually, I felt him at 15 weeks but it was just one time and it was a small flutter. This time it was a legitimate kick! Or maybe a punch – who knows. I felt it when we were driving down to Alex's mom and dad's house while the song "Joy to the World" was playing. It was a punk cover of the song but I can't remember who was singing it. It was so fun to feel him kick, though! And maybe that means he is a fan of Christmas covers?
Thanksgiving was a lot of fun. We traveled down the night before and, on the day of, helped my mother-in-law with the cooking and preparations. Well, I did. Alex jammed with his dad – my in-laws are a crazy musical family. We had about 14 or 15 people so it was a lot of fun!
There's been a tradition growing each year where, after the meal, some of us will play a game – usually Apples to Apples. I only play this game like twice a year, but I wish we played it more often. It is so hysterical!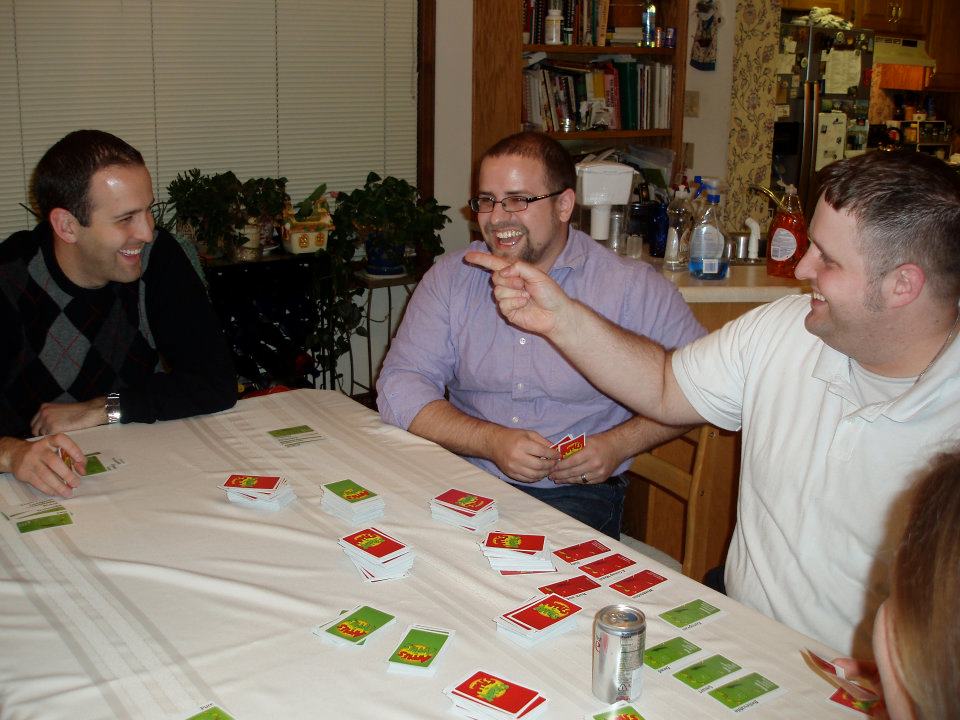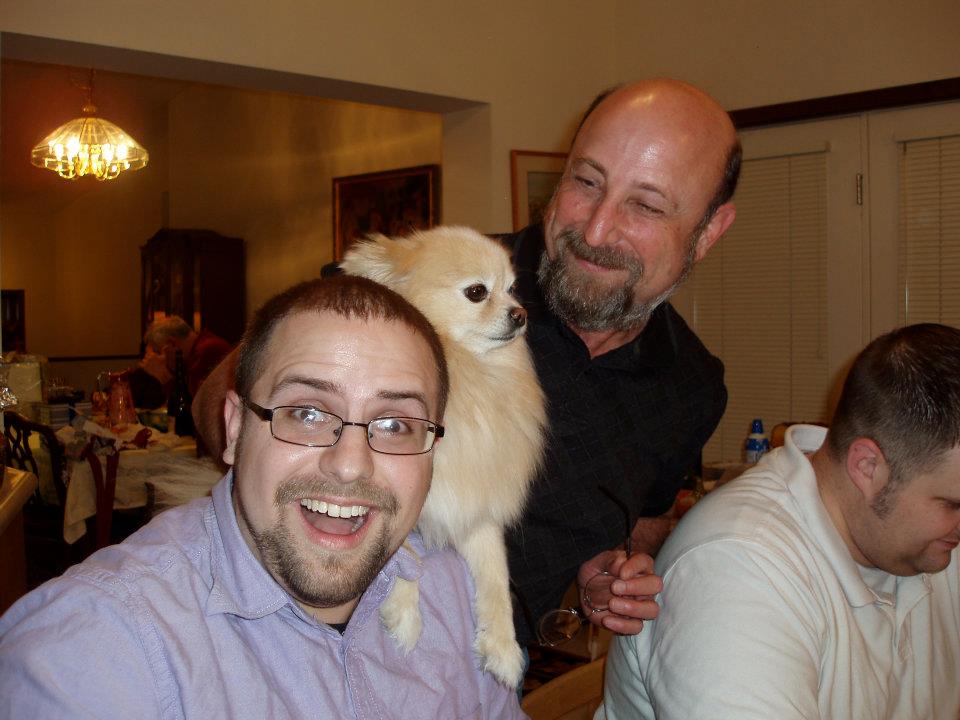 I seriously think it would kill my husband to smile like normal in a photo. He always puts on a ridiculous face, as you can see with this pic. Aslan, our Pom, looks concerned and my father-in-law looks amused. Aslan always travels with us when we visit the in-laws, but on this particular trip he was really sleepy most of the time we were there. Must have been all the turkey he had!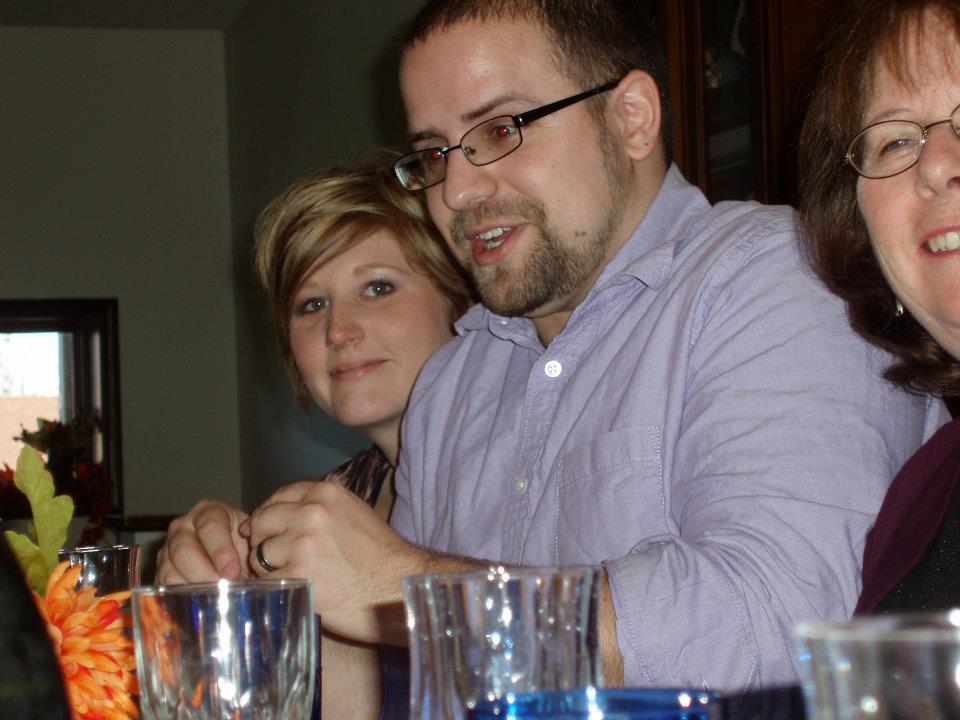 Apparently only I knew this photo was being taken! My father-in-law really likes taking awkward pictures of everyone when we are all together. It makes for interesting photos, at least!
Any cravings, weird dreams or other symptoms? Still the zombie dreams continue, mixed in with other strange dreams about our house and the baby. My cravings have shifted slightly – now it's all about Dr. Pepper. It seems like if it's not healthy and generally just bad for you, I will crave it. Thanks a lot, baby!
Not too many other symptoms that are different from what's already been going on. Sometimes my belly will itch, but most of the time things are running smoothly.
Any other details? I'm still reading through the books I mentioned I bought last week. Honestly, the "Your Best Birth" scares me a little. I realize the book is just trying to present all of options for childbirth, but it is heavily geared toward home birth/unmedicated birth. And that's fine, but home birth or a freestanding birthing center is just not an option for me. I really would appreciate a book that presents hospital births in an unbiased light. I know in a hospital you are way, way more likely to fall victim to "interventions" (like pitocin, episiotomy, forceps, etc…) but at the same time I just can't believe it is like that with every single case. If it was, it seems to me there would be a heck of a lot more malpractice suits around.
Regardless, we got back on Friday the 25th and I had a meeting with a doula almost immediately when we got home. Even before reading the books, I was thinking I probably wanted a doula with me so I had been researching doula options in our area. There are quite a few doulas, but I was disappointed to have only heard back from two out of the ten or twelve that I emailed. And from those two, one was way out of my price range. So yesterday I met with the doula who was in my price range and, while she was nice and friendly, something just didn't click.
Honestly, I am feeling really disappointed about this entire birthing thing. It is so complicated and so political. I will probably abandon my doula search for now and just focus on other ways of controlling our experience – likely through childbirth classes. The Bradley Method classes are about the same cost as a doula, so that might be an option for us. There are two instructors in the area, both with classes beginning soon for moms who are due around my due date.
Anyway, we will see. Maybe something will work out for a doula.