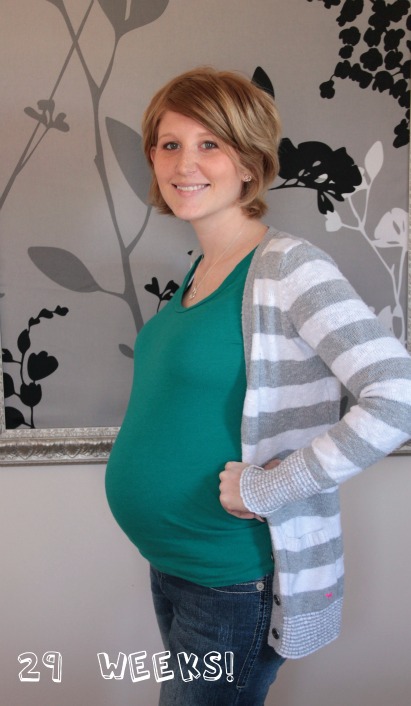 January 29th-February 4th
How big is baby? Baby is now the size of an acorn squash, which is yet another vegetable I haven't tried. I'm not as well versed in vegetables as I thought I was. According to The Bump, the baby is measuring about 15.2 to 16.7 inches long and weighs about 2.5 to 3.8 pounds. Slowly but surely, he'll start putting on more weight in these coming weeks, which means my belly is just going to keep getting bigger and bigger!
How I'm feeling? Really, really emotional. My energy is still up and going strong, but man am I emotional! This week has been full of random crying jags and a lot of overly emotional reactions to situations I normally would be pretty level-headed about. I'm not a big fan of this. It kind of makes me feel like a crazy person.
Any cravings, weird dreams or other symptoms? I don't have crazy cravings, but I do want to eat pretzels dipped in peanut butter and jelly all the time. I've had it as a snack the last several nights. So good!
My belly button is almost completely an outie. I was really hoping it would stay an innie, but no such luck. It sticks out all the time. I think eventually it's going to pop out then flatten altogether.
The itchiness that I had mentioned a couple weeks ago is now completely gone, so that's great. I think it was an overload of too many different products so I stopped using everything and changed to St. Ives Naturally Soothing Oatmeal and Shea Butter body lotion. I also now use Gold Bond Ultimate Deep Moisture Healing Body Wash instead of the L'Occitane washes I'd been using. Apparently my skin became a lot more sensitive with pregnancy so it's better for me to simplify things.
I wasn't doing these weekly updates back in my first trimester, but throughout my first trimester I experienced terrible breakouts all over my face. In my second trimester, that stopped but my face got very, very dry. Now that I'm into my third trimester, the breakouts seem like they're starting to return, but only on one side of my face. This actually leads me to believe it's because I have to sleep on my side all the time now and I used to be a back sleeper. Anyway, since the breakouts began I began using Aveeno Active Naturals Smart Essentials Pore Purifying Facial Wash, as well as the day and night cream of the same brand. These have really helped with the dryness and evening out my skin tone.
Any other details? We had our 3D/4D ultrasound yesterday!! It was incredible and a beautiful experience! My in-laws and my family plus one of my really good friends were able to experience it with us. We got some great images of his face and even his little feet. We saw him yawn and sucking his thumb. Mostly he was pretty sleepy, though, despite the huge green smoothie I drank beforehand. I should have had a coke or something.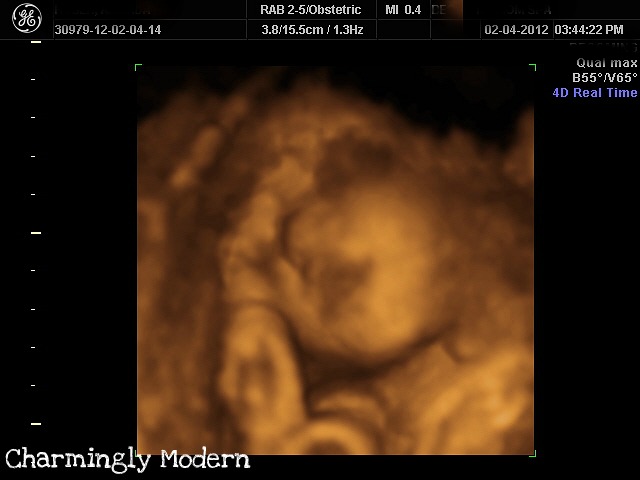 I feel the baby move all the time and I absolutely love it. My favorite is when he is either pressing his butt or his head out and there is a very hard spot where its at.
I haven't mentioned how my weight gain has been progressing. In my first trimester, I gained three pounds. I was very sick throughout the majority of those weeks so I'm thankful to have gained anything at all. In my second trimester, I gained about ten additional pounds. Since beginning my third trimester, I've gained about 1.5 pounds. My total weight gain, then, is 14-15 pounds. I'm pretty happy with that and hope to continue a slow gain until the pregnancy is completed.
I also completely forgot to mention that last week I had my Glucose screening and I passed it! I also had a blood test to for bile acid levels in my liver because of the itching – when I mentioned it to my doctor he thought I might have cholestasis of pregnancy and just wanted to rule it out. Thankfully, I do not have that and it was just either a reaction (as I mentioned above) to too many products, or the crazy changes in weather making my skin more dry than usual. Who knows? I'm just glad it was regular, old itchy skin, though.
As I'm writing this update a day late, I'm actually on day 1 of week 30. I can't wait to see what this week has in store… just 10 more weeks then baby will be here!