It is no secret that I love planning, planners, paper – the whole deal. I'm always trying out new planners, scoping Etsy for stickers and washi, keeping my eyes out for fun stuff and things I'd like to try.
Several months ago, I stumbled into this whole subculture of planning called "decorative planning" and I finally felt like I found the perfect mixture for me – a way to combine creative memory-keeping (or journaling) with a planner? Sign me up.
Back in high school, I carried a personal size Franklin Covey planner. It had been years since I had used a binder. I wasn't really finding "planner peace," as they say, with the spiral-bound systems I had tried, so when I saw a chance on this site called Blitsy (which, by the way, if you're into craft supplies, you have to check out that site) to buy a Webster's Pages Color Crush A5 planner, I jumped on it and bought a white one.
Webster's Pages has recently released their 2016 line, and I found some of it at my local Joann Fabrics. When I saw the grey and white striped A5 planner, I knew I had to have it. So now I have two. The struggle is real, people (this is not counting my Kikki.K A5…shhh…..).
It was love at first sight. What can I say, other than I'm a planner nerd.
I thought I would share more about how I organize my A5 planner, and my thoughts on the Color Crush line of planners. I haven't tried their A2 size (personal size), so these thoughts only refer to the A5.
I ordered the A5 planner kit, which meant I got a set of dividers, 18 month weekly + monthly planner inserts, and a few other miscellaneous inserts (meal planner, list sheets, note pages, and so on). The dividers and inserts were very colorful – as you can probably guess based on the name "color crush" – and while they were really pretty, they weren't really my style. The grey and white striped one came with all of the same inserts that the white one did.
Through my experimenting with various planners, I've learned that I prefer inserts to be black and white, or grey and white – as neutral as possible – because I like to add color myself. The one exception to this is the Happy Planner, which I'll save for another post at another time. The quick rundown, though, is that it's a vertical weekly layout similar to Erin Condren, and each month has a color scheme. I use my Happy Planner for work and blog planning.
But, back to the A5.
What I love about the Color Crush, apart from the price point which is very affordable in the world of binder planners, the quality. Nice, tight rings that easily open and close. The sewn edges are finished looking, with no frayed thread. The material, despite being faux leather, feels nice and, on my grey & white one, even has a pebbled look. Plenty of pockets to stuff things in (see above!), plus a bonus flap and slot at the back for an A5 notebook and/or notepad. I could go on.
How I've setup my A5 Planner
I have five sections and they are:
Calendar
Routines
Work
Projects
Lists
I really enjoy making my own dividers for my planner, and the ones you see in the images are ones I've made. I use papers from The Planner Society Kits, from scrapbook sets I find at craft stores, from paper pads, etc. The options are endless. You just need paper, and a laminator to make your own dividers – that's it.
This set of dividers is made from a Me and My Big Ideas paper pad, with the tabs from a Planner Society kit.
Let's break down the sections, so you can see just how versatile an A5 planner can be.
Calendar
In this section, I've got – you guessed it – my calendar! I keep a few different calendars. I've tried out quite a few inserts to see what style I seem to work best with, and I was surprised to learn that I prefer a grid (or quadrant) layout.
Those are a few of my "planner spreads," as they're called – because it's the week spread out – decorated with stickers and washi. If you're not used to this style of planning, it may seem really busy. However, I really enjoy this because it's like a creative outlet, and believe it or not, is a little therapeutic too. Every Sunday, I sit down and decorate my week, then fill in everything I need to do. I always post these on Instagram, so if you like looking at planner spreads, you can follow my planning account – plansandcoffee.
Also in this section is a month-at-a-glance spread. I originally purchased these inserts thinking I would use them as an editorial calendar for the blog, but it didn't pan out that way. I actually don't really use them at all, though I love this way of looking at a month.
I think eventually I will use them to plan out our bill schedule.
In addition to the weekly view, I've got daily inserts, too. I absolutely love these inserts, and the sections on them.
I don't always decorate my daily pages. I usually will only decorate them if I'm sitting down the night before to fill out what I need to do the following day, and I've got a few extra minutes to put some stickers or washi tape on there.
I can't always fit in my tasks and to-do's on the weekly spread, so this is why I also use a daily insert. I don't use it every day, but I would say I use it most days and it's very helpful to order my thoughts. A lot of the time, I plot things out on the weekly spread without really paying too much attention to the specific day a task may be assigned to; I approach it more like "these are the things I need done this week." So, I can get a little more specific on the daily insert by picking and choosing what I will tackle that day.
I also use it to make note of Penny's naps, work deadlines, any groceries I need to grab, and our meals for that day.
Routines
This section has checklists for my routines throughout the week. The main two inserts I have in this section are a "my routine" one, and another for tracking weekly cleaning. Both of these inserts have areas for daily tasks (and you can check off each day for each item), and weekly tasks.
These are printable inserts, so you can print as many as you need for yourself. I thought about laminating them with set tasks to do each day and week, so I can make them reusable, but I like setting the pages up each week because sometimes what I want to do changes from week to week.
One insert I still need for this section is something to track my Powersheet tending list with. I'd love a similar layout, with daily and weekly tasks. I'm sure this insert exists somewhere. Also, I could just track it on the actual tending list in my Powersheets, but I'd like something to stick in my planner because my planner is way more portable than my Powersheets.
Work
I have two inserts in this section – one for tracking stats, and another for brainstorming writing and blog post/article ideas.
The stat tracker insert is really cool. I can track posts, site information, and social media information over a week's time. I usually will input the previous week's info or a benchmark, and then compare at the end of the week. This is great for accountability to yourself, and to see how well you're really doing.
I also use this to track my pitch goals. I have a certain number of pitches I like to send out each week, and this is great to keep up with that, and to note when I've heard back about a submitted pitch.
The brainstorming page I use to quickly outline the main points and central idea of a post or article I plan on writing. It has social media icons across the top, which are helpful to track when promoting work. The clock section I use two different ways – to make note of when I will schedule a blog post, or if it's for a freelance project, to track how much time I think the article will take me to write. The quotes section I use to make note of any images I need for the post, or any experts I need to talk to in the case of an article.
I use the four labels at the bottom for category tag information, main points I need to keep in mind – really just anything that I want to remember in regards to the post or article, as I'm writing.
You may be wondering where I plot out tasks, writing schedules, track social media, and so on. I mentioned earlier in this post that I use a Happy Planner for blog/writing tasks. It may sound completely ridiculous to have two planners, but believe it or not, it's really helpful to me to have a whole different calendar for just work-related stuff. My personal calendar was becoming so cluttered that when I would sit down to look at it, I just felt overwhelmed at everything I had to do that I wouldn't get anything done. Now that I've separated out work tasks to their own planner, I am way more productive.
Projects
We have so many ideas for house projects that I needed a planner section to track them all. This section is mainly house information, but I also put work projects in here sometimes (as I'm typing this, it would probably make more sense to move those sheets over to the work tab, huh), and DIY project ideas, too.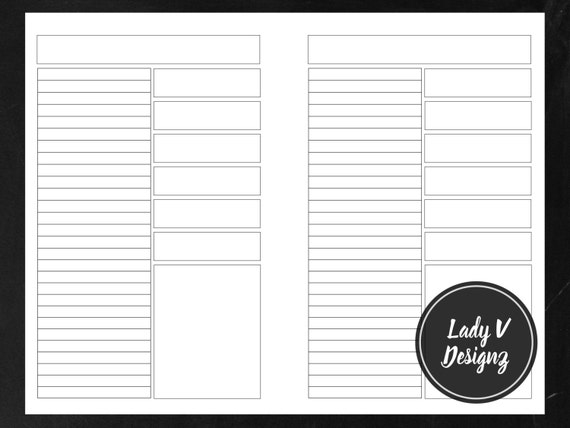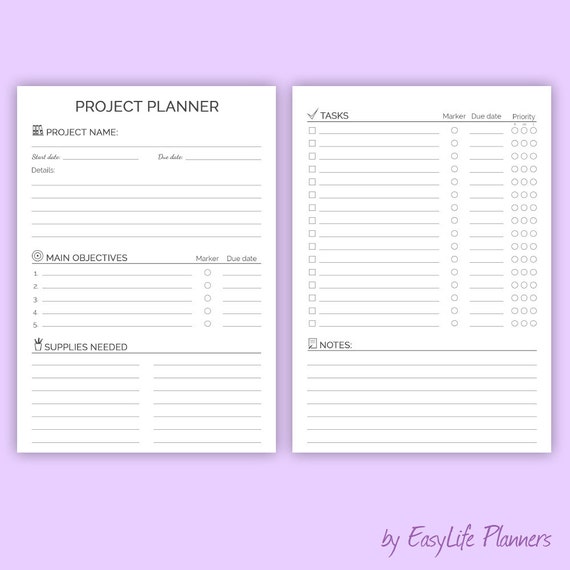 Above are the two different types of project inserts I use.
What I love about the top insert is that it's very open ended. I like it for brainstorming projects, or for laying out work projects. The bottom one is more structured, and is great when I have the details together and need it organized step-by-step, with all of my materials listed.
Lists
My list section is really just my miscellaneous place. I have note pages here, book ideas (ones I want to write and read), movies to see, random To Dos that pop into my head, things to transfer to my memory planner (another post, for another time), etc. I don't really journal anymore, so this section is kind of like a catchall. It can get really cluttered in there, so I try to clean it out weekly.
Supplies I Use
A5 Color Crush Planner Kit – White Planner Kit. I can't find the grey and white stripe one online, so check your local Joann Fabrics store.
Paper for dividers – The Planner Society (this is a monthly subscription kit, and subscription is only open for two weeks every month, so subscribe to get an email notification if you're interested), Me & My Big Ideas paper pads (I specifically used the watercolor one for my dividers), or any paper pad you find at your local craft store.
Happy Planner – Me & My Big Ideas just released 10 new designs. I use the watercolor one.
Weekly Quadrant Layout – by Jee's Papeterie. These are dated, printed, cut, and punched for you. She has great quality paper.
Month on Two Pages, List Format – by Dream Plan Repeat. These are also dated, printed, cut, and punched for you and the paper is amazing.
Day on One Page – by Dream Plan Repeat. Also dated, printed, cut, and punched.
Weekly Cleaning – by Strawberry Scraps. This is printable. I recommend taking printable inserts on a zip drive to a place like Kinkos or Staples and having them print the inserts for you. Make sure to get a heavier paper (not quite cardstock, but thicker than copy paper), and have them printed double sided. Some place will also cut down the prints for you, and maybe even punch them. If not, a paper cutter or punch will be a must-have.
Daily Routine – by Strawberry Scraps. Also printable.
Weekly Stat Tracker – by Dream Plan Repeat. These are printed, cut, and punched.
Blog Maker / Brainstorming Insert – by Rogue Crusade. These are printable.
Project Planner – by Easy Life Planners. A printable.
Project Planning – by Lady V Designs. That link is for a printed version, but she also has a printable.
Note Pages – by Strawberry Scraps. These are printable. I cover up the "notes" header if I want to make it a list page, but there are plenty of list/to do printables and printed inserts on Etsy if you do a quick search.
That just about does it. I'll do another post on other types of supplies I use when planning, like stickers, washi tape, pens, stamps, etc. That's when planning gets really fun!
Thanks so much for reading 🙂