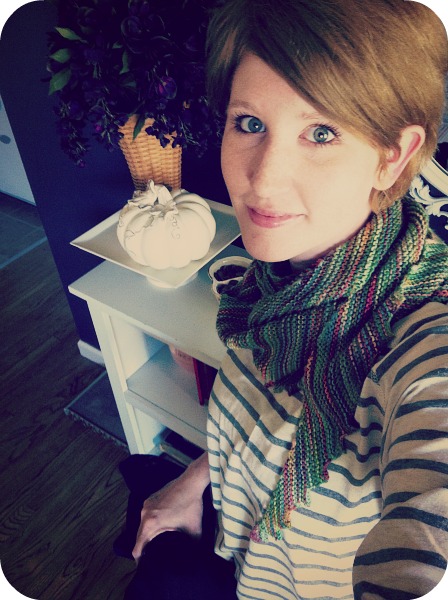 Reading … I'm all over the place week to week and don't think I'm going to make my goal of needing at least 9 finished books by the end of the month. Right now I'm reading a textbook, haha. It's the Canon EOS Rebel T2i book by David Busch. I'm learning a lot about my camera which is great. I think my photography has gotten better even in just the last couple months, but I'm hoping this book will really help me understand more about my camera.
Knitting … Still working on pumpkin hats over here. And diaper soakers. I'm also working on a really fun scarf – it's called a mosiac scarf, and it's composed of 12 different blocks, done in 6 patterns (each block is repeated twice). I'm using three different colors of Twisted Sisters yarn and it's a lot of fun so far. I'm also working on another hat for Ezra. This one has ear flaps to keep him toasty in cold weather.
Watching … I'm watching the Presidential debate right now. It sure is nuts. And that's all I'm going to say on that.
Listening to … Alex got the new Muse album, so we've been listening to that a lot lately. It's great but I wouldn't have expected anything less from Muse. They are amazing! On Monday I was listening to my sister-in-law's October mix and she had a Rob Zombie song on there.. so I also broke out the Matrix soundtrack because it has the same Rob Zombie track on it that was on her mix and I was in the mood for something industrial. It's great cleaning music!
Thinking about … The future and how we want to move. I think too much about that. I'm also thinking about my Erin Condren planner that should be arriving by the end of the week. You probably already know about my DIY Moleskine planner, but I ordered this other planner to try out, too. I may go back to the moleskine, I may not. We'll see. I'm also thinking about plans for an e-course I'd like to offer here. Stay tuned for details!
Loving … Ezra's little teeth that are popping up! He has two teeth – one is broken through, but still coming up the rest of the way, and the other is visible at the gum line. He's a pretty laid back teether, it seems. But he definitely is sticking everything in his mouth right now.
Looking forward to … a knitting retreat I'm going to at the end of the month. It's not an overnight thing or anything – just a day trip – but it will be a lot of fun to get away for a few hours and hang out with some fellow knitters. We'll be making a few projects which I'm very excited about! I'll be sure to take a lot of pictures to share 🙂
Making me happy … the thought of getting out our Christmas decorations in about a month's time. I know it's early yet, but I'm really looking forward to getting the tree up and hopefully putting lights outside. We've never decorated outside before but I'd love to this year with it being Ezra's first Christmas and everything.