Recently, One Kings Lane reached out to me and asked if I'd be interested in participating in their Pouf-a-Palooza blogger event. How can you say no to a palooza of any sort? Of course, I jumped in.
**No perks were involved for this post, and I was not sponsored by One Kings Lane to write this post. All opinions and wording are my own.**
The Pouf-a-Palooza is all about – you guessed it – poufs. They sent me a few images of poufs and asked me to put together a moodboard around my favorite one. Of the ones they sent, this one jumped out at me right away –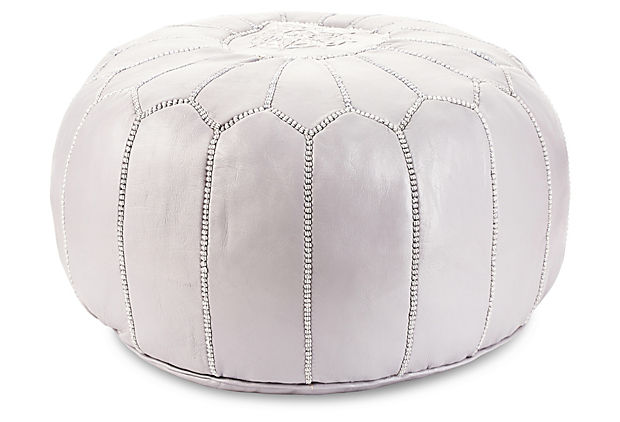 It's called the Moroccan Pouf and is leather with silver nailhead trim. It's practically pouf-ect (too much?) in every way. Unfortunately, this pouf is sold out on their site, but they do have a similar one available here – Folami Moroccan Pouf.
I wasn't exactly sure what kind of room I wanted to create around this pouf, so I started poking around on the site looking to be inspired. I've had an account with One Kings Lane for awhile, but hadn't spent too much time checking out the site. I was actually very surprised how many options there were – they sell pretty much any thing you would need to decorate your home.
I played around with some sectionals but in the end, I decided to create a bedroom. This bedroom is what I imagine I would have if I lived in the city somewhere. I kind of wish I could jump right in and make it my own right now. Check out what I came up with –
I had so much fun with this because I wasn't held back by my own house or anyone else's style or preferences. I chose things I wouldn't normally pick because there were no restraints. Like that dresser? Normally that is something I would immediately pass by, but it's kind of perfect for this bedroom.
Here are the details –
The bed is the Audrey Wingback Bed, and it's leather. I wanted to play off the leather of the pouf but also make a marked contrast. Plus, I actually wanted a leather bed for our master bedroom, but Alex told me no so this is kind of the bed of my dreams.
I tossed two Solid Velvet Navy Pillows on the bed to mix up the textures and added the Perry Pillow (the black and white patterned one) to draw out more black from the bed. I like the look of the bed with a plain, white coverlet so I left it that way.
The nightstand is the Tilly Nightstand, and I love its legs as well as its storage. Nightstands with no storage always look cool, but aren't very practical for real life – especially in my life, because I'm always stashing books, journals, etc. in my nightstand.
I'm very anti-clutter on top of nightstands, so I put a 12″ Faux Peony arrangement on top and called it a day. A lamp might also be a nice touch, but speaking of lighting…. that chandelier. I can't tell you how much I struggle with picking out ceiling fixtures for rooms, but this chandelier just jumped right out at me and fit in perfectly. It's the Victoria Chandelier and I've been looking around to see where I can incorporate it in my own house.
Let's talk about the dresser. It's called the Abeline Dresser and is normally not even close to my style, but I kind of love it. It's a little preppy in some strange way (the colors, maybe?), a little boho, and a little modern with its clean lines. Maybe it's because it reminds me of a Monet painting? I'm not sure. But I knew it had to be in this bedroom. I topped the dresser with the Levine Desk Clock and the Trellis Frame.
I imagined this room to have a little nook in it, perfect for reading and relaxing, so that's where I put the pouf. I have always wanted a bedroom with a corner like this. I chose to pair the pouf with the Corinne Tufted-Back Armchair and the Norton Bookshelf to create a little retreat within this retreat. I found the Brahms Mount Stripe Blanket to toss on the pouf, for a little more coziness, and the Geo Cotton Pillow went on the armchair to pull more black out from the bed and spread it further around the room. And on that same note, the Book Box Trio that I put on the bookshelf is just a nice little accent with the bonus of having some storage space.
Lastly, I searched all through the art section and found these two black and white photographs of NYC. The upper photo is a New York Tugboat, and the bottom one is the view from the East River. If this was a 3D room I was setting up in real life, I would put those photos in the reading nook.
I could keep tweaking the room, adding little things here and there, but I love the way it looks right now. I really enjoyed being invited to the Pouf-a-Palooza and the opportunity to put together such a fun moodboard. If you want to see what other poufs One Kings Lane has available (400+!!) click here – Poufs & Ottomans.
My big takeaway from this is that it doesn't always have to be a big piece of furniture that you build a room around. I normally approach a room by working with the central piece of furniture – whether that's a couch, a bed, a desk, etc – but it was kind of fun to take something small and then go big with everything else around it. Also, I've never done any kind of decorating with poufs before and, to be honest, I have never even really looked at poufs before. I've decided that decorating with poufs is kind of fun! Plus the word "pouf" is just fun to say, so there's that.
Let me know if you liked the room I put together, or if there's something you would do differently. Thanks for reading!