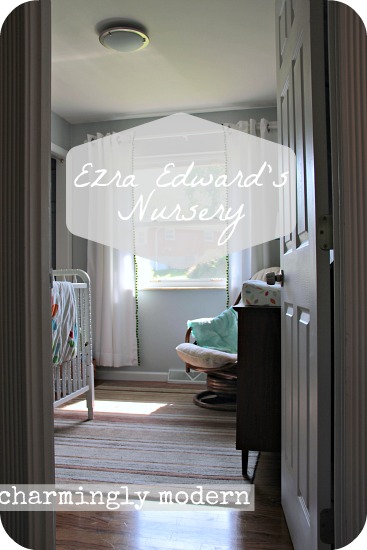 We finished Ezra's nursery two weeks before he arrived – perfect timing! Now that we've been using it for several weeks, I feel like I did a pretty good job anticipating how we would use it, though there are still a few touches I'd like to make here and there.
On my last update of his nursery, things were looking pretty bare. Now, they're a lot more filled in and nursery-ish looking.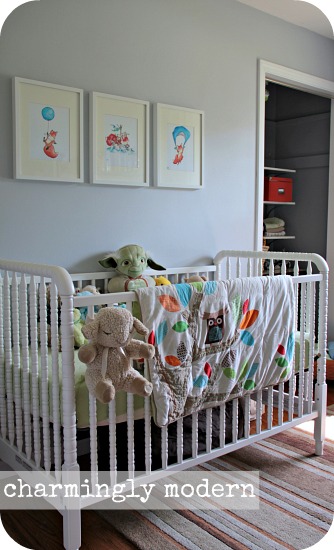 The walls are now painted Evening Shadow by Sherwin Williams, and we've got his crib all setup (featuring a giant yoda and sleep sheep). We added art work to this wall – little fox prints! We wanted foxes to be the theme, but we ended up not really having a theme per se… more just a color scheme. And the color scheme was pretty much any bright, primary color with a few muted shades tossed in for good measure.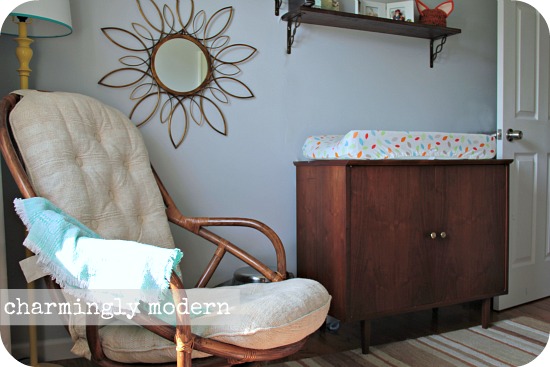 This is the opposite wall from the crib. You can see the chair we use as a rocker (but it's more like a bouncer) and the dresser we're using as a changing station. My lamp I upgraded is tucked behind the chair and I hung up a mirror that I snagged from the garage. It had just been sitting in there for months with no place to call its home. Gotta love re-purposing cast-offs!
Here's a shot of the same area, but with a better view of the bookshelves: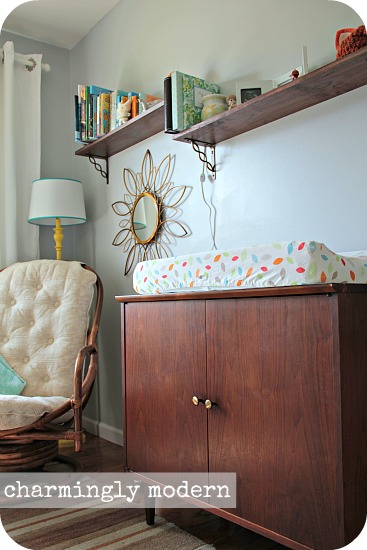 The bookshelves are a 6′ board cut in half, then stained and coated with polyurethane. The room is so small that we needed to add additional storage in the form of shelves for all of Ezra's books – there was just no room for a bookshelf.
I think his shelves are one of my favorite features of the room so here's a couple close up shots: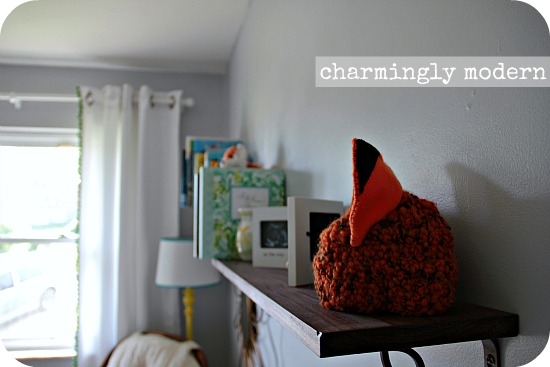 You can see this little Fox knit cap that one of my friends made for Ezra – he looks so adorable in it!! And a little further down the shelf is a picture frame (that I still need to fill in with his actual photos and not the stock ones!), his Scentsy warmer that doubles as a nightlight and his guest book from the baby showers.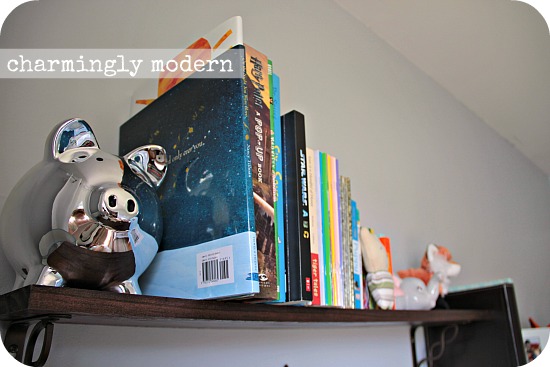 And here's the other side with Ezra's book collection. He has quite the library. He also has a couple piggy banks, where he will soon start stashing his vast fortune that he will no doubt begin to accumulate.
We read to Ezra now, even though he has no idea what we are saying to him. He likes looking at the pictures and hearing our voices.
Directly across from the rocking chair is the room's (tiny) closet. When we bought the house it didn't have a door, just a curtain covering the doorway. I removed the curtain and it's open right now. If we're still in this house when Ezra's a little older, we'll probably add the curtain back or at least find a door. The boy needs a proper closet!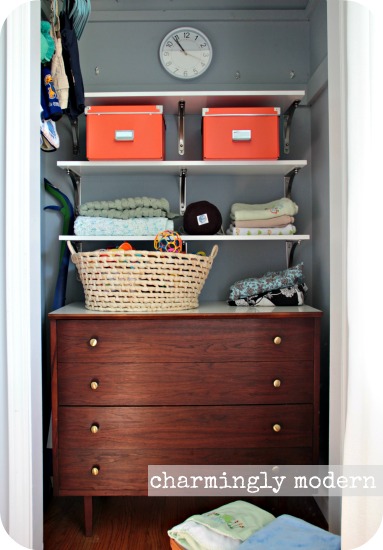 We added those white shelves to this closet when I used the room as my office. I used to sell Mary Kay and I stored all of my inventory in there. Now, the shelves are home to blankets and the Moby wrap, as well as two orange storage boxes from IKEA. One of them is Ezra's "memory box" – something my mom did for both my sister and I. It's full of little things, like his hospital bracelets, cards from showers, and other little mementos. The other box has crib sheets. The drawers in the dresser have all of Ezra's clothes. We use the top two drawers for his current wardrobe and the bottom two drawers are what he will likely be wearing soon. My little boy is growing so quickly – he's already into his 0-3 and 3 month clothing. He doesn't quite fill it out width wide, but he's definitely tall enough!
The final little detail in Ezra's nursery is his artwork.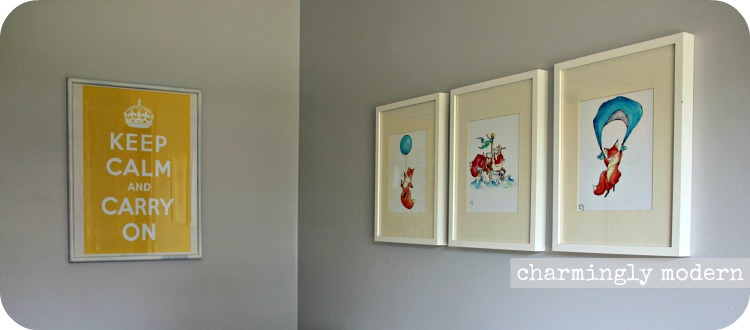 I really didn't want to spend a lot of money on artwork as he might not like what I picked out when he's older and can decide for himself. So, I left the Keep Calm and Carry On poster in the room and we purchased the three fox prints from Etsy. Second to the shelves, the fox prints are another favorite feature. They are just so adorable!
The last picture to share is in the vein of keeping things real on the blog. It's how our changing station is actually setup on a daily basis. I loved the changing pad on top of the dresser, but it wasn't practical. It slid around too much and just wasn't safe. So, we have a strip of no-slip stuff that you put inside of kitchen drawers and cabinets, with a co-sleeper on top of that, haha! It isn't the most traditional setup, but it works. We keep a stash of diapers, some wipes and bottom cream to the left of the co-sleeper to make diaper changes a little quicker.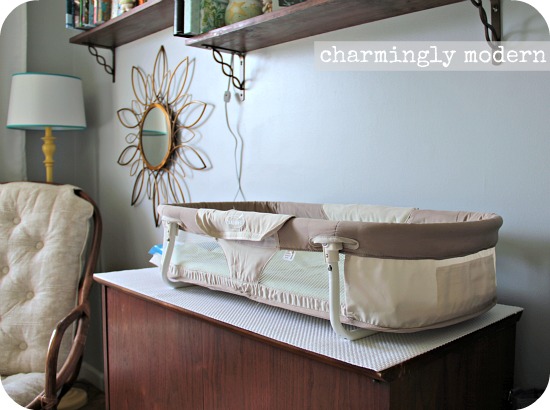 And that's Ezra's nursery! There are a few other things I'd like to add to it, whenever I can find a free moment. On the top of that list is to put a mirror on the bottom of the shelf above his changing station so he has something interesting to look at while he's laying there. For now, though, it works. It's a cute room without being too over the top and I think it will transition nicely with him as he grows.
If you're wondering about where we got things, here are our sources:
Paint: Evening Shadow by Sherwin Williams, in Harmony Interior Acrylic Latex
Crib: Davinci Jenny Lind Stationary Crib (we didn't put the casters on)
Dressers: Vintage, scored on Craiglist last Summer
Co-sleeper: Summer Infant By Your Side Co-Sleeper that we use as a changing station
Bedding: Treetop Friend set from Buy Buy Baby (comes with a changing pad cover, fitted crib sheet, bumper, crib skirt and comforter. We don't use the bumper or crib skirt, but we'll probably add the bumper in when he's older)
Nightlight: Twinkle Scentsy Warmer. We use the Newborn Nursery scent in the warmer.
Storage Boxes: Orange Kassett boxes from IKEA. Looks like the orange color isn't available anymore.
Artwork: Keep Calm and Carry On poster from Dizzi Prints on Etsy (this isn't where I originally purchased the poster from… I bought it almost 3 years ago and can't remember where I found it) and three Foxies of Loxly prints by Loxly Hollow on Etsy
I'll have another post soon about the DIY details of Ezra's nursery as there are a couple little things I didn't get to share. I hope you enjoyed the tour!