We tried 11 new recipes in the month of February and most were winners. Some were not, though. We ate at home most of the days of the month, which was a personal goal I had set for us. We're kind of on a roll, if I do say so myself.
This month, I learned:
Don't let chicken sit in a lemon sauce for hours upon end
Potatoes look disgusting when grated
Quinoa is pretty amazing and surprisingly simple to cook
Without further ado, here are the reviews of our February recipes:
Pan Roasted Chicken with Lemon Garlic Green Beans – This recipe was great in theory. It sounded like it would be delicious. And it probably would have been delicious had I not left the chicken, green beans and red potatoes to soak in the lemon-garlic mixture for about 3 hours. I made this on a Thursday, when we had a childbirth class, and Alex got home a little late this particular day so we had to eat after we got back from class that evening. The chicken was edible, but the vegetables were so acidic and gross from the lemon… it was just not good. Thankfully, in the freezer, I had one of those Green Giant vegetable steamer sides that just so happened to be green beans and red potatoes in a rosemary butter sauce. It wasn't as good, but it did the trick. I might make this again – the right way – and see how it's supposed to really taste.
Easy Crock Pot Chicken – This recipe is, as the title states, unbelievably easy. And so tasty. It's like an at-home version of Chipotle; all you need is to make some guacamole and grab some tortillas and you're all set. We had friends over the night I made this and there were still plenty of leftovers for lunch over the weekend. I've made this one other time since then and it was just as delicious.
Homemade tater tots – This was a complete and total fail. It could be because I didn't fry them. I can't really handle fried food now that I'm pregnant and did not want to spend the evening in the bathroom, so I chose to bake them. They turned out like tasteless logs of what looked like shredded paper. I'll try making these when I'm no longer pregnant and can do fried foods again but, for now, they're off the list.
Corn, Bacon & Potato Chowder – Delicious! And so easy to make! But, I disagree with how many the recipe says it will serve as is. It said four…but I think the four people it was serving have a stomach the size of a marble. With the two of us, there was barely enough and we had zero leftovers which…if you know me…stinks. Because then what will I have for lunch?? So when I make this again, I'll double it.
Red and Green Winter Soup (a Real Simple Magazine recipe) – This soup was very easy and quick to make (about 30 minutes total) and is healthy and delicious. The red is crushed tomatoes and the green is swiss chard. I didn't change anything except reducing the amount of oil used as well as changing the oil – I used grapeseed instead of olive and an 1/8cup instead of 1/4 C. As is, the recipe made for a lot of leftovers. I froze half the leftovers and kept the other half in the fridge for lunches.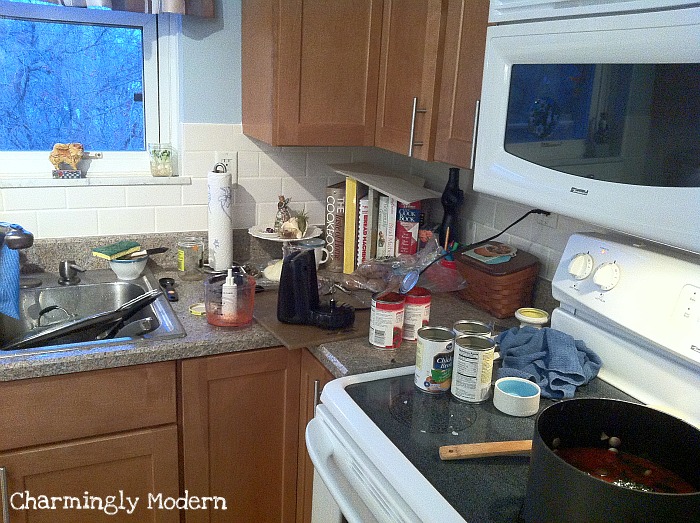 My kitchen after cooking the Red & Green Winter Soup – I'm a messy cook

Turkey Chili from the Gorgeously Green Diet – Delicious. I have never had a bad recipe from this book. I did not follow the recipe exactly, though. If I had, I would have been breathing fire out of every pore of my body as it called for two tablespoons of red chili pepper. I don't like spicy foods. I put in one teaspoon of all three spices and that was just the right balance for us. We had leftovers, too, which lasted for two days of lunch for me. Bonus! This would probably make a good freezer recipe, now that I think about it.
Creamy Carrot and Turnip Stew from the Gorgeously Green Diet – Another great recipe! I followed this pretty much exactly to the letter except I do not own an immersion blender so I put the cooled soup in batches in my regular blender. It didn't come out as smooth as probably what an immersion blender could do, but it worked. This is a really flavorful soup so if you don't like the taste of turnips you won't like this soup. They really stand out, along with the carrots, rather than blending into everything.
Loaded Quinoa Veggie Burgers – I've talked a little bit already about how much we liked these. They were super delicious and really filling and are now permanently on the lunch rotation for Alex. They are slightly more time consuming to make than the Chickpea Hummus Burgers but they're worth it because they stay together better when frozen (the Chickpea burgers tend to crumble), pack a slightly larger protein punch and I can get more out of a recipe than with the Chickpea burgers. Definitely give these a shot.
Protein Pancakes – I doubled this and maybe that was what I did wrong. These were pretty thick pancakes and they were super dry. Like suck all the spit out of your mouth dry. It might have been the protein powder or, as I mentioned, the fact that I doubled it. I have no idea. Doubling the recipe gave me 8 pancakes and her serving size was 1-2 for the standard recipe so I made these fairly small. Maybe they were too dense? I have no clue. I'm afraid to try them again, though.
New England Pot Roast – Wow! Talk about comfort food! This recipe was easy, quick to prepare and smelled delicious the entire time it was cooking. I made it as is and had plenty for leftovers (which I did not freeze because it was too delicious and I wanted to eat it every day for lunch). When I make this again, I might try more seasonings. Alex really likes a lot of spices and flavor. This has a more subtle flavor to it, which I enjoyed, but Alex wanted something else.
 Moist Low Calorie Protein Fudge Muffin – Tried this as a snack one night. It was okay. Not very sweet, but I didn't add a lot of sweetener because I wasn't sure how it would turn out. I ended up topping it with organic powdered sugar which probably negated the health aspect of it – oh well. It was really filling, though. I ended up making it again and added raw sugar and mini chocolate chips (again… not exactly healthy…) and liked it much better. I will definitely use this as a filling snack when I'm craving chocolate.
The recipes I did not get to in February were:
Creamy Pumpkin Soup, The Gorgeously Green Diet (p. 291)
Pecan Crusted Chicken (Rachael Ray Mag recipe)
Lentil & Cauliflower Stew, The Gorgeously Green Diet (p. 299)
Not bad! For March, my goal is, once again, to eat at home the majority of the days of the month. Another goal, though, is to start taking photos of the food I make. I'm not saying they will be good photos… but it will at least make these recap entries a little more interesting! Do you have any tips for taking food pics? Please share!
Tags: budget, cooking, food, food budget, groceries, meal planning, recipes, savings, spending
---