It's Sunday night! And our week and weekend were so much busier than I thought they would be.
Monday, the local yarn shop had a Christmas in July event that featured a Wonderland Yarns/Frabjous Fibers Trunk Show. The yarn is all hand-dyed in the US and the colorways are inspired by Alice in Wonderland. I picked up a mini skein kit (that also has a full size skein in it) and a skein of some fingering weight yarn. For the kit, I think I'm going to do the Aranami Shawl and with the fingering, the Westbourne tee.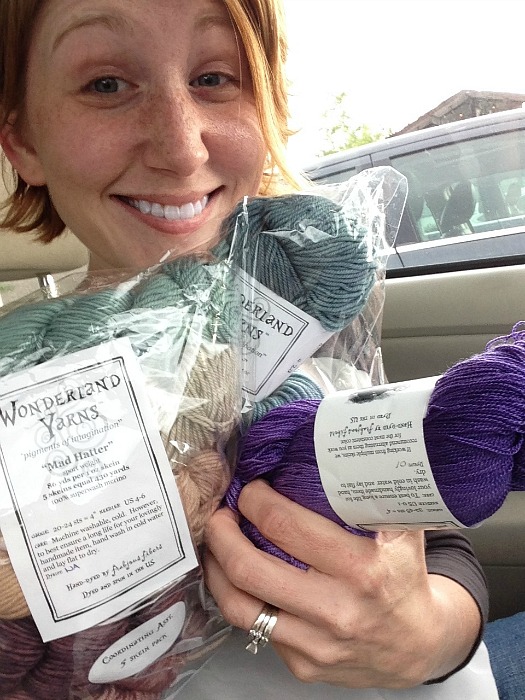 Tuesday and Wednesday were pretty standard. I cast on the Linum Tee in Knit One Crochet Too Cozette yarn (which is incredibly ethereal, by the way) and I also decided to jump back into The Well Educated Mind. I still have the price tag on the book – which I had originally purchased at Borders! And our Borders has since become a local bookstore chain – and the price tag tells me I bought the book in 2010. But the cruel joke is that I actually had a copy of this book even earlier – like back as a freshman in college, so in 2002 – because I started to go through it back then. I started it in the summer and I remember reading Don Quixote aloud to my sister and the two of us laughing hysterically. I got rid of my original copy when Alex and I got married and I couldn't bring my 800+ books into our tiny apartment.
Anyway, I'm back at Don Quixote and The Well Educated Mind again. But I'm not promising anything.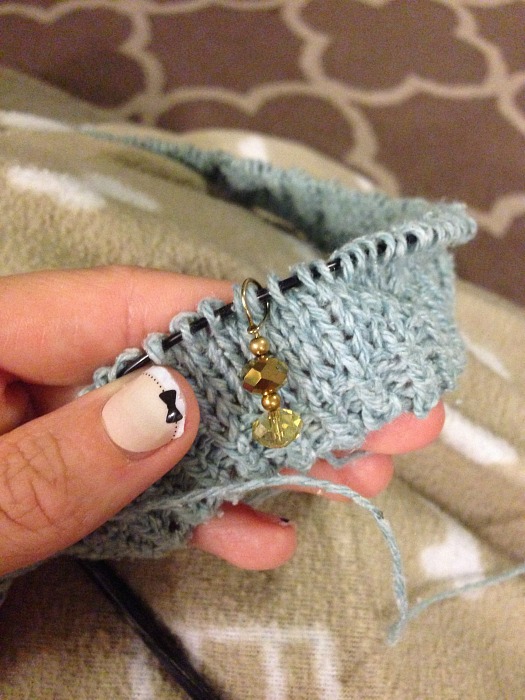 Thursday, my mother-in-law came up for a visit and we took Ezra to the zoo. Ezra got really lucky this week because my mom took him to the zoo the day before. So he got double zoo visits this past week. Spoiled kid!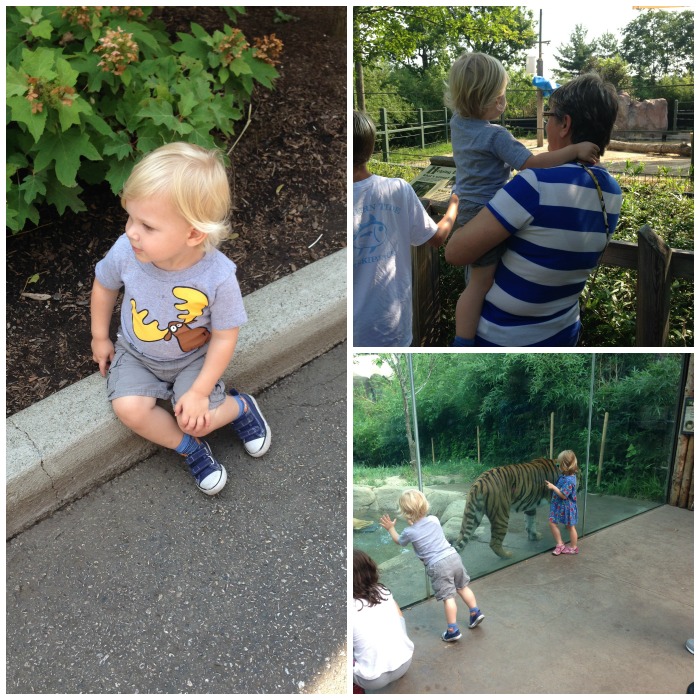 That evening I met up with a new-found friend for dinner at this Mexican place downtown that's been around for years but I have never gotten to try. It did not disappoint! And since Alex was not going with me, I decided to put on some high heels. I normally don't wear heels because Alex is just 1″ taller than me so the three pairs I have (I know, I know) usually just hang out in the shoe organizer. But not that night!
So I had to take a pic. Obviously.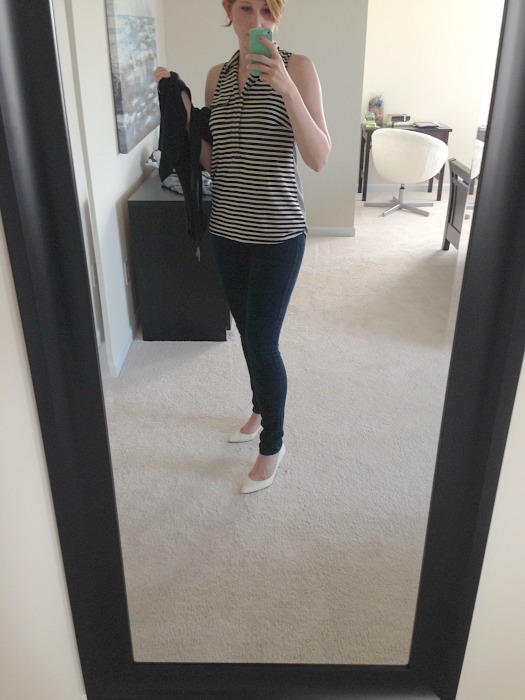 Friday, Ezra had a playdate with one of his neighborhood buddies. Afterwards, we all went out to O'Charley's for lunch. I haven't been there in forever but, rolls. How could I have forgotten about the rolls.
I have to say, it was a little challenging eating out with Ezra by myself. I wasn't really by myself – my friend was there, obviously, and so was her husband – but I was nervous because Ezra isn't the best at eating out. Which is funny considering how often we eat out. But we normally eat at Panera so it's very casual and there's pretty much no wait time for food. It's the waiting time at a normal, sit-down restaurant that always does us in with Ezra. We did have to wait about 20 minutes and, while Ezra was definitely being very toddlery during that wait time, everyone survived so I count it a win. It was kind of a confidence booster for me, too, to know that I can handle him by myself in a situation with a long wait time, and very little to do. Did I mention this was an impromptu lunch date? It was. Which meant I didn't have a diaper bag packed full of distractions.
Friday evening we stayed in and ordered pizza. I actually lived all of Friday thinking it was the last day of July and I already know that we went over budget on our July eating out spending so I was kind of in a "oh what the heck, what's another $20 at this point" mood. Then I realized it was August 1st, which left me feeling robbed of my own money because I spent some August eating out budget before I was mentally prepared to start doing that. You can laugh at me, it's okay.
On Saturday morning, I went to a gym and I took a class that my sister-in-law was teaching. It was a cardio sculpt class so there were a lot of moves using weights. I left the class thinking "okay so my form isn't the best, but I totally rocked that class. I am awesome." Today, Sunday, I woke up feeling a little sore. As I type this, I'm currently laying on the couch with icy hot slathered all over my legs. I hope to walk again one day.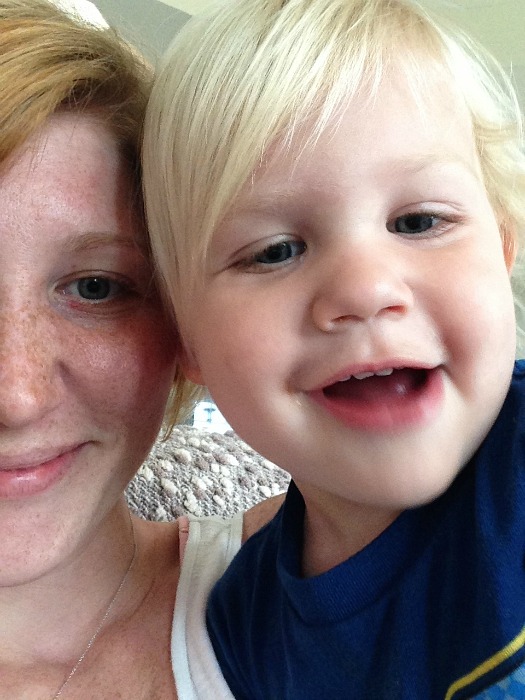 That brings us to what we were up to today! We checked out a church in the area. We haven't been to church in months. We were regularly attending a church that's about 5 minutes from our house but we fell away for no real reason and haven't made it back. One of the couples we met in our neighborhood mentioned they attend this other church and it's one we had been curious about so we decided to attend since now we could say we knew someone there. If you've ever visited a church before, you know it can be really, really awkward as a first time visitor. But walking in with someone who's already a member? You can avoid all of that awkwardness!
So we went this morning and it was good. I was a little surprised at how traditional the whole thing was, but I don't mean that in a negative way. It was kind of refreshing, to be honest. Church is so often this huge production. In fact, I found myself almost expecting the production – where's the huge, hip band? Where are all the lights and the screens? Where's the coffee? (I didn't find the coffee… so that was a little upsetting. Just kidding. Not really.)
It made me think how church has changed. Honestly, the service tripped me out because it was so traditional. It was like a timewarp back to when I was younger and my family attended services at a local Church of Christ. There was no pretense at this church we visited today. I'm still trying to figure out my reaction to it, and I know it's because of the feelings I have around the Church of Christ so I'm also trying to separate that out from this whole visit. But the bottom line is, I didn't not like it. Neither did Alex. And best of all, Ezra really enjoyed his time in the preschool room and he stayed there for the entire service. That never happened at the church we had been attending. I don't know if it's because he's a little older now and is more independent, or if it's because there were quite a few children there so he was distracted… I'm just happy he felt safe enough to stay and play.
After Ezra's nap, we joined up with some fellow knitters from the yarn shop (plus my family!) and caught a Florence Freedom baseball game. Ezra had such a great time! He clapped and cheered, he gave people nearby us high fives and booms (fist bumps). He tried an Airhead (and loved it because duh).
It was a special event for the knit shop, and it was also UK night at the stadium so knitters who purchased tickets got a special skein of Team Spirit yarn in UK blue colors. What's awesome about this yarn is all you do is knit a 2×2 rib and the yarn does all the pattern work for you based on how it's dyed. Pretty cool.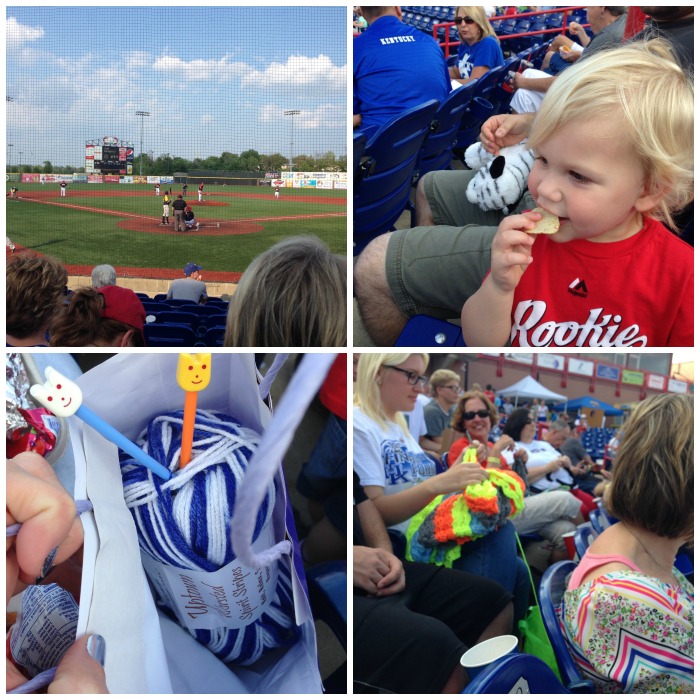 No links to share this week. I gave you all my good stuff in my catch-up post. This upcoming week, it's going to be pretty standard. But then again, I said that about this past week and it turned out to be pretty busy.
Hope you had a great week and weekend 🙂