(PSST – I've added a plugin to my blog where if you mouse over an image, a Pin It button appears. Try it out!)
You've seen this room before. The last time you saw it, it was a nursery.
Shortly after I wrote the reveal post for Ezra's nursery, we decided that room just wasn't working. It was a little cramped for him and the more time that passed, the more I couldn't stand it. Not to mention it faced the street, shared a wall with the living room and was directly across from the kitchen. It was no wonder he had a hard time napping in there.
So, we decided to swap his nursery with my then-office, which was the third bedroom at the back of the house. It doesn't get much sunlight during the day (no direct sunlight anyway), which is great since he just naps and sleeps in there, plus it shares a wall with only our bedroom and the stairs going to the basement…which means virtually no noise during the day and very little at night.
I'll reveal his new nursery in another post, so for now you'll see where I work…which I subtitled 'the room from Ikea' and you'll find out why when you view the source list at the bottom, but I'm sure you can guess what I mean –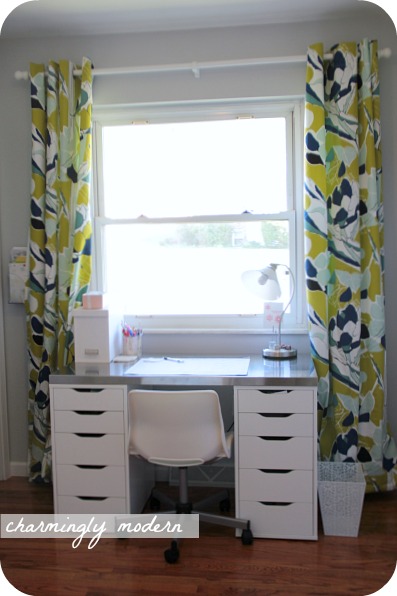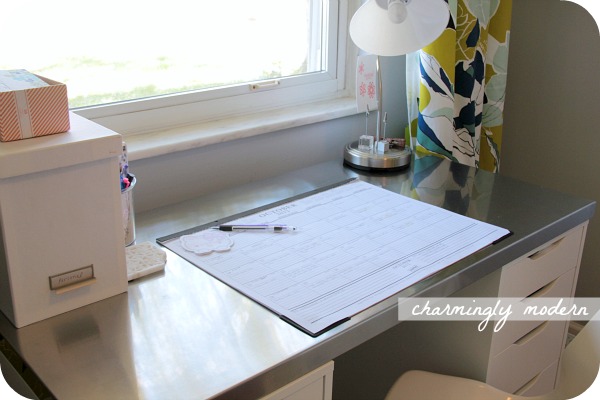 Normally, my desk is pretty clear like this. I did remove a few stacks of papers that had some personal info I don't want flashing all over the internet, but I am one of those people who likes a clean, clear space to work. The only thing missing from this picture is Aslan who, lately, likes to sleep on my desk while I work.
To the left is the closet, which doesn't have a door or anything. I need to get a curtain still but in the meantime it's open.  I'm thinking I'll get something navy blue to go with the window curtains.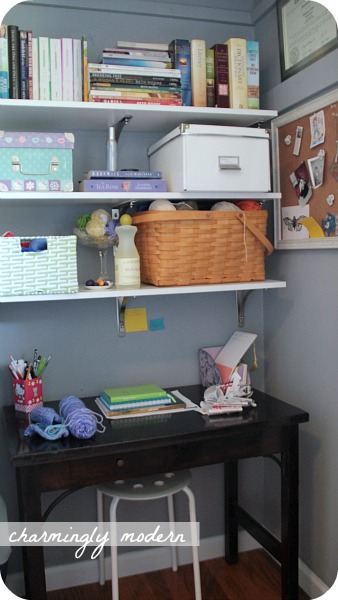 I do bible study and writing at this desk. The closet stores my yarn stash, knitting supplies and bible studies. The white box on the middle shelf has a bunch of electronic stuff in it – cords, my external harddrive, CDs, etc.. and the other box on that shelf has personal items in it like journal pages, mementos and so on.
Directly across from the closet is a blank wall with shelves on it.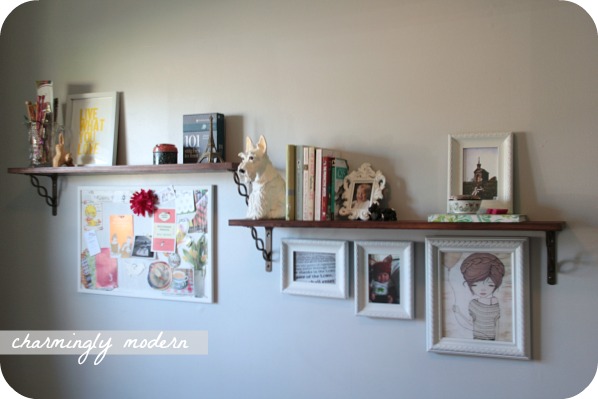 I have turned this whole area into a kind of inspiration wall. The shelf on the left has a framed print that reads "Live what you love" so I took that as the theme and went for it. I've got a glass pitcher from Anthropologie holding all my knitting needles, plus a box with 101 different knitting stitches on individual cards and a candle in front of it with a little owl motif on it. Normally my camera sits on this shelf, too, but I was using it to take the pictures (duh). There is also a wooden bunny figurine that is kind of hideous looking but it was one of the first things Alex gave me when we were dating…he gave it to me because he knew I would find it funny 🙂
The other shelf has a white dog figurine (for the Westie I grew up with, who still lives at my parent's house!), a few books (on CSS, writing and being a mom), a photo of one of my cousins when he was a baby, some Scottie dog figurines (for the scottie I grew up with, who sadly passed away a year ago), Ezra's guestbook from his showers and a framed photo of a chapel that my neighborhood is named after. Below the shelves are my inspiration corkboard with various things I'm loving right now, and the other side is three framed pictures – a closeup of a scripture that I took, Ezra in his fox hat and a print entitled "Wishing" that I ordered from Etsy.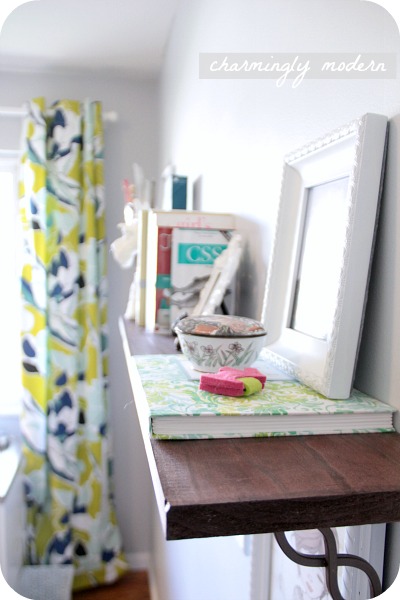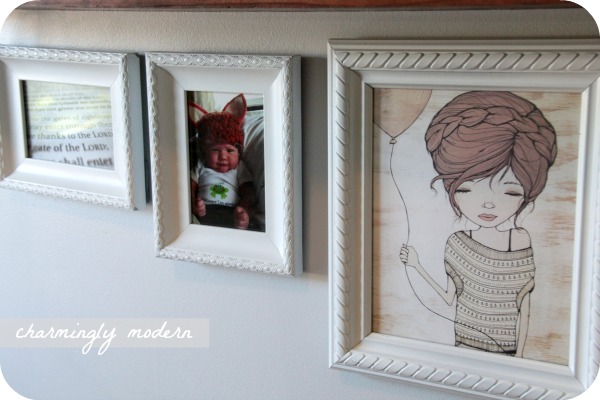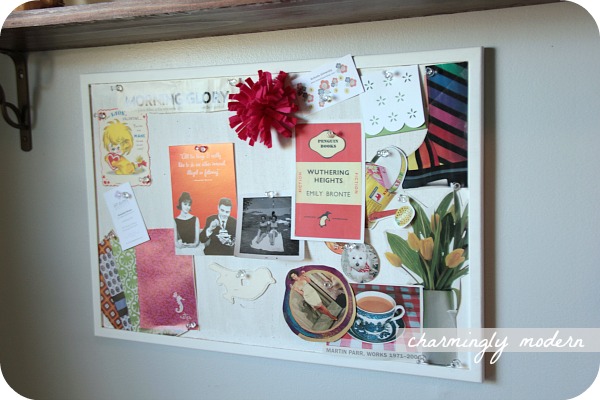 The last part of this office tour is the back wall, or the wall with the door. It has a bookshelf with the rest of my business and craft books, an ironing board, clock and…usually…a litter box. But I took the litter box out for this photo op 😉
This shelf also has all of my sewing supplies (in one of the large white boxes), my letterpress kit and supplies (in the other large white box), extra office supplies (small white box), scrapbook paper (in the desktop file folder holder), a bowl full of buttons for my knitted pouches, sewing machine, printer, magazines, magazine clippings and my journals that I paste my magazine clippings into (I should do a post on that!).
Oh, you can also see my vintage typewriter on the very top of the bookshelf, as well as a basket that contains mementos from high school and graduation, plus a wire basket with finished knitted projects. Phew!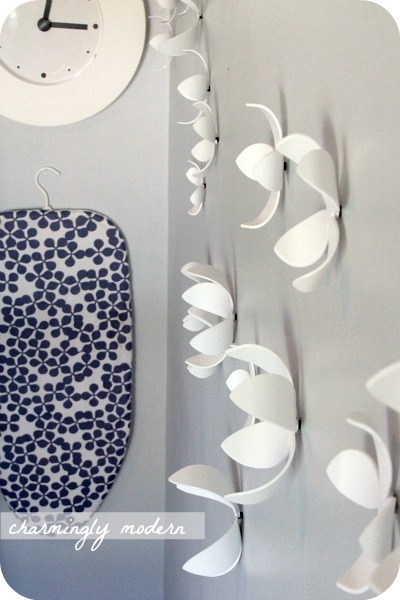 Well, that's my office! Here's a source list in case you're wondering where I got a few of my things:
Desk – Tabletop, Vika Amon (looks like they don't carry the stainless steel one anymore) from IKEA; Legs, Vika Alex also from IKEA
Desk chair – Snille Swivel Chair from IKEA
Curtains – Janette in green from IKEA
Desk Lamp – Kroby Work Lamp from IKEA
Closet desk – Vintage, from local antique mall
Closet desk stool – White Marius Stool from IKEA
Wall shelves & brackets – Lowe's; a 6′ board cut in half and stained. The brackets are called Scroll and are in bronze
Live What You Love Print – Heartfish Press on Etsy
Wishing print – Kelli Murray Art on Etsy
White storage boxes – Kassett storage boxes, and magazine files from IKEA
Clock – Tajma wall clock from IKEA
Ironing board – Jall tabletop ironing board from IKEA
Bookshelf – It was from Home Depot but it doesn't look like they carry it anymore. Here's one that's close.
Flower wall art – Umbra Wall Flowers from IKEA… no, I mean Bed Bath & Beyond 😉
Button bowl – Anthropologie, like five years ago. They don't carry it anymore.
If there's something I didn't list in this source list that you're wondering about, just let me know!