Don't miss any of the updates!
House Progress: January
House Progress: Early February
House Progress: Late February
House Progress: Early March
House Progress: Late March
By the time you read this entry, we are the proud owners of a brand new home! This is the day we close on our house, and it's also the day I show you how things turned out during the first part of April. I'm saving the big reveal until next week, so you'll have to be patient. I want a chance to get some photos of the inside of the house without red dot stickers everywhere (we had to put stickers on damaged things to create a punch list for the builder before close).
End of March, these things were still on the list –
Doorknobs
Carpeting upstairs
Register vents
Lights on the porch to be installed
Exterior trim and door painting
Painting touch ups on the inside
And the house was looking like this –
(By the way, WordPress updated its software and now I can't get images to center anymore so… I realize this doesn't look very organized but until I can figure out what's going on, it is what it is!)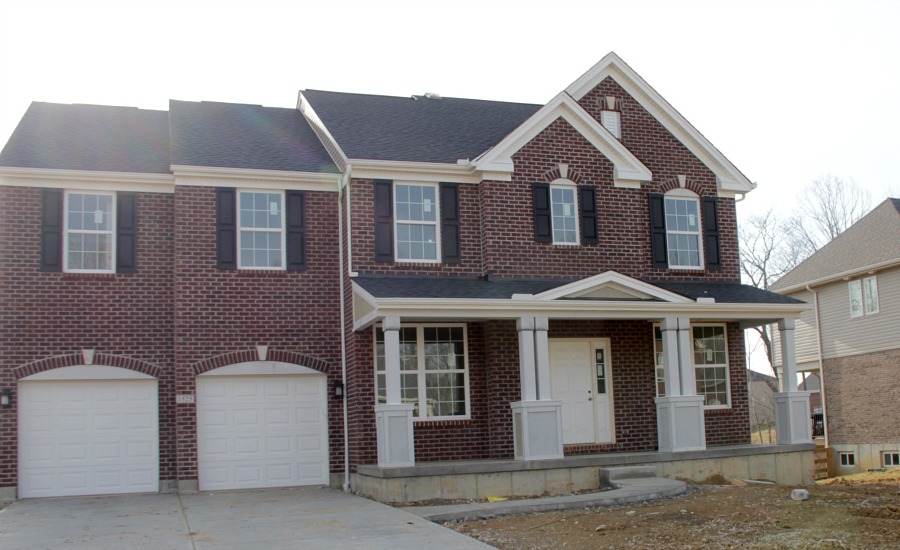 So what changed in April?
First Week of April
Exterior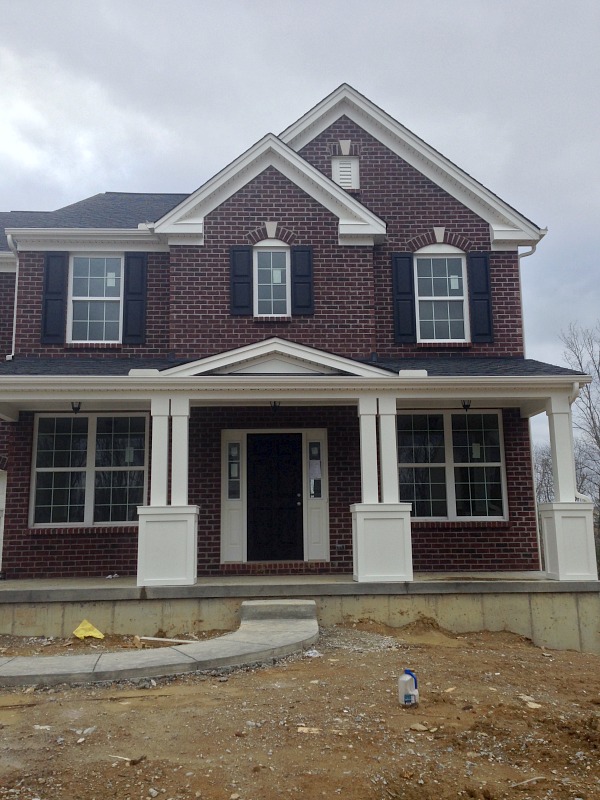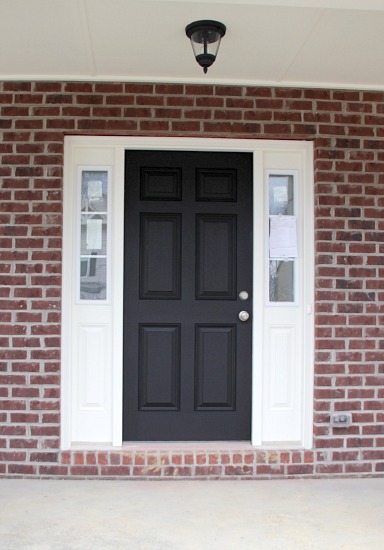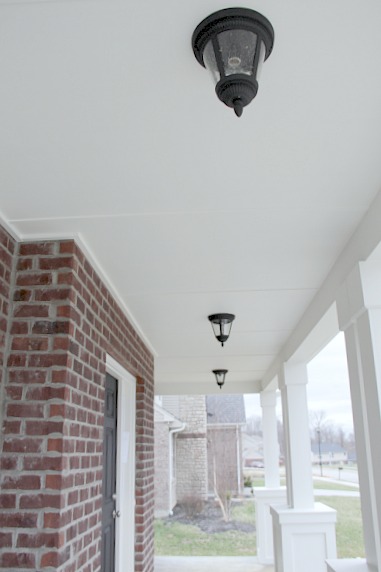 Our front door got painted! It's a matte black. I'm not sure that I like the fact that it's matte, but for now it works.
Also, all of the exterior trim was painted but it looks very similar to the picture from March. The main difference is you can tell the wood that frames out the columns is now painted because the panels no longer look grey.
The porch lights were installed, too! They look a lot better than I thought they would. I like how they are kind of unassuming.
I also made it around to the back to get a photo –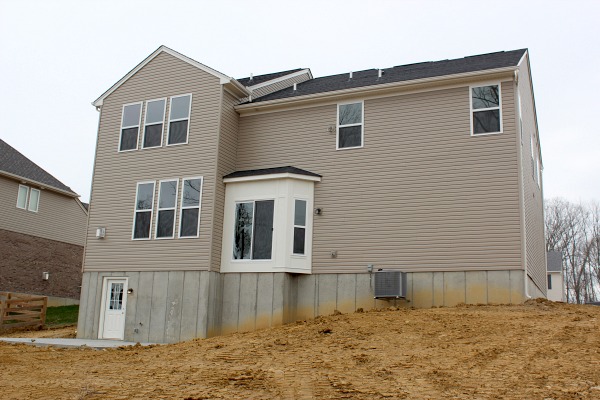 See what I was saying back in the March update about our yard being a mud/dirt wasteland? Sooner or later we'll get grass.
I ventured back there to see if the bay window framing was painted and, as you can see (although this is your first time seeing it…) it was. I've already mentioned this, but I do wish we would have gotten a brick wrap. We do have some plans of doing a finish for the concrete foundation – either a brick covering or stucco, or something. So that might help with the stark siding look.
Let's venture inside.
Interior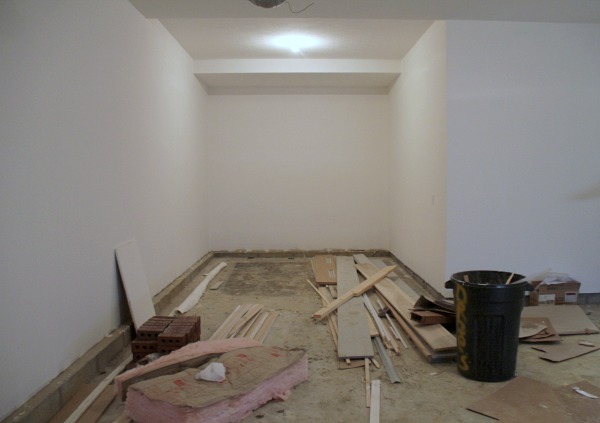 The garage's drywall got finished off – that is not paint, it's just drywall mud. But it goes a long way to make it feel like a finished space.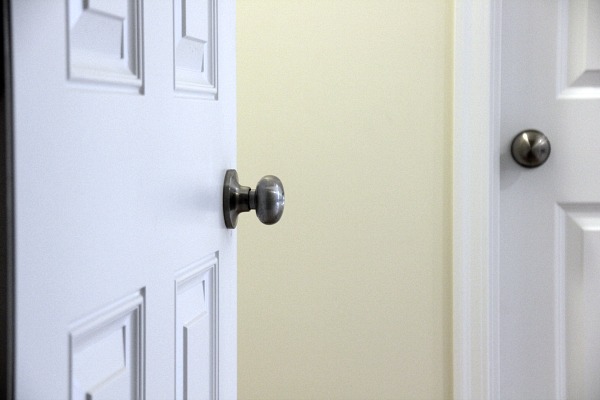 We got doorknobs! I don't know why the wall looks yellow in this photo, but our walls are most assuredly not yellow.
We also got towel bars and toilet paper roll holders but that isn't very interesting to look at, so no pics of those. They're all in a chrome finish, though.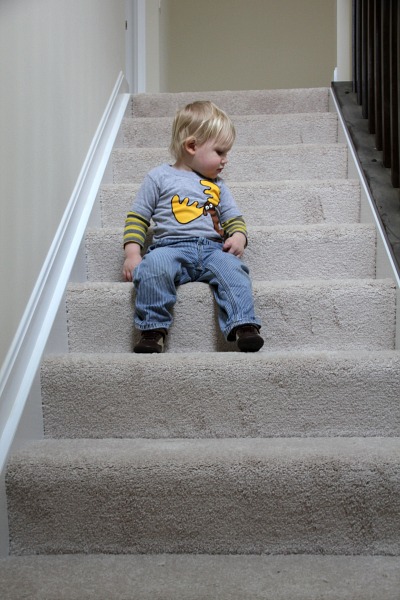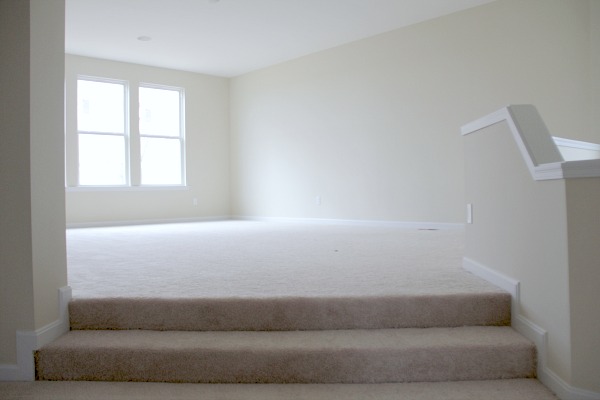 We got carpet! We upgraded the padding under the carpet in the hopes that it would last a little longer. We've never had a low pile carpet like this before. I'm not a complete fan of carpet, but it wasn't in the budget to put hardwood throughout the entire house (that would have been amazing, though!). We'll get to it eventually!
And that is pretty much all that I can share without giving too much away, before the big reveal. Everything on the list was completed the first week of April and, in fact, the house was considered "done" by April 9th. That same day we had our independent inspection done and there were only a few areas of concern that came back.
The next Wednesday, April 16th, was our Homeowner Orientation with a Drees Warranty Representative. The rep walked us through the house and went over certain features (like our thermostat, which is digital and very intimidating to me!!) of the house as well as helped us put together a punch list. On our list weren't too many outrageous issues – the few things from the inspection were on there, plus things like more paint touchups, touching up the stain on various areas of the floor and vacuuming out the register vents a little more.
And now, a week later, here we are! Closing on our house! Watch out next week for a house tour, as well as a breakdown of what came standard with the house and what we chose to upgrade. Hope you enjoyed the building journey!