In my downtime, I have not only been reading a lot but I've been knitting a lot too.
Of course, I've been working on pouches for my shop… but you can only knit so many rectangles and fold them in half before you start losing your mind.
For the summer, my local knit shop started a Scarf-a-long, which means every month there are a few new scarf or shawl patterns to pick from and you work on that project all month (or multiple ones per month if you're speedy!). When you complete the project you get a stamp on your Scarf-a-long card. There is a prize involved but I don't remember what it is, haha. I was just excited to have an excuse for diving into more projects.
My June scarf ended up being a total fail. I know what I did wrong, so I'm going to be re-doing it in August and I'll share the finished scarf then.
My July scarf I am really excited about. The pattern is so simple, but it makes an awesome looking scarf. And the best part is you can keep going and going and make a shawl.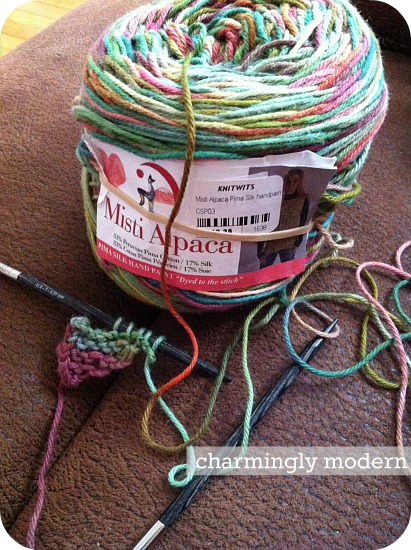 That little triangle on the needles is what the edge looks like – it's like a scalloped looking edge. I have about 8 points now. I've never knit with sock yarn before and, at first, I wasn't sure that I liked it but now I'm really loving it. Plus, it's going to make this scarf so warm and comforting in the cold weather! I might add this scarf to the shop, I love it so much.
I'm also working on a mystery shawl. It's a mystery because I don't know what the finished product will look like. Every week, a new "clue" is sent out containing 45 or so lines of the pattern. I'm working through clue 2 right now, but I'm about 2 weeks behind because clue 4 was just released.
The yarn I'm using is lace weight. It's wool and is hand dyed. What makes it so special (besides the hand dyeing…) is that its variegated. It gradually turns from gray to white to yellow and somehow gets to green, but I haven't gotten that far in the project yet to see how that goes. There are six skeins total that I'm working with, gradually transitioning to each one over the course of the clues. There are ten clues total so we're almost halfway there.
Here's my progress so far: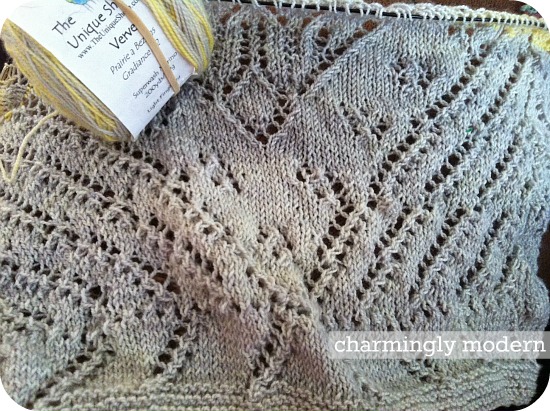 I'm pretty proud of myself because this is considered lace work and I've never done anything like that before. I never dreamed I could! It's so fun, but it can also be a huge headache. Just today I dropped four stitches and had to rip out several rows. But that's okay, because the end result is going to be stunning.
Recently, I've been using my Ravelry account more so if you're a fellow knitter, or are just curious about what I'm working on, be sure to check out my profile and friend me on there. I'd love to grow my circle and see what other people are working on!
Happy knitting! 🙂