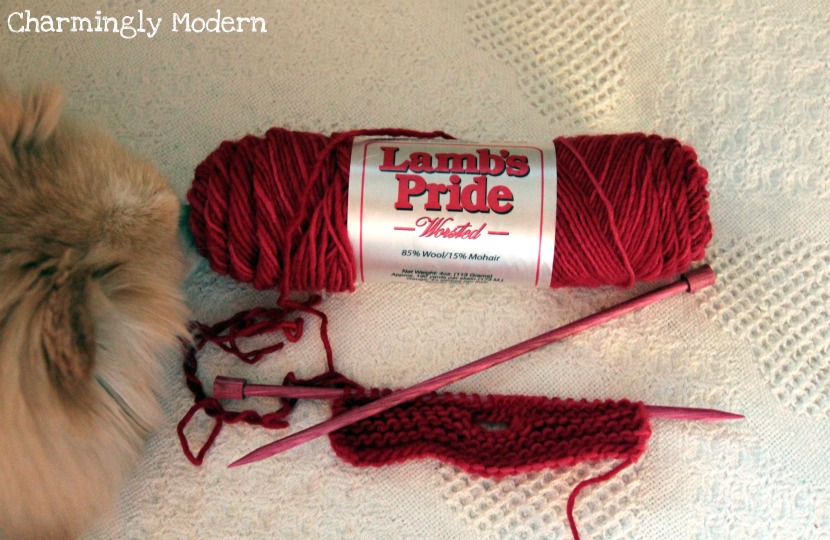 Tuesday, my mom and I headed over to a local yarn shop, Knitwits, for a knitting lesson. The knitting lesson was for me, my mom accompanied me for moral support. She's been knitting for awhile and, for Christmas, she signed me up for something Knitwits offers called Knitwits University (click Tell Me More for a pdf with more information about KU). But… before I could do any of the classes… I had to learn how to actually knit.
I was so nervous! I really thought I would not be able to knit at all – it seemed very complicated. I have already tried crochet and never really caught onto it. In fact, I can't even remember how to crochet. The only fiber craft I really do like is crosstitch.
But I can't say that that's true anymore.
I actually love knitting! I think I love it more than crosstitch. It's a little more practical and a lot more fun.
My first project I'm working on is a little pouch. In the pic above you can see what I accomplished in class, and I will finish the rest at home. I'm using wool (it's a wool/mohair blend) because you can either leave the pouch as it is or felt it. I actually don't particularly care for felted goods, but I think I will felt this just to see what it turns out like. The finished pouch at the shop is so cute! I can't wait to finish mine.
I caught on to knitting really quickly, too! So I earned some credit toward my Knitwits University semester and got an A+ in the class. To finish the project, I need to knit about 10 additional inches then fold it up like an envelop and seam the sides. Then, I'll felt it. After it's felted, I will add on a felt button for the button hole and any other embellishments I'd like. The skein of yarn I'm using could probably make 4 additional pouches so I'm going to make more just to really make sure I know how to do everything. I've completely forgotten already how to cast on and off – and those are kind of important, haha.
Do you know how to knit, or do you have another hobby you really enjoy?