Maternity Wear Must Haves – Fall/Winter
Update – This post was written in 2012 and a lot of the links had expired. This is one of my most popular posts so I have updated it as of April 2015 which some current links and other helpful tips I've picked up. I should really do a spring edition, since now that I'm pregnant again and spring came early, I've had to really adapt my maternity wardrobe (which was basically all fall and winter) for warmer weather. Anyway, happy reading!
It is a sad day when you are pregnant and suddenly nothing in your closet fits anymore. The sadness isn't even necessarily because you have to say goodbye (for just a little bit!) to your normal wardrobe; it's sad because now you have to navigate the waters of maternity clothing.
Those waters are a scary place.
I feel very lucky that my mom took me maternity clothes shopping when that fateful day arrived for me. It definitely helps to have someone supportive with you. On top of that, we were doubly lucky to have chosen a store with an extremely knowledgeable and helpful sales associate. One glance at my body and she knew my sizes, knew what styles would work for me – and I left that store feeling like I'd look like a cute pregnant lady instead of a frumpy bag woman.
It's several months later and I feel a little more experienced now when purchasing maternity clothes. I've compiled what I think are the top 10 essential items – for fall and winter – to have in your closet when you are expecting. This list pertains to Fall and Winter because … that is the current season I am pregnant in! I'm due in April so there might be a Spring edition of this list.
Before diving into it, though, let me share the number one rule of maternity clothes purchasing: Do NOT go crazy buying clothes! You don't need to entirely revamp your wardrobe. Instead, take a critical eye to existing clothes you have: any sweaters that aren't very fitted and a little stretchy in the belly area? Any side-ruched tees? In my list below, you may already find some of these items in your closet. That's great! One less thing to worry about 🙂
Let's get to it!

1. A well-fitting, side-ruched or shirred tee.
You cannot go wrong with a tee. They come in a rainbow of colors, necklines, patterns, etc… They are a wardrobe staple, whether you're pregnant or not. Best of all, shirred and side-ruched tees will likely fit you for a long time post pregnancy, so you won't be spending your money on something that will fit you for just a little while. This is especially important if you plan on breastfeeding (and, if you do, go with v-neck tees) – you can get a lot of use out of a wardrobe staple like this.
The Gap Pure Body Long Sleeve V-Neck Tee (or the short sleeve…there are a few of these Pure Body tees) (currently it's on sale!) is a perfect option. I have something similar in my closet, and it is very comfortable and stretchy. It's also lightweight, which makes it great for layering.
Target and Motherhood are great options for tees (and often have them on sale!), as well. Be sure to stock up on basic colors such as white, black and gray then focus on the more fun alternatives like teal, red, or purple. Also, do not discount any tees already in your closet – especially if they are ruched or are longer than normal. I have a thermal tee from H&M that still works and I'm well into my sixth month. Also, I think we are all familiar with the lightweight tees Victoria's Secret's PINK line has – those are great in the first trimester and post-partum.
2. Boyfriend cardigans and jackets with belts.
Cardigans and jackets are the quickest way to turn an average maternity tee into something special. I kept all of my pre-pregnancy cardigans and jackets in my closet and have added a few others since becoming pregnant. For the ones that no longer button, I simply add a thin belt above my bump – it works like a charm!
Boyfriend cardigans are a great investment if you're needing to start your cardi collection. They're versatile, will definitely fit post-pregnancy, are comfortable and – in the winter months – very cozy. You can find these pretty much anywhere – Target, H&M, Victoria's Secret (online only), etc. One of my favorites is the Old Navy's Maternity Sueded Fleece Wrap Jacket (update – no longer available, but this one is very similar – Maternity Fleece Tie-Belt Cardigan), in cast iron. I plan on wearing this under my non-maternity winter coat, because there is no way I am shelling out $100+ for a winter coat I'll use maybe once and for just a few months. As a side note, I think Old Navy and I disagree on what "fleece" is…I certainly don't feel any in the jacket, but it is a warm, lightweight jacket nonetheless. It's also available in black.
This pic shows the thin belt idea + a boyfriend cardigan (from H+M).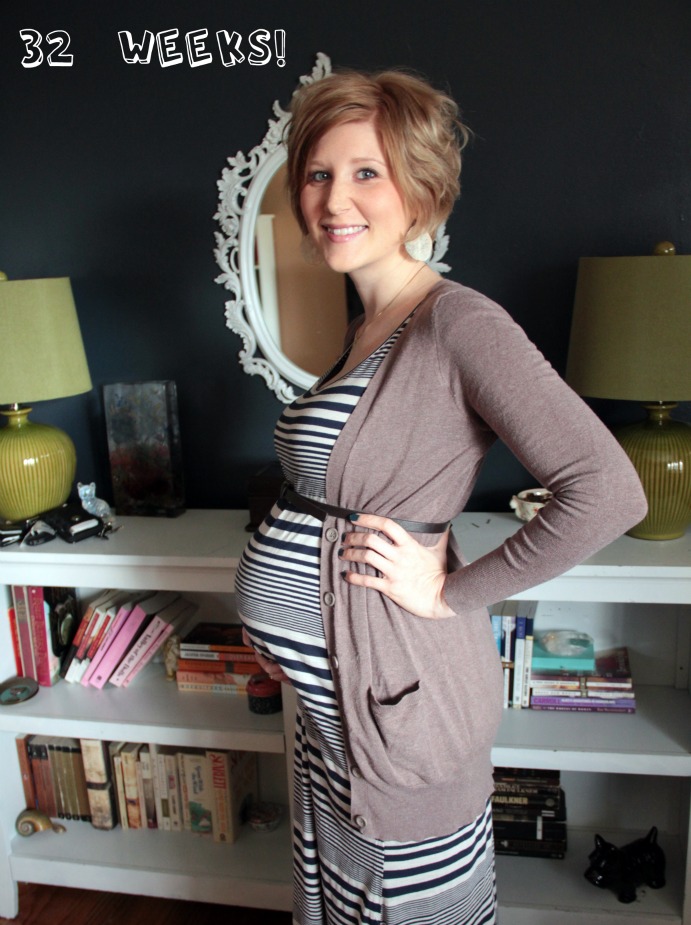 3. A good, properly fitting, soft bra and underwear. 
A good bra is an absolute must. It is extremely important to keep your girls supported and comfortable throughout your pregnancy. I cannot emphasize this enough – go to a lingerie or maternity store you are comfortable in and get measured! Don't feel pressured to buy their bras, but at least know what your size is. And be prepared to get measured again, later in your pregnancy. Those babies grow along with everything else on your body!
I do not buy in to the hype that if you are pregnant you automatically must wear ugly, unattractive and boring bras. I have 1 bra that is my "fancy" bra – the Victoria's Secret Incredible bra (update – this bra is no longer available! I think a good alternative is basically any lightly padded bra at Victoria's Secret, because that is basically what it was). This is the softest, most comfortable bra I have ever worn. It is padded, as well, which is great in the event of a sudden milk leakage issue. I just can't say it enough – I absolutely love this bra!
I also own two nursing bras – one full cup and one demi cup. Over the months, I've begun to prefer the demi cup because the full cup tends to give me out of control cleavage. It really squeezes it all together in a not very attractive way. Both bras I own are from Motherhood. They have the standard clip/snap deal on the straps for easy access when it comes time for nursing. These bras are pretty durable and fairly comfortable – though they do chafe on the sides so if I'm going to be wearing one, I know I need to add on some extra lotion in that area.
I also highly, highly, highly recommend a good sports bra – or two! – and a sleep bra. I found some great sports bras at Target and Motherhood has some very soft, comfortable sleep bra options. Don't skimp on these things! Your boobs and back will thank you for them 🙂
With your upper half nice and comfortable, don't forget to stock up on some good panties. Unfortunately, for me anyway, it really became impossible to wear anything except a brief. I do occasionally wear cheekies and hiphuggers, but hands down the most comfortable thing on my bottom is a good, cotton brief.
4. Tank tops. Lots of them. 
I live in tank tops in the summer. I have an obscene amount of them. Let me be the first person to tell you – you do not need "maternity" tank tops (update – I have to laugh at this comment now that I'm in my second pregnancy, and it's a high risk one characterized by excess amniotic fluid. Tanks barely cover me! Even maternity tanks. So, my recommendation now would be either to size up OR look for long tanks). I have probably 20-25 Victoria's Secret Pink Essential Tanks (bonus: they're usually on sale, 2/$26!) and they are working just dandy as I'm heading downhill into my third trimester. I own three tank tops from Motherhood and am not so impressed – the cotton is bulky and the tanks lose their shape after one wear. Victoria's Secret is definitely my favorite place for tanks – check out the full selection here.
One type of maternity tank top I do highly recommend, however, is a shapewear tank. You definitely want several of these: you'll want multiple colors (at least nude, black and white) and at least two lengths (standard and extra long). On the left is Motherhood's Seamless Maternity Cami which is nice under a blouse. On the right is Motherhood's Side Ruche Seamless Maternity Tank, which I own in black and white. Hands down, I have worn the side ruched seamless tank way more than the maternity cami. But I like having the maternity cami as an option as well.
5. Yoga pants and leggings.
Yoga pants are, arguably, the best invention ever. I lived in them before getting pregnant, and I definitely live in them now that I'm pregnant. I recommend either the type below – Victoria's Secret Most Loved Yoga Pant – with the fold-over top, or the type with no fold-over top. Make sure there is some lycra or spandex in there, especially if you are getting a fold-over top. Why? Because the fold-over top can be a makeshift tummy panel when you can no longer fold the top over without having major muffin top.
A standard yoga pant with no fold-over top will act like an under belly pair of maternity pants. It isn't exactly the most comfortable thing in the world, but it will do in a pinch. I only wear mine when my fold-over top options are in the wash.
Leggings are, arguably, the second best invention ever. Unless you wear them as pants. Then they are no longer awesome. Especially if you wear them as pants while you are pregnant. They are not pants. They are leggings!
I own the Motherhood Jersey Knit Zipper Detail Maternity Legging – on the right – and am very pleased with them. They are a full paneled legging which is nice for keeping everything in place. Pair them with a sweaterdress, tunic, long poncho, long tank with sweater… you get the picture. They're versatile and chic and should definitely be sitting in your closet somewhere.
6. Cute sweater dresses and tunics.
And from leggings, that naturally brings us to tunics and sweaterdresses! A good, well cut tunic and a comfy sweaterdress are a pregnant woman's best friends. They show off all the right curves while hiding everything else.
Do not limit yourself to the maternity section when searching for a sweaterdress. I have several from last winter from H&M that still fit me – 6 months into this pregnancy! – and will likely fit me through the remainder of the winter. The tunic below is Motherhood's Dolman Sleeve Maternity Tunic – I own it in the black and gray stripe (that link won't take you to the actual tunic now, since Motherhood no longer carries it, but it will take you to a lot of other great tunic options!). I actually like the pictured color combo better. This tunic is comfortable and would work with leggings or jeans. Tunics are meant to be roomy and long – and those are two qualities that are music to a clothes-shopping pregnant woman's ears.
7. Several ponchos, in varying colors, textures and patterns.
I love ponchos. I always have. I love them even more now that I'm pregnant. A poncho is the cure-all if you often find your pregnant belly being assaulted by people who want to "touch the baby." Pop on a poncho, and no one will see your belly coming.
I have a few heavier, wool-blend ponchos that are great for when the temperature drops. I also have a few lighter weight options that are nice for everyday wear.
I recommend having at least one warmer poncho and another for everyday wear. My current favorite lightweight poncho is the Victoria's Secret Cotton Cashmere Sweater in the tan/berry combo (update – no longer available, but this Ribbed Poncho Sweater is a great option, too!). A great colder weather poncho would be Anthropologie's Torus-Sleeved poncho – it looks so comfortable and warm! My cold weather ponchos must no longer be sold because I can't find them listed anywhere, but I purchased them last winter from H&M and Old Navy.
Do not think a poncho will leave you shapeless. They don't work that way! They are meant to keep you warm without having to throw on a track suit jacket or ratty sweatshirt hoodie. However, not every poncho is made equal. Definitely try before you buy, or if you're buying online make sure the store has a good return/exchange policy just in case you feel like the poncho makes you look ridiculous.
8. A few nice blouses with fun details.
You really don't need many of these, but two or three nice blouses that make you feel good are a pregnancy wardrobe essential, no matter what season it is. My personal favorites are the ones with a belt or tie around the upper waist section, so I can really highlight my bump and make my rib cage appear as though it's smaller than it really is – especially now that highlighting my waist is an option that no longer exists!
Motherhood has a ton of cute blouse options, and usually they're pretty reasonable priced (it's when you get into the Pea in a Pod brand that the price starts creeping up…). I own a sleeveless polka dot blouse, as well as a deep red one with black lace detailing. Both of these can be dressed up or down, and that would be my best recommendation when looking for nice tops – you want these to work for date night, church, a party you might find yourself being invited to…. Make the blouses work for you!
This is not an area I would go crazy in, unless you need more professional tops for your workplace. But even in that case, I would focus on sweaterdresses, tunics and fancier cardigans instead of blowing $30-50 on just a single top that you will likely be wearing for only a few months.
9. A jersey or cotton dress that you can dress up or down.
There will be times when you are pregnant that you will have to dress up – weddings, funerals, your baby shower, etc… and you will want a comfortable, breathable dress on hand. Cotton and jersey knit are two fabulous options for a maternity dress because they are clingy in just the right way; you want to show off your bump, but you still want to feel attractive. Below is a Motherhood stripe cotton jersey dress that I wore for my second shower, but I was actually able to continue to wear that dress after pregnancy! Bonus!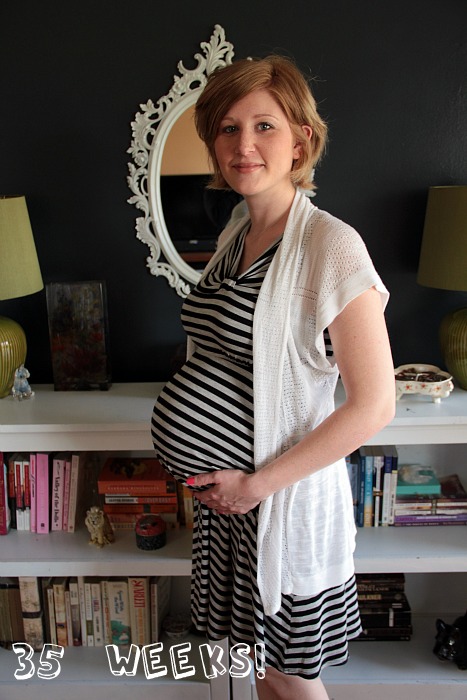 10. Paneled jeans and pants.
Really, you only need 2 pairs of jeans and one pair of black pants, in my opinion, for pregnancy. For the jeans, stick with a dark wash and a medium-to-light wash. Additionally, you might be one of the lucky few who can continue to wear your regular pants, albeit unbuttoned, with a belly band or something similar. That was not an option for me – I just kept feeling like my pants would accidentally be exposed or something – so I decided to invest in some maternity jeans.
I chose the Gap 1969 True Skinny Jeans (though my pair actually has an inset waistband) and the Wallflower Bootcut Jeans from Motherhood, with a full panel. I love the skinnies more than my non-pregnancy skinny jeans – they are not super skin tight and scrunch in all the right places. The only downside is I am not a major fan of the inset panel. I think in the third trimester it won't feel so awkward, but right now, hanging out at six months, I feel like sometimes I suffer from muffin top (update – because these basically have an elastic waistband for all intents and purposes, I was able to wear them well beyond my maternity days. They've become a wardrobe staple. Shhhhhh, don't tell anyone I still wear my preggy pants).
The Wallflower Bootcut Jeans were a great buy, as well. The denim is slightly thicker than a normal jean, but it is still very comfortable. They tend to slightly stretch out with wear, but when you wash and dry them they're right back to normal. I also love the full belly panel. I just feel like it keeps my belly area looking a lot more smoothed out.
The black pants I chose are also from Motherhood, and they're a standard black dress paint. Nothing fancy, but they're good to have on hand. These would be especially essential for a soon-to-be-mom who works outside the home. They're really comfortable and, actually, pretty flattering for a basic black pant.
So, that is my list! This is what has worked for me in outfitting my closet to keep myself clothed and still feeling good during my pregnancy. It is a major confidence booster to look in my drawers and feel like I actually have something to wear.
Leave a comment if you think I've left something off this list! I love to hear what other moms-to-be keep in their maternity wardrobe 🙂