As I mentioned in a previous post, I've been taking on a lot of custom work for knitting.
It's not really "custom" per se… it's more like commissioned.
Either way, it's very exciting!
One of my most recent finished projects is a pair of mittens for one special little baby, Sam. Sam's mom is in my April Mama group – which is a group of ladies who have all had babies in or around the month of April. I was very happy to make a pair of mittens to keep Sam's little hands nice and toasty this winter 🙂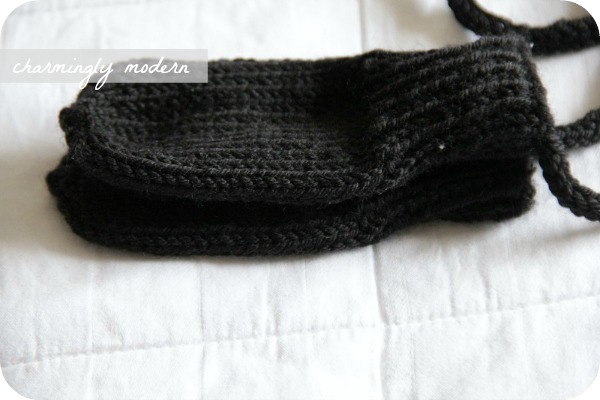 I did these in Cascade 220 Superwash Wool, in black. They were a fun and quick knit. This project also marked the longest i-cord I've knit to date – 26″!
Cascade 220 is a dream to knit with. It's a stretchy fiber and has a good bounce to it. Plus, because it's superwash, it's a very soft wool. Perfect for babies!
I had Ezra try out the mittens for fit to make sure Sam would enjoy them. I think he approved. Then, into the wash they went and tomorrow they'll go in the mail to their owner 🙂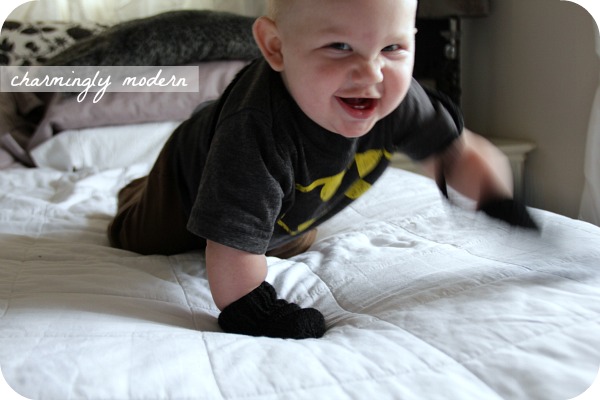 I so enjoyed making these mittens that I thought I'd share the pattern with you. This is a great starter project if you're just learning to knit – it's quick and easy.
This pattern makes 2 mittens in size 6-12 months
Materials
One 100 gram ball of Cascade Yarn 220 Superwash (you'll use less than that.. so you'll have yarn leftover for future projects!) in color of your choice
One set size 7 double-pointed needles, or size to obtain gauge
Stitch marker
Gauge
19 stitches / 28 rounds to 4″ on size 7 DPNs
Mittens (make 2)
Begin with cuff – cast on 26 stitches and spread evenly over three needles. Join in the round, do not twist stitches. Place marker for beginning of round.
Work around in rib pattern – k1 p1 – for 2″
Work around in straight stitch (knit every round) until piece measures 5″ from beginning
Begin shaping – K2tog (knit 2 together) 13 times, leaving 13 stitches
Knit next round
K2tog 6 times, k1 – leaving 7 stitches
Cut yarn leaving a 6″ tail. Thread tail onto a tapestry needle and thread through remaining stitches. Pull tightly and weave in all ends.
I-Cord
Pick up and knit 3 stitches on cuff edge of one mitten, using 2 DPNs
When the 3 stitches are knitted, do not turn the work. Slide the stitches to the beginning of the needle and work next row (your working yarn will be at the last stitch. Keep it behind the needle, and wrap it around your working needle to begin knitting the 3 stitches again).
Repeat this until i-cord measures 26″, or desired length
Bind off, cut yarn leaving a long tail for sewing. Sew end of i-cord to second mitten.