I thought it would be fun to do a recap of how our kitchen living room combo have changed since construction began to how it looks today – a kind of before and after.
So if we go way back, things looked like this in January –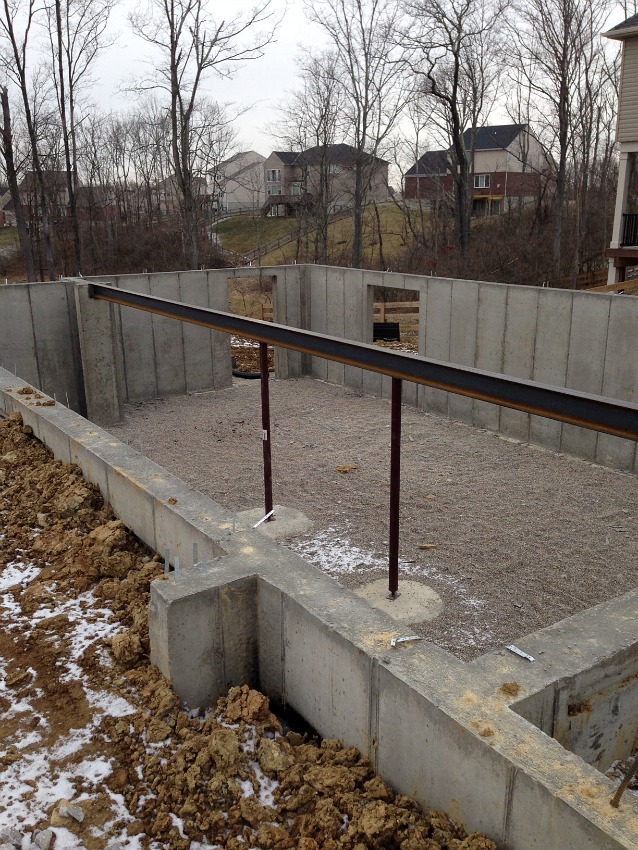 Early February, we saw framing and things started take shape –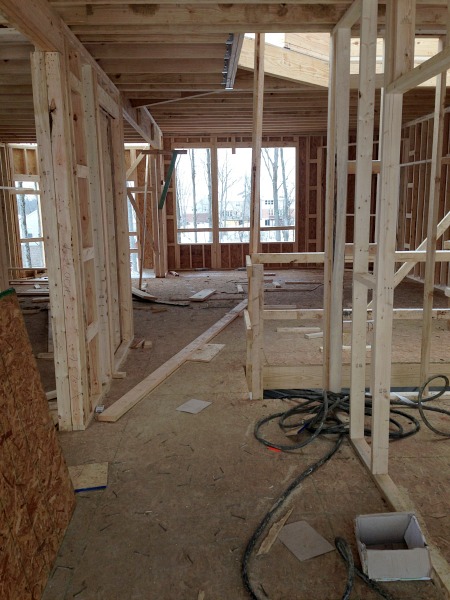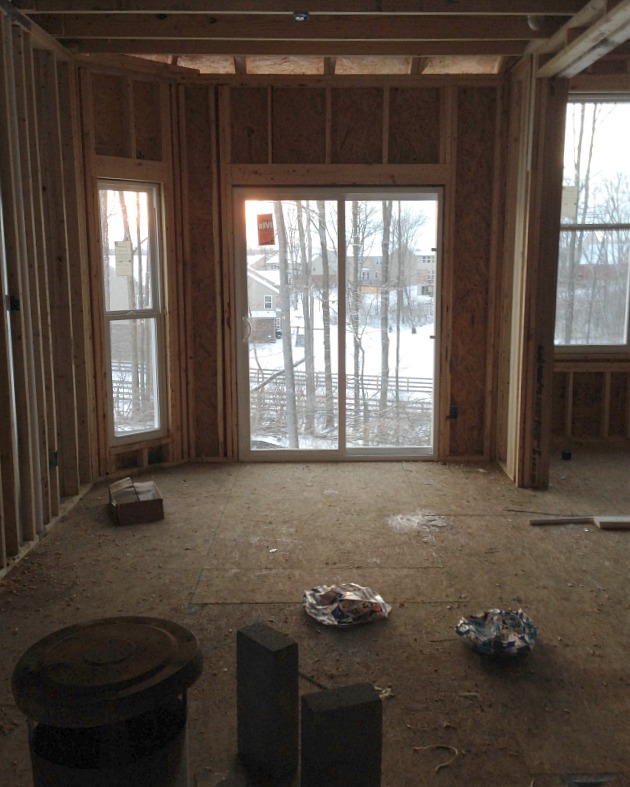 Later that month, the drywall went up and it was getting really easy to envision how the room would come together –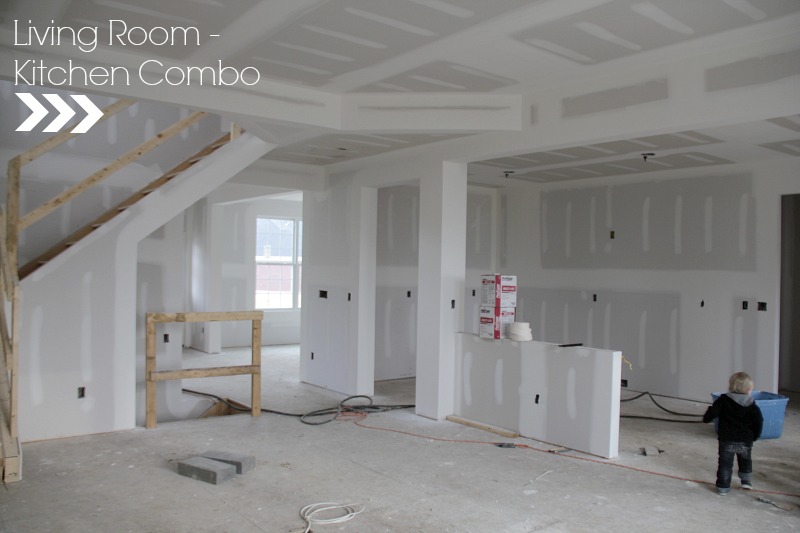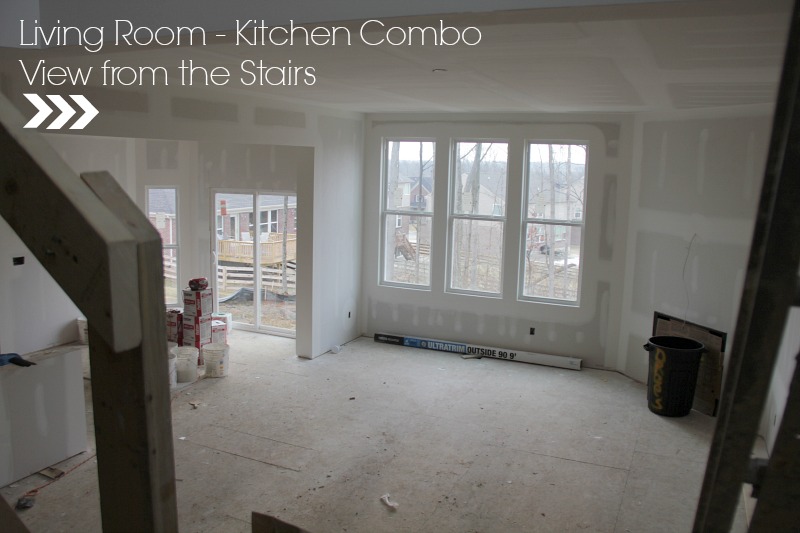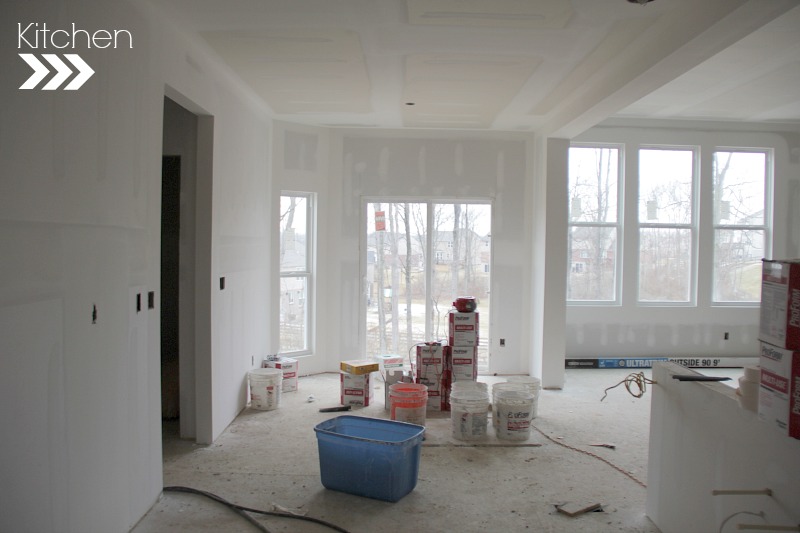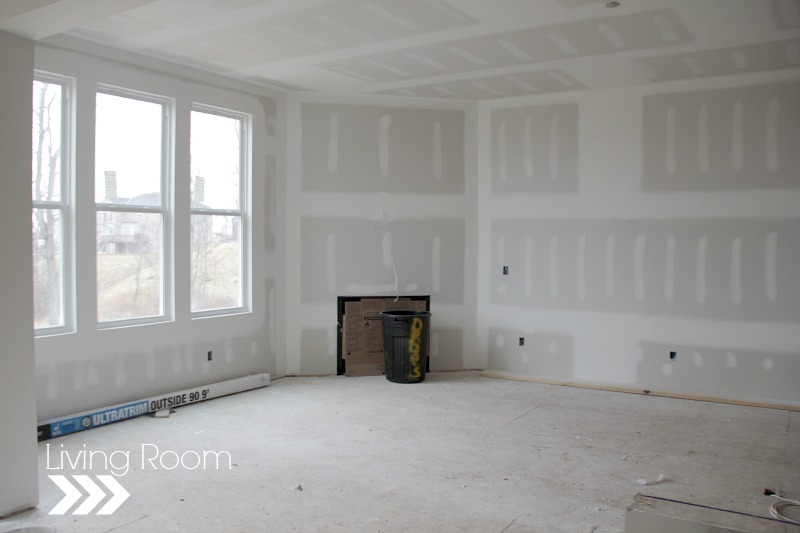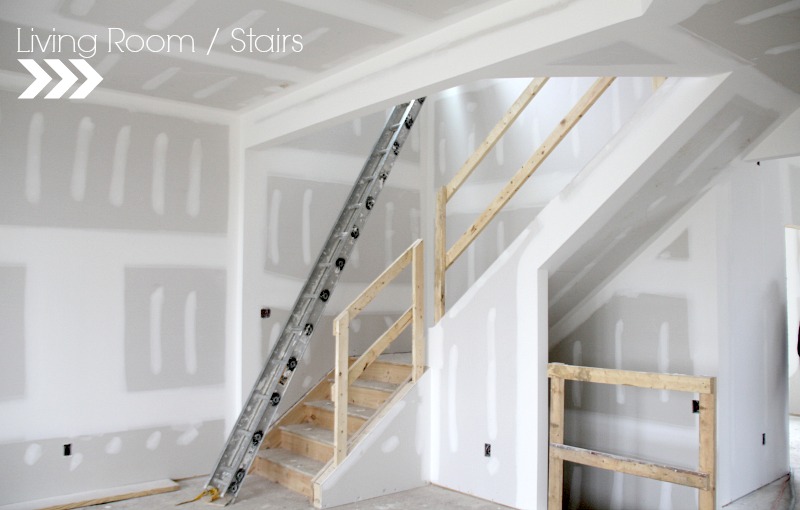 In March, tile-work went up and more finishing –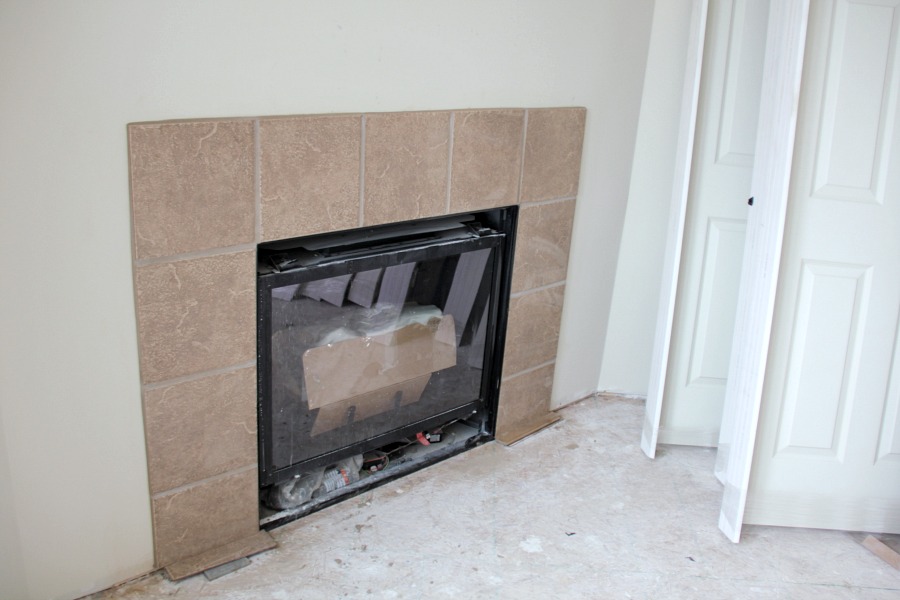 And a few days later, the cabinetry and railings showed up –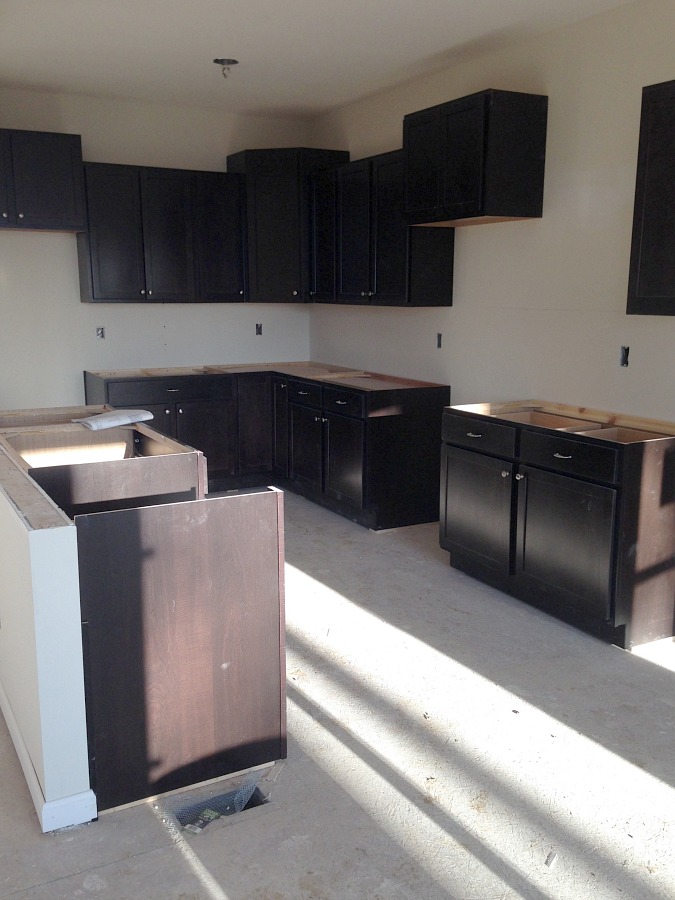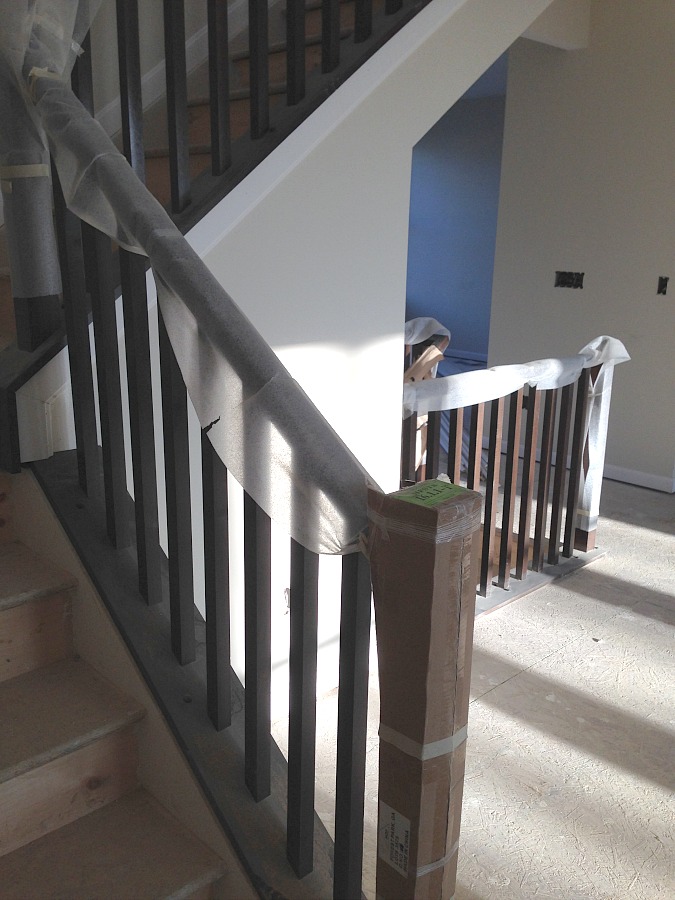 Later in the month, the granite countertops were installed and the hardwood flooring was laid down, plus we got our appliances (stove, dishwasher and microwave) –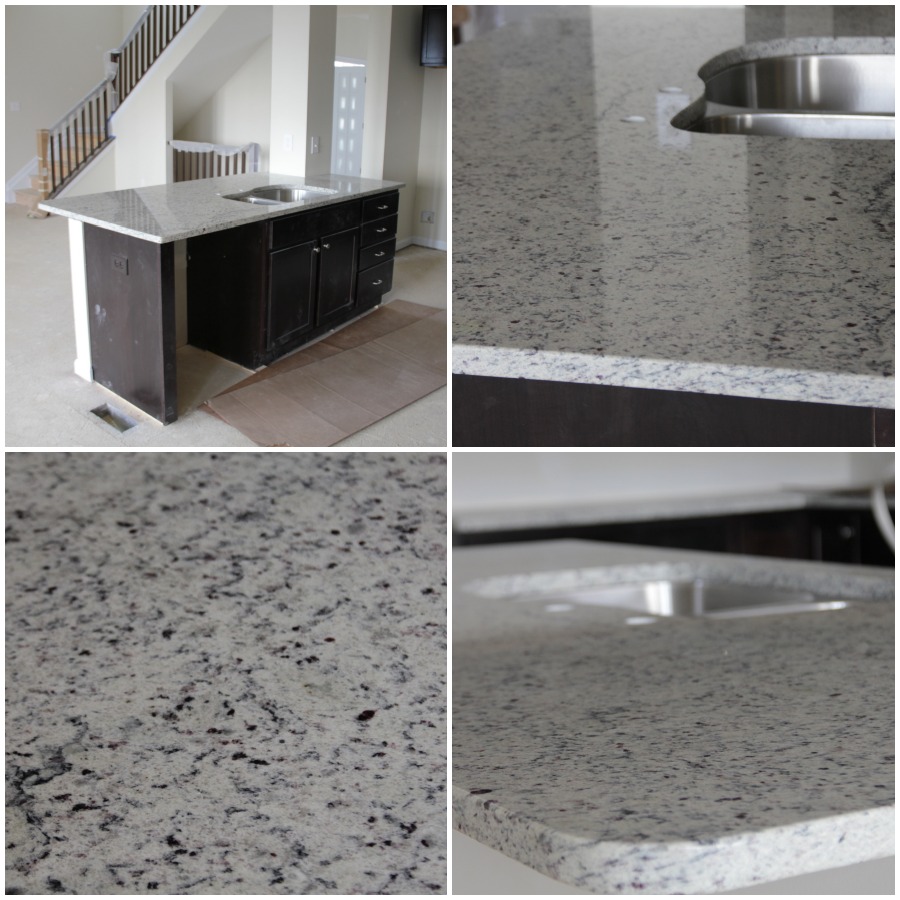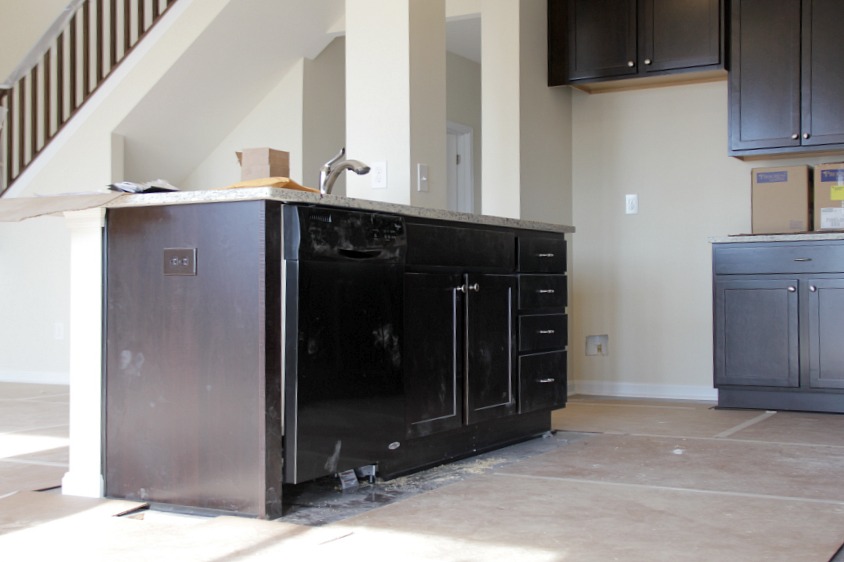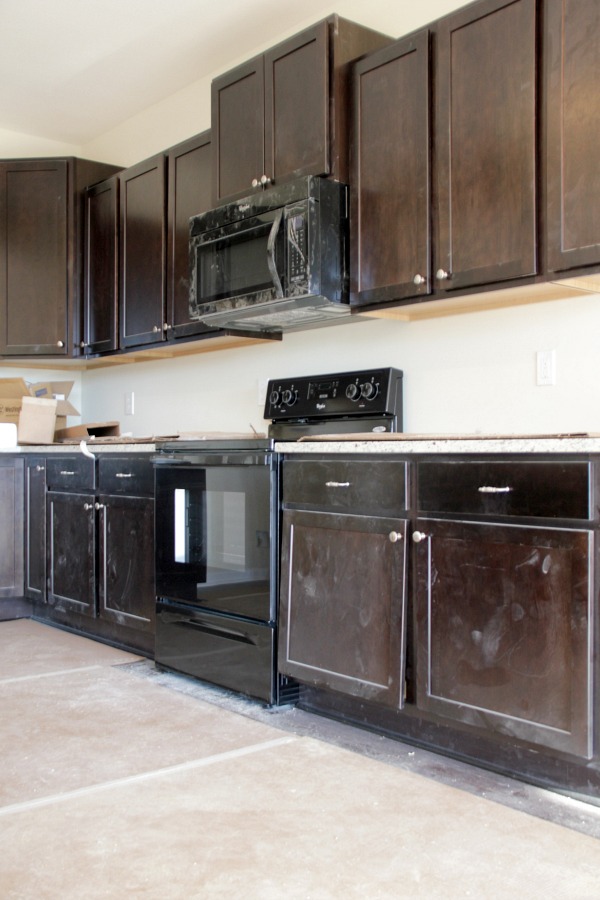 The end of March and early April saw finishing work like doorknobs, register vents, etc.
I put together this moodboard of our interior selections and you can see how things turned out compared to the next set of pictures, which is how the kitchen living room combo looks now. First, the moodboard (ignore the numbers on these because I think it's obvious what each image refers to at this point but if you want more details you can check out the posts both of these moodboards originally appeared in: Moodboard: Interior and Bathroom Selections for our Drees Home and Moodboard: Kitchen Selections and Floorplan of our Drees Home) –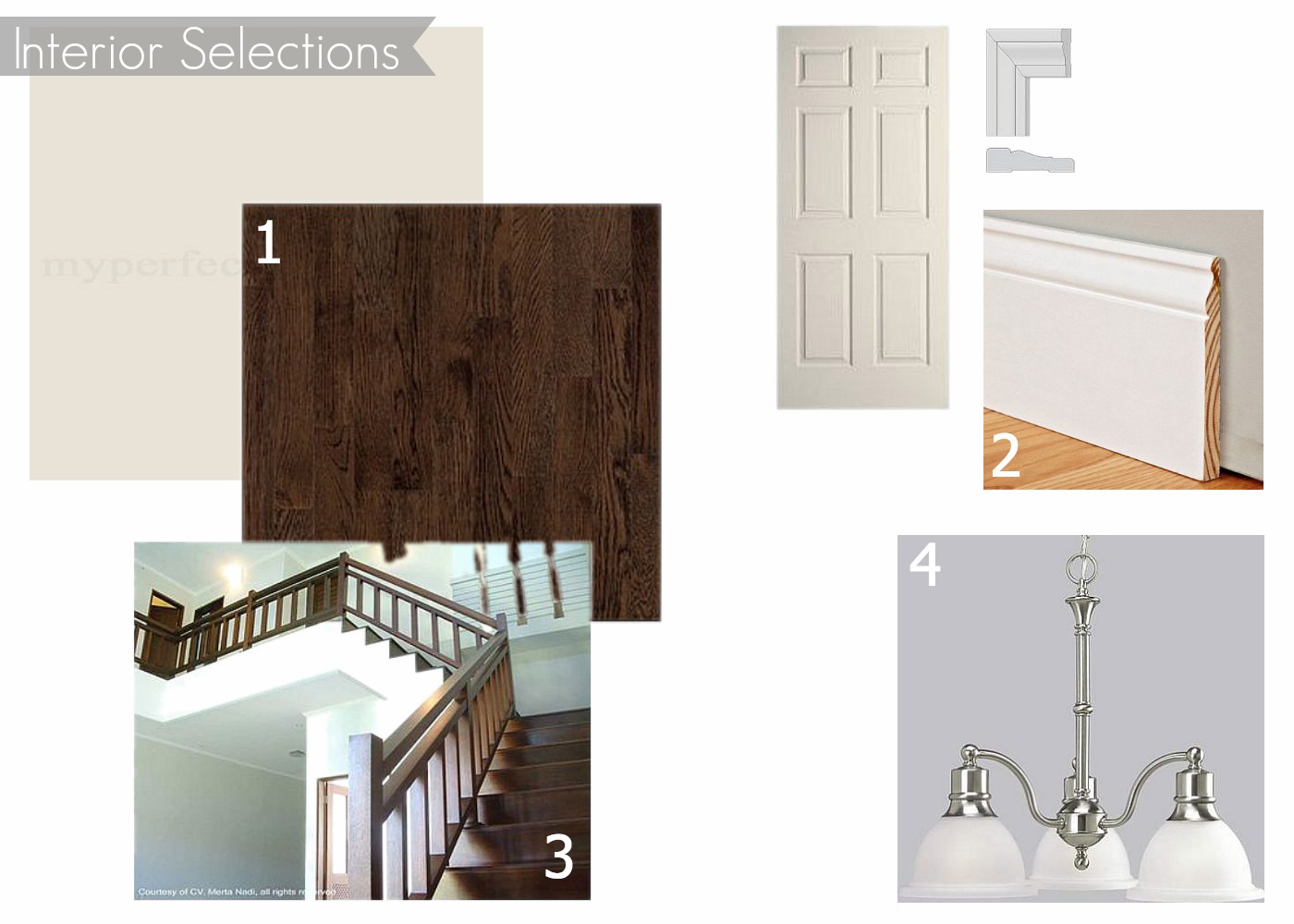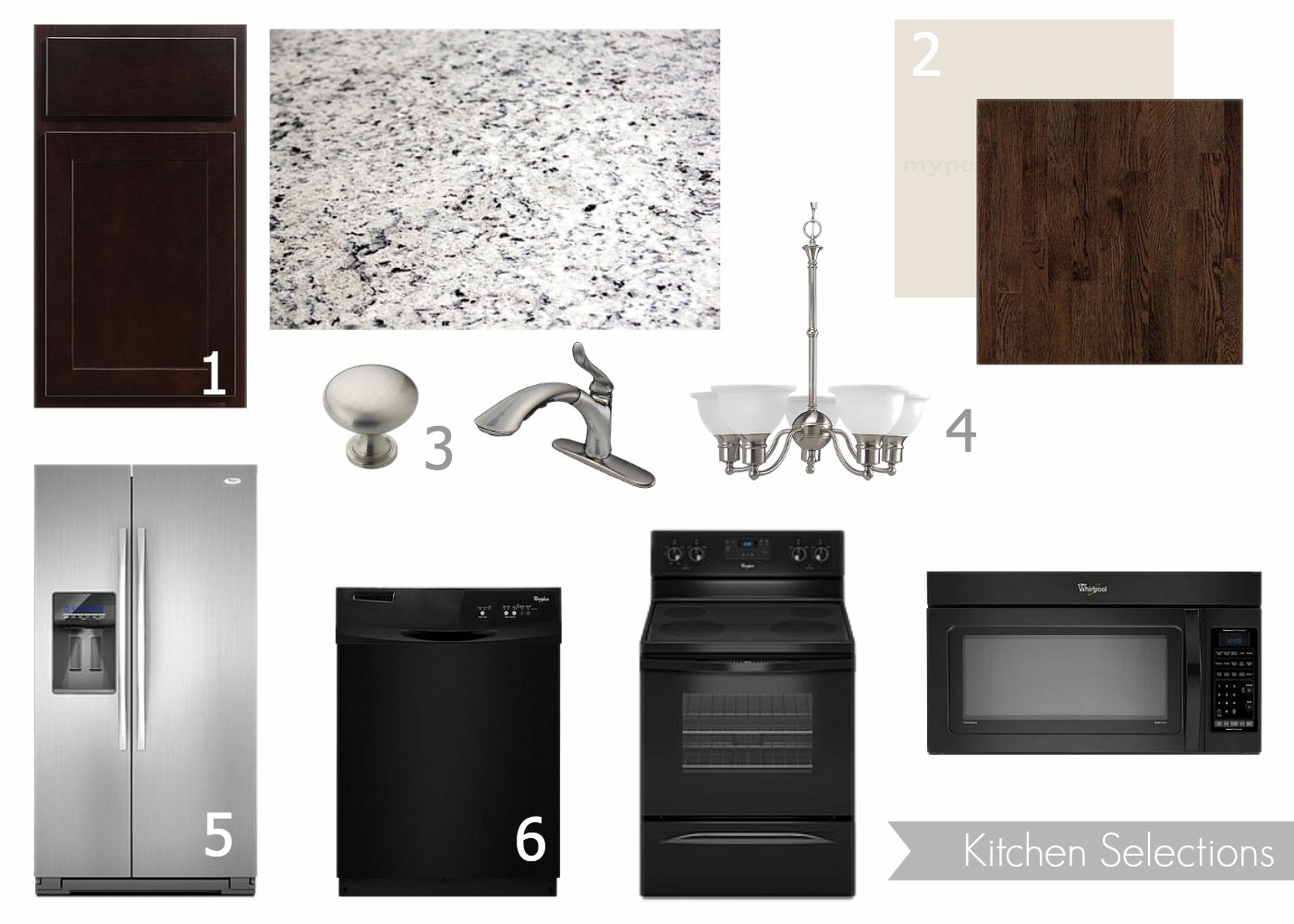 And now, our modern kitchen living room combo as it looks today –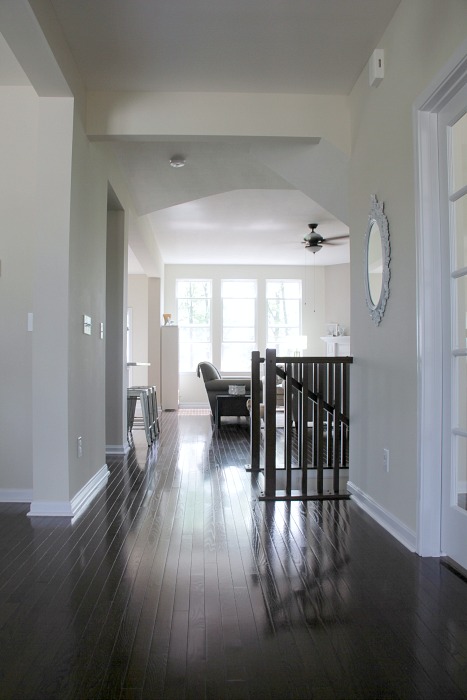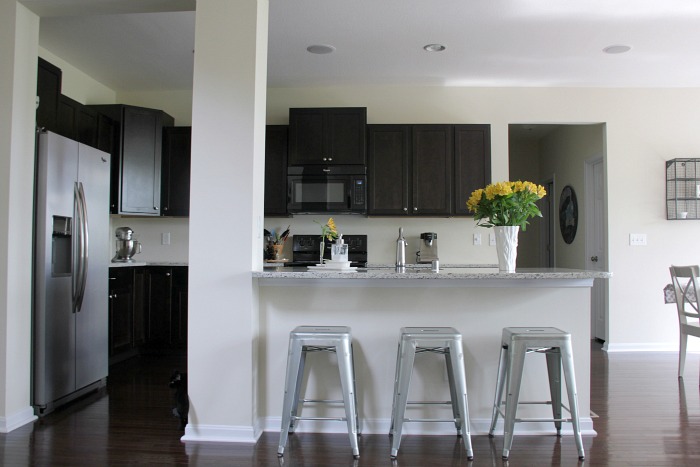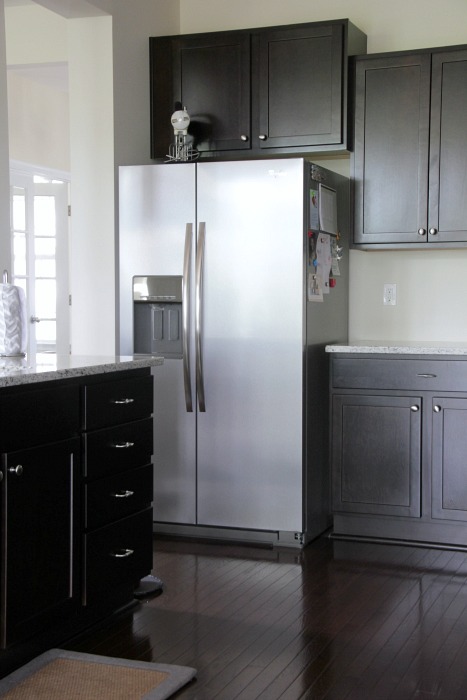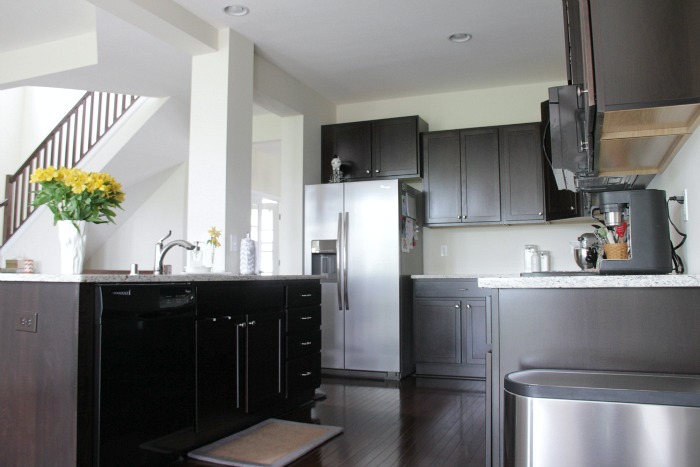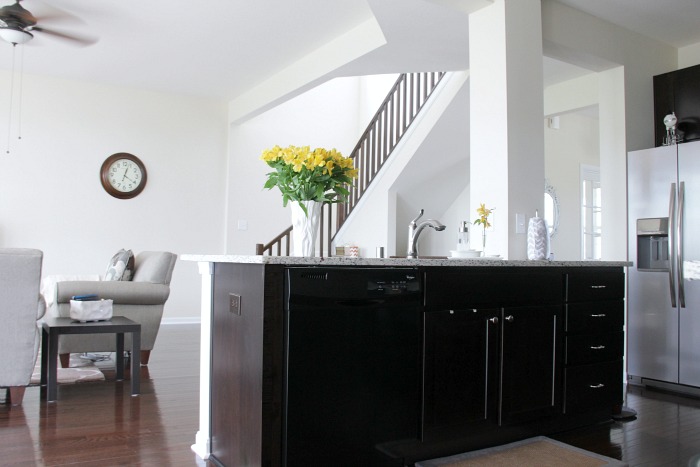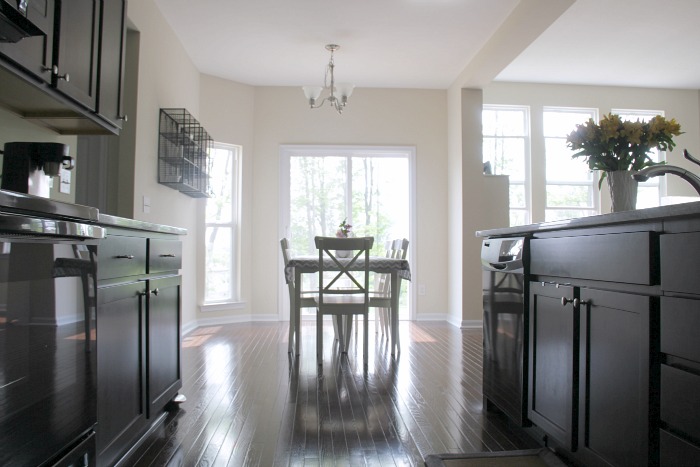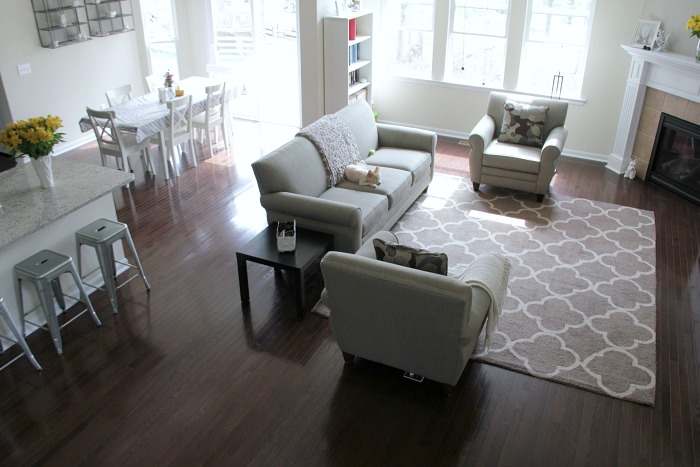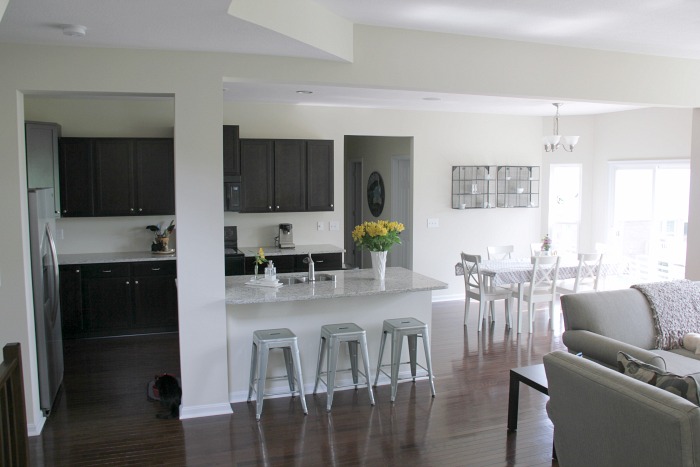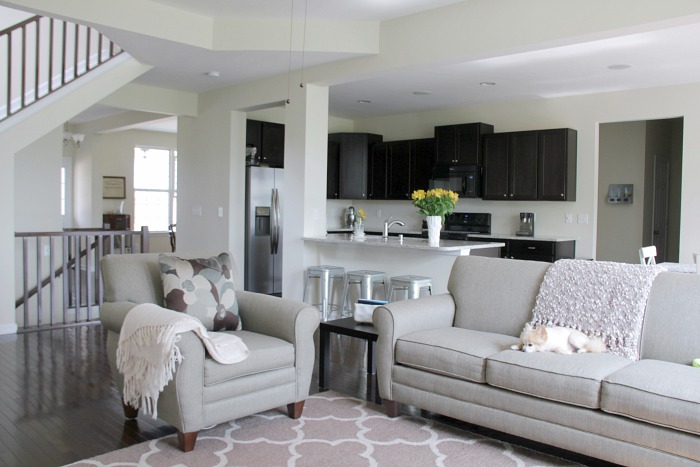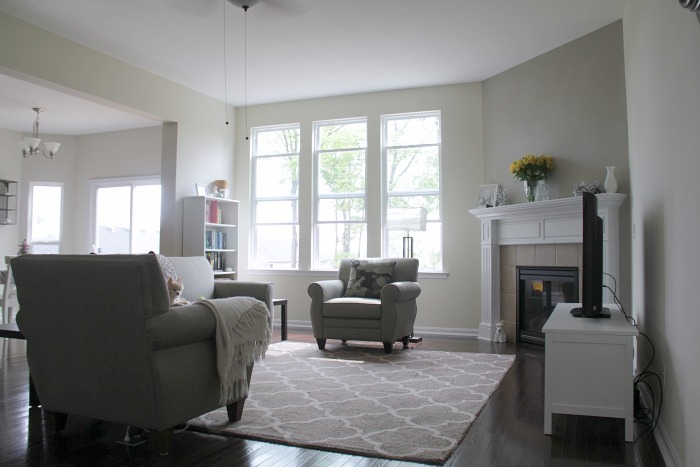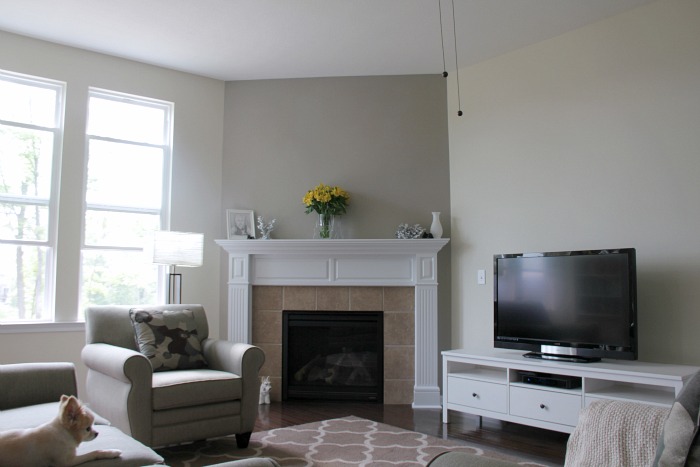 Your first question is probably, "Where are all the toys????"
Let me show you!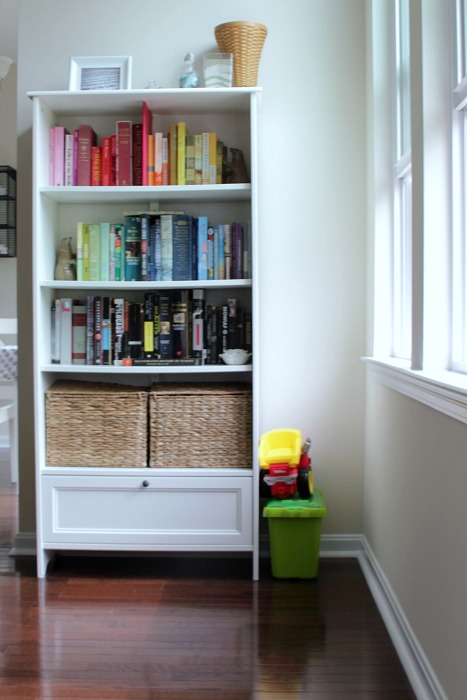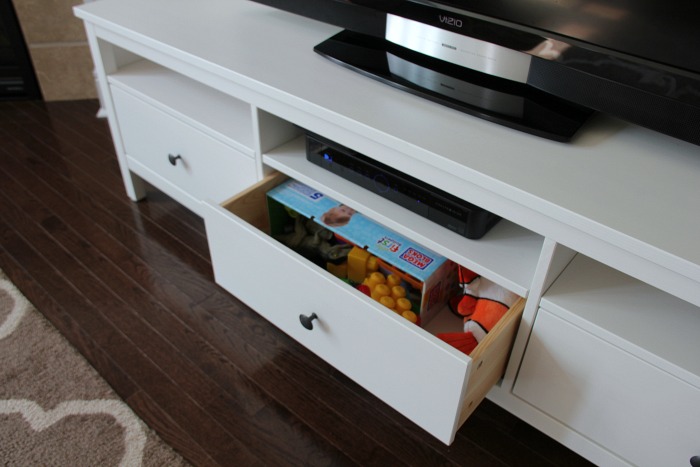 Just like in our last house, I'm using the same baskets on that IKEA bookshelf (and its built-in storage drawer) for toys. Our TV stand drawers are also full of toys. It's all about the storage!
Overall, I am so happy with how the kitchen and living room have turned out. I feel like the colors we went with are neutral but modern, and really enable us to go pretty much any direction in terms of style. For furniture, I wanted to stick with more neutrals. I love the grey tones in our couch and chairs (those throw pillows came with the couch) and how the furniture picks up the greys in the granite.
The rug was something I wasn't 100% sure on at first, but I just couldn't bring myself to return it either. Something about it doesn't exactly work, but at the same time it does work. The brown tones in it are in the family of our hardwood's stain, plus it shares some colors in the throw pillows so that helps. We also ended up incorporating that same tone in the rug with our accent wall on the fireplace (and that's the only painting we've done so far).
We added in the ceiling fan after we closed. We only opted to have the electric for fans put in and we decided to pick them out and install them ourselves. It saved us some money, but only because we bought fans from Home Depot.
So what did we move from our last house, and what's new?
These two rooms definitely took the bulk of our budget for new furniture. We bought the ceiling fan, the couch and two coordinating chairs, the rug and TV stand (the paint was actually only 2 sample tubs so I'm not really counting that as a full on purchase). The side tables, floor lamp, wall clock and television were all in the basement of our last house and look great in the new living room. And of course, we are using the bookshelf for the same purpose as last time it was in a living room – toy and book storage. The TV stand we had previously been using at the old house was too small for our TV; it's been relegated to the basement until we can find a new purpose for it.
In the kitchen, the only furniture that's new are two more chairs for around the kitchen table – our table (from IKEA, but it's now discontinued) came with a leaf and we finally have the space to use it and that meant we could accommodate for more seating – and the three stools at the island. The biggest purchase for the kitchen was the fridge, which is a now discontinued Whirlpool. We got an amazing deal on this fridge since Whirlpool was closing the model out, and it was on super discount at HH Gregg.
I've also added small things to the kitchen like a rug in front of the sink and a new coffee maker because I broke our old one (oops).
In case you're interested, these are the sources of the new things –
Sofa and Chairs by Craftmaster (purchased at a local furniture retailer)
TV stand – Hemnes from IKEARug – Home Goods (and no link, because their inventory is constantly changing but the manufacturer is "Rugs by Raj")
Kitchen chairs – Ingolf from IKEA
Counter stools – 24″ Ampersand Galvanized Steel Stools from Bed Bath & Beyond (I found all of mine in the clearance area, for $16.99 each – and I used 20% off coupons!! – which means I saved over $150 on the three stools.)
Refrigerator – Whirlpool Satina Side by Side (closeout model)
Ceiling fan – Home Decorators Collection 52″ North Lake Ceiling Fan
Accent wall color – Behr Perfect Taupe
I'll share in a separate post upgrades that we opted for in the kitchen and living room, as well as how the half bath, pantry and coat closet turned out. This post probably has enough pictures, huh?