Several weeks ago, a post title in my Google Reader feed caught my eye: Moleskine Notebook Transformation – A No Binding Required Weekly Planner Tutorial, by Kyla Roma.
This caught my eye for a couple reasons:
I had been searching for the perfect planner for approximately 1 month and I was tired of spending money on planners and finding out they just didn't work for me.
I didn't feel like binding my own planner, like I did last year.
It sounded super easy and fun
I love Kyla Roma and anything she does
I used Kyla's tutorial as a guide in the transformation of my own Moleskine, but I personalized it to my tastes. This project cost me $19.00 – the price of the notebook plus tax. It was a little time intensive (probably about 9 hours total) but that's still less time than what it takes me to handbind a notebook.
I used a Moleskine Classic Large Squared notebook (hardback), in black. I wish other colors would have been available but I have plans on embellishing the cover so it's no big deal.
I wanted the twelve months in addition to weekly pages. I also wanted blog planning pages, and plenty of space for lists, brainstorming, journaling and whatever else I may feel like scribbling.
For the monthly pages, I began three rows down from the top for the horizontal lines, and three rows up from the bottom to create a box. Each day of the month is a 7×7 square (7 cubes across, 7 cubes down). This will total to 5 weeks and plenty of space for long months (there are a few long months this year!).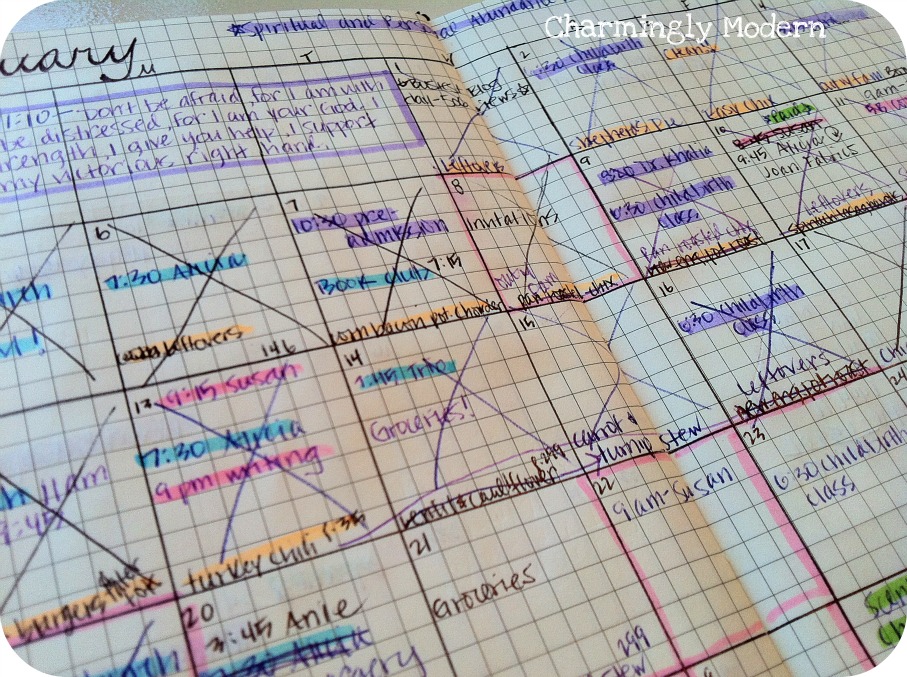 After completing a monthly page, I then began the weekly pages for that particular month. Again, I started three rows down from the top of the page for one long line across. Each day of the week is a column – 9 cubes across x 26 cubes down. The weekend is in column at the end, slightly smaller at 7 cubes across and 26 cubes down, but cut in half at the 13th cube.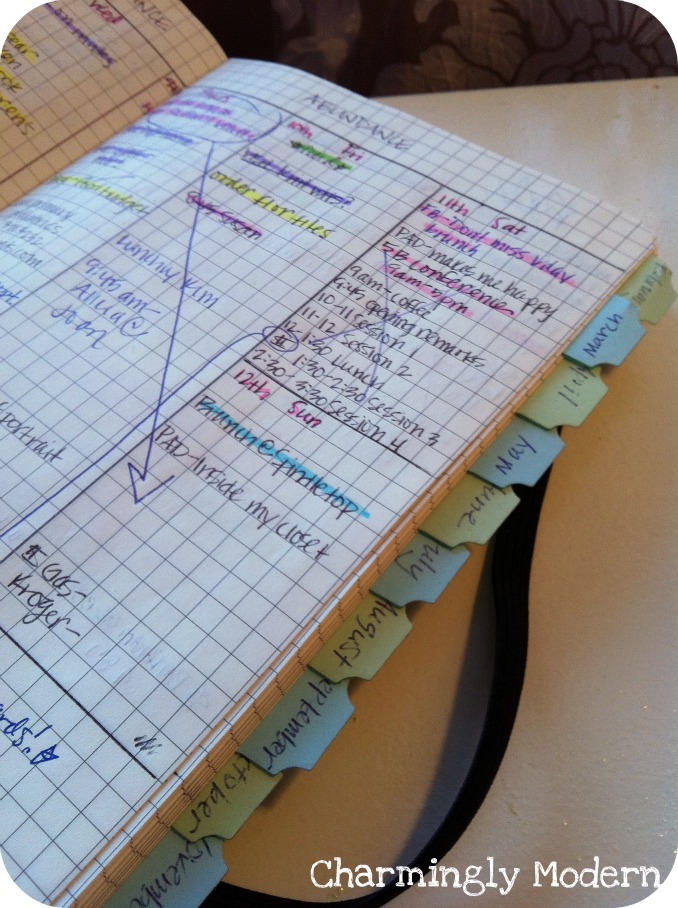 I used a small ruler and a black ballpoint pen to draw all the lines.
I purposefully left large gaps in the weekly pages at the start or end of each month, depending on what day of the week it ended or began on, so I would have space to write out important dates, monthly goals or anything else. I like to use this space as a bill tracker right now so I have the entire list of the month's bills in one spot.
The bottom of the weekly pages is open for whatever notes I may need to make – weekly goals, contact information, blog stats, etc… What I record there changes week to week, depending on what's going on that week!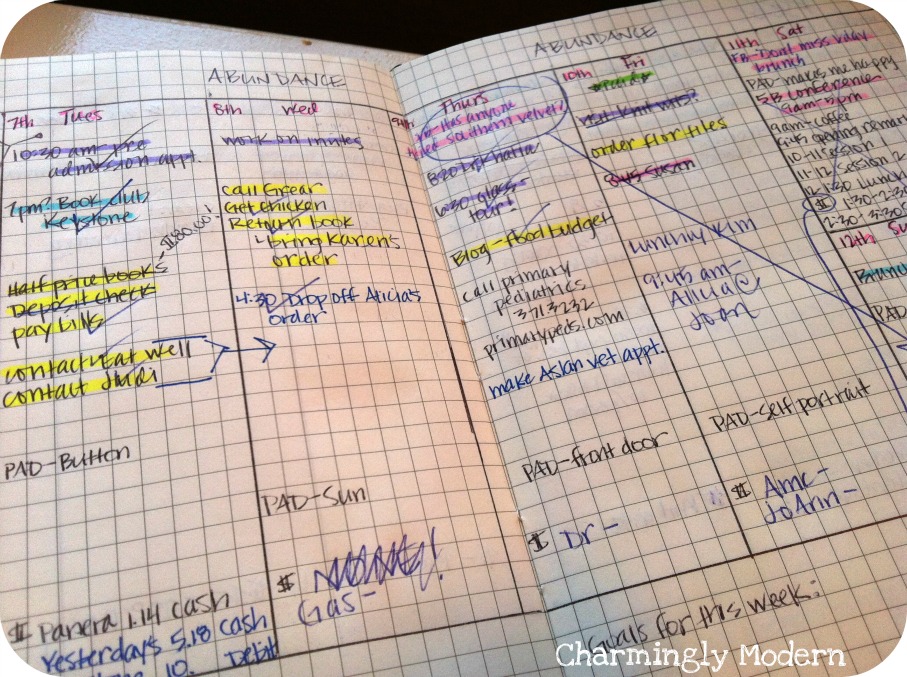 After I had completed pages for the entire year, I had quite a bit left of the notebook so I could easily make blog planning pages. I used the same template I had created for my hand-bound planner because that worked for me last year. One page is devoted to planning out the month; it has 6 blocks total – 1 block for each week, plus an extra block for stats or whatever else. I began three rows down again, and each block is 12 cubes across by 12 cubes down. The facing page is open for notes, brainstorming, etc…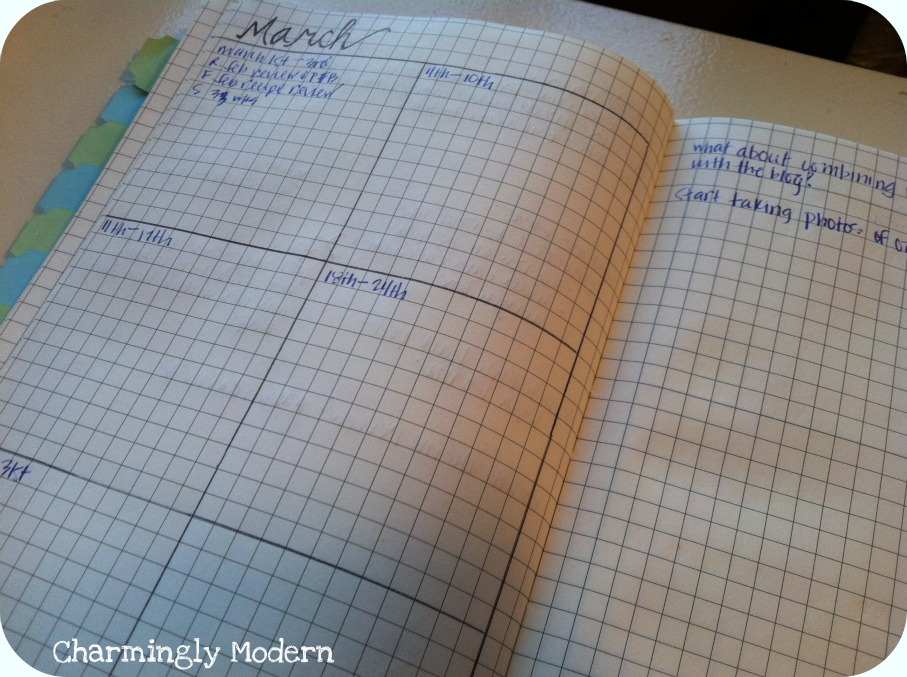 I still have a pretty large section of the notebook open which I'll use for journaling, creating lists, making notes and so on. The notebook has a little pocket at the very back which is super nice, too! It's perfect for business cards or stashing treasures.
I tabbed out the months using Martha Stewart's Avery NoteTabs, which are available at Staples. I really love these tabs because the paper is thick and durable and  you can easily remove them, too.
So, that's my planner for this year! It's working wonderfully so far. I actually kind of hate Moleskine notebooks so I was surprised that I am liking this one so well, but I think it helps that I've customized it because that makes it fun to use.
Have you found your perfect planner for 2012 or are you still searching?
Check out my other planners through these links –