A couple weeks ago, I shared how I budget in 6 easy steps and this week I thought I would check in with you on how our budgeting is going.
I left off sharing our tracking for the month of January and, to that point, we had spent $333.12, and we were averaging $83.28 a week – which was less than my goal of $100/week. Score!
So, how did things go in February? Let's take a look –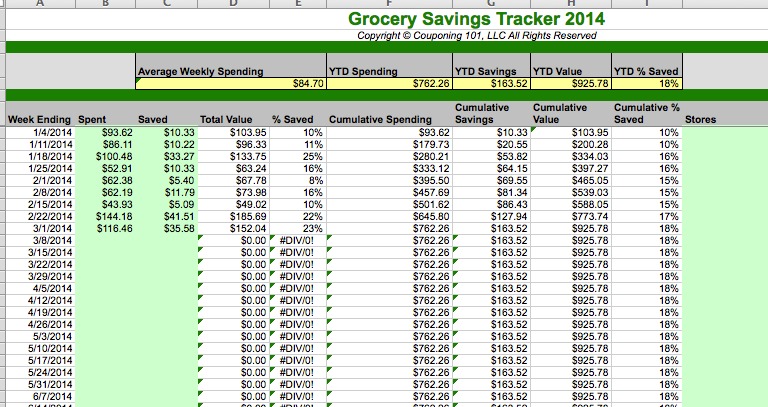 February added $429.14 to our annual grocery spending total. Not terrible – only $29.14 over budget for monthly spending in February.
I have a few thoughts about how our money was spent on groceries in February and I'm just going to break them down bullet point style –
We don't just go to the store one time/week

. I don't really know why I had it in my head that we only went grocery shopping once per week. Honestly, that rarely happens. What normally happens is I make one big trip – usually on Tuesdays – and then realize the next day that I forgot something, so then on Thursday we go again for a few extra things. And then sometimes even on the weekends we run out of something else and have to run again to the store. I don't really see this changing any time soon and it doesn't bother me that much, but I just thought I would throw it out there for the sake of transparency.

We eat out a lot on the weekends. You may notice that the last two weekly totals on the spreadsheet are pretty high. Why might that be? Well, about mid-way through the month I realized that on the weekends we were eating out for lunch and dinner. It's no secret that I love eating out (that's kind of what got me into budgeting in the first place) but – and get ready for this – I'm kinda getting tired of it. For our family of three, we're lucky to get out of a restaurant only spending about $22-25. At four meals/weekend, that's approximately $88-100 just blown on eating out. Not cool. So, I started meal planning for lunches and dinners on the weekends – which, in my defense, I normally would do anyway but then I would just ignore the plan when the weekend came along – and then actually following through with those plans.
I historically can't seem to budget above saving 27% of my bill/grocery trip. Yes, the spreadsheet above says I save less than that but those totals include multiple shopping trips so it waters down my savings percentage (because on smaller trips I most likely don't have coupons with me, or am just using Kroger Plus Card deals). Anyway, this is driving me crazy. And, in light of this…
My new weekly goal is no longer about the money. It's about the percentages. I am bound and determined to beat this 27% trap I seem to be stuck in. I will over come the 27%! Little by little, that number will rise … maybe even to 29%?? I'm dreamin' big here, folks.
So there's the budget break down, but how did I do with meal planning in February?
All in all, February was pretty good for meal planning. I seriously slacked in the first part of the month. I don't even remember doing any meal planning at all. But when I hit that epiphany about eating out on the weekends, I kicked my butt into gear and started focusing on planning out all of our meals for the week ahead.
I've been finding a lot of inspiration – and good meals – from The Fresh 20: 20-Ingredient Meal Plans for Health and Happiness 5 Nights a Week
** and Weelicious: 140 Fast, Fresh, and Easy Recipes
**, both of which I originally purchased back in September (!!).
The Fresh 20 is my favorite of the two. It's broken down seasonally with four weeks of meals (dinner only, 5 nights) that use only 20 ingredients. And of those 20 ingredients, whatever produce is needed is seasonally appropriate.
What I love best about this cookbook is that the recipes sound gourmet (Maple Glazed Salmon with Bok Choy anyone??) but are very easy and fast to prepare. We've not had one recipe – yet – that we didn't like. And, in the event a recipe calls for something we don't eat, it's very easy to sub something else in. For example, I don't particularly like pork sausage (and I'm German for crying out loud) and last week there was a pork 'n beans recipe that called for it. I subbed in turkey sausage and it was just as delicious.
The downside? The Fresh 20 isn't exactly toddler friendly.
I vowed to never be a short order cook and, for the most part, I've kept up with that. But some nights, I know Ezra won't even taste what I'm making and that's where the Weelicious cookbook comes in. You may be familiar with the author's website by the same name – she has a ton of great recipes, for free, over there. I love the cookbook, though, because it's broken down by type of food and so far every recipe has been a winner in Ezra's book. I usually will pick something out of there if what I'm making from The Fresh 20 seems too adventurous for Ezra's tastes (regardless, I do always put a little on his plate on those evenings just to see if he would like it after all).
I also use the Weelicious cookbook for snacks. I used to be in the habit of making one or two healthy snacks on Sundays to last us through the upcoming week. I fell out of that when the house stuff started going down back in October, but the last couple weeks I've picked it up again. I am still searching for good savory snack recipes, though, so if you know of any please send them my way. Until then, we just do the standard veggies + dip, chips + salsa, etc.
I'm pretty hopeful about March. Just for the sake of adding another list into this post, here are my goals for March's groceries and meal planning –
Take the focus off of weekly spending and instead focus on % saved through coupons/other methods. I've had a couple adventures in extreme couponing but nothing consistent. I don't even know that I really need to get extreme with what I'm doing – I may just need to go back to checking the sales ads before shopping or whatever. This is going to be a trial and error kinda thing. We'll see what happens.
Keep up with the meal planning and making healthy snacks for the upcoming week. I really like making the recipes in The Fresh 20 so I definitely plan on keeping up with that. I'm going to be on the lookout for more healthy snack recipes. I used to share my weekly meal plan here on the blog – is that something you would like to see again?
That's it. Pretty simple, huh?
How did you do in February with your grocery and meal planning goals? Please share!
** Amazon.com links in this post are affiliate links. Any money earned from those links goes to support this blog. Thank you! 🙂