It's been a long time since there's been a Money Monday update!
I've been using the grocery tracker spreadsheet that I used last year to track our spending and I have to say, I'm pretty excited about our progress. I didn't start tracking until March so this will run from March 2013-Feb 2014.
Some background before I share the snapshot of our spending so far:
We were eating out a lot off and on in the early part of this year, until about end of April when I started to get serious about cooking at home again

We had been doing Dave Ramsey's debt snowball (actually, we still are) to attack our remaining debt (all student loans) but we weren't implementing any other part of his program…namely, the budget. I mean, yeah, we would set a budget but I was never strict on it and I didn't account for Every.Single.Dollar. Now, I do.
Our grocery spending was all over the place (which you'll see) due to our erratic eating habits. It was obvious there was no budget whatsoever. Some weeks it would be $100something, other weeks only in the $50s (obviously those were weeks we were eating out a ton).
Since I had no real idea of an actual budget, I looked at our past budget as a family of 2 (I aimed for $75/week) and tried to guess how to adjust now that we are a family of 3 (and boy does my toddler like to eat!). I came up with the magic number of $80/week.
As it turns out, $80/week is just a little bit out of reach. It's slowly but surely getting more into reach as I get better and better at combining coupons with sale ads.
Check out the snap shot and watch how I've managed to shave a dollar and some odd change off the grocery bill each week starting with the week ending on May 25th –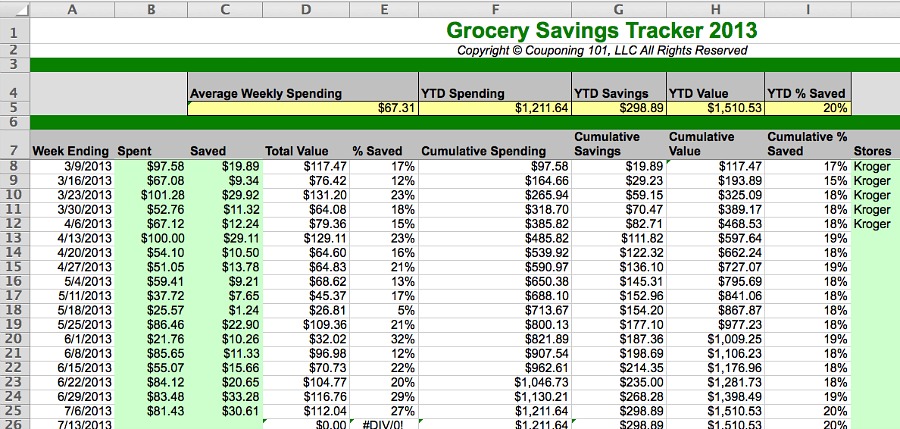 The week ending June 1st has such a small grocery bill because I've gotten into the habit of buying enough food for one and a half weeks worth of meals. The in between trip becomes stock up on random essentials like toiletries or cleaning supplies. This happens again for the week ending June 15th. Not taking into account those weeks, you can see that I've managed to reduce the grocery spending from $86.46 down to what I spend tonight, which was $81.43.
Since these numbers are meaningless without any context behind them, I'll share that a typical grocery trip includes the following:
Fresh produce (mostly fruit) – usually a bunch of bananas, some berries, an onion and so on

Dairy products like organic whole milk, cheese, sour cream, cream cheese, eggs
Cereal/grains like frosted mini wheats, kashi, etc… pastas (mostly tortellini) and bread
Snacks like chips and salsa, cookies, graham crackers
Cleaning supplies/laundry stuff
I seem to average about 40 items total with each trip.
So what I have done each week to slowly, but surely, reduce our weekly spending without decreasing what we buy or depriving us of what we like/need?
I started taking couponing seriously.
You can save some serious bucks if you adjust your recipes and list to what's on sale. I mean, duh that's an obvious thing but typically I either didn't want to put in the work or I felt like we wouldn't be able to be adventurous with recipes. As it turns out, it isn't much work at all (maybe 20-30 minutes, one day a week) and it actually forces me to be creative with recipes which means cooking is fun.
I'm not a couponing guru so I'll leave all the nitty gritty to the experts. But, I do have a system so I'll share that.
To prep for my grocery trip, I:
Flip through the Sunday coupons and clip things I know we usually buy or things I think we might want/need.

Check out Kroger's website to see what digital coupons they have; load any applicable ones to my card
Check out the weekly ad on Kroger's website to get an idea of how I might combine my coupons + sale prices.
Make my meal plan based on what's on sale and what I have coupons for. Note – my meal plan isn't just dinner. I plan out breakfast, lunch, dinner and snacks. If you decide to do this, realize it will be kind of time consuming for the first couple weeks but once you get a good, solid base of things to regularly pull from, it won't take long to plan at all.
Write out my list, making a note on the list which items have coupons and whether they're paper or digital.
Organize the coupons I'll need for the grocery trip. I use The Couponizer (thanks mom!) and I love it. I highly recommend getting a coupon organizer of some sort, just for your own sanity.
At the store, I:
Keep the calculator open on my phone so I can keep a running tally of my bill

Price compare on the items I'm using a coupon for with other brands of similar products to make sure I'm truly getting the best deal. Sometimes a coupon doesn't really save you as much money as it may seem.
Keep an eye out on other ways to combine sales and coupons (for example, tonight at the store I had a coupon for $1.00 off two any Pillsbury products. Pillsbury flakey biscuits were included in this Mega Sale Kroger has going on where if you buy 10 participating items, you get $5 in savings instantly. As part of this promotion, the biscuits would be $0.99/tube after savings. This meant with my coupon I would essentially get one tube of biscuits for free. Score!!!)
Make sure I've removed any digital coupons from my card that might conflict with a paper coupon, bringing in less savings. You can't combine paper and digital coupons at my Kroger and, if you have a paper coupon with a better value on it than a digital one for the same item, you have to remove the digital one from the card…otherwise the paper one won't scan and you'll be out of luck.
Stay vigilant as the cashier rings everything up, making sure I get all the savings I should. Last week, one of my Mega Sale items didn't ring up properly which would have cost me tons of money in savings and one of my digital coupons didn't go through properly. It pays to pay attention!
Do a happy dance at the register when I see how much $$ I save.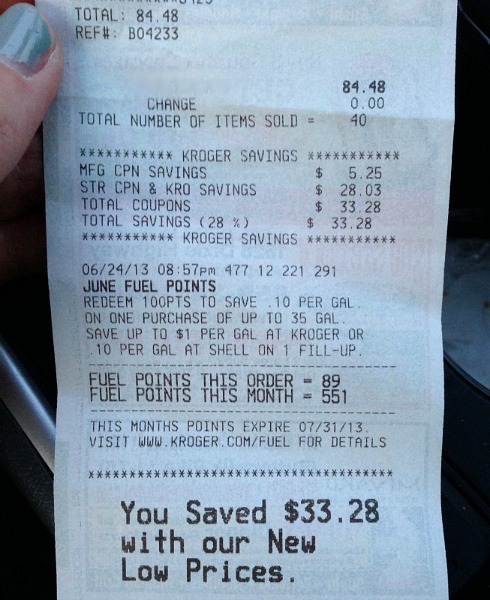 I'm so determined to get our bill down to $80/week and I'm almost there! Next week is going to be the ultimate test – all I have to do is reduce the bill by $1.00. And I think that that's been the big key in all of this – starting small, working week by week to reduce our spending by $1.00 or so. It doesn't seem like such a challenge if I take it in small increments.
This week, I've made a couple other changes to our weekly habits to help cut corners. Namely, I'm making desserts at home instead of buying packaged, processed ones at the store. The up-side to this is dusting off my family cookie recipes at a time other than Christmas. I'm also making bread at home. Bread was increasingly becoming one of our largest costs every week now that Ezra regularly eats sandwiches at lunch. We were needing almost two loaves of bread, which is a lot of money. I bought a bread slicer on Amazon and broke out my trust bread machine and haven't looked back.
I'll check back in next week to let you know if I make my goal of $80.00. Here's hoping and wish me luck!