*Edit – grocery spending now updated!*
It's a new month! I'll be back in another entry to go over how we ended February with our groceries and other spending, as well as to go over March's budget. In the meantime, I actually sat down and made a meal plan and am so excited to get on with making these recipes.
I found this cool blog, Closet Cooking, that has a ton of recipes. All of my recipes for this upcoming week are from there. The author of the blog is pretty adventurous and has some interesting combinations of flavors. Here's the recipes I chose for this week:
Tuesday – Tilapia Piccata with Garlic Mashed Cauliflower
Wednesday – Eating with my family
Thursday – Beef & Barley Stew and dinner rolls
Friday – BBQ Chicken Pizza
Saturday – Banana Mango Pancakes with breakfast potatoes
Sunday – It's my birthday! So we'll be going out to eat 🙂
Monday – Cherry Teriyaki Chicken with Baby Bok Choy & Shiitake Mushrooms
We haven't gone grocery shopping to get the items for these meals yet. Ezra and I are planning on going tomorrow so I'll updated this entry with our totals later on. I've noticed that, since Ezra is now eating a lot more solid food, our grocery bill has started to creep up pretty badly. Luckily, Alex won a large gift card at work that has paid for groceries the last couple weeks. But, what's left on the gift card is now earmarked for Ezra's birthday party so it's time to reign in the spending. Our pre-baby budget was $70/week and, right now, that isn't doable. I've set our new budget at $100/week with the hopes of whittling that down over time. I think I can do it!
Since I don't have a grocery spending breakdown to share just yet, I'll share these two bad-quality iPhone pics of weekend culinary adventures.
On Saturday night, I cooked two chicken breasts in this cashew and cumin cooking sauce. I added peas as well, plus some leftover broccoli that was sitting in the fridge. Verdict? Despite the fact that it said "mild," it was pretty spicy. I had to dump sour cream all over my plate and it was still spicy. I should say that I really can't stand spicy food…. I do love Indian and Thai but I always get it at a level 0 or 1 haha. Alex said this was probably like a level 3 out of 10. So, to some, that isn't spicy at all. But to me… it was way too much.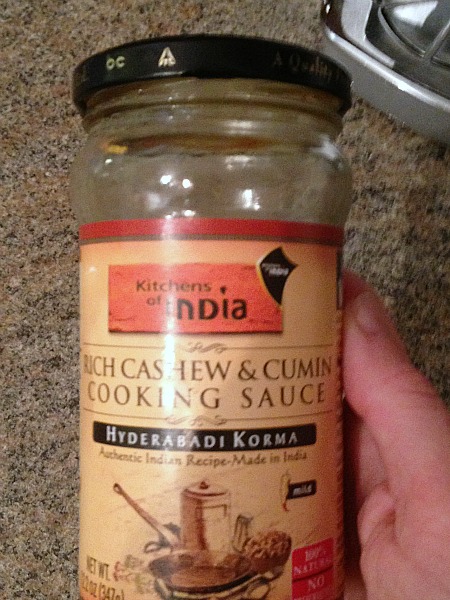 Also on Saturday, I decided to use three bananas that were pretty ripe to make some banana bread. I had a bag of mini Reese's cups in the pantry… they're candy, but they're my favorite mix-in for banana bread.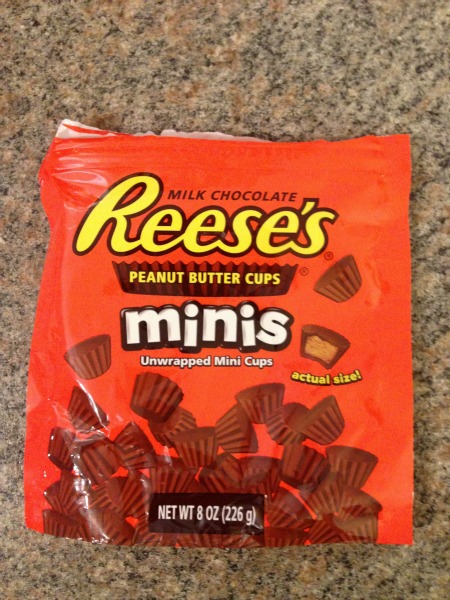 I was out of all-purpose flour so I had to use whole wheat. I also used light brown sugar instead of white sugar. I was worried about the whole wheat drying the bread out but it was totally okay. It's definitely not as moist, but the mini Reese's more than make up for that 🙂
What's on your meal plan for this week?
—–
Here's my update with the grocery spending for this week.
Budget – $100
Actual – $97.58
I'm pretty happy that we came in under budget, even though it wasn't by much! We got a lot of produce this time, some meat and a few other things.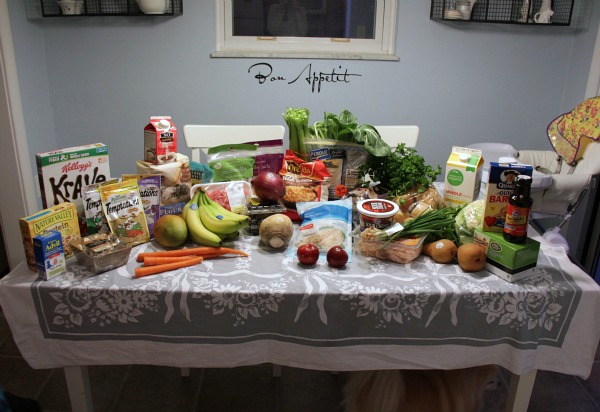 Please excuse the random high chair and bib. And also the little pom hiding under the table, hoping some food item would fall.
I feel like we did pretty well with our haul and only spending $97. We saved $9.89, which means the original bill was $107.47. Thank goodness for the Kroger Plus Card. I didn't have any coupons this time but I was kicking myself because I saw some deals that I could have combined with coupons I'd left at home. But there's always next time!