Last week, I shared our floorplan (and I'm working on getting a better image of that up because the one I had to use was AWFUL!) and our kitchen selections. As I'm typing this, our house is actually totally finished (!!) but I wanted to share these moodboards before doing the latest updates so you can see what we chose and then see how it all comes together in the finished house.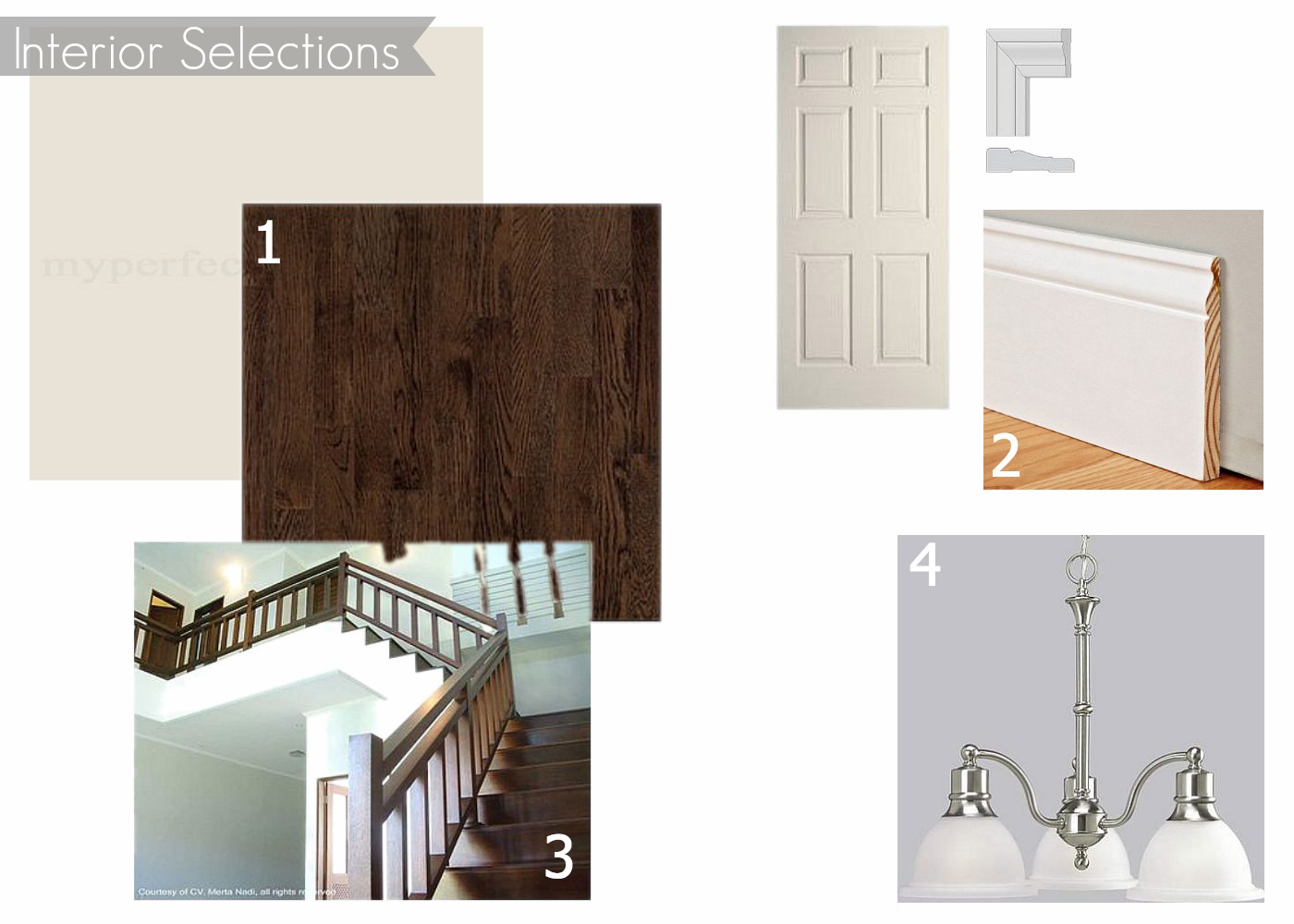 1 – Paint and Flooring (on the main level)
As I said in my last update, we only had the option of a whole house paint color and we chose Antique White because it was the lightest option and seemed to have bits of grey in it (in person, whether or not there is grey in it is still up for debate…). I also talked about how we were able to afford hardwood flooring throughout the entire first floor due to not using a cabinet allowance we had padded into the purchase price. Our floors are "mocha" by Bruce Hardwood Flooring and they are gorgeous in person.
2 – Interior doors, trim and baseboards
There were a few interior door options for upgrades but, as our theme has been for the most part throughout this entire process, we chose not to upgrade those right now and we went with the standard option, which is a 6 panel door. The panels are, luckily, flat. I don't know if you have seen or had the 6-panel interior doors that have a wood grain texture to them but they are the bane of my clean freak heart. Dust settles into those suckers like nobody's business – especially on doors in humid spaces, like bathrooms. That's the style door we had in our house and I HATED cleaned them, the bathroom door particularly. So, if that had been what was the base option we definitely would have upgraded but luckily all the panels are flat, which means it won't be hard at all to wipe down the doors.
The trim and baseboards are pretty standard. I'm sure you've seen this style a hundred times, in homes all across, well, everywhere. It's a pretty traditional, timeless look though and that's why we kept it. We did have the option to add in chair rails or higher baseboards (3″ up to 6″) but, again, decided against that upgrade in favor of focusing on more structural and functional options.
3 – Stair railings
There were three options to choose from for stair railings. Two of them, I know you've seen before. You see them in a lot of homes, especially homes built in the 90s – oak railings that are kind of embellished on the spindles and anchor rail. This google search on oak stair railings tells you what I mean.
We were shocked that the third option was a simple, straight railing. We were instantly in love with it – nothing embellished, nothing too crazy…just a basic spindle and rail. It was exactly what we were looking for. The image in my moodboard is just an example, but in person they look pretty close to my inspiration picture. They are stained to match the flooring, which gives a seamless look and I love it!
4 – Light fixtures
As I said, we didn't upgrade any light fixtures. This is the fixture that is in our dinging room. A similar one, with the bulbs point up is what's in the entry and stairwell.
I am so bad at choosing light fixtures that that's a big reason I was happy to stick with our base options. I'm really good at visualizing most everything in a room and pulling it all together, except for light fixtures that are mounted. I have some kind of mental block when it comes to lighting so, chances are, the fixtures we've got are going to be around for awhile until I get the courage to try out some other options. Luckily, they aren't terrible looking. And they all have a brushed nickel finish which is nice.
I should note that I will have to make some light fixture choices sooner rather than later when it comes to our living room, game room and bedrooms. None of those rooms have ceiling fixtures; they're capped off and ready for fixtures but we chose to not have Drees install anything since we felt we could get our own fixtures for less money (and we were right). We are putting ceiling fan lights in the living room and game room and, for now, the bedrooms won't have any ceiling fixtures (only floor or table lamps).
I left a few things off this board, so I'll share them really quickly –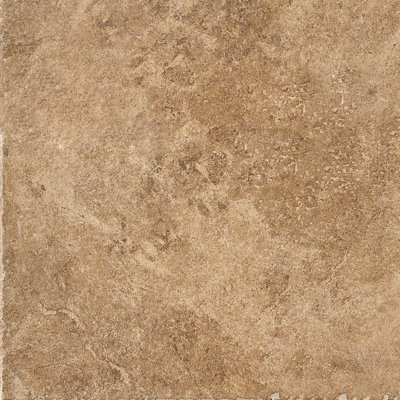 This is the tile around our fireplace – Marazzi "Arctic Bay." This picture is pretty spot on in terms of color and texture. The grout is a beigey color and looks really nice.
We did carpeting throughout the entire upstairs (with the exception of the laundry room and bathrooms, obviously) and this color is pretty close. It's a very light cream shade and I don't know what I was thinking when I chose it, considering I have a toddler and two pets. Luckily, I'm a whiz at removing stains so I'm sure I'll be expanding that talent over the years.
We opted to upgrade the carpet padding to help extend the life of our carpeting. The extra bonus is that it's pretty plush when you walk on it.
Now, onto the bathroom selections –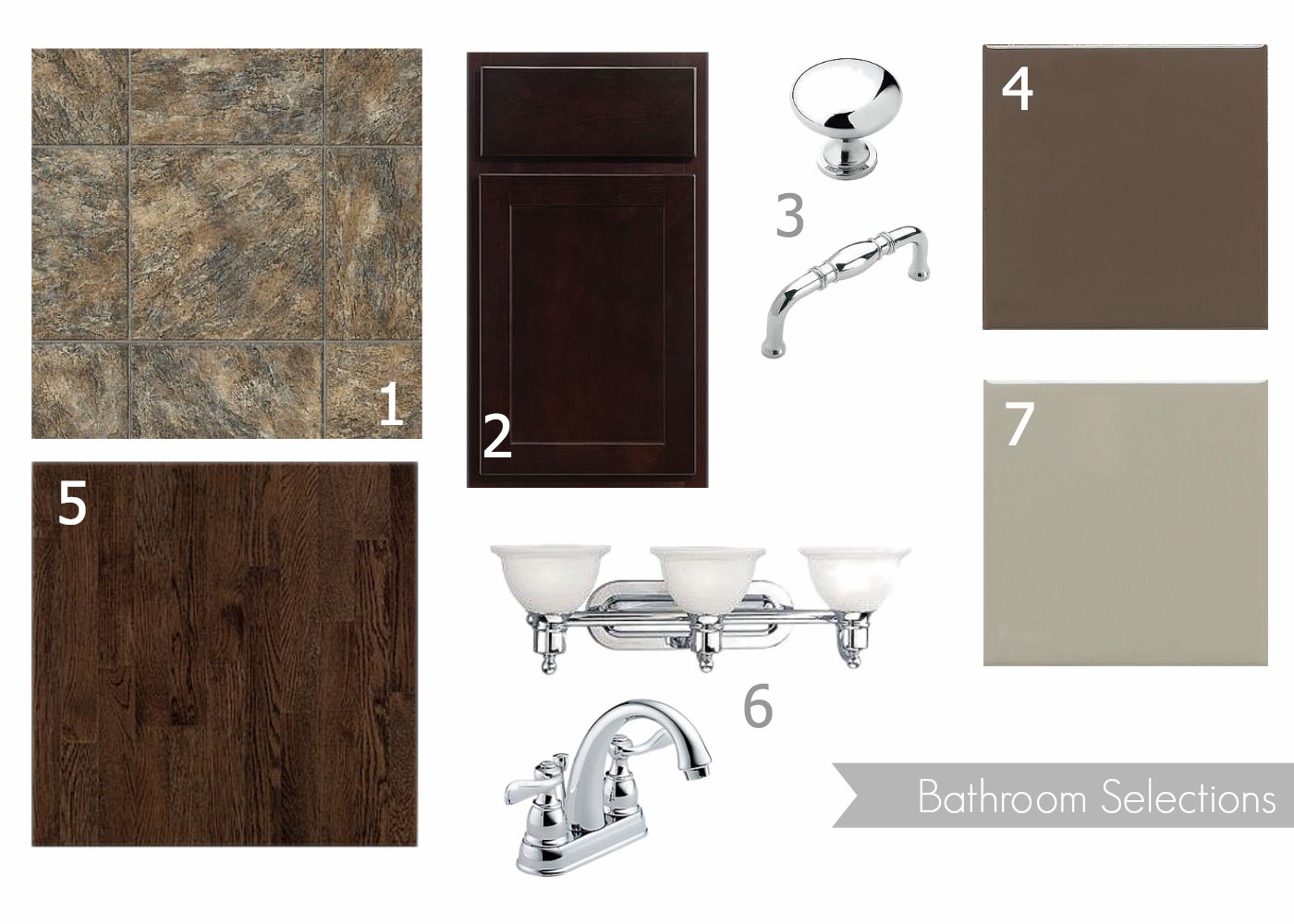 1 – Flooring in the upstairs bathrooms
We didn't do any tile in our house because I was kind of sick of caring for it in our old house. I hate how grout discolors from feet standing on it. I also hate how cold tile feels on your feet – especially in the mornings. So with those things in mind, we went with the standard option of vinyl flooring in both bathrooms, thinking that should we change our mind it would be fairly easy to rip out or cover up versus tile.
The same flooring is in both the upstairs hall bath and master bath. I wish I would have swapped out the master bath flooring for what we ended up putting in the laundry room, but that's neither here nor there. And actually the flooring looks totally different in both rooms because of the other things that are going on.
I will say that the picture isn't really accurate at all as to how the flooring looks in real life. It has more blue to it and is not nearly as dark.
2 – Cabinetry for vanities
This is the same cabinetry that's in the kitchen. We loved the dark so much that we decided to extend it throughout the entire house. In the model of our floor plan, the master bathroom and hall bath both had different cabinetry (the downstairs powder room had a pedestal sink, but we did not put that in our powder room because we wanted the storage option that a cabinet brings) and I can see the value of doing that – to give it a bit more of a custom look and to differentiate the spaces. But, I just love how much dark cabinetry elevates a space and I didn't like the other stain options nearly as much so we went dark everywhere with the cabinets. I definitely don't regret that choice.
3 – Hardware
All of the finishes in the bathrooms are chrome, so we went with chrome versions of the knobs and pulls that are in the kitchen. Again, it wasn't worth paying the extra money for Drees' hardware upgrade options. We basically wanted the holes to be drilled and install hardware that was nice looking, in order to have the option to replace that with something more our style at a later date. Plus, I don't understand the mentality of rolling things like cost of hardware into your mortgage when you can get those things for less money (and have a much more wider variety of options by looking at multiple different stores) elsewhere at a later date.
4 – Upstairs hall bathroom tile
The shower in the upstairs hall bathroom is tiled. There was a variety of color options to choose from, plus you had the option (of course) of upgrading your tile – either to different shapes or a more complex design. We opted to keep it simple with these square tiles. We originally had this brown going into the master bathroom but I was afraid the room would be SO brown. We made the right choice by putting this in the hall bath instead because there is less tile there so the room isn't overpowered by brown.
5 – Powder room flooring
Since the powder room is on the main level, it has hardwood flooring just like the rest of that level. Not much else to say about that, haha.
6 – Fixtures and faucets
As I mentioned, all of the fixtures in the bathrooms are chrome. These are the base fixtures and faucets and they look great in person. I do think, though, that the light fixtures we ended up getting do look a little different than what popped up when I google image searched what was on our selection sheets. I think they are two bulbs versus three.
7 – Master bath tile
This was the tile originally in the hall bathroom and, again, I am so glad we swapped it over to the master bathroom. This tile surrounds the tub and is in the shower. It looks so great against the vinyl flooring and makes the room really bright and airy. I am not much of a bath person (something about soaking in your own dirty water…) but even I am looking forward to hanging out in the tub surrounded by this beautiful tile.
I think that just about covers all of our selections. There are a few other things we chose that I don't have stock photos of – the laundry room vinyl flooring, our brushed nickel doorknobs, the french doors that close off the study, shelving that goes into every closet and the pantry (it's just basic coated wire shelving) and I'm sure a few other things I'm forgetting.
I plan on sharing a break down, after we close on our house, of how our upgrades shook out – minus pricing because that changes, but I will give a basic idea – and why we chose what we did (versus why we didn't upgrade certain things that may have seemed obvious to upgrade).
And now that I've shared all of our selections, I can get to the fun part of showing how it's all come together. I have a March update in the works and a final walk through update showing the totally completed house – minus landscaping and grass. Stay tuned!