We have a house that's on the smaller side. It's a 3 bedroom, 1 and a half bath with an eat-in kitchen, living room and finished basement. Of the three bedrooms, one of them is really no better than a glorified walk-in closet. That bedroom, though, is going to become the nursery.
The remaining two bedrooms are roughly the same size, but one of them has no closet. The one with no closet I use as a craft room/office space. It's definitely bigger than what we're using for the nursery…but the fact that we would have to buy a wardrobe for clothes storage makes it not worth moving around the furniture to swap the two rooms.
Plus, we had actually already swapped the rooms. I was originally using the very tiny room as my office space and the other bedroom was a guest room. When we decided back in the summer that we would start trying for a baby, we sold all of the furniture in the guest room on Craigslist (a day bed, a large IKEA wardrobe and matching IKEA dresser) and moved my office in there. We brought up  from the basement two pieces of a mid-century dresser Alex had been using as a desk to put in the nursery as a changing table and dresser. We also brought up a chair that my grandfather used in his study – he passed away in 2006, but I love having something of his in the nursery so it feels like he is there with us.
So far, this is what the space looks like: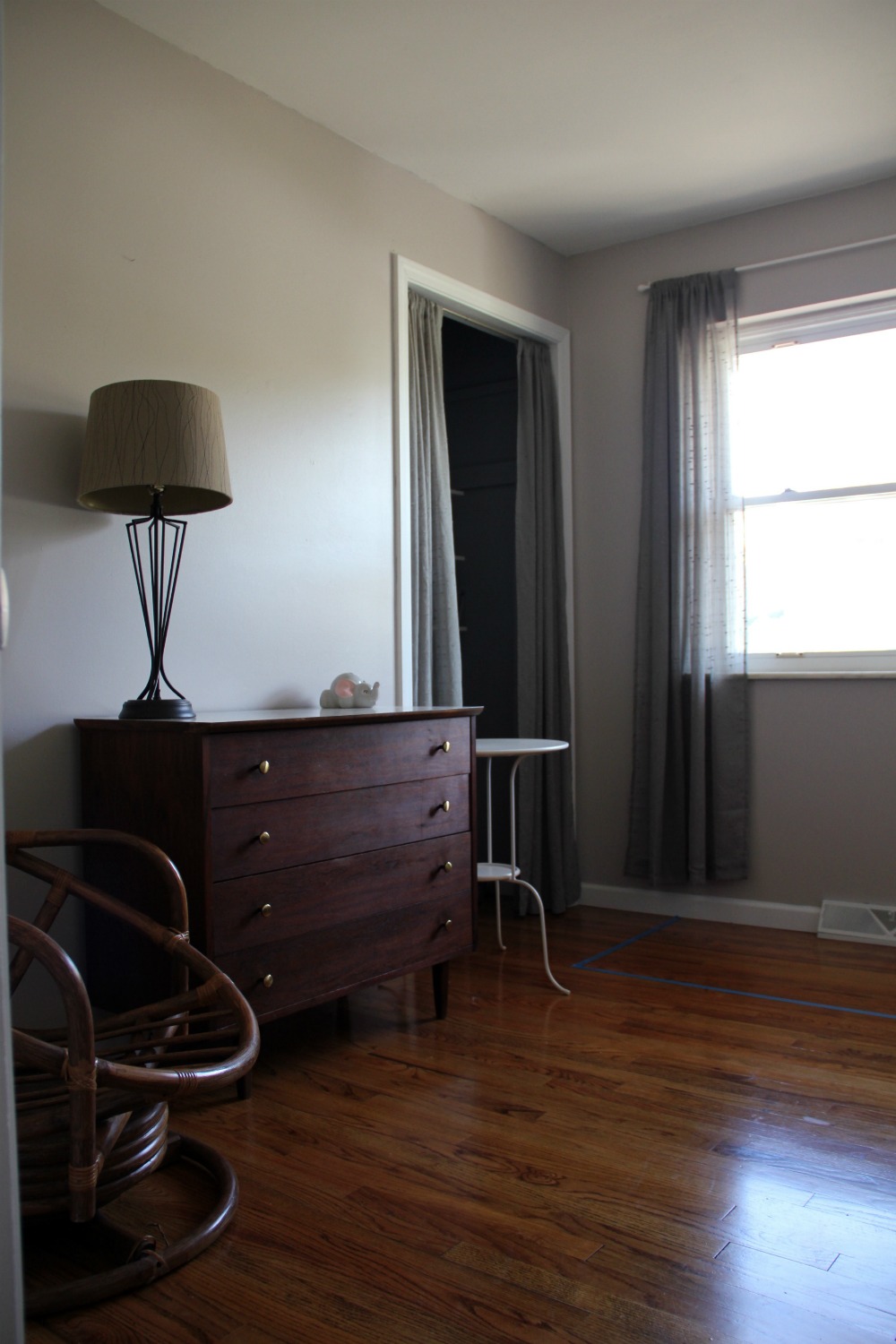 There is one of the dressers, the chair (sans cushion – that is getting cleaned and will eventually get re-covered), and a white side table that needs to be taken out because there is no room for it.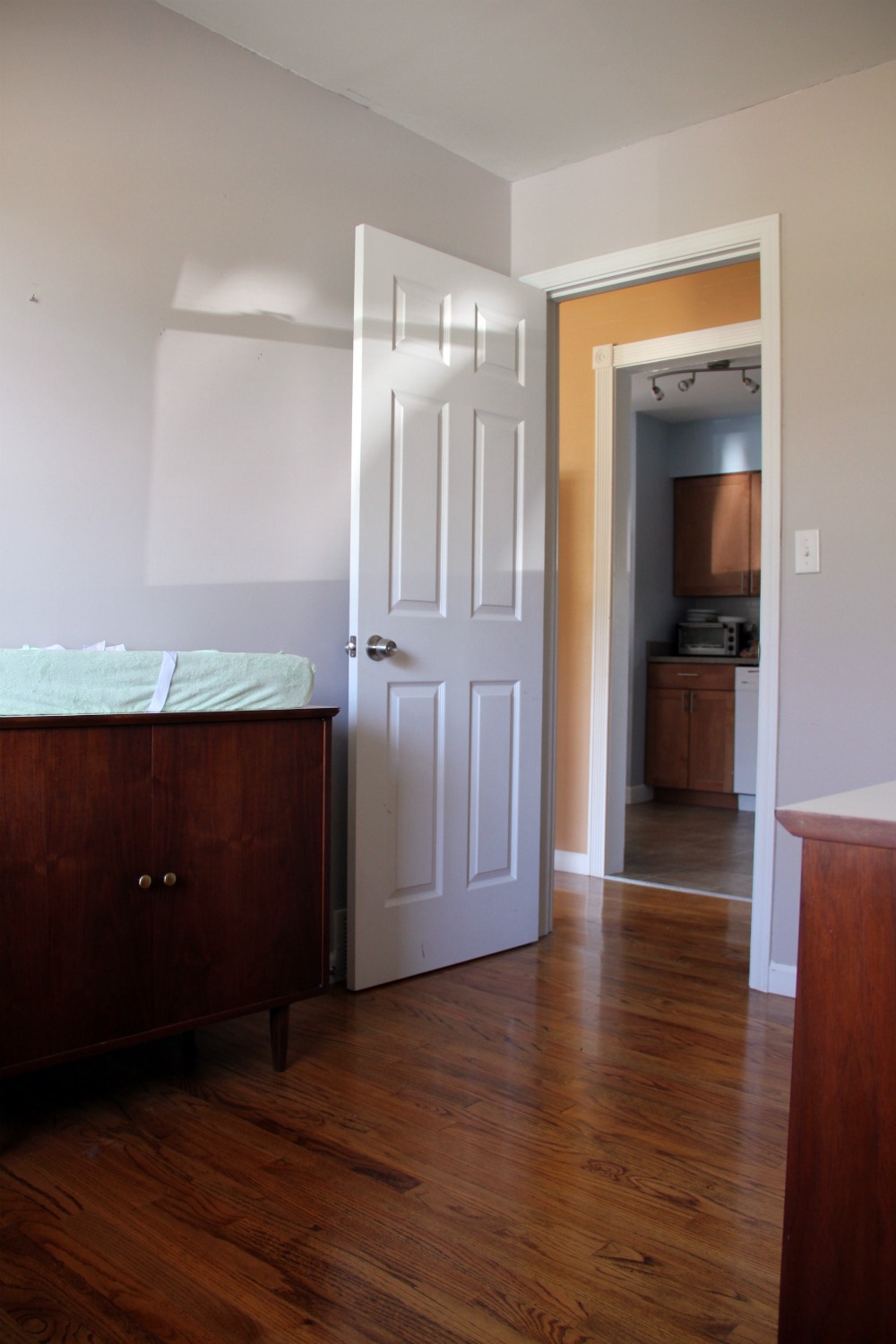 This is the view standing in the closet and looking out. You can see the other dresser that is being used as a changing table, plus the door to the nursery that takes you out to the hallway – straight across is the kitchen, to the left is the living room and to the right is the remaining bedrooms.
One more view: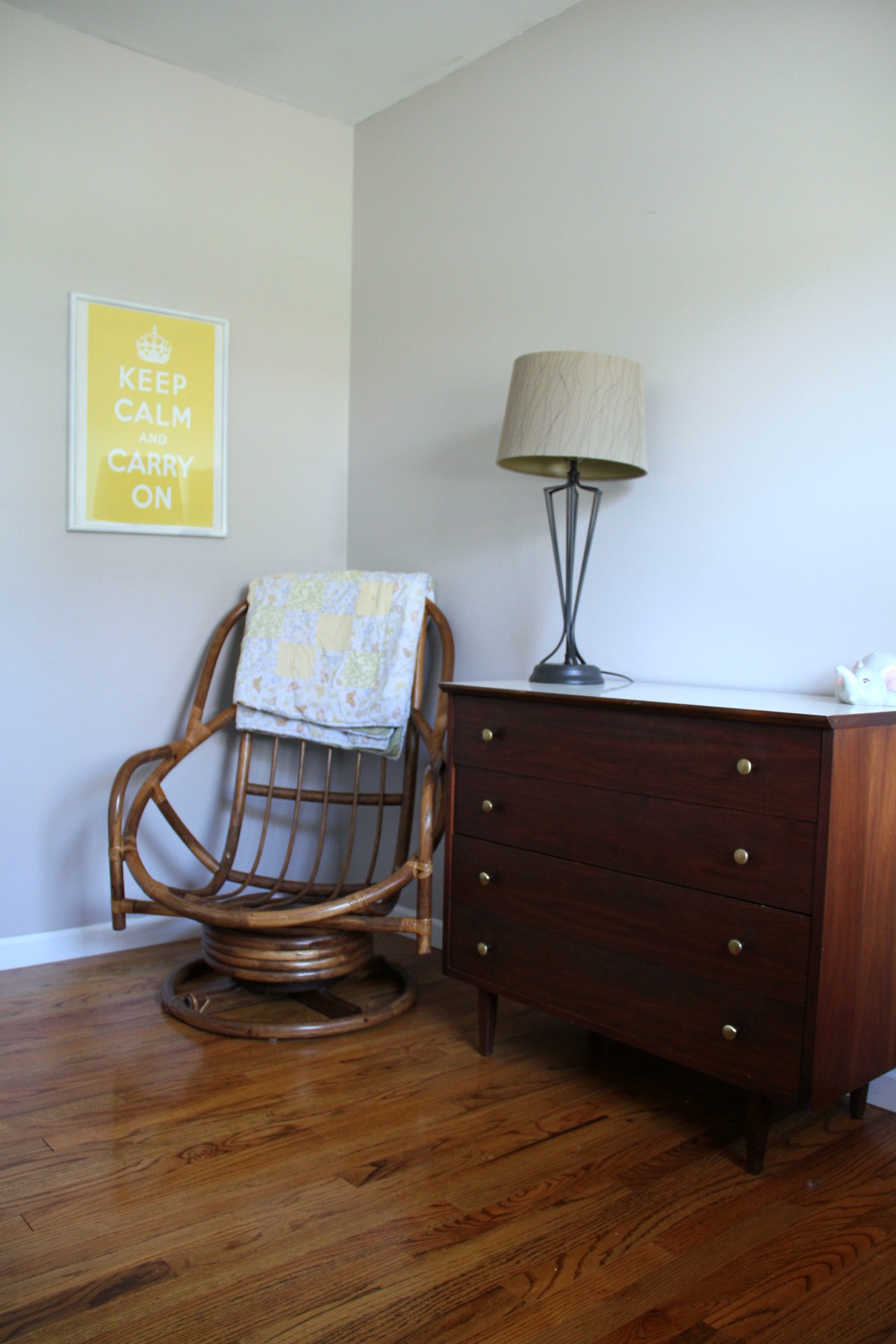 Here's a better view of the chair and dresser, plus a print that I had in this room when it was my office…but I'm going to keep in this room as a gentle reminder 😉
You might have noticed the blue painters tape on the ground in the first photo – that's where the crib will be. That outline fits the Oeuf Classic Crib. I really like how green and eco-friendly Oeuf is, but I am really second-guessing whether or not I want that crib.
I actually was getting it confused with this other crib – the Argington Bam set. I like the Argington because it begins as a bassinet that converts to a crib. But I kind of hate the way the legs look. It's available in black or white, and we would go with the white.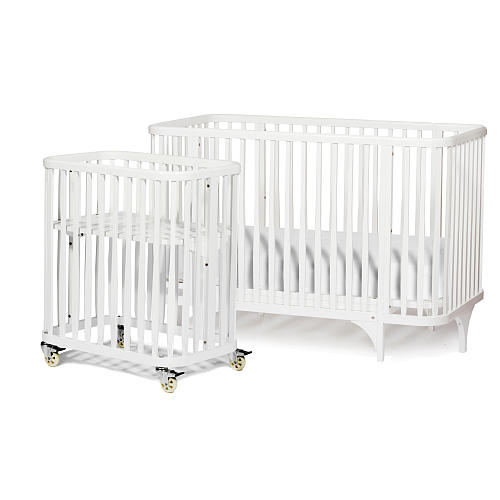 I really like the clean lines of the Oeuf crib. We likely wouldn't go with the classic, though. We'd probably pick the Robin, but we would get it in the espresso color. I'm not a big fan of light woods.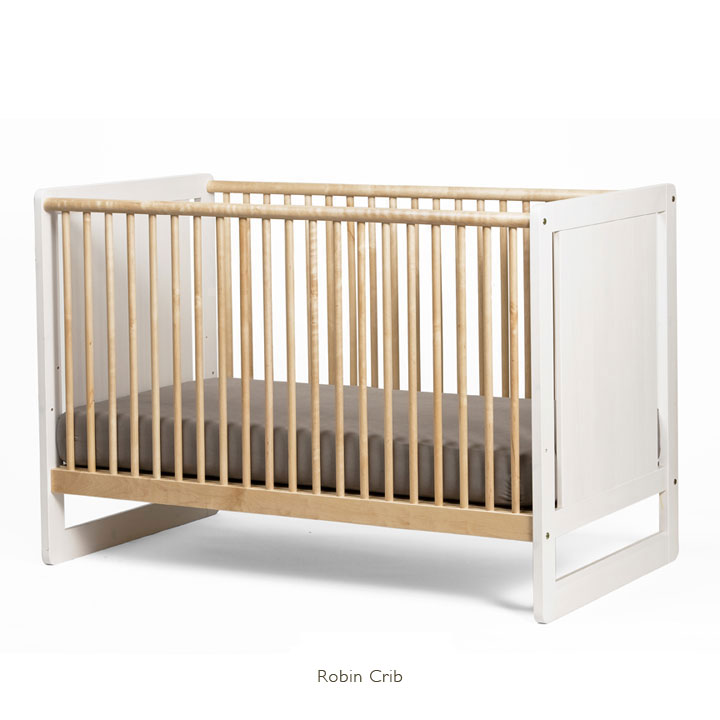 There is one other crib we are tossing around; it's from Babies R Us. It's part of the Carter's collection and is called Manchester. We really like the dark cherry stain – it matches almost perfectly to the dressers we're using. It also doesn't hurt that it's significantly cheaper than the Oeuf cribs. And I feel okay going with Carter's since they do not use formaldehyde anymore…that was our biggest concern. If we get the crib relatively soon, we can assemble it and leave it in the garage so it can gas off in there so by the time April rolls around it should be perfectly safe.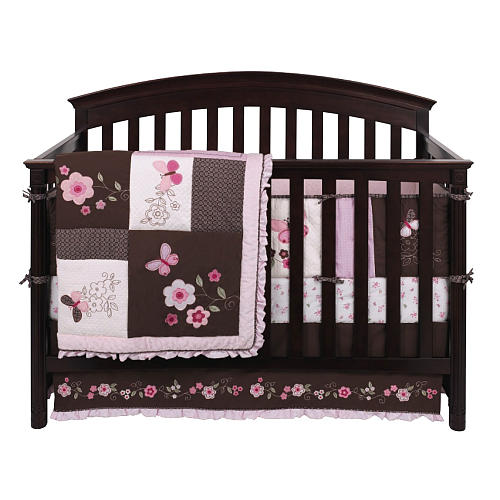 Apart from cribs, we have all the furniture we really need. Between the closet and dressers, plus a small rolley storage cart I have in the closet, we should be perfectly fine for storage. The closet itself only has a small section for hanging clothes – the remainder is shelving, plus a few hooks. We won't be getting a diaper genie so that's one less piece of furniture to have sitting around. We will probably need a trashcan, but that is all I can really think of.
And that means, after we get the crib nailed down, it's just about the aesthetics. The paint on the wall is not a soft gray, like the photos indicate. It's more of a silvery purple gray. I thought we would keep the color, but just patch over and paint the holes, if we're having a girl. But now I'm kind of thinking regardless of what we have, I think it would be fun to do a mint green and pale yellow color scheme – then add pops of purple or blue if it's a girl or boy.
I stumbled upon this nursery through Pinterest and it's serving as my inspiration. I cannot find the original source for it though; it's been re-pinned so many times. If you know the source, please comment.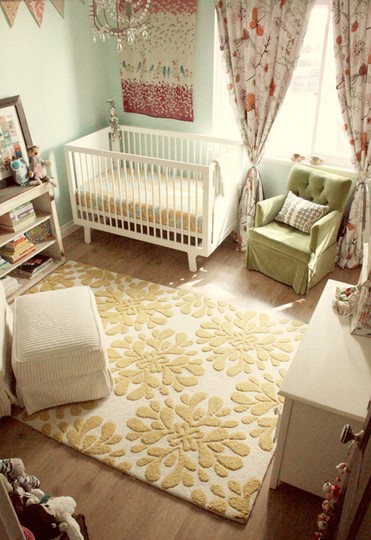 Source: Pinterest
It's just such a pretty nursery! I think it would work for a boy or a girl. The wall color, now that I'm looking more closely, might actually be aqua and not really mint, but that's okay. Aqua would actually probably fit better with the scheme of our house than mint, but whatever. I also just noticed that they have the Sparrow Oeuf crib in white.
I'm not sure on curtains yet. I like the ones in there (they were originally in the guest room), but they are very thin and won't block out light. So I either need to add another rod for a heavier curtain, or sew a backing to the existing curtains…or just get new ones altogether.
We're also debating whether or not to get a rug. Rugs have a history of getting destroyed in our house, thanks to our pomeranian, Aslan. Here's a photo of him on the last rug he destroyed.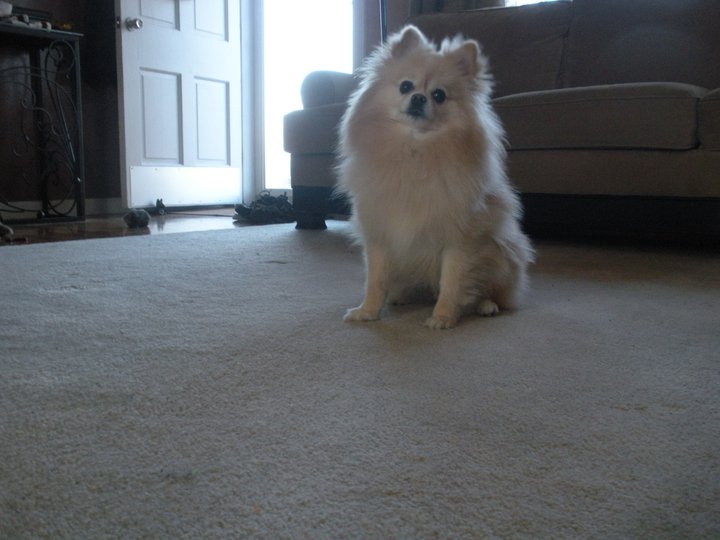 If he looks very proud of himself, it's because he is. On the bright side, that rug came free with our house. So…at least we didn't have to pay anything for it.
Anyway, I am very leery of spending more than $100 – and even that is pushing it! – on a rug that I know I'll spend half my time cleaning stains off of. Especially when I'll have a baby that will also be contributing to the stains. If anything, we might go with those carpet squares where you can just toss and replace a square if it gets ruined.
So that's where we are with that. This weekend I'm taking a trip up to a baby store in Columbus with my SIL, MIL and mom to check out the Oeuf crib in person. If I don't like it, we'll probably default to the Carter's Manchester. Regardless, it will be fun to check out another baby store!
If you're on Pinterest and looking for nursery inspiration, be sure to check out my Baby Board!