Alex and I normally don't make a big deal out of Valentine's Day, but maybe it's the hormones or the fact that it's our last 'alone' Valentine's Day, I actually have a sappy little gift for him. And I also wanted to do this love story questionnaire I found on Mrs to Mama. Here's our love story:
1. How long have you and your significant other been together? We have been together since March 25, 2006 so we are coming up on five years.
2. How did you meet? We met in college. We had classes together – we were both English majors – but it was at a meeting for Sigma Tau Delta (an English honors society with the unfortunate initials of STD) that we officially started hanging out and talking. I was president of the society and Alex was a member. The group was planning our annual trip to the STD conference (now you see what I mean by unfortunate initials). I will never forget that meeting … not because anything amazing happened… but just because it was what sparked us to talk more.
Us in Portland – we look like children
The whole group had a lot of fun on that trip, and Alex and I connected more. When we got back, I guess you could say we officially started dating. And slightly less than a year later, we were engaged!
3. If married, how long have you been married? We celebrated our four year anniversary on December 1st!
4. If you are married, where did you get married at? Big or small wedding? We got married at a local church. It was a pretty good size wedding – there were about 250 people in attendance. It was a great day, where we were surrounded by family and friends. I would share a wedding picture but, honestly, I don't like any of them. So… it isn't worth the bad mood it puts me in to look for a good one to share.
5. Do you have any nick-names that you call one another? Do share! He calls me baby and I call him diddy. I don't know where diddy came from and it has nothing to do with p. diddy haha. Don't judge!
6. Name 3 things you love most about your honey. I love that he is steady and dependable. He is a hard worker and I know he will always take care of me and our family. And I love that he wanted to start a family with me…because I am crazy. And he knows that, and he loves me anyway.
7. Tell us how he proposed? Alex proposed on St. Patrick's Day in 2007 at an overlook in a local park. The park looks out on the Cincinnati skyline – it's a beautiful view. It was one of our favorite places to go hang out at and just look at the city. The day he proposed, we had eaten with my family and a few friends at a BBQ place that's actually closed now (booooo). I knew he was going to propose, but I didn't know when. He said he had something to do when we were done eating so I just went home with my parent's. He came later to pick me up and told me to put something over my face so I wouldn't see where we were driving…and this made me laugh uncontrollably because I imagined what we must look like driving around – he didn't have tinted windows so people would have seen this guy driving a car with his passenger sitting motionless with a coat on her head. When we got to the overlook, he told me to still keep my eyes covered and that he would be right back. He put a CD in and left the car. The CD was a recording of him playing guitar, then his voice came on and said something about me waiting for him and that I should uncover my eyes and get out of the car when the music was done playing.
When the CD finished, I got out and realized we were at the overlook. It was sunset at this point and we were the only people up there. There were rose petals all along the sidewalk that leads to the overlook and, at the end, Alex was waiting for me. He got down on one knee and gave me the most beautiful ring I had ever seen in my life. The whole thing was perfect 🙂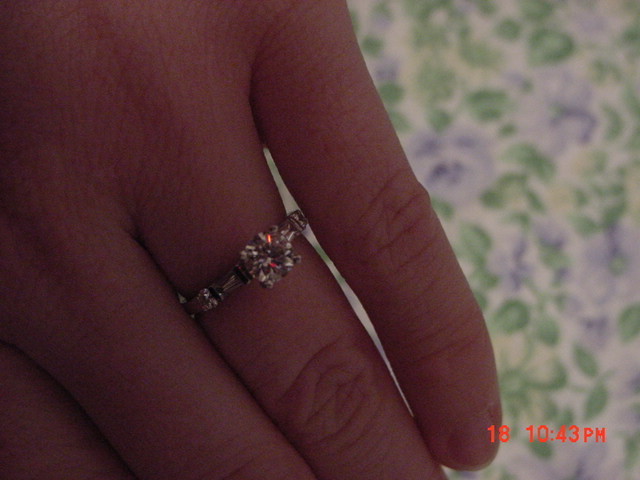 When I got home that night, my sister and I immediately went to Kroger and bought some ice cream and wedding magazines. It was a fun night 🙂
8. Is he a flowers and teddy bear kind of guy for v-day, or strawberries, champagne, and rose petals? He is a little bit of both, but usually he is a write a song or a poem kind of guy.
9. Are you a sunset dinner on the beach kind of girl, or pop a movie in and relax on the couch? I'm definitely a movie and the couch kind of girl. I hate the beach so that wouldn't appeal to me anyway. I do like a nice dinner out, though!
10. Tell us one thing you'd like to do with your significant one day. If you could do anything? Go anywhere? Go to Europe. Alex has been multiple times and I haven't been at all. We had a savings account setup that we were depositing money into for a trip to Paris as our last hurrah before starting a family. But, when we realistically looked at how long it would take to save and the timeline for getting pregnant, we decided to forego the trip and try for a baby. Turns out we probably could have still gone to Paris and stuck with our family timeline since we got pregnant right away but, oh well! Paris will always be there and Alex will take me there someday.
11. Tell us what you plan on doing on this Valentine's Day. We went on a date this past Friday night – dinner at home and a movie out! We saw Chronicle which some may think doesn't make for a romantic date movie, but we really like movies likes that. It was a good flick. Today, we will be having dinner with my family like we do every year on actual Valentine's Day. My mom likes to celebrate V-Day with family.
12. Are you asking for anything this Valentine's day? No. I got a beautiful Tiffany necklace for Christmas and I'm happy with that. We actually don't exchange presents on Valentine's day, but this year I did make Alex something that I'll be sharing later this week.
13. Give us one piece of advice of keeping a relationship strong and full of love. I don't know what we would do if we couldn't laugh at ourselves. And I also don't know what we would do if we didn't have each other to balance out our idiosyncrasies.
14.  Show us a picture of what love means to you.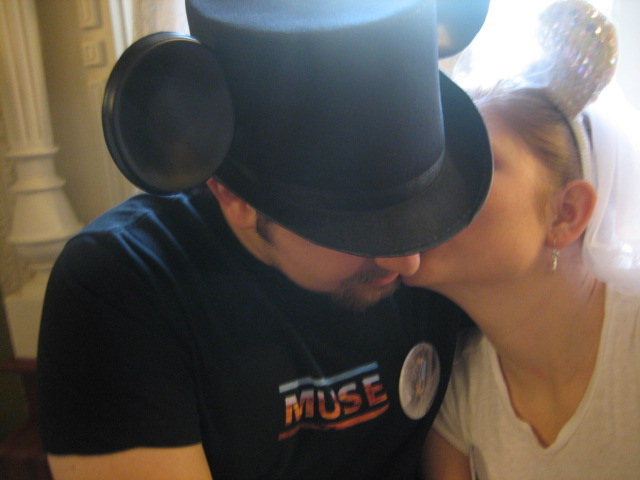 Us on our Honeymoon in Disney.