This is a post from my drafts folder that I never published when I originally wrote it… oops. It's from May, when Ezra was soo leetle. Now he looks like a jumbo baby compared to his six-week self haha. So, since it's so old now, I've also added in 3 month update notes to each item on the list. Enjoy.
My baby is six weeks old! Pretty unbelievable. He's already model material.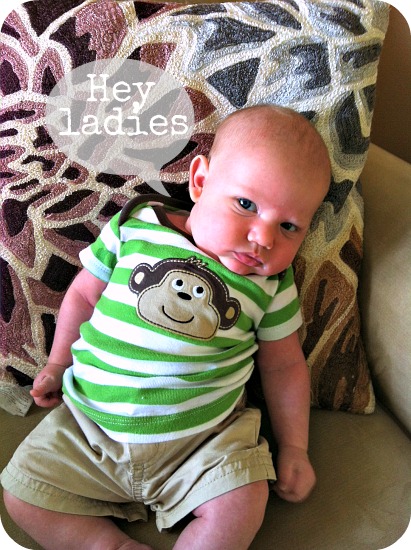 Over the last six weeks, we've had the chance to use a lot of the wonderful gear we were so blessed to receive at the showers and some of it has become indispensable in our day-to-day. Here's the top 10 items that, if they were to disappear off this planet, we would not survive:
10. Orbit G2 Stroller & Infant Car Seat
(Update 05/2014 – The G2 was discontinued and has been replaced with the G3 so the above link is for that model of stroller)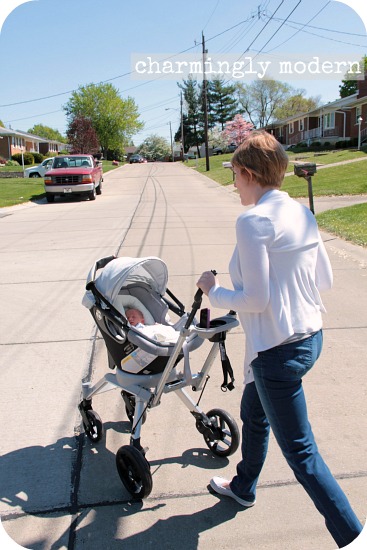 We absolutely 200% love our Orbit G2 Infant Car Seat and Stroller. We also have the panniers
but have yet to see them in action.
(Update 05/2014 – The panniers are an awesome accessory! They're great if you're going shopping and need a place to toss groceries or bags.)
So, why would I recommend such an expensive piece of baby gear? Several reasons:
Orbit is an ecologically-minded company – they're very "green" and we love that!
The stroller is extremely lightweight (it's made of aluminum), but durable and easy to navigate
The stroller truly has one-handed closure. You just pull out a tab and twist this little silver bar and it swings shut.
The stroller is super compact when folded up. It easily fits into the trunk of my car, with plenty of room to spare for things like groceries, shopping bags, etc…
Not only that, but the infant car seat attaches to the stroller for easy storage – it's so compact! And, if you're flying, or just transporting it, you can pull it all behind you like a rolly suitcase.
The infant car seat has a breathable foam base that helps keep baby cool – you just unzip this little flap at the back and it lets air in to ventilate the car seat
The cover is made of washable microfiber and is completely removable, which is great for a clean-freak like me who loves tossing stuff in the washer. It's also hypoallergenic – bonus!
The car seat has a nice sun visor, with a little flap you can pull all the way down so the baby is completely covered – great if you don't want people peeking in at your child. Also great for keeping the sun off the car seat if you leave it in the car. I learned that the hard way when I left the car seat in and the straps were so hot to the touch. Now, I just pull the visor down and there's no issues.
The handle for the car seat is super comfortable – it's made of canvas or something, with a comfortable pad around the center so it doesn't kill your forearm while you're transporting your tot around
And those are just scratching the surface! The main reason we wanted this stroller/car seat combo, though, is that the car seat can move 360 degrees on the stroller frame or the car seat base. This means you don't have to awkwardly twist your body when putting baby in the car seat when it's in the car, or on the stroller. It's also great when you're out and about and you want baby to face you, or maybe face out. Plus, if you're at a restaurant or coffee shop, you can maneuver the stroller and turn the car seat in whatever direction needed to either face you or another direction. It's great!
Plus, it's made in the good old US of A!
3 month update: We're still loving our Orbit! Ezra was not a fan of car seats in his early days, but has gradually become more comfortable in it. The guy just doesn't like to be strapped down and who can blame him? With each outing, though, he gets used to spending more time in the car seat and really enjoys being pushed in the stroller. Plus, we took these things with us on 13+ hour car trip up to Massachusetts from our Summer vacation and it was awesome for traveling.
Two year update: We've since moved on to the Orbit G2 convertible car seat (though that link is for the G3 since the G2 has been discontinued) and are still loving the system, especially the swivel action (Ezra is still rear-facing. The car seat will no longer swivel when he's moved to forward facing). We put away the stroller for now, though, as it became a little bulky the older Ezra got and he is more comfortable in an umbrella stroller at this point.
Three year update: Still getting a ton of use out of the Orbit G2 convertible car seat. We've moved Ezra forward facing at this point, so we no longer get to take advantage of the swivel action, but the seat was very easy to install forward facing. It's very sturdy and pretty much immovable, which I love. And Ezra loves it, too, so it's really just a win win. The only downside is this seat does not convert to a booster. So, once Ezra maxes out the weight and/or height restrictions for forward facing, we'll find ourselves searching for a new seat.
9. My Little Lamb Cradle 'n' Swing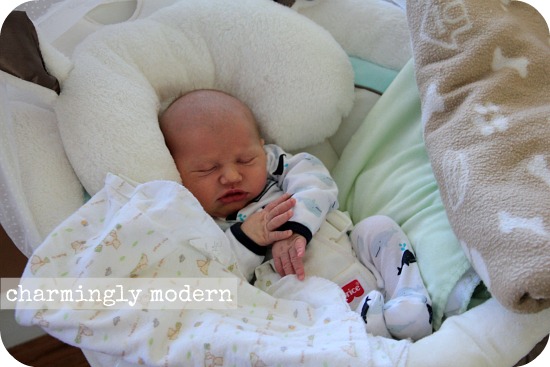 My little baby has been using his swing since we brought him home. He likes hanging out in there for about 45 minutes to an hour, where he'll nap or just watch the mobile moving around.
We love this swing because not only does it relax Ezra, but it gives him something else to do besides look at my boring face all day long. You can really only use a swing until your baby is 3 or 4 months old (there are weight restrictions for swings), but in the meantime it's been great to have around. In the pic above, we have those blankets tucked around him because he was too light to weigh down the swing so the lowest setting swung a little too roughly. The blankets added enough weight to slow it down so it wasn't going like crazy.
3 month update: Ezra LOVES his swing now. I mean, he liked it okay before, but now he absolutely loves hanging out in it. He takes at least one nap per day in the swing. He is big enough to enjoy the mobile, as well. I also re-positioned it so it's facing our front door and that lets him enjoy the view outside, giving him something else to look at for a little while.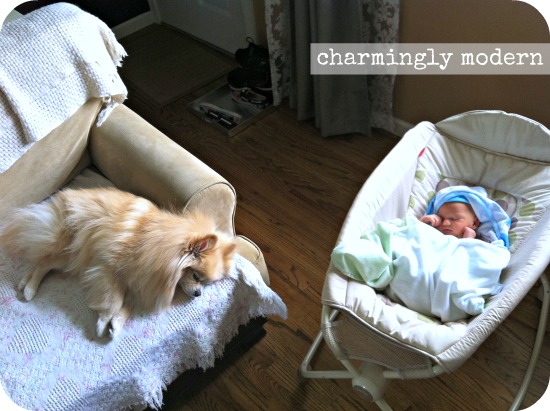 We use the RNP daily. Ezra naps in it from time to time, but he sleeps in it every single night. We love this thing! Our pack n play does have a bassinet attachment, but we decided to go with the RNP because the PNP (how're you liking all these abbreviations, huh? haha!) didn't comfortably fit in our bedroom. The RNP can easily slide on either side of our bed.
A great bonus of the RNP is that when Ezra fusses, it starts rocking from his movement, so that helps soothe him back to sleep. It also has mesh sides so it's breathable.
Downside? There is a flat, hard plastic panel under the cover where the baby's head lies. Some parents have said this made their baby's head flat. After reading those reviews, we added a quilted, soft receiving blanket folded up into a rectangle and placed it under Ezra's head when he's in the RNP. It acts as a thin pillow and so far, no flat head.
3 month update: Still using this thing nightly! And still using the tiny "pillow" and Ezra has a great shaped head. We have since started having Ezra sleep in his own room in the RNP. The transition to his own room went off without a hitch, btw.
4 month update: We transitioned Ezra out of the RNP at this point, and he sleeps full time in his crib now at nights. Despite the fact that the RNP is kind of like a reclined sleeping position, Ezra did great moving to his crib and sleeping totally flat.
7. Moby Wrap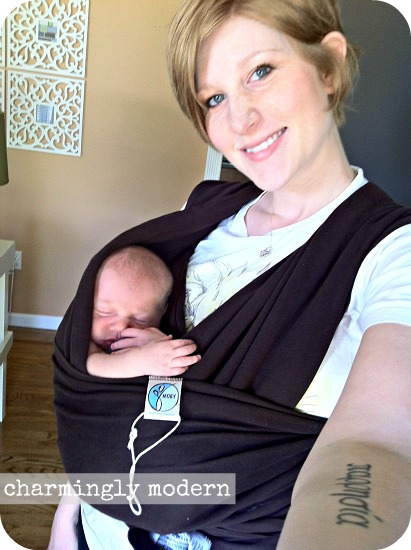 I love my Moby wrap!! I would be lost without it. It enables me to get things done around the house while toting Ezra around with me. He is a baby who likes to be held (uh, what baby doesn't?). He loves being near wherever I am and this wrap makes that very easy. He's in the newborn hold above. When he gets bigger, we can try other positions, but for now he likes this one best. I have him turned so he's facing out, but you an also adapt that position so he's facing your chest. We do that at the grocery store, so that he'll nap on me while I shop.
3 month update: Not using the Moby as much. Ezra still likes it when I do use it, though. Mostly I've stopped using it because it's kind of a pain to wrap. It's a lot of fabric. Also, now that it's summer and it's been very unseasonably hot around here, the last thing either one of us wants to do is put on a dark colored fabric wrap and sweat all day. Tip: if you live in a warm climate, buy a Moby that is light colored! Anyway, I've been looking into other wraps that are more lightweight because I really do love baby wearing. It just isn't working for us right now, though.
6. Boppy pillow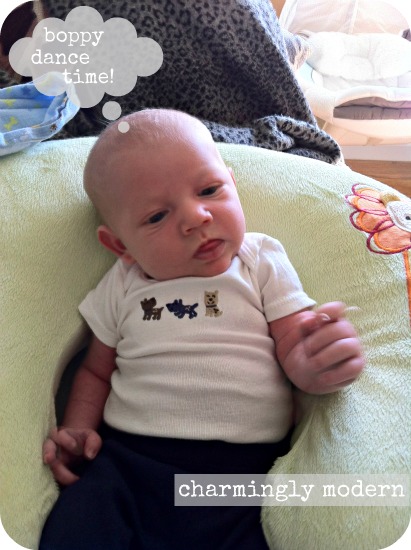 We love our boppy! It's a great breastfeeding accessory, it works as a prop for Ezra (which he loves because he's very, very curious and likes looking around) and it can also work in a pinch as a place for him to nap on his back. I would really only recommend that, though, if your baby absolutely will not nap anywhere else as they can slump down and possibly suffocate against the fabric. So just be careful.
I really look forward to using this more and more as he grows up, especially as he gets more control and is able to sit. In the meantime, we mainly use it for breastfeeding.
3 month update: Well I don't use it for breastfeeding anymore. Not because it doesn't work, but just because I've become a lot better at breastfeeding and don't need all the extra support. In fact, I find it more comfortable without the boppy. We do, however, use it for helping Ezra sit up. I think we'll keep on using it for that as time goes on.
5. Zipper Sleepers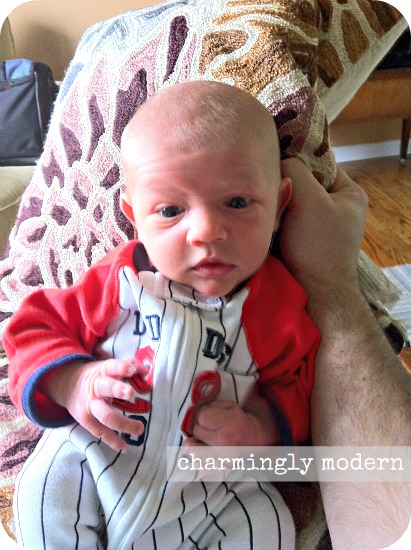 These are essential for quick diaper changes at night. When Ezra is up for his nighttime nursing sessions, Alex first takes him to get a diaper change then brings him back to me. These pajamas are so much quicker than the snap ones, which means Ezra doesn't have as much time to really wake up and start fussing. The only unfortunate thing is it's surprisingly hard to find zipper pajamas for newborns. No idea why.
3 month update: We still religiously use these. Pretty much all of his jammies are zipper outfits. He doesn't get a nighttime diaper change anymore (thank you nighttime diapers!) but he does fuss right after his bath before he's dressed in his jammies, so these just make the whole process a lot quicker.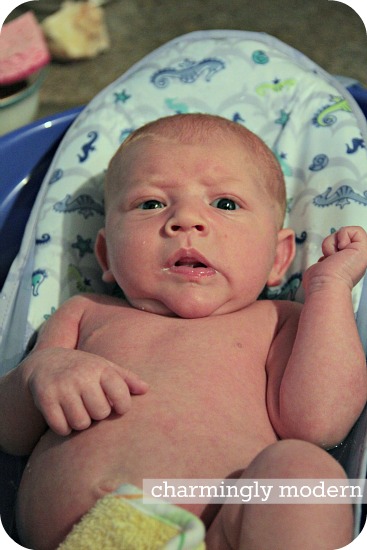 Initially, I didn't think a bathtub was necessary. I thought we could bathe Ezra in the sink or something. Well, I was wrong. Babies are slippery when wet and the last thing you want to do is try to keep them upright with one hand while bathing them with the other. An infant bathtub solves that problem! The bathtub we got is infant-toddler so we'll have it around for a long time. The sling Ezra is sitting in in the pic above is removable. We'll remove it soon, I think. In the meantime, he enjoys hanging out in it. He really loves bath time and this tub has helped make it a relaxing experience for him.
3 month update: My little man continues to love bath time and I know it's because of the tub. We removed the sling after a week or two of using it and he reclines on the newborn side of the tub. The infant side has an upright seat and he can't sit up very much without support so I prefer the other side where he can just recline and I can easily bathe him that way. Lately, though, he has started kicking his feet against the infant side and pushing himself up. So… we may have to switch sides sooner rather than later.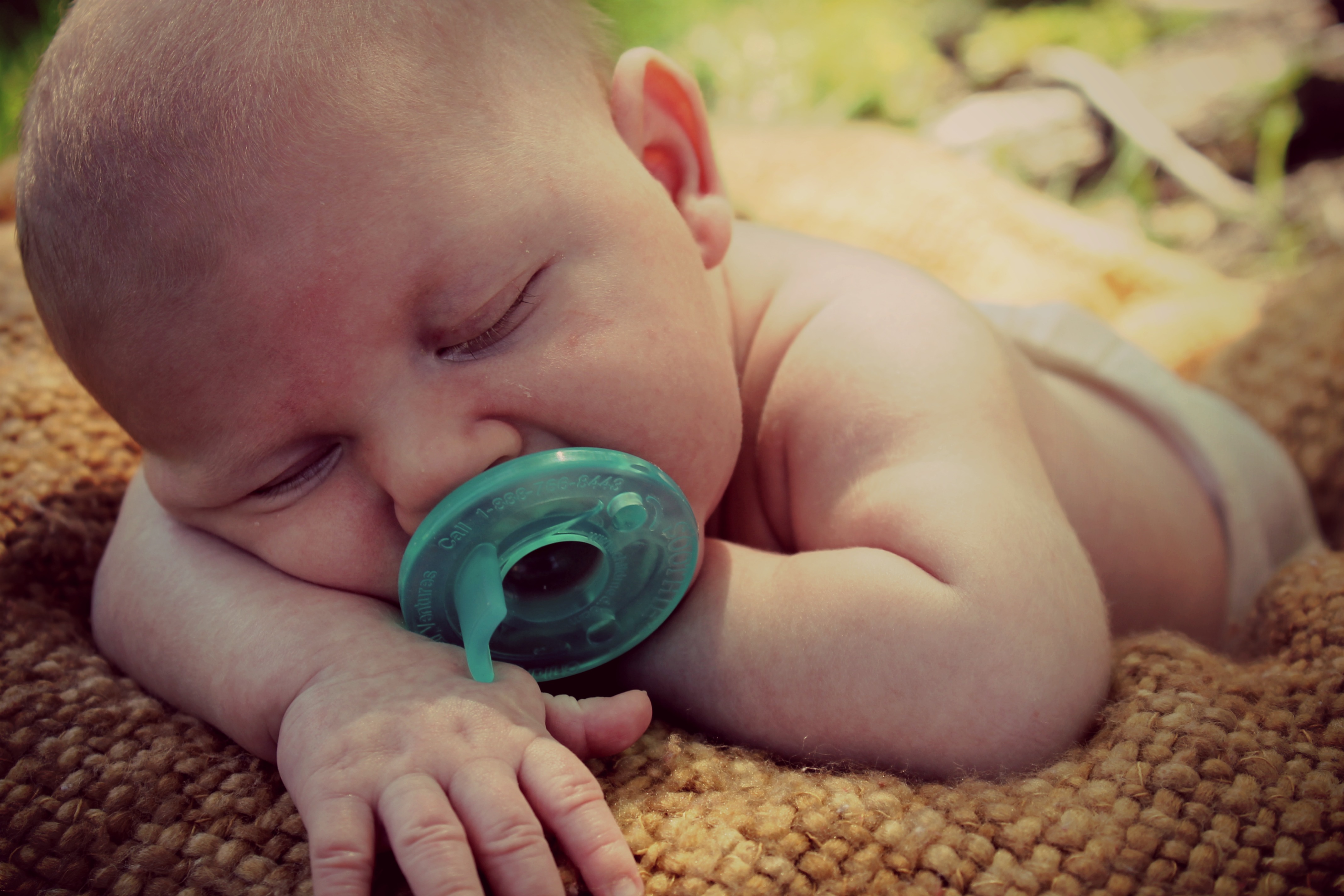 Image by aliciahasekoester photography
I remember the day I first gave Ezra a pacifier. It was April 12th, to be exact – six days after he was born. I remember it because I felt bad giving it to him, like I was making a mistake or something. I wasn't making a mistake. The first pacifier we gave him was a Nuk. It was so big for his little face. He liked it though. Ezra likes to suck, like most babies do, and I had to give him the pacifier so he would stop using me as one. It was the right choice for us and has since become a great tool to calm him down. We like the Soothies because they are soft and squishy. They never caused nipple confusion, either.
3 month update: Still using these suckers (haha!). Though we have started also using the Nuk soft pacifiers. They're just as squishy as the Avent Soothies, but have a different shape to them – they don't press up on his nose when he's sucking on them. Also, they're good for 0-6 month babies where as the Soothies I bought are only good up til 3 months. Who knew pacifiers had age designations? I certainly didn't.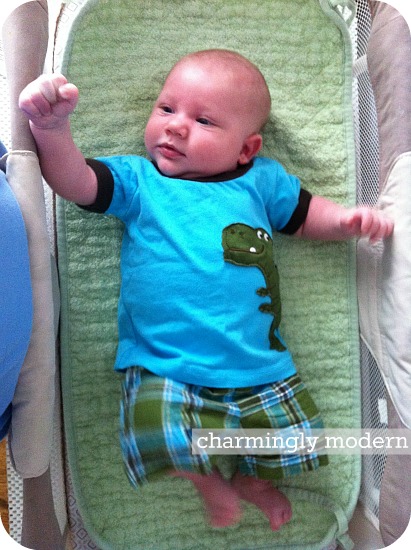 You can get these pretty much any place that sells baby items. They are extremely versatile and portable and I would lose my mind (and do tons more laundry) without them. They protect the changing pad, blankets, bedding, etc… They're great. You can also fold one up and put it in your diaper bag if your diaper bag didn't come with a changing pad in it, or if the one it came with is in the wash.
I also put one under Ezra when I nurse him in bed with me because 9 times out of 10, we both fall asleep and milk leaks out from one of us, haha. I have saved my sheets and blankets so many times by doing this. It's great.
3 month update: Still loving these, but that's no surprise! I continue to use them in bed. In fact, I bought more and just stock my nightstand drawer with 3 or 4 so I don't have to go to the nursery when I need one at night.
1. Swaddling blankets –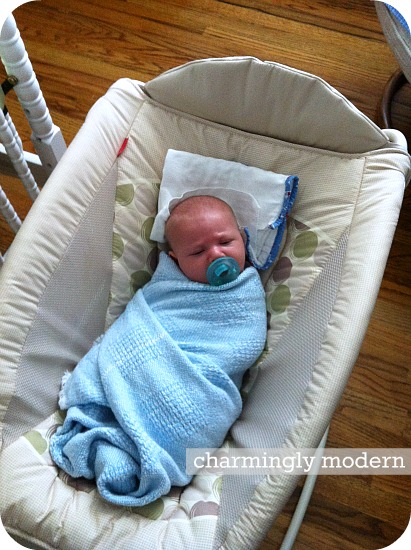 We used to swaddle Ezra in the Summer Infant Swaddle Me swaddles, when he was a newborn. However, he kind of started to hate them so we stopped. Then, we started experiencing sleep problems and from what I read, I learned that babies don't really "hate" swaddling – they just don't like the process of getting swaddled sometimes. So, we reintroduced swaddling and have never looked back. It has been a lifesaver in terms of helping Ezra sleep longer, especially since he has such a strong startle reflex and kept waking himself up. They are essential to our nighttime routine and we sometimes even use it while out and about and at naptimes.
3 month update: We're still swaddling! Ezra can roll over now, though, so we may stop that soon enough. He still sleeps in his RNP so it's not too big of an issue right now, but when we transition him to the crib we'll have to phase out the swaddle. I'm kind of nervous about that. Anyway, in the picture above he is swaddled in a Berea College woven blanket. Now that it's summer, it's too hot to swaddle him in that so we picked up a few Aden + Anais swaddles. They're lightweight cotton so he doesn't overheat in them. Plus, when he's older, they can be used as a lovey or something.
There you have it! Our 10 biggest baby essentials (plus the 3 month update on each)!