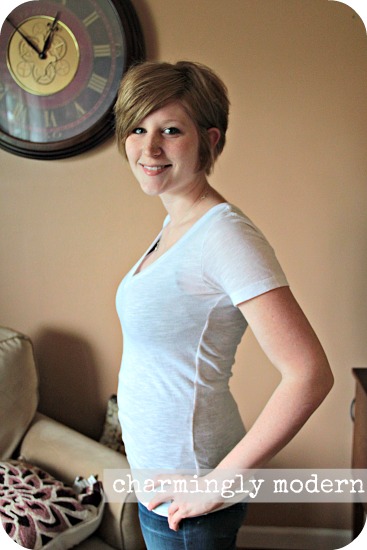 It's been almost a month since having given birth to Ezra and I thought I'd do an update about my post-baby body.
Weight Loss – Throughout my pregnancy, I gained a total of 27 pounds. One week after giving birth, I'd lost 21 pounds. Since I'm breastfeeding, I don't expect the remaining six pounds to come off any time soon. Typically, when breastfeeding, you hang on to 5-10 pounds of your pregnancy weight because your body needs the fat around.
It was pretty crazy seeing the scale go down so quickly. I lost 10 pounds, literally, over night. The thing is, with pregnancy, most of the weight gain is fluid, blood volume and actual baby. So it isn't really surprising that it comes off so quickly!
Skin / Stretch Marks – I was very, very lucky and never got any stretch marks. I religiously used lotion on my belly nearly every single day, sometimes multiple times a day if I was feeling particularly dry. I primarily used Palmer's Cocoa Butter and St. Ives Oatmeal and Shea Butter lotion.
My skin hasn't changed much since having Ezra, either. It's stayed really clear and smooth.
I've heard that breastfeeding and pumping can cause stretch marks on the breasts, so to combat against that I use Palmer's on my chest. I sometimes also use Mama Bee Nourishing Body Oil if I feel like switching it up a little. So far, so good.
"Real" Clothes – I was back into my "real" jeans three or four days post-partum. Granted, I had slight muffin top… but I was still in them! I had measured my hips and waist and I didn't really expand much in my hips – it looks like just a quarter of an inch. My waist is slightly wider but I also haven't lost all the weight I put on. I tend to gain weight in my waist, hips and thighs.
I purchased a couple items to help re-shape my body. I made this choice after trying on all my pants and seeing how they fit me now. Everything fit for the most part, with the exception of two pairs of shorts – they are really tight in the hips right now. I purchased the Shinkx Hip Compression Belt and the Gabriella Abdominal Binder.
I really like both and saw almost immediate results with the abdominal binder. I don't have the muffin top anymore with my jeans, even though I haven't lost any additional weight. I wear the binder at night since it tends to scrunch when you sit and I sit a lot during the day. I wear the compression belt during the day since it isn't effected by sitting. You're supposed to wear the compression belt for the first 8 weeks post-partum. I got it at 2 weeks, so we'll see how effective it is. The binder can be worn for as long as you'd like. I'll probably wear it until the 8 week mark as well.
Aches & Pains – Pushing a baby out is hard work. I felt like I had completed some insane workout that focused on every major muscle group about three days after giving birth. But that pain went away after a couple days. I did have pelvic pain for a few days, but that could have been from the compression belt. It's gone now.
I occasionally have pain where my epidural was. Usually this happens when I bend over and the muscles in that area are stretched. It's not really a pain, it's more like a dull ache.
As I mentioned in Ezra's birth story, I did have a second degree tear. This is a pretty common tear for first time moms. I didn't experience much pain during recovery, though. The stitches used on the tear were dissolvable and never gave me trouble, either. They're long gone now and I'm pretty much healed.
Baby Blues – I definitely experienced the baby blues. The ridiculous swing of emotions due to out-of-control hormones is really difficult to deal with. One moment, I would be so happy and super pumped. The next moment, I was unbelievably depressed and could barely muster up the energy to do anything. I don't think I've ever cried so much in my life as I did those first two weeks.
What helped me with the baby blues was knowing I am not alone – Alex and my mom have been the rocks that have kept me from losing my mind. I don't know what I would do without them, honestly. Now that I'm almost 4 weeks post-partum, things are a lot better. I have the occasional moment where I don't think I can keep going, but just getting an encouraging word from Alex or my mom helps me through it.
(As a side note, if you're reading this and are experiencing the baby blues… just know that it does get better. My sister said something that really stuck with me – nothing is forever. It's true, the blues will pass and become just a blip in your memory. However, if you're still experiencing these feelings and it's been 3 weeks or more beyond your baby's birth, you might be experiencing post-partum depression, in which case you should definitely talk with your doctor.)
So, that's where I'm at with my almost-one-month post-baby body! When I can begin exercising again at the six week mark, I'll start back up with yoga. I'm not big into exercise, but I do miss yoga. Let me know in the comments if you have any birth recovery body-related questions and I'll do my best to answer!