Budget: $70.00
Actual: $57.57
I  can't believe we're already at week 10 – wow! We really needed groceries this week. As you can see… our fridge is pretty much completely cleaned out. After being sick, all of the produce and most of the leftovers in the fridge went bad. Really bad. So we cleaned everything out over the weekend. As you can tell (or maybe it's hard to tell…), all we have to eat now is raw chicken, organic eggs, butter, birthday cake, salsa, yogurt and tons of condiments/sauces. On the bright side, it's fun to start from scratch and now my fridge is super clean.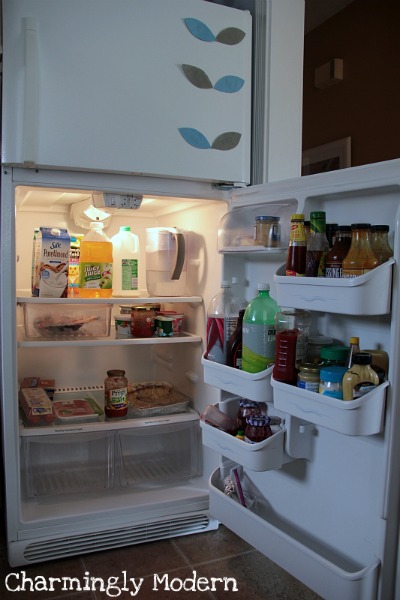 So, here's what we are eating this week:
Wednesday (03/14) – Dinner at my parent's house
Thursday (03/15) –  Using a Panera gift card – yum!
Friday (03/16) – Spinach Lasagna Rolls
Saturday (03/17) – Peanut Sauce Chicken – derived from this recipe, but I've changed a lot about it
Sunday (03/18) – Corn, Bacon & Potato Chowder
Monday (03/19) – Crock Pot Minestrone Soup
Tuesday (03/20) –  Crock Pot Turkey White Bean Pumpkin Chili with White Cheddar Yogurt Cornbread
So, you probably recognize a lot of these recipes from past weeks. After not cooking for a couple weeks, it's hard to get back into it again. I'm just sticking with old favorites to keep it easy on myself and on our wallet.
Though, we are going to have some fun and make this Coconut Lime Banana Bread with some very ripe bananas I've got sitting around. I'm going to use lemon juice instead of lime since that's what I've got on hand.
We were seriously under budget this week… I think it's because the recipes I chose are not heavy on the ingredient list. We didn't save very much – only $6.97. I used one coupon – haha! I think it helped, too, that I was basically only buying for the recipes – my mom had brought us snacks and paper products last week so that was a money-saver for us. On top of that, my in-laws gave us a few boxes of Girl Scout Cookies so we didn't need to buy anything sweet. We'll see how next week goes.
Next week I've got to get started on my freezer meal goal otherwise we will have a totally empty freezer by the time baby arrives. We're looking at exactly 30 days yesterday from his due date – can't believe it!
Check out how the other participating blogs in Project: Food Budget did this week:
*If you want to see my other Project: Food Budget posts, click here! Or to find out where Project: Food Budget came from, click here!*