Budget: $70.00
Actual: $45.88 
Once again, another super under budget week. But I can't take credit for working magic with coupons or sales… the plain truth is we ate out so much over the week that I only made three of the seven meals I'd planned! So, that left four meals for this upcoming week and only three additional to plan for.
It worked out, though, because it enabled us to stock up on snacks and protein bars for when the baby is here.
Here are our meals this week:
Wednesday (03/28) – Ate out, IHOP
Thursday (03/29) – Ate out, BW3s
Friday (03/30) – Breakfast for dinner – pancakes, turkey bacon and hashbrowns
Saturday (03/31) – Spinach Lasagna Rolls
Sunday (04/01) – Sweet Potato, Black Bean, Chicken and Corn Chili
Monday (04/02) –  African Peanut Stew
Tuesday (04/03) –  Corn, Bacon & Potato Chowder
I am really, really disappointed in how poorly we have done in terms of cooking versus eating out for the month of March. We were on such a good stride through January and February but then I got sick at the start of March, my energy plummeted as the pregnancy has gone on and, honestly, that's still why I haven't cooked much. I am just so tired by the end of the day that the last thing I feel like doing is standing in the kitchen and cooking.
For these last couple weeks before the baby arrives, I'm going to try to make dinner in the morning. I know that sounds weird, but if I can make it earlier in the day then refrigerate it I think we have a better shot of eating at home. I have a ton more energy when I wake up… it peaks around 5pm and after that I just want to go lay down and sleep.
Since this week's grocery shopping trip was the last one for March, it's time for the March recap!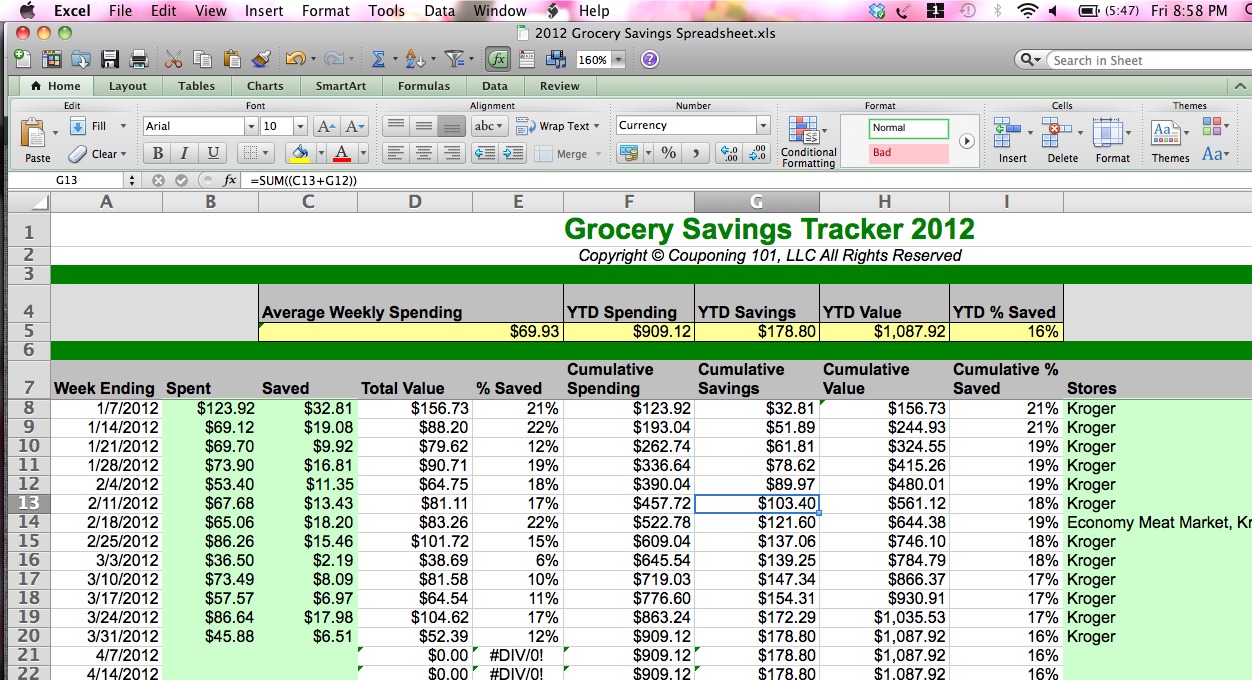 (Click image to make it larger)
There is some good news for March – we managed to get our weekly spending under $70/week. Looking at the numbers above, which (obviously) include grocery trips from January to this current one, our average weekly spending is $69.93. When I remove January and February's numbers to just take into account the activity in March, our average weekly spending is actually $60.02. In February, our average weekly spending was $68.10 so we did a great job in reducing it! We've gone from $84.16/week in January down to $60.02. That's nothing to sniff at!
Our year to date grocery spending is now at $909.12, with YTD savings $178.80. In February's recap, we'd saved $137.06, so in March we saved a total of $41.74. Not bad considering grocery trips were pretty unorganized.
In the month-to-month comparison, January had us spending $336.64 total on groceries, February was $272.40 and March's grand total is… $300.08. Bummer. Our budget was $280.00, so we went $20.08 over. That's what happens when you don't plan your grocery trips, though!
In the overall progress of Project: Food Budget as a whole, this week was actually the halfway point for those who started with the project at its beginning (back in October last year). Emily, the organizer of the project, asked us to include some lessons we've learned so far since participating in the project, so here are five lessons I've learned:
Do not go grocery shopping without a plan! If you do, you will probably overspend. Or, you'll underspend but then realize you forgot a ton of things you needed so you'll have to back for another trip and that trip might put you over budget.
Coupons are not scary! It's true – they really aren't. They are only as complicated as you make them. I have really enjoyed figuring out how to best use them and attempting to increase the number I use per trip. It's as simple as checking out the sale ads and making sure your coupons match up with what's on sale.
You don't need as much as you think you do! Since starting this project, we have bought a lot more cleanly. Meaning – mostly produce, meat and that's about it. We do buy some processed foods, but the number we buy of those items is drastically less than what it used to be. It just isn't true that you need to pack your cart with junk in order to keep everyone in the house happy. In fact, I much prefer now to grab some fruit and make myself a smoothie than open up a candy bar as a snack.
Meal planning is not difficult! And it also isn't very time-consuming. I'm the kind of person who does not like to repeat recipes. I really love using dinner as a time to wow Alex and make him excited about what we're eating. I think this is because I love eating out so much. But even with all the recipes that I look up and buy for, it isn't difficult to keep track of or time-consuming to lay out for the week. Pinterest really helps with this, but so does having a good stock of cookbooks that have a lot of recipes you are excited about. I think the excitement is key. Sometimes I will pick a recipe because I think it's something we should eat, but if I'm not excited to make it I never make it.
It helps to be held accountable! Blogging weekly about our spending is really good for me because it forces me to keep track of it. If I had started this project on my own, alone, I probably wouldn't have stuck with it…or I would have fudged numbers to make myself feel better. It definitely helps to blog and get feedback, and see how others in the project are doing to. I highly recommend getting involved with a group of like-minded people if you're starting any kind of project that would be a big change from your normal, everyday life/habits.
So those are the lessons I've learned! If you've been following along with me and trying this out at home, what are some lessons you've learned in saving money and grocery shopping on a budget?
Check out the other participating blogs in Project: Food Budget
*
If you want to see my other Project: Food Budget posts, click here! Or to find out where Project: Food Budget came from, click here!*