I've been trying to come up with some monthly features that I could easily keep going. An idea that came into my head was an "If I could have a redo" feature, which I'm going to called "Revisiting". Alex and I have been tossing around the idea of getting wedding photos redone so I've kinda got "redo" on the brain, you could say. I thought I could approach the series each month by singling out an event or something that has happened in my life in that same month in the past and thinking about how I'd do it now, if I was doing it all over again. I don't want to approach this like I was previously unhappy with what had already happened, but rather an excuse to come up with some fun, new ideas for an event I probably won't get to repeat any time soon.
So, without further ado, here's February's Revisiting – A February dinner party
Back in 2009, Alex and I were members of a meetup.com group called the Cincinnati Gourmet Dinner Club. There were about 20 of us and we took turns hosting monthly dinners in our homes. The number of people you hosted depended on your house and how many you could comfortably entertain. In our case, we had about 12 or 14 people attend (can't remember exactly). At the time, we were living in a Civil-war era apartment downtown, so squeezing that many people into our front living room was quite a feat. I don't have a good picture of the room we set the table up in (or a picture of the table, for that matter… major bummer), but I do have a picture of our small kitchen: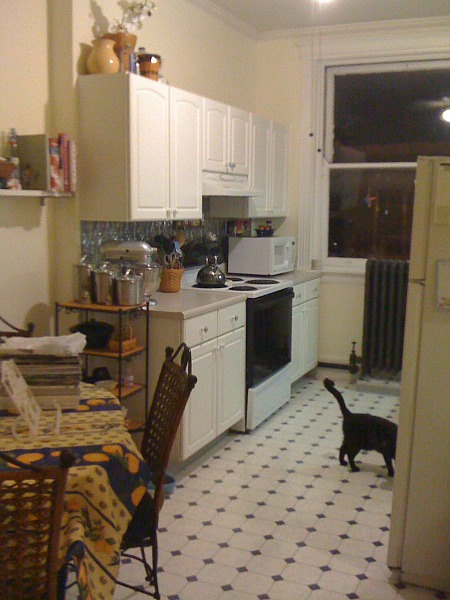 It was a galley style kitchen and, if it had a middle name, that name would be "cozy." I actually really loved that kitchen, despite it's limited counterspace. The radiator right smack in the middle was amazing on cold winter mornings. I do miss that.
Anyway, when it was our turn to host a dinner party we chose the month of February. It was set to happen right around Valentine's day, but a snowstorm derailed those plans and the party was rescheduled to February 21st. We kept with the Valentine theme, though, because I had bought every guest a vintage valentine from the antique mall and didn't really want to keep those for myself, haha. On top of that, my color scheme was metallics + deep reds and if that doesn't say "Valentines" I don't know what does.
This dinner party marked the first time we got to use our entire set of fine china we'd received as wedding gifts. We were really lucky and received everything we'd registered for from the set with the exception of a platter and one place setting. And it just so happened that a couple weeks before the party, Macy's ran a huge sale on home items and I was able to get those missing pieces at a nice discount. Our pattern is Lauren Ralph Lauren, "Silk Ribbon Pearl" and I still love it. I keep a few pieces out on display in our kitchen, as well as two place settings in case we ever feel like dining on something fancy (because mac n cheese just tastes better on an expensive plate).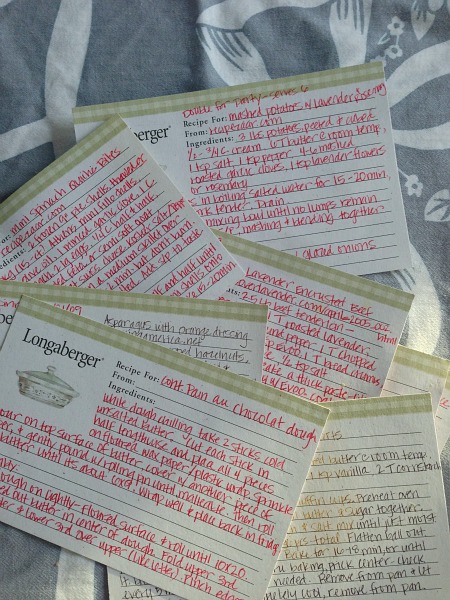 I remember agonizing over the recipes. Since this was a gourmet group, I tried to go big. My menu was –
Appetizers –
Gruyere and brie cheeses with crackers
Mini spinach quiche bites
Starter –
Tomato basil bisque
Main course & Sides –
Lavender encrusted beef medallions
Asparagus with orange dressing
Mashed potatoes with lavender & rosemary
Mushrooms in a red wine sauce
Dessert –
Pear galettes with chocolate sauce
Shortbread tarts with lemon filling
Without a doubt, it was the most ambitious dinner I'd ever created. I was pretty proud of how everything turned out – I'm a damn good cook, if I do say so myself! – and it was so much fun entertaining and enjoying the company of new friends. Although there was an awkward moment where one guest (who was the date of one of the club members) started talking about his divorce…to all of us…who were complete strangers to him. It was weird. And I'll also say, it was my first time cooking beef ever and I was a nervous wreck about it being done just right. Not to mention I was using kitchen-grade lavender, which I had also never used. I had done a practice round a few weeks prior and it turned out really bad. Like inedible. And that was the first time I'd ever made anything inedible (since then, I've made another inedible dish that featured tofu… so that brings my inedible tally up to 2). But thankfully when it came down to the night of the party, everything went off without a hitch.
Anyway, if I had the chance to host this dinner again, here's a little moodboard I cooked up of how I'd set the table up the second time around –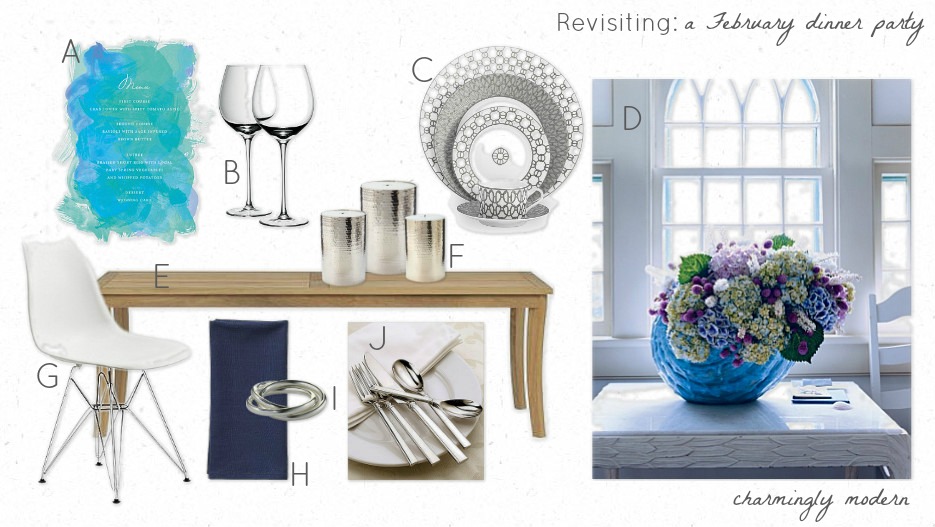 A – Aquarelle Menu Card from Minted.com, $2.56/card
B – LSA Red Wine Glass (set of four) from Occa Home, $67
C – Silver Thread by Hermes (5-piece place setting) from Michael C. Fina, $855
D – Shell arrangement by Martha Stewart
E – Arbor Rectangular Dining Table by Crate Barrel (sadly, this table is no longer available, but a similar one can be found here)
F – Lazy Susan Large Hammered Pillar Candles by Zinc Door, $60 (silver and gold)
G – Spire White Dining Chair by Zinc Door, $173
H – Cross Dye Basic Napkin in Medieval Blue (set of four) by West Elm, $16.00
I – 3-ring Napkin Ring by Crate & Barrel, $3.95
J – "Shaker" Flatware Set by Oneida, $125 (service for 8)
Obviously, that Hermes five-piece place setting is beyond out of my budget (lol, I mean seriously, $855 for plates??) but… it certainly is beautiful!
For the menu, I'd keep the same appetizers, dessert and main dish but I would change out the starter and the sides. Instead of tomato basil bisque, I'd lighten it up and do a spring mix salad tossed with tart apples, blanched almonds, crumbled goat cheese and topped with a balsamic vinaigrette. The sides I'd do the second time around would be Garlicky Spinach with Red Peppers (I would not include the peanuts or raisins) and Roasted New Potatoes with Thyme (I wouldn't include the garlic; I'd swap it out for rosemary). I'm getting really hungry thinking about all this!
I'll share my Pears Galettes with Chocolate Sauce recipe from that night. It was a huge hit and just reading the card over makes me want to whip some up this weekend. In the pic above, there's a card for pain au chocolate dough which is what I was originally going to use for the galettes, but I ran out of time and needed something a little simpler so I went with a pre-made pastry dough.
You'll need –
1 12oz puff pastry, ready-to-bake (Pillsbury makes a puff pastry crust)
1 1/2 ounces plain bakers chocolate, chopped into pieces
Flour to dust
2 ripe pears (not totally squishy though), cored and cut into thick slices
Ground cinnamon to taste
6 level tsp of dark brown sugar
1/4 pint 1% or 2% milk (you could also do whole but the sauce will be a little more thick)
Instructions –
Place baking sheet in 390-degree oven. Unroll dough onto lightly floured surface and set aside chocolate pieces. Using a cup or circular cookie cutter, cut out 6 circles roughly 4″ in diameter. Place on a second baking sheet.
Arrange pears on top of the dough and sprinkle with cinnamon and 1 teaspoon of sugar (per pear)
Place second baking sheet on the one in the oven and cook 6-8 minutes, or until the dough is golden brown
To make chocolate sauce – bring milk to a boil then whisk in chocolate pieces. Bubble for 3 minutes or until the sauce is syrupy.
Dust cooked galettes with additional cinnamon if desired and drizzle with warm chocolate sauce
Enjoy!