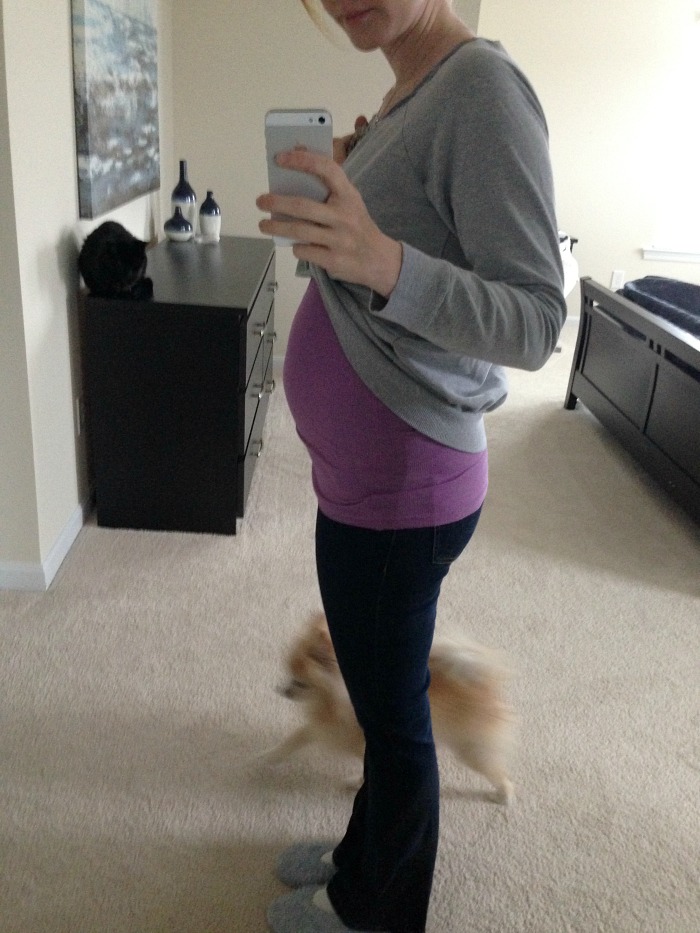 Second Baby Bump Progress – 18 Weeks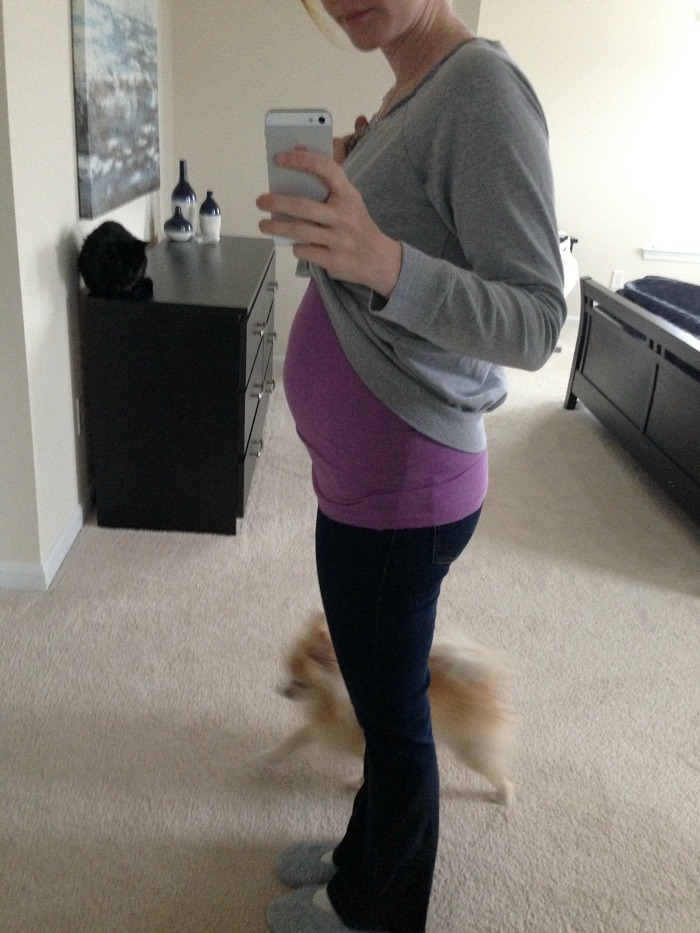 December 12th – December 18th
18 Weeks
How big is baby? Baby is the size of a sweet potato…which really varies in size, but according  to The Bump, the baby is 5.6″ long and about 6.7 ounces. So not much change in length, but the weight's gone up. Side note, but I hope you enjoy Aslan running by behind me, my house slippers, and Caspian crouched on the dresser behind me.
How I'm feeling? Honestly, I'm physically feeling great but psychologically I am feeling like a whale! I don't know why I feel so huge because when I look at this picture, I look fine. It's a trip watching your belly change so much. Apart from that, though, I'm still thanking my lucky stars that morning sickness has moved on and I'm enjoying not being sick 24/7.
Oh, I have noticed that my skin is drying out like crazy. I distinctly remember this same issue the last time I was pregnant. I'm not making the same mistake I made last time, which is trying a bunch of different lotions and giving myself a crazy rash. This time, I'm sticking with cocoa butter because it's what ultimately worked best last time.
Any cravings or weird dreams? I'm starting to crave fruit and salads. Huge salads. Like, bowls the size of … huge bowls. Filled with piles of lettuce and all sorts of toppings, covered in honey mustard or some other delicious dressing. Salad.All.Day.Long.
No weird dreams – yet. I know they're coming though.
Any other details? We found out on the 13th what the sex of this baby is! But I'm not sharing just yet because I want to come up with a cute photo to do so. I have my December appointment on the 22nd so they'll have me schedule my anatomy scan at that time. I'm just going once a month for now. I can't remember when it switches to every two weeks, but I think that's late in the second trimester, or maybe the first part of the third trimester. According to that elective ultrasound, though, the baby is growing at a good rate and measures spot on for the weeks that I'm pregnant – yay!
The other big news is that Ezra can now climd out of his crib. Yikes! He has never really attempted this before, but had done it two times in the past (there were incidents that were far apart). One afternoon, I heard a thump from upstairs, some footsteps running and a doorknob jangling. Then I heard, "I escaped from my nap, mimi!" (my child calls me mimi, because I always called myself mommy…so he just started repeating the last syllable of that word). Then the next morning, he got himself out of bed when he was up for the day. We'll see where this goes, but I have a feeling we'll be moving him to a big boy bed a lot sooner than we anticipated. But, the positive is we won't have to buy two cribs.