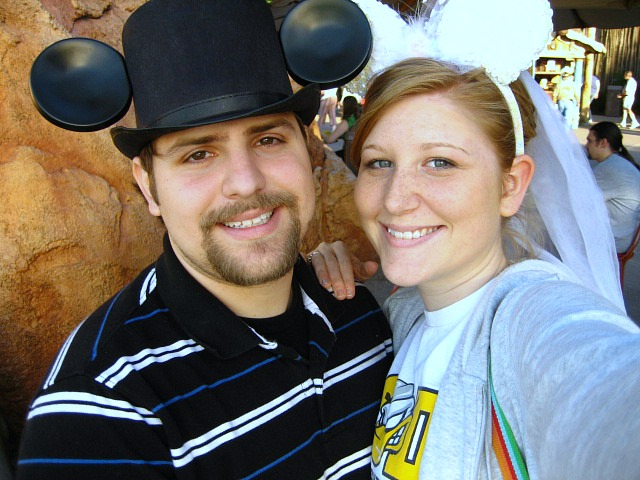 When we were married in 2007, we had no idea.
We were 23.
We had no idea that we wanted children, how to make a budget, what it meant to plan for anything. We didn't make our bed every day, stay on top of the laundry and sometimes I bought books instead of food.
We had no idea how much we loved one another, or how much we depended on each other. There were fights and loud voices, there were slammed doors and big sighs. There were tears. But there was also laughter. Oh so much laughter. And smiles, and hope and dreams.
We were 23. Practically children, we had no business starting a life together. But we did it anyway. Fresh out of college, fresh in our relationship, we made it work.
We make it work.
Now we are 29. We have a child, we budget, we plan, we make our bed, we do the laundry, we still buy books but we make sure there's money for food too. Life has changed us and I look at our faces from 2007, when we were on our Honeymoon at the happiest place on earth, and there's a lightness. I can tell we had no idea. I can see it in our eyes, and our smiles. I love this picture because I can just tell we had no idea what the future held, but we were okay with that.
I wouldn't go back to that unknowing past. And I wouldn't change our past, because I love our present. We've made choices that have brought us to this point where we are and, while sometimes I feel like the only certainty I have is the man standing beside me, I wouldn't change anything about our story.
Because it's our story. We write it every day, with our whispers, our looks, our thoughts, our frustrations, our excitement and our words. Some days we write more than others, but as we close each year, we have one more book to add to our shelf and when I look at the six volumes we have stacked up, they're perfect and full of promise. I look at the stacks and stacks of books yet to be written and I can only imagine where they will take us.
We celebrate six years on December 1st. Six anniversaries, 4 jobs (most of those mine…), 2 pets, 1 child. Countless seconds, moments and thoughts. Being married is complicated and wonderful, it's hard but it's simple. It's a choice and it's a commitment. It's taken me six years to even begin to scratch the surface of starting to appreciate the man I allowed to capture my heart and build a life with. What will it be like six years from now?
I'm writing this on a Sunday night, while we are doing one of the most mundane of things – sitting on our couch, watching our Sunday shows, slurping milkshakes and winding down from a busy weekend. Our dog is on his pillow, on the table behind the couch. Our cat keeps a watchful eye while snuggled at my side. Our baby peacefully sleeps in his crib. This moment is our life, the simplest of happenings but the most beautiful, too.
Beneath all the quiet, we are always writing those words in our story.