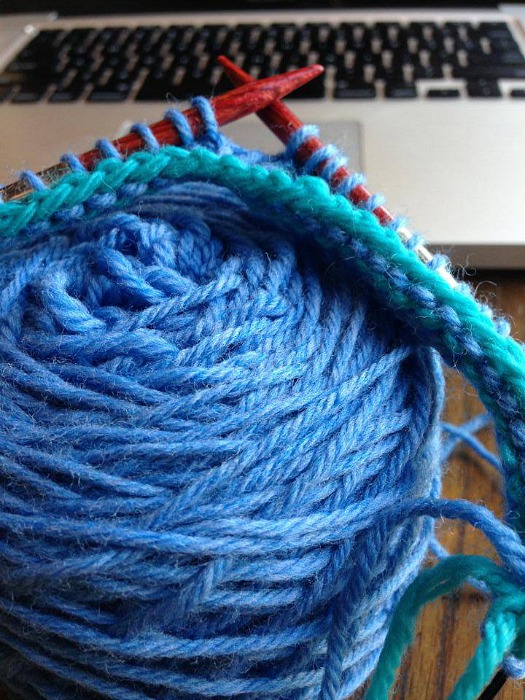 Reading – Not much. Mostly things about finance, selling and buying homes and budgeting. But I'm a nerd so I get excited to read about those things. I do have a few books waiting to be read but my hands are so occupied with knitting lately that I find it almost impossible to turn pages 🙂
Knitting – Soakers galore! I've worked with a mom co-op a couple times and am currently fulfilling my second order with them – 43 soakers! My largest order to date. In fact, that's what I was working on in the picture above. It will be an extra large soaker, in Boy Blue Heather (Valley Yarns) trimmed with Blue Hawaii (Cascade 220). I love that color combination!
Watching – Since my hands are so occupied lately, I've been watching a lot of stuff. Devious Maids (hello throwback to Desperate Housewives season 1), Drop Dead Diva, The Killing, The Bridge, HawthoRNe (on Netflix Instant) and the Bachelorette. I've never used my iPad so much for tv watching as I have these last few weeks.
Listening to – A ton of podcasts on all different topics, but regularly The Dave Ramsey Show and Bible over Coffee (a new favorite, of which there are only three episodes currently but hopefully more on the way). I also just discovered a podcast where each episode is a chapter of a book which I thought was a great use of that format. Unfortunately, I didn't like the way the book was going so I stopped listening but I'm sure there are more podcasts out there like that one and I hope to find something.
Thinking about – Still – always – thinking about our upcoming move which has a more concrete date now of Summer 2014. I couldn't be more excited. We've really made a lot of progress on our list (which I need to update about) and are in a position to be completely debt free (with the exception of our current mortgage) by the end of the year. I can't wait!!
Loving – My friends. How did I get so lucky to be surrounded by such a solid group of women? I have no idea, but I thank my lucky stars every day for them.
Looking forward to – … moving! Haha I know I've said this twice now, but I'm just so excited to get into a new, bigger house. This house has been so great for this season of our life, but it's time to move on and there are just a few little things holding us back. Once we've moved, I feel like we can start this next great chapter of our lives and I can't wait for it.
Making me happy – Ezra! He is such a blessing, every day. Sometimes I can hardly believe he's mine. I don't know what I did with my time before him, I really don't. Now I know what the Psalmist meant when he said children are a reward.
So that's what I've been up to! Not a lot, mostly knitting. Once I've fulfilled this order, I'm looking forward to focusing on blogging. I love using my fingers to knit , but they sure are itching to write.