This was a busier weekend than I thought it would be.
We had nothing on the calendar – for once! – but time has a way of getting filled up whether you plan for it to or not.
Friday night I hung out at home and did a lot of this: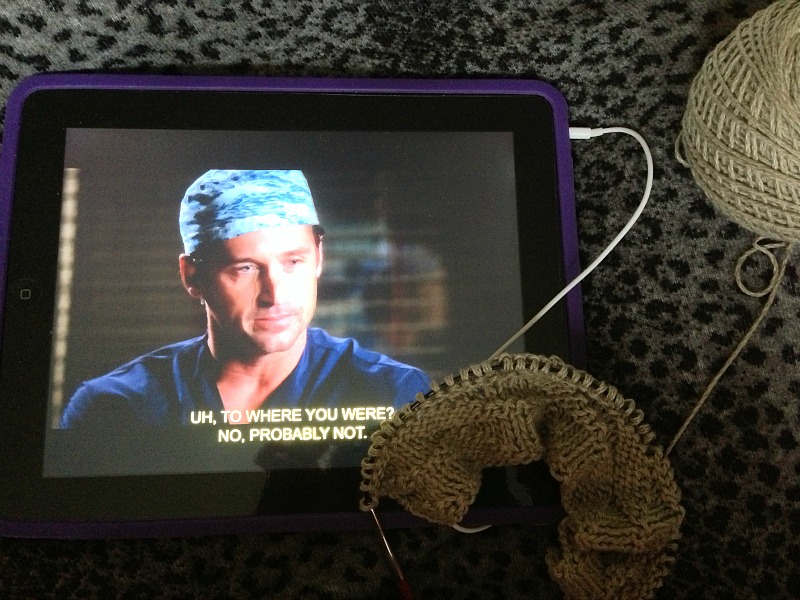 I'm a little obsessed with Grey's Anatomy right now. I realize I'm about 9 years late to this party, and I'm okay with that. Because I have the advantage… I get to watch it straight through, back to back episodes, as many as I want, whenever I want, thanks to Netflix instant while everyone else who jumped on the bandwagon from the start had to wait a week between each episode! So, clearly I win. Of course, I'll be in the same boat as everyone else when I finally catch up … but I just don't think about that part.
I'm working on knitting up a few items for a Mommy & Me package I want to add to my shop, so that's what's on my needles in the picture. I'm testing out an organic cotton yarn. It's unbelievably soft and I kind of want to make myself some socks with it.
While I was on a Grey's and knitting bender, Alex was doing a lot of this:
That's not his guitar or amp in the picture, but he was playing electric guitar with a couple friends. I would have taken a picture of his guitar and amp but, frankly, it's late and I don't feel like going down to the basement to get a picture, haha.
Ezra missed all this excitement as he was sleeping at the time but, earlier in the day, he was on a destruction kick. Mostly aimed at the cat's cardboard scratcher box.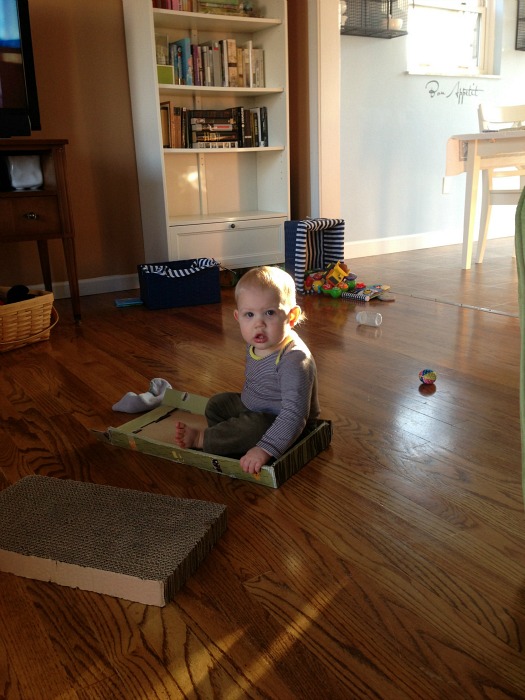 Saturday was supposed to be a day of relaxing but instead it turned into a day spent at the car dealership. Well, really just a morning spent there. Alex and Ezra hung out at home while I took one of our car's to get serviced. It was supposed to be a 45 minute service but it turned into a 2 and a half hour one because we actually needed the 60,000 mile tune up. Thank God I had brought my laptop and knitting with me. I seriously was tempted to take advantage of their free wifi and stream Grey's, but I restrained myself. Instead I listened to some podcasts.
By the time Ezra woke up from his morning nap, I was still at the car dealership so the two of them came to pick me up and we all three grabbed lunch at Panera. Panera has these new pasta dishes and I was so excited to try them because, finally, there was something new at Panera. There are three different kinds and, a couple weeks ago when we were there for dinner, Alex and I both ordered the pasta bolognese. The employee taking our order asked me like five times if I wanted to add a salad or soup to our full size pasta dishes and I told her every time, no I don't want anything else just the pasta please and thank you.
The employee had a reason for asking us multiple times if we wanted to add on anything. The portions are so small. And we got the big size. So, needless to say, I have not ordered the pasta since then and this was a very long digression about carbohydrates.
After lunch, we picked up the car and headed home for some playtime. For some reason – growth spurt? Teeth? World domination? We'll never know – Ezra took a huge nap in the afternoon. After almost two and a half hours we finally woke him up so we could eat some dinner. We met my parents, my sister and her boyfriend at a local restaurant called Rima's Diner. The food was pretty good, but mostly it was good to see my dad since he's going out of town for a little bit on a business trip.
This morning, we should have gone to church but when I woke up I was so tired. Like, bone tired. For the past month or so, Ezra has been waking up consistently at least one time a night – anywhere from 12:30am – 3:30am. Suddenly, he stopped doing that and last night was the third night in a row of him sleeping straight through until wake up time. But, I keep expecting him to wake up at any moment during that three hour window so I had been staying up. I feel like the second I go to bed early, or start to fall asleep, fate will conspire to wake my child up and I'll have to get up and rock him back to sleep again.
I'm not even complaining about the waking up – It only takes about 10 minutes and it's pretty much the only snuggle time I get anymore – I'm complaining that I wish babies were more predictable, haha.
Anyway, we missed church and instead had lunch then ran to Joann Fabrics to get some fabric to make decorations for Ezra's 1 year birthday party, which is coming up soon.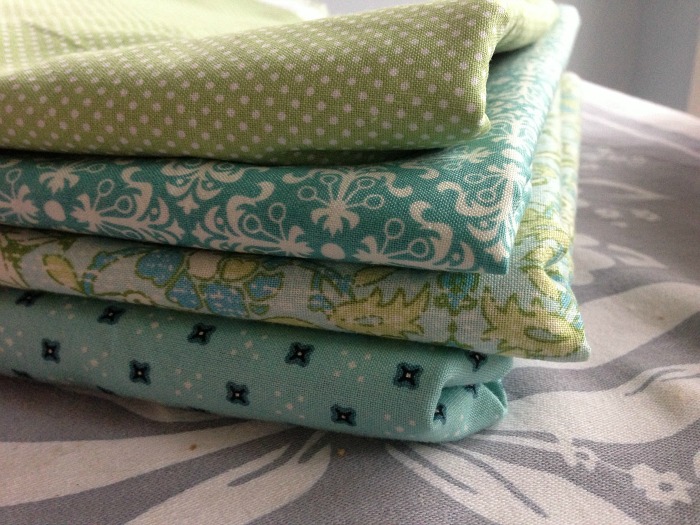 I'm going to be making several bunting banners. I cut out a few of the triangles this evening and I realized I bought way way way way too much fabric. So, I'll have to find a use for the extras. Maybe throw pillow covers since it just so happens all of these fabrics would look great in my living room.
After Ezra's second nap, we went to the grocery store. I've been needing to go there all week but kept putting it off and putting it off. We were down to bare bones – I'm talking having to cobble together weird meals and snacks like pretzels dipped in sour cream or graham crackers with butter.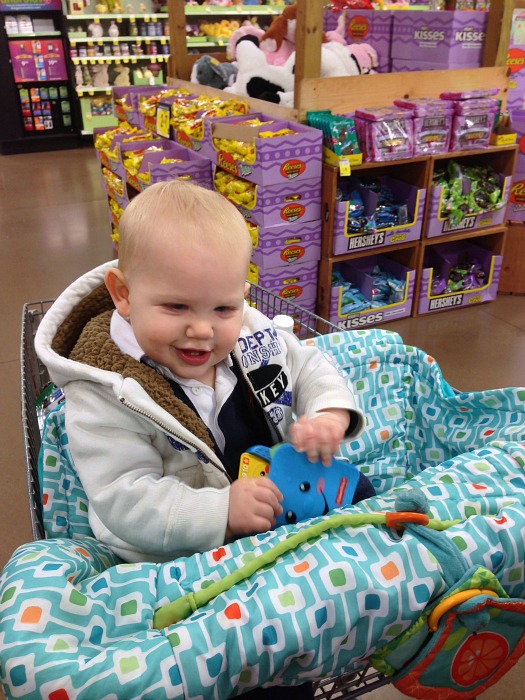 We successfully avoided buying any of the Easter candy that was everywhere tempting us.
Now, the weekend is over and Alex and I are relaxing on the couch. He's watching The Walking Dead and I'm counting down the minutes until this episode is over and I can pop in my headphones, break out the iPad and watch more Grey's. I told you it was an obsession!
How was your weekend?