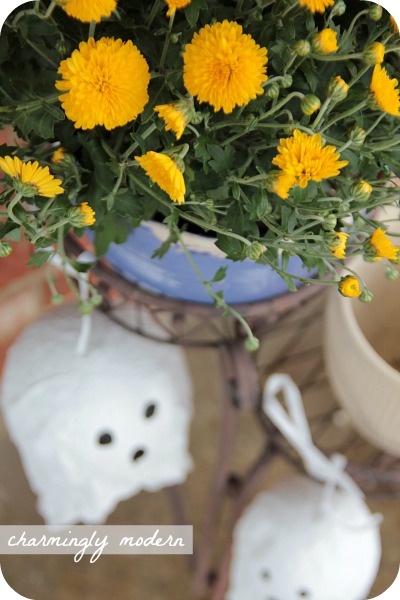 Welcome Autumn 2012
I've said it several times around here lately, and it's still true… I am so excited for fall!
This past weekend, we hit up Home Depot to grab some mums for our front porch. I also snagged up two bags of gourds to use around the house as decoration (and photo props for Ezra's upcoming 6 month photo shoot!).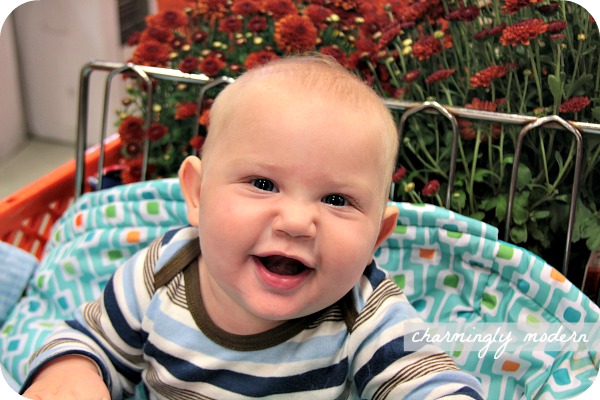 The day we got the mums – Saturday – was Ezra's half birthday. He was a very happy fellow, as you can see!
We got four bunches of mums, only $4.00 a pop (!!) and I just popped them into pots I already had sitting empty on the porch.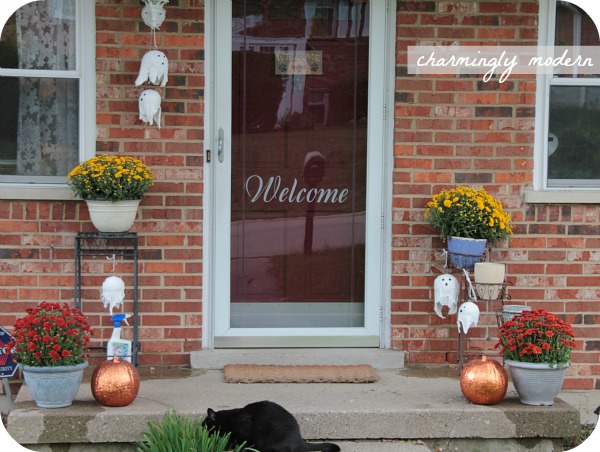 Please excuse the following:
The water spots on the porch from me watering the plants right before snapping this photo… fail. Should have waited. Duh.
The cat eating on my crocus plant that never blooms. Probably because the cat eats on it all year long.
The bottle of roundup I forgot to remove, that's sitting under the plant stand on the left side of the door.
The reflection of my mailbox in the glass door. Who knew your door could be too clean???
You might remember the ghosties from last year. I made them myself and think they are absolutely adorable. I'll have to put together a DIY tutorial because they are quite easy to make! This is my third year decorating with them. I must say, they have held up quite well. One had a smashed in side but I was able to pop it back out again, thank goodness. The glitter pumpkins are also in their third year of survival. They aren't made to be outdoors, but they have held up beautifully over these last 3 years. I got them at Michael's. They probably have them for sale every year.
And now, the artful closeups: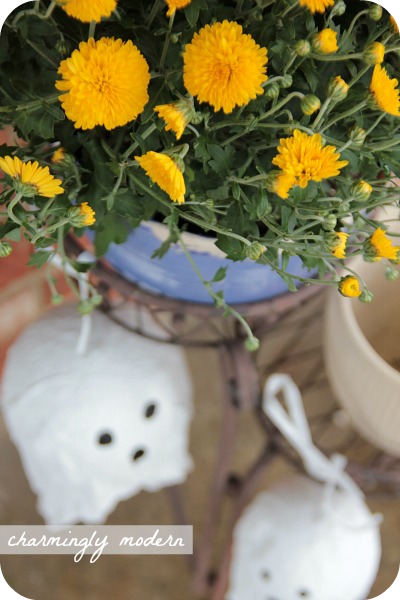 I can't decide which I like better – the yellow or red mums. They're both so pretty this year. Although I think I like the orange ones best. Home Depot didn't have any of those though.
What's funny about the picture below is this particular pot of mums is now sad and dilapidated looking. I don't know what it is about this side of the porch, but everything dies on it. Without fail. I've talked about this before…it's why I plant nothing in that flower bed. I suspect it's a lack of sunlight issue, since there is a giant maple tree blocking all the sunlight. I've moved this pot to the other side of the porch, and sacrificed symmetry in the process, to test my theory.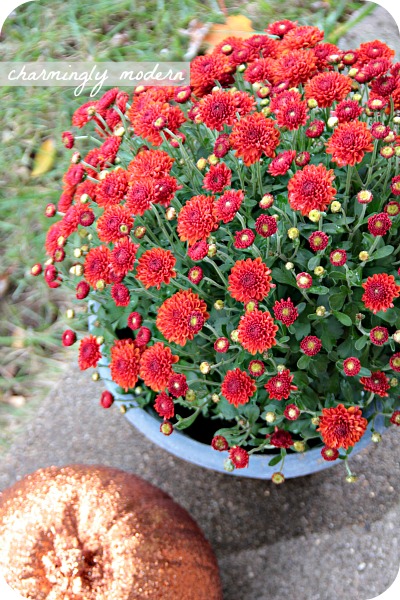 While I was sprucing up the outside, I decided to trim back all the lavender and bring the blooms inside to put in my kitchen table vase. The lavender really exploded over the summer. There are two plants and they are two years old now. I hardly know what to expect for next year. I'm glad they spread, though. That was my plan when I put them in the flower bed…hoping they would take over and I'd have less area to cover for planting.
Not that I plant anything.
Anything that lives, anyway. haha.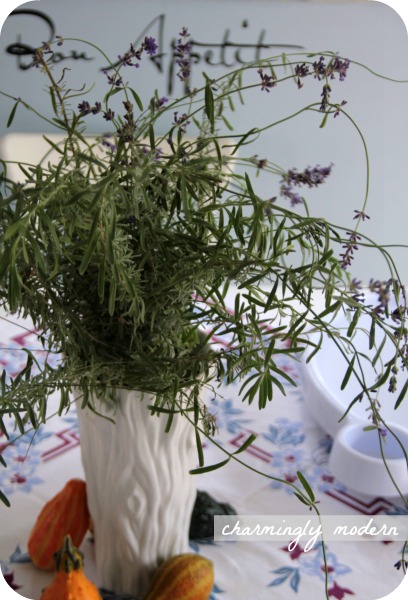 You can see some of the little gourds I picked up, as well as the vintage tablecloth I put on the table. I have several of these that I like to cycle in and out throughout the year. I can't wait to see my Christmas one again. It's so cheery!
Funny story: the "Bon appetit" on the wall in the background is below a windowsill. My cat often sits on this windowsill and gazes at the world. He taps his tail on the wall, usually hitting a few letters. Alex and I joke that it's his way of communicating with us. We watch what letters he taps and see if it spells anything. The closest he's come to spelling anything is this – "an app" But he never told us what app.
Maybe that wasn't so much funny as weird? You be the judge!
Anyway, there you have my fall decorations. Welcome Autumn 2012, glad to have ya!