Our first house was on the small side – only 1,000 square feet – and we were pretty limited in what we could do space-wise. We really loved that little house, but after our son was born things began to feel a little more cramped – because, toys! Until we were ready to upgrade to a larger home, in the words of Tim Gunn, we had to make things work. Our biggest "make it work" challenge for our first house was the living room.
Our living room had to double as our playroom, because we only had three bedrooms (two of which were used as bedrooms, and the third was a home office). Even though the basement was finished, we spent most of our time upstairs, because the living room was right off the kitchen and when you have a baby who is napping frequently, it's just easier to stay closer to where the bedrooms are. Not to mention, I am weird in that I just really need natural light all day long and the basement in our first home only had one small window.
So, my job was clear – setup a playroom and living room in one space, while keeping it kid-friendly but also adult-like for when the kid is asleep. Oh, and all of that put in a really small amount of square footage plus zero budget for new furniture and a very small budget for accessories.
It turned out to be a really good challenge for me because what I learned was invaluable – I learned about proportion of furniture to a room, about evaluating furniture from both a showpiece standpoint and a functionality standpoint, and I also learned about the art of illusion.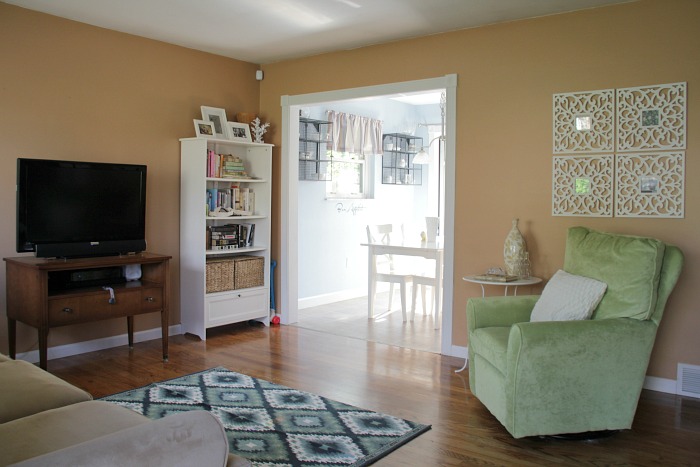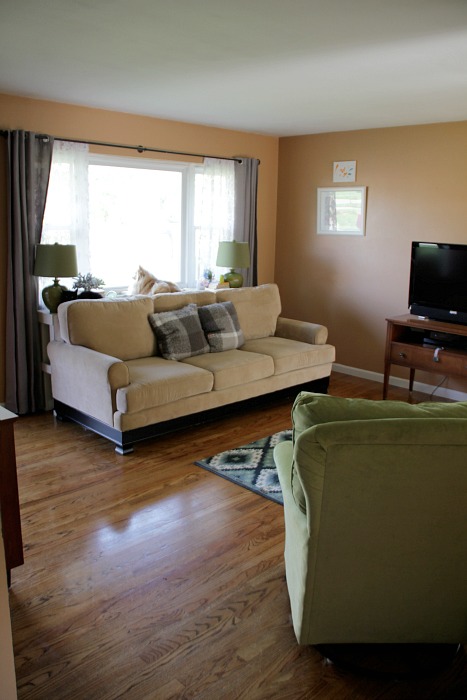 You can't see any toys, huh? It doesn't even look like a kid lives here. Let me tell you how I did it –
Here's how I did it:
I swapped out large, less functional pieces of furniture for ones that looked good + offered a ton of storage.
The best example of this is the white bookshelves I had in our "entry" (which I'm putting in quotes because we didn't really have an entry… you just kind of spilled into our living room once you were through the front door). This is what I used to have in our entry –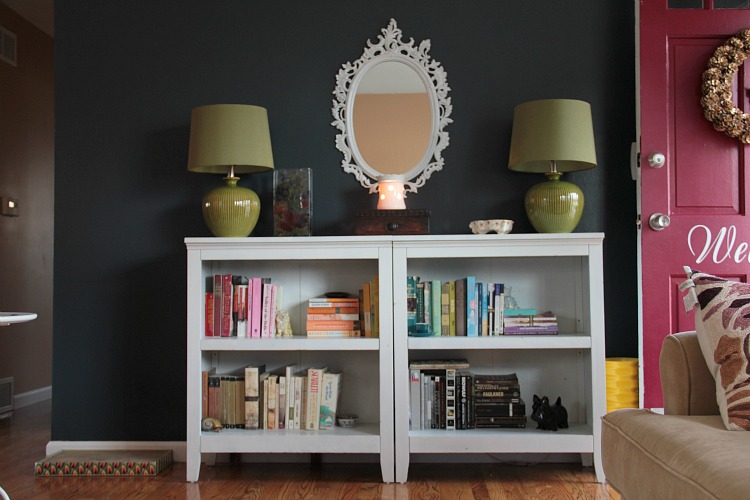 You can probably guess everything on the lower shelves didn't last very long when our son became mobile. And you would guess correctly.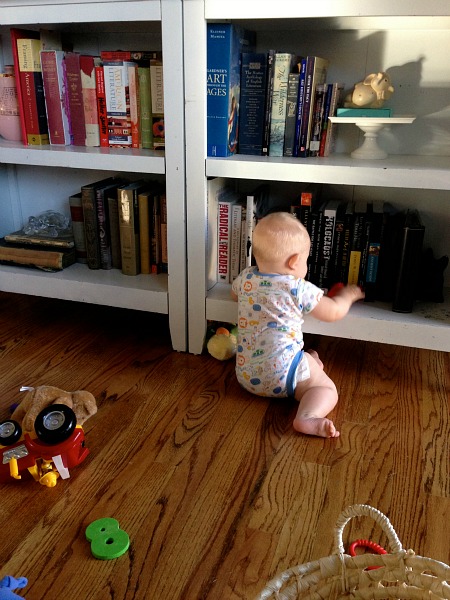 Before I removed the bookshelves, I gave them a fair shot. I cleared everything off the lower shelves and bought a few baskets from Home Goods that I could store baby-friendly things in that would be at his level.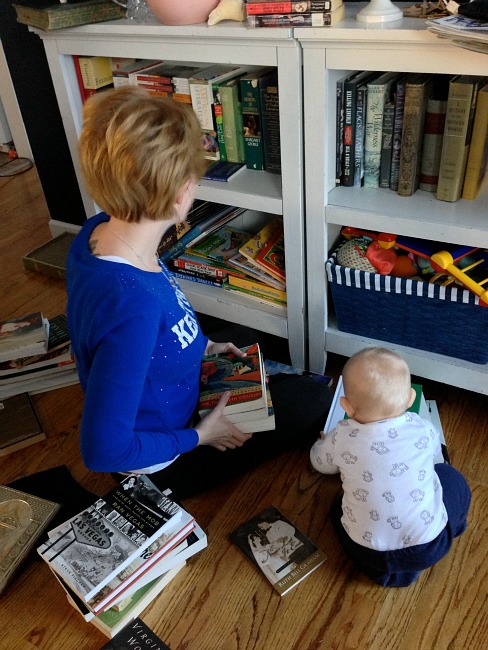 This worked for awhile but I started to really dislike the look of it; the baskets had no lids so the toys were still visible when put away and it started to feel like we were living in a miniature toy store. And while I really don't mind my house looking like Toys r Us when my little guy is up and playing… when he goes to bed, I like to relax and feel like the living room is a peaceful place.
In the nursery, we had a set of dressers one of which was a 2-door cabinet with two shelves in it. It wasn't really doing much good in that room so I brought it out to the living room. I divided up the bookshelves and temporarily kept one in the living room and the other went into the nursery for more book and toy storage (but both ended up back in the nursery as my son's library grew!)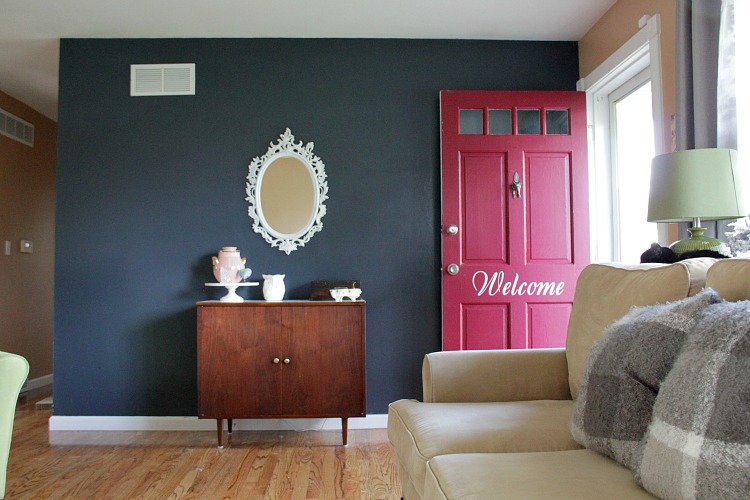 This cabinet is vintage Eames-era and is actually the third part to a dresser that is connected together with a vanity table (which can be closed, turning it into a super long desk). This piece is timeless and was an awesome Craigslist score (only $150 for all three pieces!).
It is surprisingly roomy inside and is perfect for holding all sorts of boy-type things –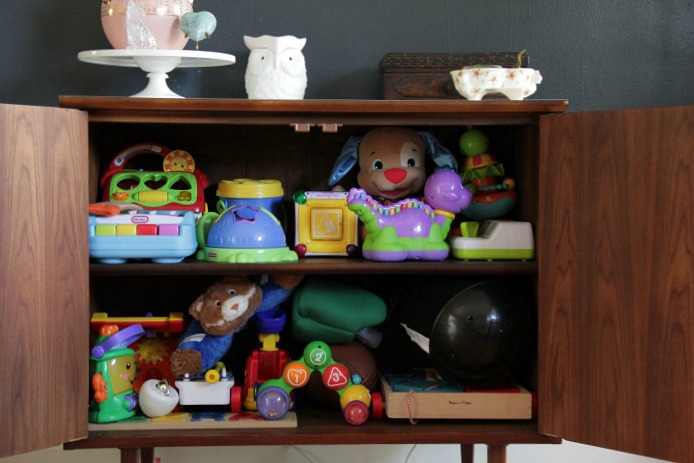 I kept all of the big toys in this cabinet. Cleanup was super easy; just toss it all in and shut the door. Can't get any better than that!
Similarly, I de-cluttered the long wall of the living room to make more play space and more negative space.
We got rid of an oversized chair that was in that spot, and bought this glider on Black Friday 2012. For a little while, I had one of the white bookshelves that had previously been in our entry beside the new chair, but it eventually became a baby magnet so it had to go. I swapped it for an IKEA side table that I had bought a few years back. Both pieces took up way less room which meant more space to play. 
On top of that, I'm a huge fan of negative space; sometimes your eyes just need a break. The chair + table combination made this wall a lot less busy and easier on the eyes. It was one of the first things you saw when you walked into the house, so I didn't want anything too crazy happening.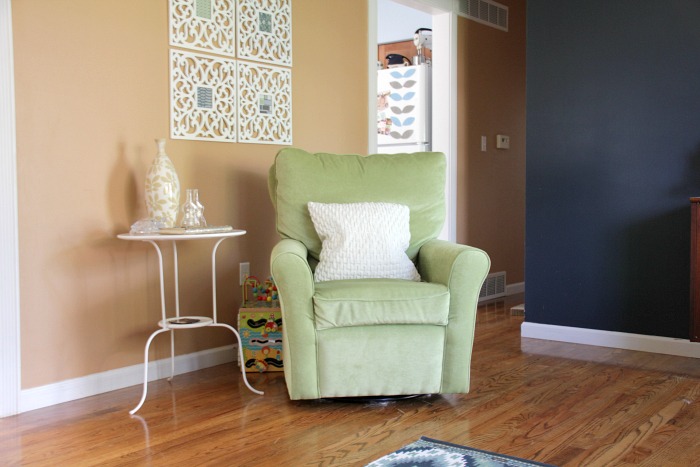 I hid the baby activity cube behind this chair just to keep it out of the way while my son was asleep or napping.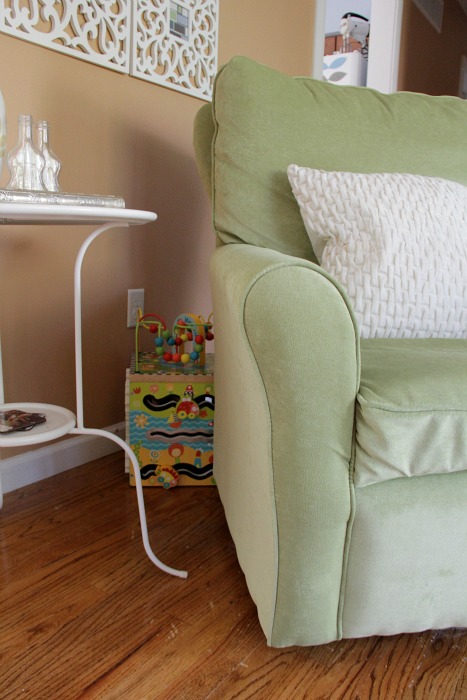 I added storage baskets with lids to keep toys corralled, but still give the look of an adult room.
I mentioned that open baskets filled with small toys began to make the room feel cluttered, so when I found some lidded baskets at Home Goods in the clearance section for $9.99 each I grabbed them up. It just so happened that they fit perfectly on the shelf. They are so deep and hold a ton of toys; we actually still have these baskets three years later. The shelf has a drawer, which I used to hold larger toys that didn't fit in the cabinet or baskets. I also used the small space between the shelf and the wall to squeeze in some extra storage – it was the perfect place to hold a popper and a yoga mat.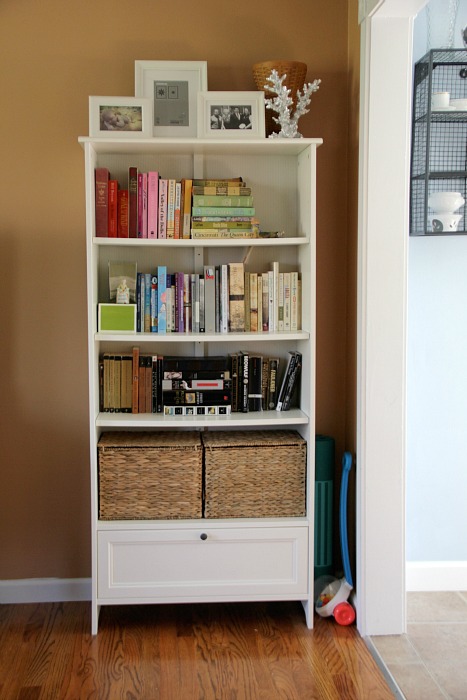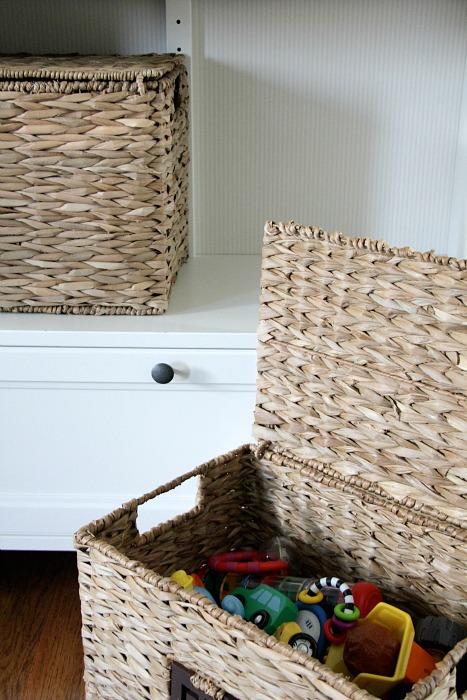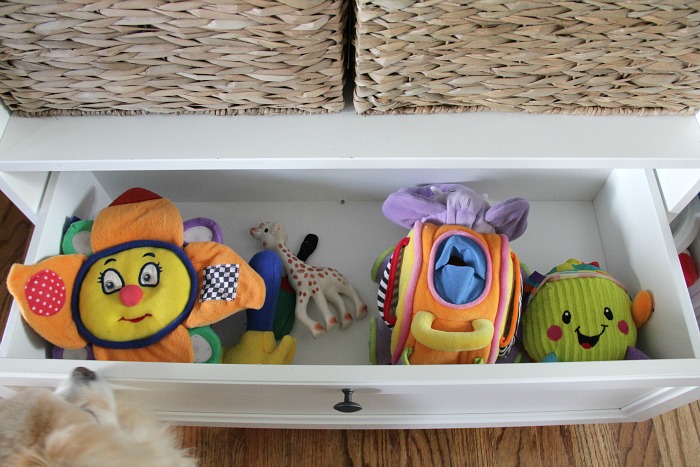 Lastly, I used out of the way spaces to store large toys which made them not visible when they weren't in use.
Apart from that small space between the tall bookshelf and the wall, the only other out of the way place to store large toys was beside the couch. I kept an activity table and large toy car there (the car is there in the picture below, it's just turned to the side so the steering wheel is behind the curtain and the table is blocking its view).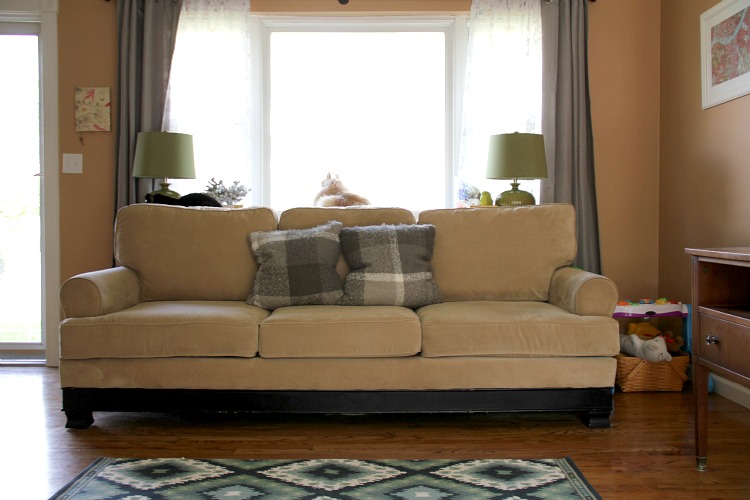 For the few years we lived at that house with a baby, that setup really worked for us. In our current home, we do have a dedicated play room but we also have toys in our main living room and I still use the techniques I learned then today –
Functional furniture that looks good
Plenty of negative space
Corral the clutter/tiny toys with lidded baskets or other containers
Use hidden and out of the way areas beside or behind furniture to store awkwardly shaped toys when not in use
Hopefully these tips will help you if you're trying to setup your own living room/play room in one. Good luck, and thanks for reading!