I've been busily knitting during any free time I can nab up so I can get some pouches into the shop. Ezra does his best to distract me. Today, it was by donning his fashionable fox hat and striking multiple poses:
Just look at those cheeks and the double chin! Out.Of.Control.
Anyway.
We're talking shop here. So back on track!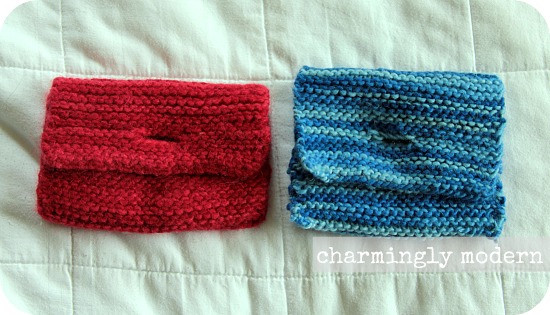 Here are two pouches – the one  on the left is felted and almost completed (just missing a button and a few embellishments!) and the one on the right is awaiting the washer to be felted.
These were made with the variegated wool I purchased a couple weeks ago.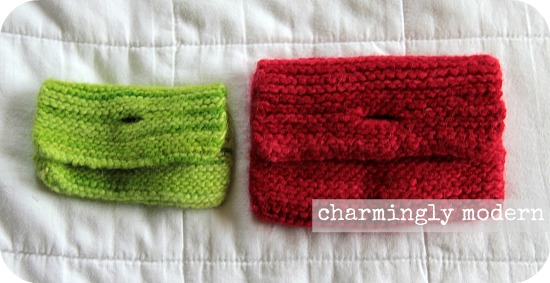 Here's the red one again, with a little green one. The green one was knitted on size 7 needles, so it's smaller. Normally, I use size 10. It makes quite a difference! The green one just needs its final embellishments and closure as well.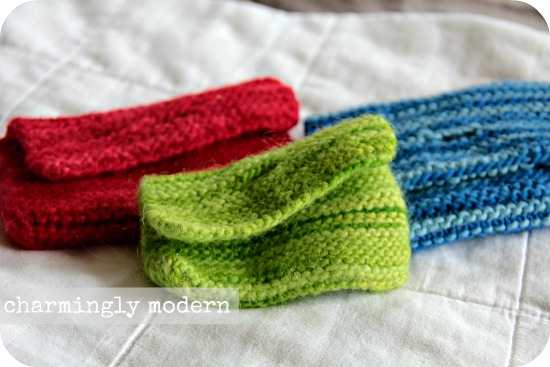 And here's all three together. I love the colors! Secretly, the green one is my favorite because it's so small. It's like 2×3 in person… kind of hard to tell that with the photos.
The only downside to using my washer/dryer to felt these pouches is that because I don't have a central agitator (it's a front loader), the stitches do not completely disappear. The pouches definitely feel and look felted in person, but in these pictures the stitches are a lot more visible. No idea why. I guess that's my unique spin on the felting! I tried felting the red pouch in the sink first by hand and it actually came out looking more felted than the green one so maybe I should do that in the future.
I'm currently working on finishing up another red one and I started a pink one. I need to run out to the knit shop and pick up my own set of size 7 needles – the ones I used were my mom's – so I can make a few more mini pouches. I wasn't sure if I'd like it, but it's just so darn cute!