When we first found out we were pregnant, I remember thinking two things almost immediately:
– HOLY CRAP! WE ARE HAVING A BABY!!

– HOLY CRAP! HOW WILL WE PAY FOR THIS BABY??
I meticulously tracked our expenses on Ezra before he arrived so I could get a handle on what we were spending up front. I was really determined to not let the fact that there was a baby on the way be an excuse to let our budget go down the drain.
Not everyone is as crazy as me with the Excel spreadsheets, though, so here are five tips I have on saving up for a newborn:
1. Decide soonish on a diapering system – cloth or disposable?
I registered for both because I thought we would begin with disposable diapers, then switch to cloth once we got things a little more under control. Well, things have been under control for awhile now and we haven't made the switch. I don't think we ever will. Mostly because I am lazy. Honestly, though, I knew deep down we would probably never do cloth diapers but I felt a lot of pressure to "be green" and the common belief that cloth diapers save money was a real incentive for me to want to try them.
But not incentive enough, apparently. I still have the cloth diapers we received as gifts, though, just in case I change my mind. 😉
Anyway, my point is – if you know you'll be using disposables, as soon as you find out you're pregnant it's a good time to either (A) put money away each paycheck to stockpile for diaper purchases or (B) start purchasing diapers in various sizes. Be cautious if you choose option B as sometimes a baby can develop a skin sensitivity to a certain brand of diapers, plus not every brand of diaper works on every baby. We use Huggies because we had a lot of leakage issues with Pampers. Some people find the opposite to be true for their child.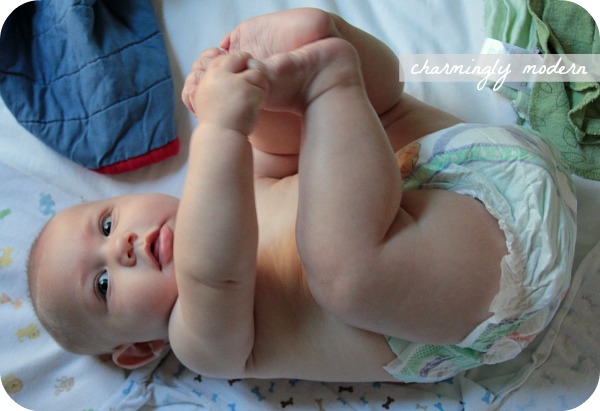 To give you a general idea, Ezra goes through 5-6 diapers a day. That is 35-42 diapers a week, or 140-168 diapers a month. We use Huggies Little Movers which is packaged in 140-186 count boxes (or you can buy smaller packs of 25-35). The box of 140 diapers retails for about $55, give or take depending on where you purchase it, so that is roughly $55/month we spend on diapers alone. That is $660/year. A child is usually potty trained by the time he or she is roughly three years old, so we are looking at spending at the very least $1,980 over those three years on diapers. This does not take into account growth spurts where Ezra uses up more diapers because he is eating more, diapers that have to be thrown away (because I was too slow to get it on and he peed all over it, for example) or overnight diapers that we exclusively use at night so he isn't leaking through onto his jammies and bedsheet.
I can't speak on cloth diapers, though from what I understand it's a high upfront cost with longterm savings down the road. Personally, I feel like it probably evens out when you consider added laundry costs and any extra work needed for cleaning stains. Of course I could be totally wrong on this and cloth diapers are way cheaper… maybe someone can comment on this subject?
Back to the point – I wish I would have thought about this sooner than the week Ezra was born so we would have had money socked away to cover this cost. Regardless of which option you choose, you'll need to do a little saving up to cover the cost. If you started saving $75/month as soon as you found out you were pregnant, that would roughly give you enough to cover the first year of diapers by the time your little one arrives. And, this does not factor in any diapers you receive as gifts…which you undoubtedly will at your showers…bonus!
2. Register for big ticket items you need, even if you think they won't be purchased
Go ahead and put the high chair, stroller, car seat, swing and any other big ticket item you will need for your little one whether you think anyone will buy them for you or not. If they end up not being purchased, you'll receive a registry completion coupon from the store that you can put toward purchasing things off your registry. This is usually a coupon for 20-25% off your total purchase.
As I mentioned earlier, I meticulously tracked our spending on Ezra before he was born…but I also made a huge spreadsheet with everything we registered for on it. I divided the items into categories and tracked what was purchased. I did this so I would know how much money we would likely spend after Ezra was born, getting any essentials that weren't already gifted to us. This was a major help because I knew the stores we registered at would each be sending us a 20% registry completion coupon. With this in mind, I was able to divide out what we still needed at the various places we registered at and, combined with manufacturer or store coupons, we were able to get pretty good discounts on things like crib bedding, baby wipes, extra bottle nipples and pump accessories just to name a few.
Of course, you probably aren't as crazy as I am and won't be entering everything you registered for into a spreadsheet, but I'm sure you'll have a general idea of what big ticket items you'll want to get. I recommend spreading them out at several different retailers to best take advantage of the registry completion discount and any other coupons you might be able to use with them.
3. Stockpile your freezer with meals
It doesn't matter whether they are frozen meals from the freezer section of your grocery store, or meals you made at home and then froze for later, you'll just want something in there to cover dinner and, possibly, lunch those first several weeks. This will save you so much money in the long run because you won't be running out of the house to eat out every night. I wish we would have done more of this. I had grand plans to put away a meal every other night but I ended up only having about 10 meals in our freezer. That's nothing to sneeze at, but I really wish we would have had more because I could have kept our eating out budget in check those first couple months otherwise. Oh well, live and learn.
4. Decide early on how you will be feeding your baby
If you're planning on breastfeeding, that's great! If you're planning on formula feeding, that's great too! But if you are planning on formula feeding, you'll want to begin putting money away for formula now rather than later. Apart from diapers, formula is another huge expenditure in the first year, and it's best to go in prepared rather than find yourself coming up short.
Assume your baby will go through 1-1.5 cans of formula a week, though this can vary widely especially when a baby is going through a growth spurt. Formula is about $25.99/can which brings your monthly total to about $130 and your yearly cost to $1,560. Enfamil has a great formula calculator on their website, though, to help you better estimate cost (but it just applies to their formula, obviously!). Some easy ways to start saving now for those costs is to register on Enfamil's and/or Similac's websites to receive valuable coupons in the mail as well as whole cans as samples from each manufacturer (from Enfamil, in particular, I got tons of newborn formula samples. I didn't end up needing them, but it was nice knowing they were there just in case). You'll also want to make sure you check the paper for coupons, as well as take advantage of any store card your grocery store has, such as Kroger Plus. Additionally, most store brands are just as good in terms of nutrients as a big box brand of formula. I hear tell that Target in particular has great formula at an extremely affordable price.
If you're planning on breastfeeding, you will definitely save a lot of money in the long run due to not needing to purchase formula, but there can be upfront costs if you know you'll be needing to pump. You can purchase a pump for about $250-300 depending on the brand. If you know you'll be needing to purchase a pump, definitely register for one so, if you don't receive it as a gift, you can get the registry completion discount on it.
If you don't think you will be pumping for long periods of time, a better route would be to rent a pump. You can typically rent a pump for $20-25/month and, a lot of times, your insurance company will cover the cost. And, speaking of insurance, if you end up purchasing a pump yourself it's worth claiming it on your insurance because they might cover the cost for you.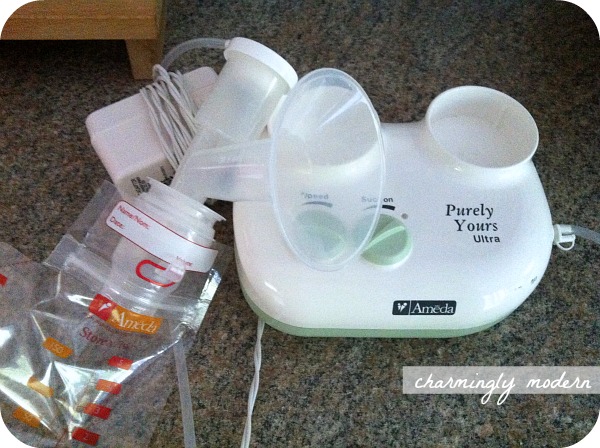 5. Decide about your childcare situation as early as possible
If you know you'll have a need for a babysitter, nanny or daycare provider, it's in your best interest to at least get a handle on the cost of that before your little one arrives so you can start preparing now. Childcare is easily the highest cost in the first year (and probably every year after…) and if you have a general idea of what you will be spending, you'll be able to adjust your budget accordingly.
Rates vary widely. In my area, babysitters range from $8-15/hour depending on their experience level. Daycare centers are roughly $220/week. We personally do not use either, but we know the costs in case we find ourselves in a situation where we'll need to use either option.
I would say the biggest consideration to take when figuring out how much you'll be spending on childcare is to first consider your income and make sure you won't simply be working for daycare. In our case, if I were to increase my hours in order to cover daycare costs, I would actually be making less money. So, it made sense for me to stay home and continue working part-time out of our home and find other ways to bring in money.
One final tip
Babycenter has created a very useful tool to help you get a great picture of where your money will be going the first year of baby's life. Their Cost of Raising a Child calculator gives you an idea of the overall cost (from birth to 18 years) as well as what you'll spend in the current year. I feel like the cost is a bit high since you can't do it by state level, but it is good for a rough estimate.
Their Baby Cost Calculator is much more in depth and breaks it down by childcare, diapers, etc…
Lastly, Parents.com has a great calculator for figuring out if you can effectively live on one-income if your dream is to stay at home or work from home. This really helped us get a good picture of what our finances would look like once I started working from home more.
If you have any tips of your own on how to save up for a newborn, be sure to add them in the comments!