I wish I would have invented spray paint.
It's so genius! I've always been a fan of it. It's an easy fix for pretty much any thing that you'd like to tweak the look of. It's very cost effective, too, especially if you're using it on furniture – one or two cans of spray paint is significantly less than buying a whole new piece of furniture!
This isn't really a DIY per se, since I think we can all operate a can of spray paint. This is more of a look into what you can do with spray paint and a few spruces to some old or broken pieces of furniture, to maybe help inspire you and get your creative juices flowing.
Old Nightstands Made New
When we moved into our current home, we went from having three bedrooms to four and the size of those bedrooms increased a lot. We had never really had a master bedroom before, because all of the other places we had lived, the bedroom had all been about the same size. So, part of our furnishings budget included a king bed and mattress but no other furniture. We checked out Macy's when they were having a furniture sale, and grabbed up the bedf from the Edgewater collection. The bed was on sale for a ridiculously low price ($349!!!!). We also ended up getting our mattress there, too (it was also on sale!) so we really saved a ton but not enough to justify getting anything else from the Edgewater collection, unfortunately.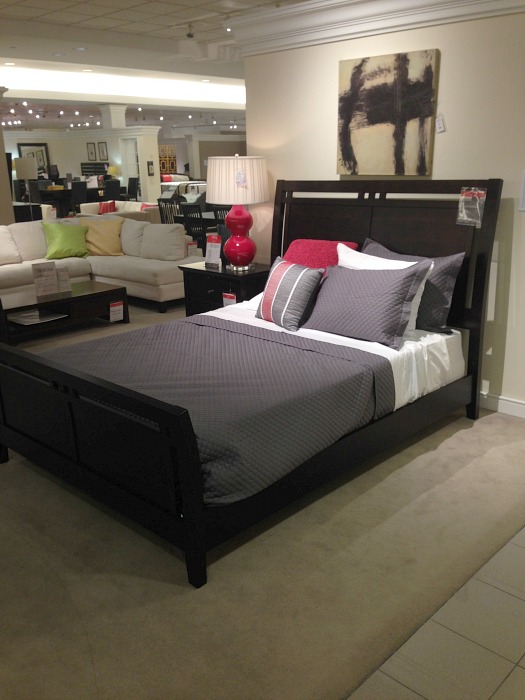 No matter, though. We had two perfectly good nightstands from our old master bedroom setup. The only problem? They were white. This is the best photo I have of them –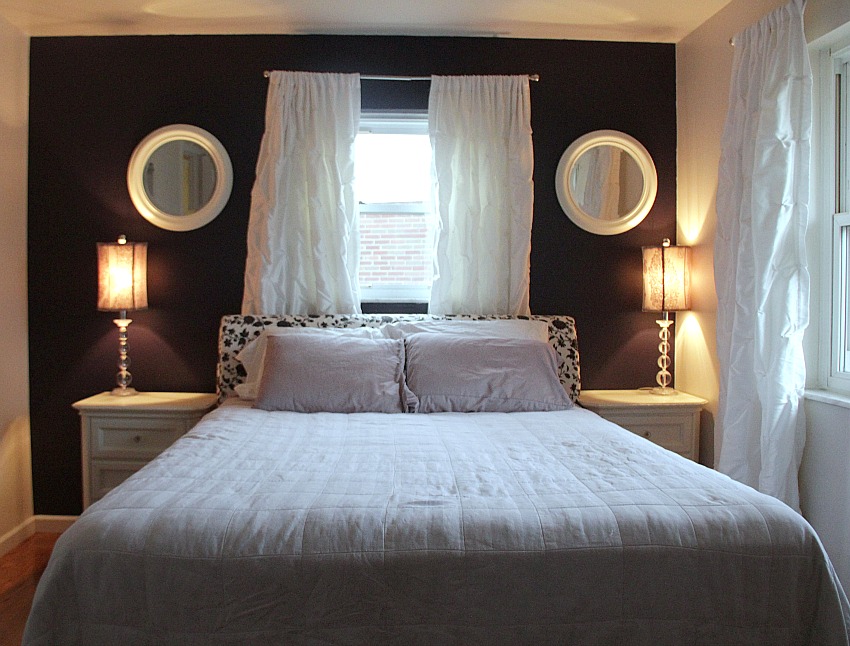 I have no idea why the lamps are not centered on those nightstands in this photo, but it's driving me crazy! Anyway, you get the idea – the nightstands were a creamy white and that was not going to work with our new bed.
I went to Home Depot and checked out my spray paint options and, luckily, I found a color that is a perfect match to the stain on the bed. It's called Satin Dark Walnut and it's by Rustoleum (that link is for a 6 pack of cans. Guess you can't buy individual cans online!). I ended up only needing 2 cans, so it was under $5.00 to re-color the nightstands.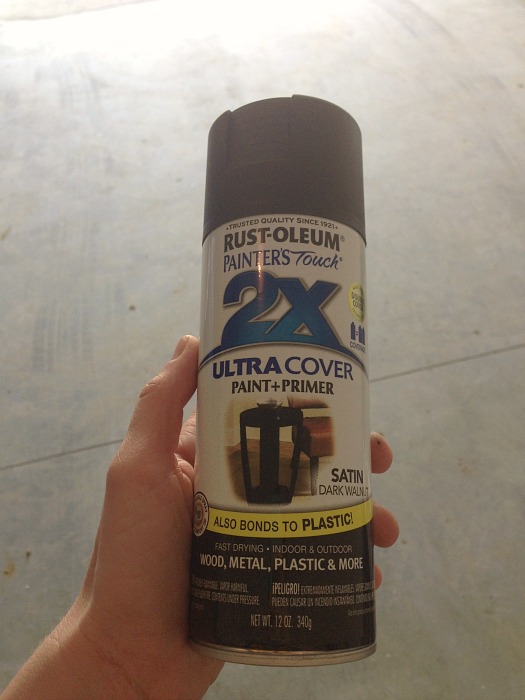 First, though, I removed all the knobs and took the drawers out. I thoroughly cleaned the drawers and body to make sure there was not a single speck of dust or stray hair. I used a Melaleuca cleaner called Tough & Tender, but any cleaner will do. I would recommend not using paper towels to wipe down surfaces, though, just to avoid leaving lint behind.
Once everything was dry and ready to go, I got to spray painting! Everyone knows how to spray paint – there is really nothing to it. The secret is slow, steady swipes to make sure you have an even coat, especially on vertical surfaces.
This paint covered extremely well. I was really impressed and it only needed one real coat. I went back and touched up a few crevices I had missed on my first pass through and that was it. To go from a creamy white to a dark walnut in only one coat was really nice!
I let all of the pieces cure over night in the garage before re-assembling and bringing it all upstairs.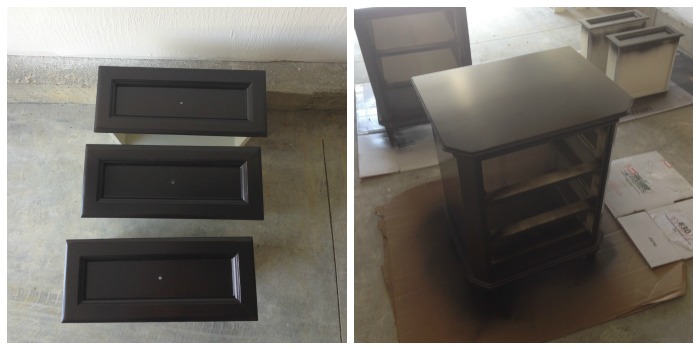 You can see that I didn't spray paint the insides. Partly out of laziness, but also because I am planning on covering the insides in fabric. I was kind of sloppy since I thought I would be covering so there are drips on the insides of the drawers, as well as areas with light coverage.
Anyway, during the 24 hour period of having the nightstands cure, I hit up Home Depot again in search of some updated looking hardware for the drawers. We had installed a ceiling fan with a brushed nickel finish so I wanted something in a similar finish, that was sort of angular.
I ended up finding these –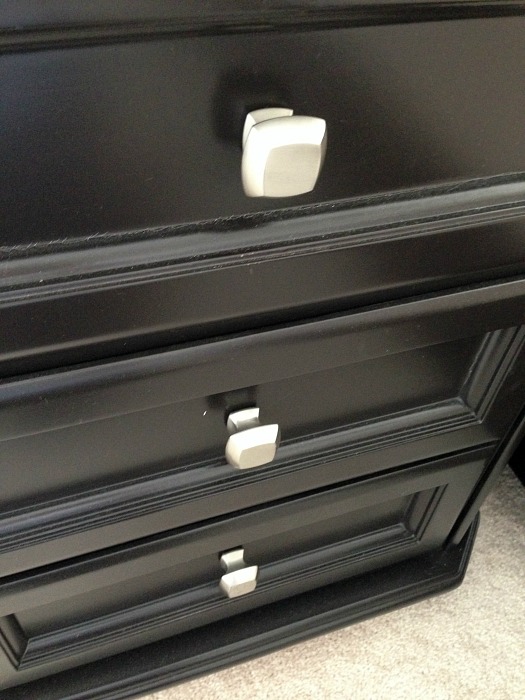 Unfortunately, I can't find these on Home Depot's website, but they were about the same price as this knob. I needed 6 of them, so my total came to about $27.00 before tax. The whole project to upgrade these nightstands was about $35.00, give or take some cents. Definitely can't be that!
And I'm pretty happy with the final result –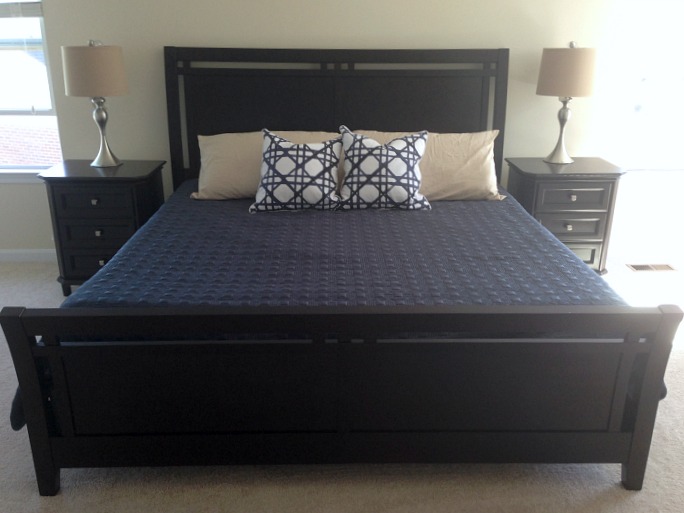 This is just an iPhone photo. I'm saving the better photos of this room for a later post, because I have another furniture project I did for a dresser since we didn't have the budget to get the one in the Edgewater set.
A mirror turned chalkboard
My second spray paint project was turning a broken mirror into a chalkboard for our kitchen hallway/garage entry area. I really wanted a mirror for this area and I had the perfect one, but unfortunately it didn't fare well in storage and ended up cracking.
The mirror originally hung in Ezra's room –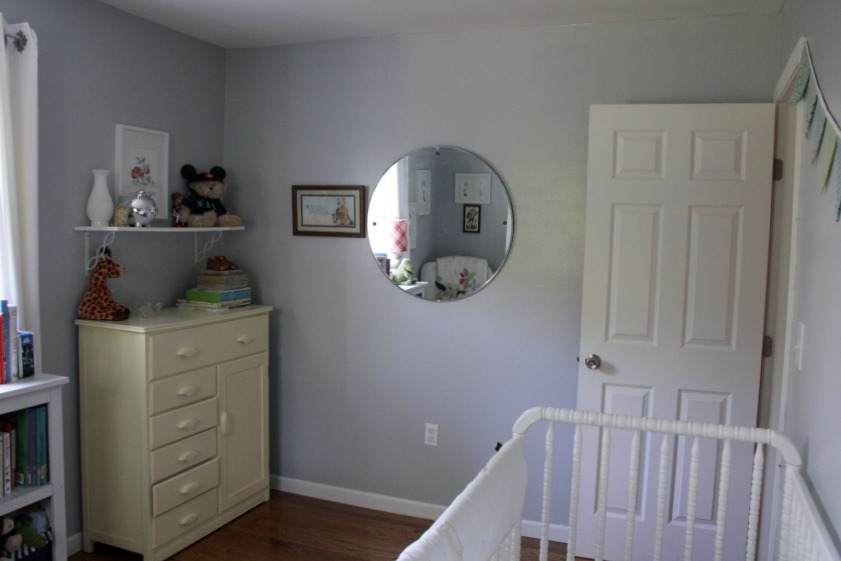 The mirror is an antique on my mom's side of the family so the last thing I wanted to do was throw it away. I decided to attempt to repair the crack and transform it into a chalk board.
First, I put superglue in the crack and clamped both ends for 48 hours to make sure the crack was good and closed up –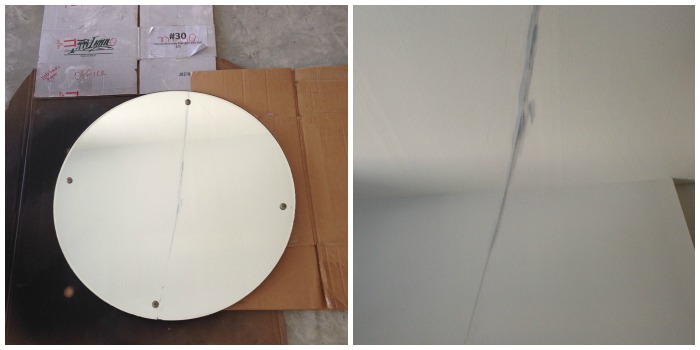 Then I thoroughly wiped down the surface and, when it was dry, I started spray painting. I picked up a bottle of Rustoleum Chalkboard Spray Paint at – you guessed it – Home Depot. This project cost me just $3.98 (including tax)!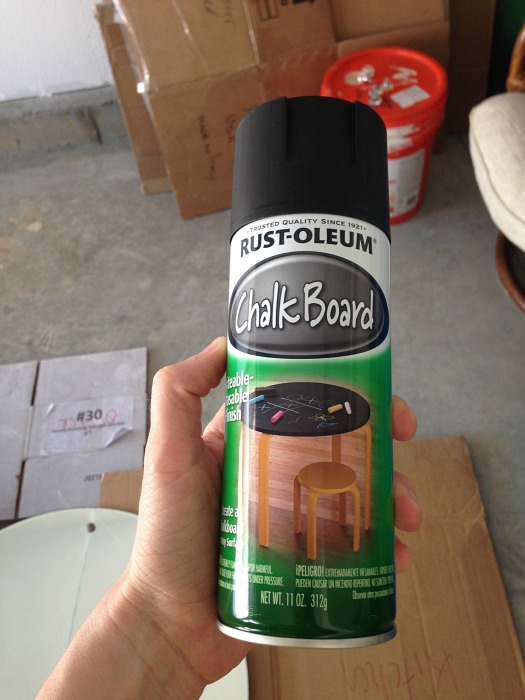 The mirror turned out better than I could have hoped and, best of all, I didn't have to throw it away! Now I have a really cool chalkboard in the hallway. It's been fun to draw different things on it, like for Ezra's birthday when I drew a train on it –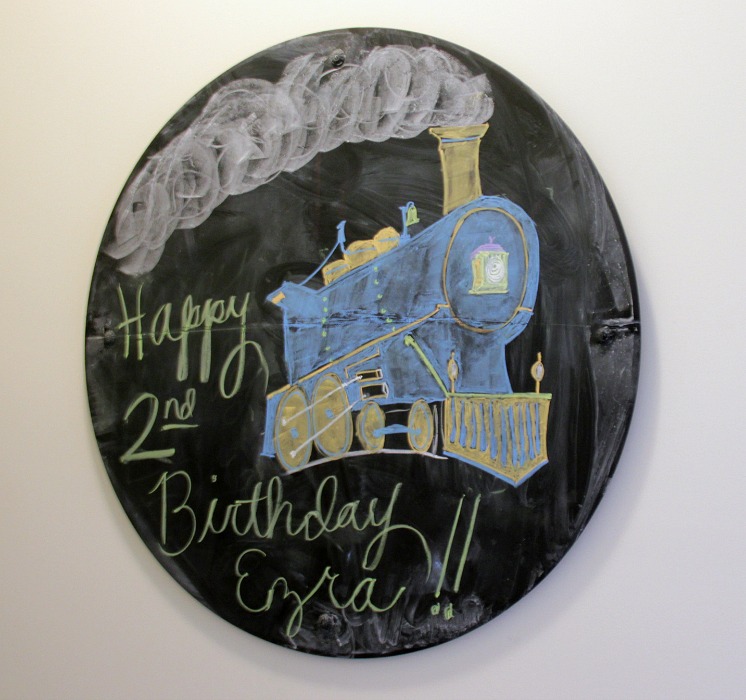 You can still see where the crack is, but that's okay. All I care about is that it's usable and not in the trash!
Easy peasy, huh?! This is why I love spray paint. For just a few dollars, you can completely transform something old into something new (well, new to you anyway). A few other ideas of things you can quickly and easily spray paint –
Picture frames – don't buy  new ones if you have perfectly good frames but you wish they were a different color. Or, if you're working on a gallery wall, go to a discount store (like Goodwill) and buy a lot of cheap frames, then spray paint them all the same color.
Fabric – Yep, bet you didn't know you could spray paint fabric. This is a great way to turn an indoor fabric into an outdoor one. Or to give outdoor fabric a protective layer. Use clear spray paint (or color if you want to change the color of the fabric).
Baskets – Spray them all the same color for a unified look, or choose a few complementary colors to make things interesting.
Hinges, knobs, outlet/switch plates, vent covers, ceiling fans, faucets, etc – Pretty much any removable hardware or fixture in your home can be spray painted, which will save you a lot of money versus buying all new, especially since you can find spray paint in metallic finished like brushed nickel, oil rubbed bronze, chrome, etc.
Really, the list can go on and on. The sky is the limit – just make sure to check the can of paint you choose to ensure it will adhere to the surface you'll be painting. Thanks for reading, and happy spray painting 🙂