What are you using for a planner this year?
In the past, I've made moleskine notebook planners (see my 2012 planner, and my 2013 one too). I've also tried Erin Condren's life planners and, while I wasn't as big of a fan of the daily layout, they're still nice planners (I actually have one as a possible option for 2014 – my mom was sent an extra one when she ordered hers!).
For most of 2013, I ended up putting my moleskine aside – after all that work!!! – in favor of a Plum Paper Family Planner.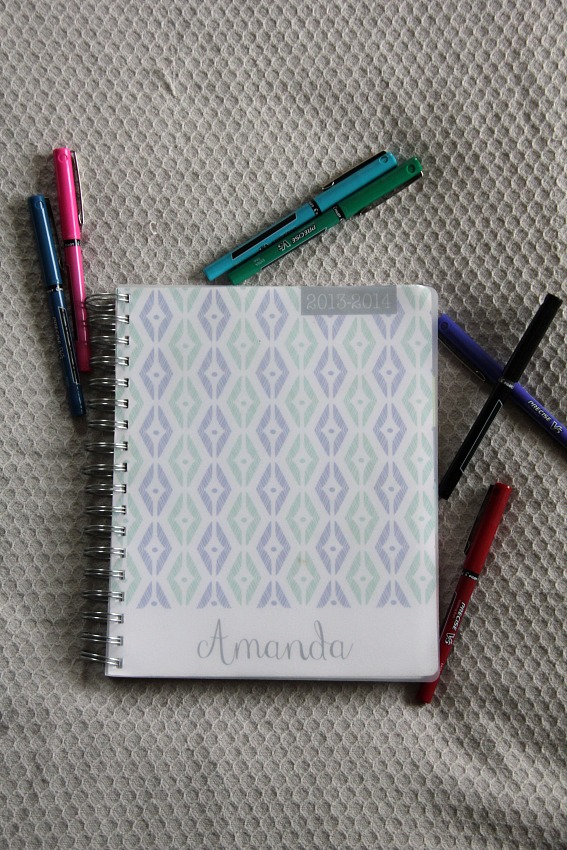 One of my friends introduced me to Plum Paper Designs back in the spring and as soon as I saw the family planner and that you could customize the tabs I knew I had to have one. It seemed like the perfect solution for keeping every thing I organize in my moleskine notebook together on one weekly page.
With the family planner, you can specify six sections. I went with – personal, family, study, shop, blog, budget and meals.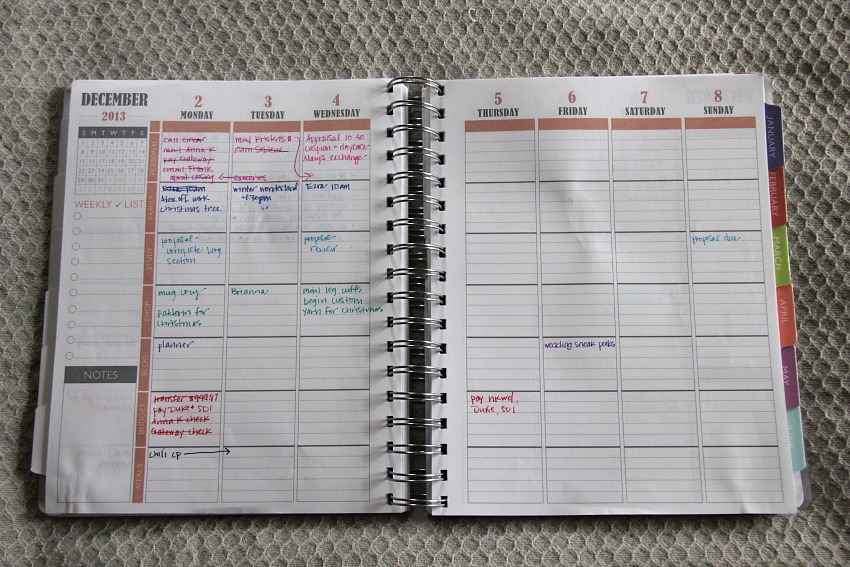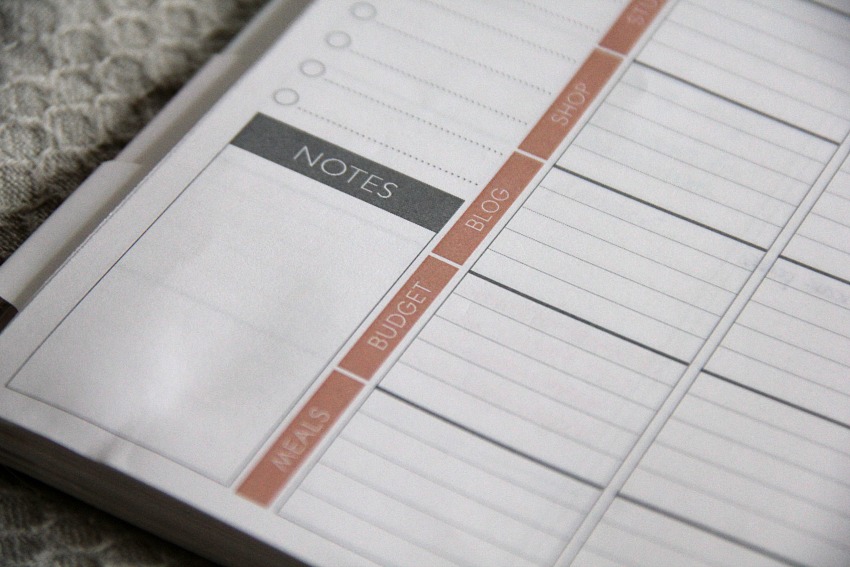 … you can see in the blog section in the first picture there are posts I didn't get around to writing. Blame that on our house stuff!
Since I bought the planner in July, it runs July 2013-June 2014. So, I technically have a planner until mid-2014 but… you know me… I may not be able to stick with the planner for that long.
But I do really enjoy it!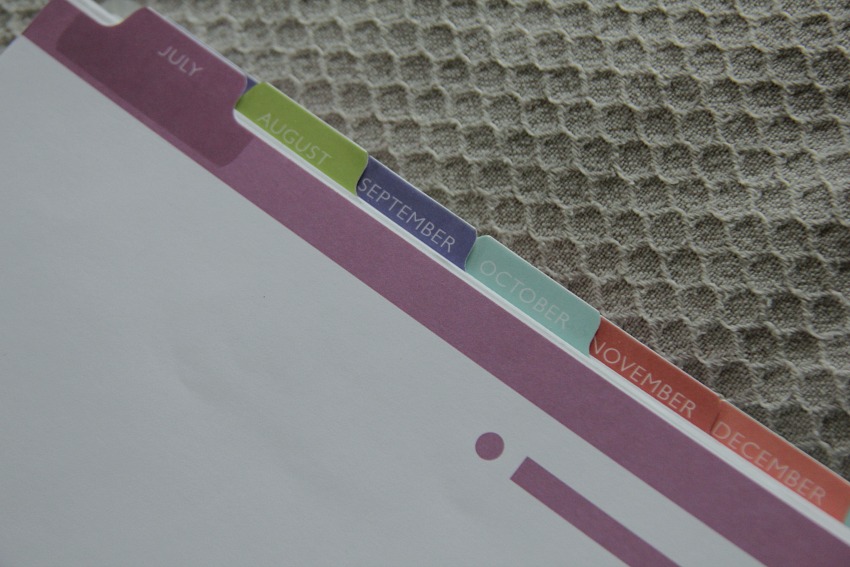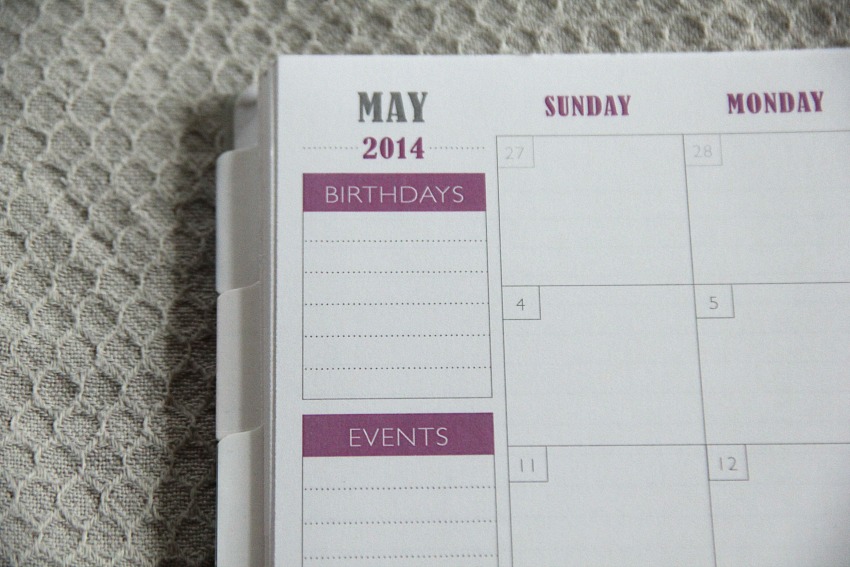 The months are setup pretty simply. There are sections on the left side of the page for birthdays and events. I usually don't use those for what they're labeled for, because I put birthdays and events in the box for whatever particular day they are happening. So, instead, those sections contain goals or a main idea/word I'm focusing on for that month. There's also a notes box which I use for…….. notes!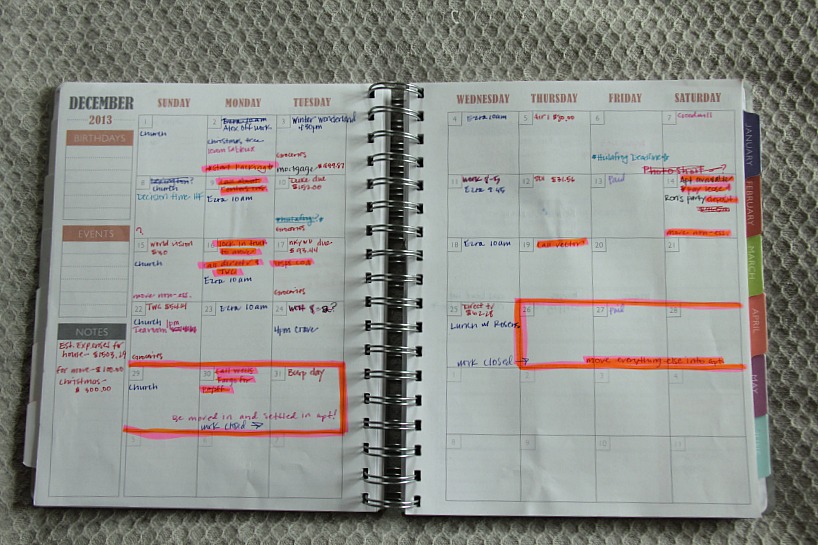 The month above – December 2013 – is crazy looking, I know. I was still working on my color coding that I wanted (you can see what I settled on in the weekly view picture above) plus the highlighter was to mark out our moving and closing stuff. I'm glad that month is behind us!
So, that's my planner situation for now.
However….
My eye has started to wander. The same friend who showed me these Plum Paper planners entered us both to win an Emily Ley Simplified Life Planner (we didn't win… boo hoo). The planners won't ship until February, but they are so gorgeous!
The layout is more traditional for a planner – daily pages, and a monthly calendar. I think the daily pages would fit the bill for my needs, but I do like seeing an entire week laid out (separate from the month as a whole), because I tend to plan week by week rather than day by day.
For $50.00, it's a lot to spend on a planner I potentially would just set aside. Has anyone else given an Emily Ley planner a whirl? I'd appreciate any feedback, plus I'd love to hear what you've got going on for your 2014 planner!
Update –
I ended up trying to purchase an Emily Ley Simplified Life Planner but – alas! – I took too long. So, instead I got a Whitney English Day Designer which seems to be just as popular as the Emily Ley planner. The big difference is the Whitney English planner is printed on cream paper, and there are different (obviously) prep pages in the beginning. It's set to ship at the end of February – I hope it ships sooner – so I'll update on how I like it once I've gotten the hang of it!
Update #2 –
I did end up purchasing an Emily Ley Simplified Life Binder, divider tabs and two sets of Brain Dump sheets; I purchased this to organize my Powersheets.
Everything is gorgeous!
Update #3 –
I use the Simplified Life Binder to organize my client information for the businesses I do social media work for. It's actually really great because the binder fits right into my bag and I can tote it around and have ALL client info with me at all times. I just add in more Brain Dump pages when I need to make more notes. I used some of the printables from Emily's website to add calendar and To Do pages, but I still mostly organize what I'm doing for each client in my planner.
Still haven't nabbed up a Simplified Planner….yet 😉