Ezra has had five bedrooms in his short life.
His first two were both in the same house – our first house; he just moved from one bedroom to another (Ezra's Nursery and the second nursery setup is included in this home tour, Closing on our House).
His third was in the apartment we rented while we waited for our current home to be finished (Apartment Tour: Living with Less has those photos).
The fourth was his latest room, his nursery in this house. And the fifth is his "new" room, which will hopefully be his bedroom for a very long time.
Before I show you his new room, I wanted to photograph and write about his nursery, of which I can't believe there have been four iterations (!!), but this last one was probably the most simple and most loved of all.
The room we designated as "the nursery" is seemingly the smallest of the other bedrooms in the house, but all of them (except the master) are actually the same size in terms of square footage. The walls are laid out differently in each though, and none of the rooms are square. The nursery has walls taken up by doors and a window, so it has less "usable" wall space, which makes laying out furniture challenging. But, it also makes it perfect for a nursery because furniture for nurseries is on a smaller scale so it feels very proportional in this room.
Ezra's nursery was the first room I setup in this new house, because it needed to be used right away. His was the first room to get blinds and curtains, art on the wall and a ceiling fan. I never did end up painting the room for him, but the existing paint actually worked really well with his furniture (and we did paint his new room at least!). I tried to keep the room simple, light and airy.
There are a lot of memories over the last 11 months in that room. Ezra has changed and grown so much – he started out in his crib and ended it in his crib-turned-toddler-bed. He went from talking in phrases to full on sentences over the course of these last eleven months, and the stories we've imagined in that room are precious to me. We've read countless books, tucked in a myriad of animals beside him to sleep and conquered bad dreams. It's been a sweet nursery for my little boy, and it makes me happy to know it gets a second go for a little one when our girl arrives.
Until then, here's how Ezra's nursery looks –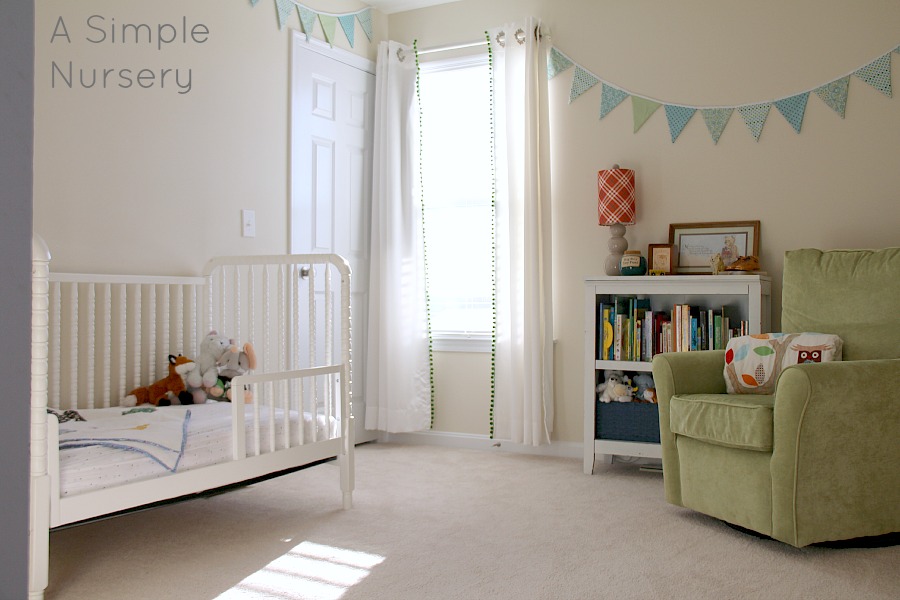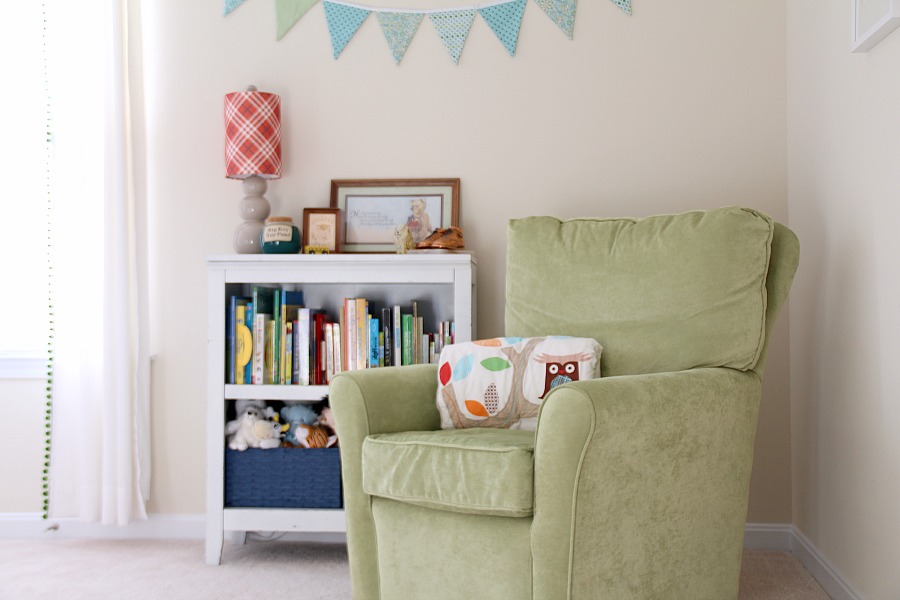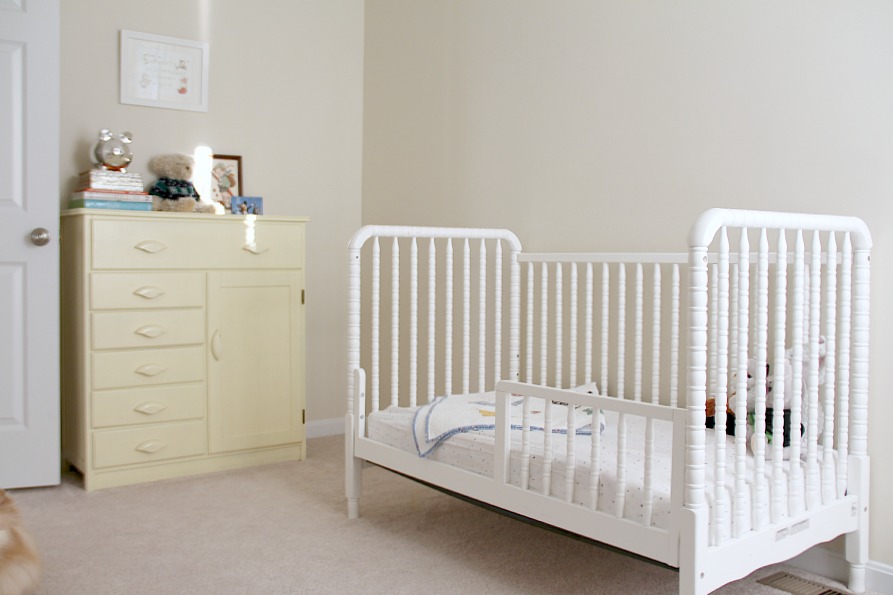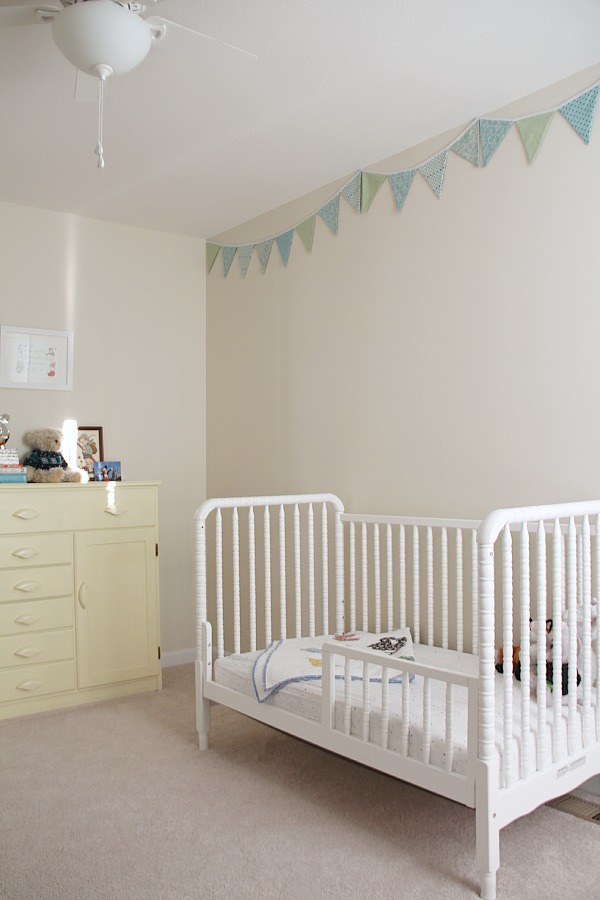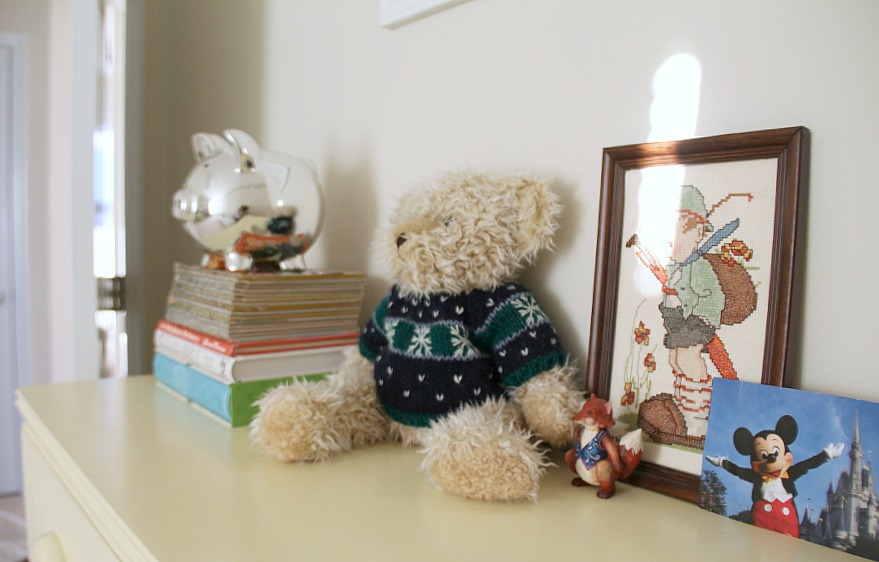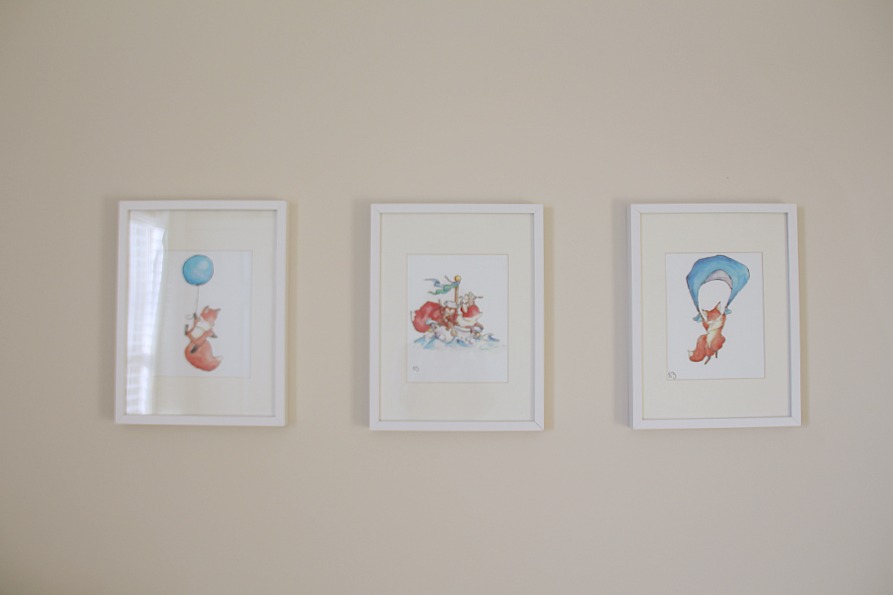 Two of those photos above are pretty much the same (the ones of the crib and wardrobe, and, speaking of the crib… normally it was not that empty looking. Ezra started using a standard size pillow a few months ago, and usually there were at least five additional animals in there with him. The boy loves stuffed animals.), but I wanted to make sure I included a photo showing the other pennants hanging and the ones above the crib are up pretty high. Mostly to keep curious fingers away from tugging them down. Those pennants are the ones I made for Ezra's first birthday party. I'm glad I got to use them again for something since they were time consuming to make!
The bronzed shoes, the cross stitched little boy and the teddy bear are all special gifts from family members – the shoes are actually my father-in-law's baby shoes; my mom made the cross stitch picture and it used to be in my grandpa's "subterranean penthouse" as he called it … aka his basement man cave; and the teddy bear was the first bear Ezra got as a newborn, and it came from my grandma.
I'm not going to put source information in here because nothing is new, so if you're curious where something came from, you can check this post – Ezra's Nursery – it has most of the information. The yellow wardrobe is a family piece that's now on its third generation so it has zero source info. I think the only other pieces of furniture not included in that post are the glider, which we purchased at Buy Buy Baby and the white bookshelf, which is from Target. We have two of those bookshelves, and they sure have made the rounds in the various places we have lived. Both were actually in the nursery. The second one was in the closet, holding extra books.
And that's my not-so-little-boy's baby room. I haven't really begun to think too much about how I'd like to set the room up for our girl; vintage rose was a theme I'd tossed around in my head, but I'm not stuck on anything…yet. I'm sure that will change soon enough though.
Thanks for reading 🙂